"Networking doesn't have to be awkward."
This is the tagline for our Science of People Anti-Networking Meetups and I must admit, I wasn't sure I really believed it at first.
Networking has always been awkward for me. The initial fear of walking into a room and not knowing anyone, the boring conversations, the constant phone checking (thinking and praying for some sort of an emergency to get me out of this)—it's typically never an enjoyable experience.
But last night was different. I've never had so much fun at a "networking event." It doesn't even feel right referring to it as networking. Yes, I met people, yes I "networked", but goodness gracious, I met the coolest people, I laughed (like big laughs where people turn around and stare), I played ridiculous games, and you know the best part? Every person in the room was having fun too.
I also noticed the most peculiar thing. Something I've never witnessed at another networking event.
No phones.
Not a single person was awkwardly texting, Facebooking or faking an emergency with the family cat. I didn't check my phone once, which is kind of a problem since I was on picture-duty and didn't take a single picture (sorry, Vanessa). Each time I scanned the room, I saw true, authentic engagement, big smiles and connection. The good stuff.
It's interesting to me that something as simple as writing your guilty pleasure or guessing a favorite TV character can instantly create an environment of child-like camaraderie. I learned so much more than "what do you do?" from the people I interacted with—why Cambodia is a better country to visit than Thailand, the difference between Invisalign and braces and why we should be more focused on discipline as opposed to waiting for motivation to knock on our doors.
I stayed until the very end of the event, watching the servers clean up empty beer glasses and napkins. And I've never been a "stay until the end" kind of gal.
Networking doesn't have to be awkward. Heck no, it doesn't have to be.
At our Portland Meetup, we had over 70 people come and party and play games with us. To everyone that attended, we so appreciated your laughs, warmth and conversation–it was also great to learn about all of your guilty pleasures 😉
We would love to do more events and we are doing videos and posts all the time. Be sure to check our Meetup page as we're consistently adding new dates and cities, and please sign-up to our Science of People newsletter for big announcements, fun new research and events.
If you missed our Portland event, here's what we did last night:
We asked your guilty pleasures
We played a name tag challenge
We gave away prizes for the most ambitiously connected peeps
We played professional matchmaker and set you up with your perfect connection
We gave away Random Acts of Kindness postcards for you to send
We hope to see you at the next one!
Danielle + Science of People Team
---
This guest post is written by Danielle M. Baker. Danielle is the Director of Communications with Science of People and a certified body language trainer. You can connect with her on LinkedIn or even better, follow her on Instagram to see her adventures in Portland and her cats :3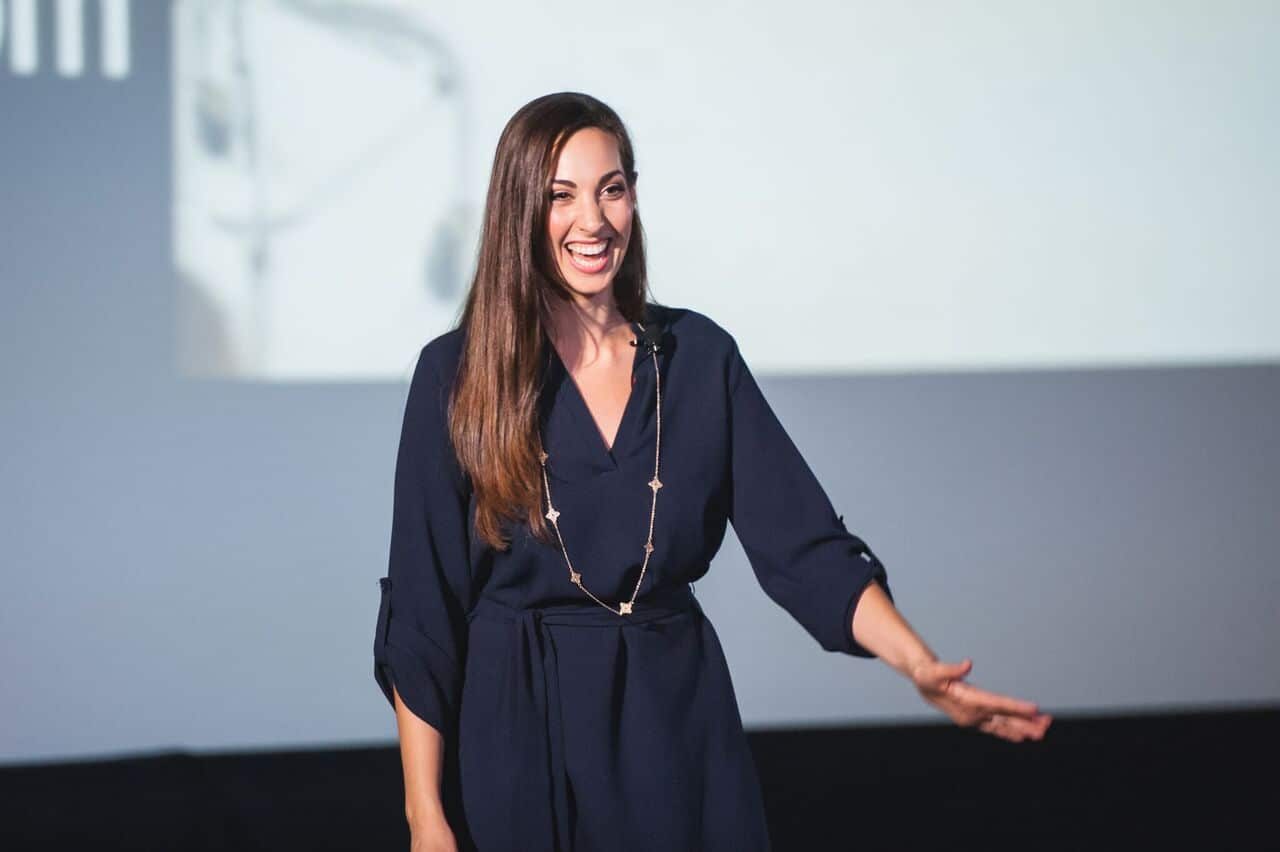 About Vanessa Van Edwards
Lead Investigator, Science of People
I'm the author of the national bestselling book Captivate, creator of People School, and behavioral investigator.
I've always wanted to know how people work, and that's what Science of People is about. What drives our behavior? Why do people act the way they do? And most importantly, can you predict and change behavior to be more successful? I think the answer is yes. More about Vanessa.
Join Over 500,000 Students
Are you looking to kickstart your career? Level up your leadership? Join thousands of students learning to master their people skills and make an impact on the world. And for joining today I'm giving away a free one hour audio training to help you jump start your learning!
On a journey? Choose your path below
10 People Skills You Need to Succeed
Be Confident with Your Body Language
How to Be Charismatic (without being inauthentic)