Our personality falls on a spectrum. Where do you fall?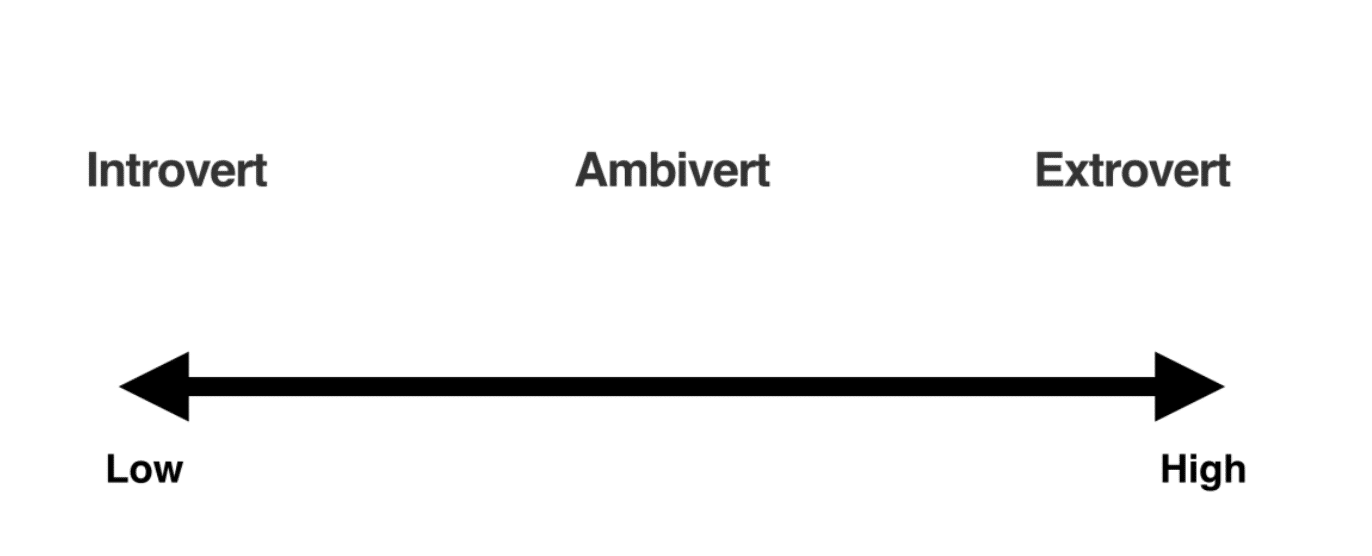 But what does each label mean? Let's review:
Introvert: Someone who gets energy from solo time and focuses more on internal feelings rather than on external sources of stimulation.
Ambivert: Someone who can exhibit qualities of both introversion and extroversion depending on the situation, mood and people they are with.
Extrovert: Someone who loves being around people, gets energy from socializing and feels confident with new people.
If you aren't sure, you could try looking in the mirror. We can tell a lot about someone's personality from their face. This fascinating study did a drawing of two typical faces:
Most people don't realize that much of our personality is genetic — in other words, personality is not a choice. You can't just decide to be more extroverted one day.
This is a headache for many introverts and ambiverts.
Parents send them to camp and say: "Just be more friendly."

Networking experts say, "Build your network and meet as many people as possible."
For introverts, this is like asking them, "Please don't be yourself."
No more.
It's time to use your introversion to your advantage instead of trying to change it.
1. Are You Really an Introvert?
Not sure if the introvert label really fits you? You might be an ambivert. Take our free quiz to verify:
Ok, did our quiz find you are definitely an introvert? Great! Read on for how to harness your power:
2. Your Incredible World View
Introverts have a different way of perceiving the world — and this is a huge advantage. The best example is in the classic 'lemon juice experiment.'
"Introverts were found to salivate more than extroverts when a drop of lemon juice was placed on their tongue. The researchers theorized that introverts get triggered easily by their surroundings because they naturally possess higher level of arousal, which is why they prefer less intensive activities such as reading and writing rather than partying. Their preoccupation with their own thoughts is also what separates them from the crowd. Such "inward-orientedness" makes introverts unique souls with much to offer for the world which others often unwittingly overlook." – Michael Poh
3. An Introverted Superpower
Studies have found that introverts are more humble than extroverts. Humility is an incredibly important — and hard to learn trait. It makes introverts more perceptive, more open and less bogged down by ego.
Humility is also associated with the desire to be of service to others.
This makes introverts wonderful leaders, managers and friends.
4. Why Introverts Make Amazing Leaders
When you ask someone to think of a highly charismatic person, they will often conjure up an image of a booming extrovert. But charisma comes in many flavors. In fact, introverted traits are very well suited to successful leadership roles. Here's why:
Introverts are wonderful observers. You pick up on social nuances, hidden emotions and team dynamics better than anyone. Don't take this superpower for granted!

When you speak, people listen. Since you tend to think carefully before speaking and use your words carefully, people take you seriously. Don't ever feel pressured to engage in inane chit chat or make throw away comments to appease others. Speak when you are ready.

Your quiet power is contagious.
5. Optimize Your Introversion
Don't let anyone ever tell you to change your introversion–it's SUCH an advantage. However, it is important for introverts to optimize their introversion for strength.
Know exactly how you recharge. Have a big event coming up? Need a refresh? What do you do? Get your pre and post social routine down so you are in control.

Find the perfect wingman. Who can be a great social partner for you? Will a friendly extrovert help you break into a crowd or overpower every conversation? Will a fellow introvert be a good partner in crime but discourage meeting new people? Can you find an ambivert to balance you out? Find your best event and socializing partner.

Level up your body language…
6. Body Language for Introverts
You might not realize it, but even when you are not speaking, your body is saying something. Introverts need to be especially adept at nonverbal communication — both reading cues and sending cues. Here is a quick overview of some body language tips for introverts:
Remember: There is no right or wrong personality type. The only right thing to do is to leverage your natural strengths. Your introversion is a gift, never forget it!