Podcasts
Hey there Podcasters! We are so so grateful for your support of both the Science of People and my new book, Captivate. As an avid fan of listening to podcasts, it's such a fun experience to be a part of the creation process so thank you thank you!
I've put together a resource page exclusively for our Podcasters. I hope you enjoy!
---
#1 Our FAVE Resources
We have lot of fun content here at the Science of People, but I pulled out my absolute favorite videos and articles just for you:
For your next event: 33 Killer Conversation Starters
How can you have dazzling conversation with everyone you meet? I have a few tricks and tips to amazing conversation. Check out this video on the art (and science) of sparkling conversation:
In this post, you'll learn:
Killer conversation openers
How to continue the conversation
How to go deep with partners and close friends
Event specific conversation starters
+ our FREE Little Guide to Amazing Conversation e-book
Read the full killer conversation starters post.
For getting closer to a friend or partner: Guide to Reading Microexpressions
The face is the window into the soul–if you know how to read it. The good news is we can already tell a lot about someone by their face. Knowing how to read and interpret microexpressions is an essential part of understanding nonverbal behavior and reading people.
In this post, you'll learn:
The 7 universal microexpressions
How to recognize the face of a leader
The connection between expressions and emotions
+ our FREE How to Read Faces mini-course
Read the guide to reading microexpressions post.
For understanding personality: Are You an Ambivert?
I have always struggled with the question:
"Are you an extrovert or introvert?"
Like most people, I don't quite fit into either category. In this article and video I want to introduce you to the concept of an ambivert.
In this post, you'll learn:
The definition of 'ambivert'
Why personality is a spectrum, not a label
Why ambiverts are awesome
How to find your nourishing people
+ our FREE 'Are you an Ambivert' Quiz
For your next pitch: 20 Hand Gestures You Should Be Using
Do you know how to speak with your hands?
Holler and Beatie found that gestures increase the value of our message by 60%! The best, most charismatic speakers and influencers know the importance of using hand gestures.
In this post, you'll learn:
Crazy facts about hand gestures
How to speak with your hands
My top 20 favorite hand gestures that everyone should be using
Read the full hand gestures post.
#3 Play in our Lab
In addition to combing through thousands of academic studies for our articles, we also conduct our own original research at the Science of People and would love for you to be a part of it.
Interested in having me on your show?
I'd love to be on your podcast! Email me at [email protected] with the subject "Podcast"
I've done hundreds of podcasts and I LOVE chatting with the most interesting people about research, behavior and life. Here are a few of my favorites you can listen to:
Here are a few of our favorites you can listen to:
Advance Your People Skills. Improve Your PQ. Level Up Your Life.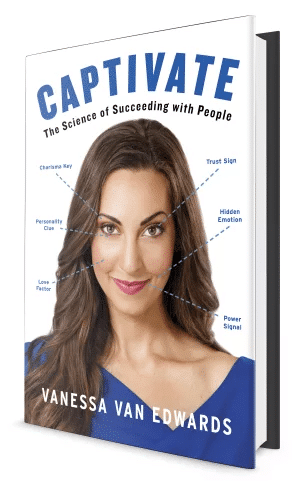 Ever wonder what makes people tick? Want to know the hidden forces that drive our behavior? In Vanessa Van Edwards' new book Captivate, she explains a simple blueprint for hacking human behavior. In this science packed, anti-boring guide you will learn:
The formula for fascinating conversation
How to walk into a room full of strangers and make a killer first impression
What to do to increase your impact and income using people skills
Our strategy for hacking the people code–we call it the matrix (Keanu Reeves not included with each book sale)
The art and science of understanding people
Learn the new–science based way for winning friends and influencing people.
As Featured In…