I have always been fascinated … and a little terrified of persuasion science and the value proposition. I worried that if I went too far down the rabbit hole I would be sucked into a dark world of manipulation.
On the other hand, as someone obsessed with people, psychology and leadership, I knew I had to get the latest and greatest science. As a member of the Association of Certified Fraud Examiners I get their wonderful publication Fraud Magazine.
I read this article by Donn LeVie Jr., CFE and immediately knew I wanted to share it with the Science of People audience. I hope you enjoy this article which originally appeared in Fraud Magazine, in the January/February 2018 edition.
Whether you're promoting your expertise to a potential client, marketing a product to a possible customer or pitching an idea to your manager (or your spouse), you should first pique their curiosity before moving forward. You do that with a value proposition or positioning statement. (Business types once called it a unique selling proposition, but most have set it aside for this term that promotes value instead.)
We use value propositions every day for a variety of situations. They're statements that anticipate the tangible, functional questions (or reasons) any decision-makers might have for buying from you, hiring you or simply considering your proposed solution to a problem.
Such questions might include:
What does your service/product/expertise mean for me?
Why should I buy this product/service or hire you over all others we're considering?
How is your expertise/product/ service different from others we're considering?
A value proposition is a "30-second elevator pitch": You have the undivided attention of a decision-maker in an elevator who's just asked you, "What do you do?" and you have half a minute to explain your value and expertise.
Or some liken the value proposition to what you can write on the back of your business card. That brief statement must testify that you or your organization has the problem-solving, solutions-providing, game-changing right stuff that decision-makers have been looking for. However, most people aren't thinking of cramped elevators or business cards when they write value propositions. Instead they encase them in convoluted, formal-sounding language or write them so they don't invite dialogue. And that's bad because that's what you're after: establishing dialogue to continue a conversation. All too often, value propositions sound like dead-end streets that fail to encourage continuing the conversation, or they sound too self serving rather than other serving.
Weapons of influence
Dr. Robert Cialdini, in his hugely successful book, "Influence: The Psychology of Persuasion" (HarperCollins Publishers, 1984), refers to six categories of psychological influence principles as "weapons of influence": consistency, reciprocation, social proof, authority, likeability and scarcity. These principles — when skilled practitioners apply them — direct human behavior in an almost automatic manner in response to requests for purchases, donations, concessions, votes, access and so on.
A lead-in statement preceding a value proposition can serve as social proof of value and expertise, provide a stamp of authority to a product or service, highlight a limited but needed skill and push open the door to access decision-makers. ("Social proof" is what people do when they're hesitant about a decision, so they rely on what people like them would do — reading restaurant and movie reviews, for example.)
Two examples of winning value propositions
In late December 2016, I was a guest at a client appreciation weekend over New Year's in Las Vegas, courtesy of one of the large casino resorts. During an afternoon event, members of the casino resort C-suite came out to meet our small group. I met one of the vice presidents and after exchanging greetings and some small talk, he asked me, "Donn, what is it that you do?"
I responded with my carefully crafted value proposition lead-in: "Meeting planners and association executives hire me to make them look like superstars. …"
He smiled and followed up with the Golden Question: "How do you do that?" Now that I'd set the hook I responded with my value proposition: "My high-value professional development conference keynotes and seminars help associations retain, increase and engage the membership and help with generating non-dues revenue. My EPIC Results programs show people how to engage decision-makers, position their branded expertise, use their value to influence decision-makers and convert them into clients and customers. I follow up with attendees for the first seven days and then at 14-day, 21-day and 28-day intervals to ensure new strategies and tactics take hold."
The vice president's comeback: "We need to talk. We need to get you in front of our teams." He then called over other C-suite members, and the conversation turned into a group discussion. I immediately followed up by asking them questions to determine their organization's needs and issues. My objective was to see how and where I could help, not sell them a seminar program or keynote. I came off looking like a problem solver — not a peddler of services. To sweeten the deal, I sent those C-suite members copies of my career strategy books.
The same situation occurred the next evening over dinner with a group of directors and vice presidents from another large casino resort. I happened to be seated next to the associate vice president of sales. Again, this executive asked the same questions, and I provided the same responses and enjoyed the same result.
I doubt that the direction those conversations took would be the same if I answered the "What do you do?" question with: "I speak to organizations on engagement/positioning strategies, and I'm the author of several award-winning career strategy books." The follow-up question might be something like, "Oh, that's interesting …" or "What are the titles?" Such responses don't provide the conditions for the direction I want the conversation to move.
Jim McConnell, CFE, a corporate security professional in the Dallas area, attended my breakout session on "Positioning Your Anti-Fraud Expertise" at the 2017 ACFE Global Fraud Conference in Nashville. Jim says, "I immediately implemented one of your many nuggets: 'How do you do that?' and changed my LinkedIn tag line and vocal lead-in statement to: 'I keep my clients off the front page, keep executives alive and out of jail, and make suppliers accountable.' "
With a great setting-the-hook, lead-in statement like that, you can't help but ask: "How do you do that?" Here's Jim's value proposition:
"Domestic and international clients want my converged-security expertise that integrates fraud prevention/deterrence and physical/personnel/cybersecurity applications that offer full-circle protective measures."
He could follow up that value proposition with: "If you have a few minutes, I'd be happy to share with you how this works for my clients …" Time to reel-in the catch.
Example of a value proposition for a job interview
Let's look at using a value proposition lead-in for someone interviewing for a position with a company.
Hiring manager/decision-makers: "So, tell me Tom. Why should we bring you on board?"
Tom's lead-in: "Mr. Jones, decision-makers hire me because of the future benefits my proven problem- solving expertise will bring to the strategic objectives of the organization."
Hiring manager/decision-makers: "How do you do that?"
Tom's value proposition: "My achievements and accomplishments in loss prevention demonstrate my expertise with not only recovering more than $200,000 in revenues, but that knowledge and skill set will contribute to the ongoing business goals of your enterprise from day one. What would be your highest priority project that I would be working on in that regard?"
Tom lays out his value proposition and ties it in with the suggestion in his question to the hiring manager that he's the only logical candidate to receive a job offer. Tom doesn't leave anything to chance or any dead-air possibilities as he probes the hiring manager with more questions, which further reveal his expertise as a value-add problem solver and not just another candidate looking for a job.
Example of a value proposition for client/customer acquisition
Let's look at using a value proposition lead-in for someone representing an anti-fraud enterprise seeking a new customer or client.
Prospective client/decision-makers: "Tell me something about your company, Diane."
Diane's lead-in: "Mr. Jones, those big-box retailers hire us to help them sleep better at night."
Decision-makers: "How exactly do you do that?"
Diane's value proposition: "Our wireless HD micro-camera security system is not only the most preferred electronic surveillance device in the retail industry, it gives you worry-free security assurance with impenetrable 100 percent uptime thanks to triple-redundant backup hard drives, and 24/7/365 support that includes fraud investigation support. Let me ask you: What's your most pressing fraud issue that's keeping you up at night?"
Diane takes the same approach as Tom does in the previous example by presenting herself and her company as a problem solver — not a peddler of electronic surveillance equipment. She knows the pain point of the decision- makers: worrying ("keeping you up at night") about fraud and preventing revenue loss. She jumps in by demonstrating through questions that she wants to help solve problems.
Another approach to the "How do you do that?" question is to answer it with another question:
Prospective client/decision-makers: "How do you do that?"
You: "You know how (state the problem or issue the decision-makers may have)? Well, what we do (or what I do) is (explain how your product, service, expertise solves that problem uniquely)." Tap into that customer pain and lead them out of their suffering to the promised land.
Critical element of engagement
It's clear that well-written lead-in statements improve the position of your value and expertise and can lead to easier access. This is a critical element of your direct engagement with hiring managers, decision-makers and others that moves you forward in the conversation or in the running for that job or contract.
Bonus: Value proposition formula example
Target audience + category + functional/symbolic/experiential benefit(s) + reason to believe.
Or specifically:
To (target audience) + our/ my (product or service category) + is the (functional/symbolic/ experiential benefit) + that provides + (functional/symbolic/ experiential benefit) + because + (reason to believe).
And even more specifically:
To loss prevention specialists in the retail clothing industry, our wireless HD micro-camera security system is the most preferred electronic surveillance device that provides fail-safe, worry-free security assurance because of 100 percent uptime, triple-redundant backup servers and 24/7/365 support.
Now, work your way backwards: The above value proposition is in response to "How do you do that?" From that question, determine what your lead-in statement would be.
---
Donn LeVie Jr., CFE, a Fraud Magazine staff writer, has been a presenter and career and business engagement/positioning strategist at ACFE Annual Global Fraud Conferences since 2010. He's the author of several award-winning career engagement/positioning strategy books. Visit his websites at donnleviejrSPEAKING.com or donnleviejrSTRATEGIES.com.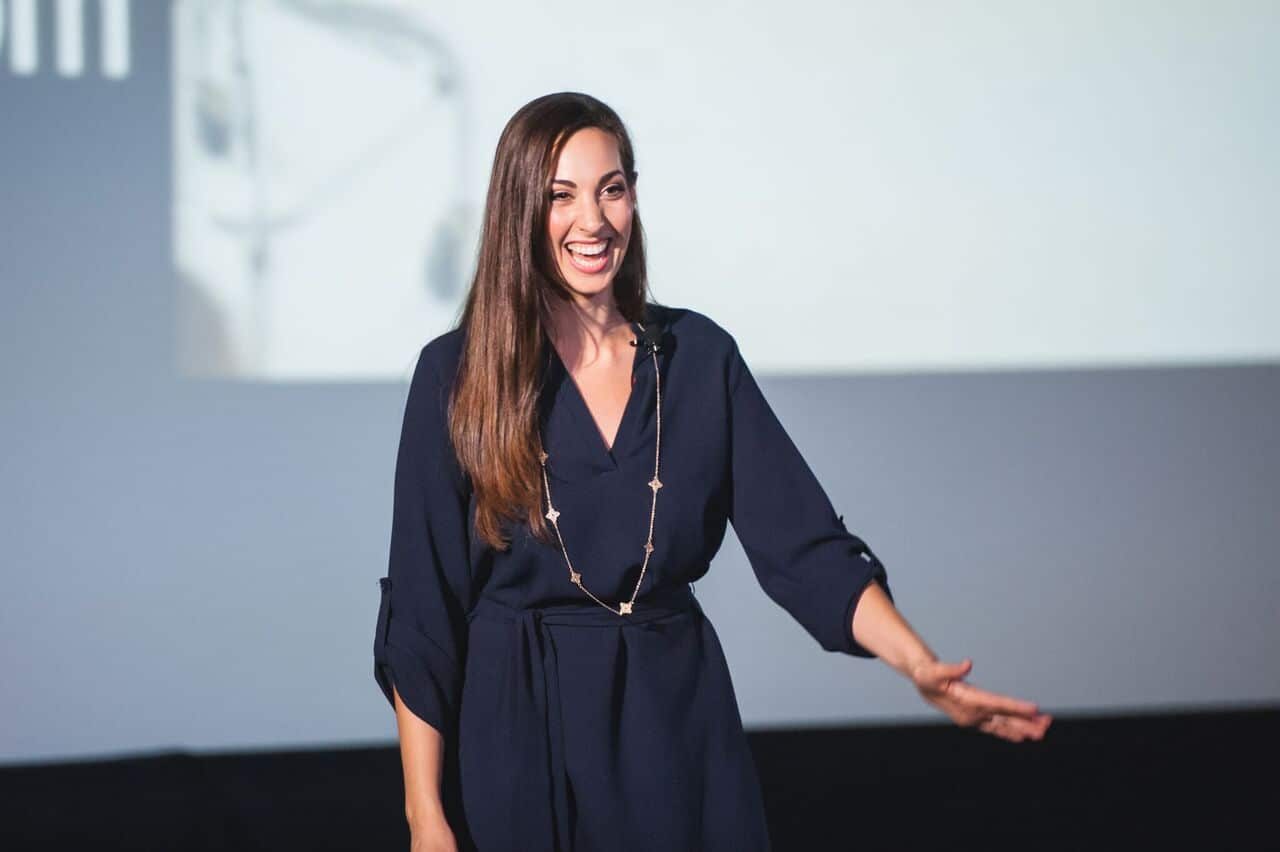 About Vanessa Van Edwards
Lead Investigator, Science of People
I'm the author of the national bestselling book Captivate, creator of People School, and behavioral investigator.
I've always wanted to know how people work, and that's what Science of People is about. What drives our behavior? Why do people act the way they do? And most importantly, can you predict and change behavior to be more successful? I think the answer is yes. More about Vanessa.
Join Over 500,000 Students
Are you looking to kickstart your career? Level up your leadership? Join thousands of students learning to master their people skills and make an impact on the world. And for joining today I'm giving away a free one hour audio training to help you jump start your learning!
On a journey? Choose your path below
10 People Skills You Need to Succeed
Be Confident with Your Body Language
How to Be Charismatic (without being inauthentic)