A few months ago I had this idea. I was standing at a happy hour event and didn't know a single person. Everyone was in really tight groups talking and I couldn't find the energy to break into one just yet. So I opened my phone. No texts. No new Instagram posts. No new emails. So I pretended to text someone. (Awful I know). I just needed a few minutes to re-group! And then I realized, this happens to me every once in a while. Do you encounter these moments?
You're at a party or an awkward networking event and you have no one to talk to.
You're standing in line for the bathroom and wish you could think of a conversation starter to chat with the person behind you.
You're bored at an event and want something fun to spice it up.
You're on the way to a party and wish you had some last minute tips to prep for a night of schmoozing and meeting new people.
I thought to myself: What if there was a way to help get through these moments? What if you didn't have to pretend to talk to someone, but instead you could actually talk to someone–or something.
Let us be your Social Superhero!
Here at the Science of People we built a little chat bot to be our social superhero in these situations. It's kinda the coolest thing ever and I am OBSESSED with it. I hope you will be too. This is a free little tool we built to help you (and me, I have been using it a bunch). Here is what you can chat with our bot about:
#1: Conversation Starter
If you type "conversation starter" to our little guy, he will write back with one of our favorite conversation starters. Yes, really! Just try it! You can also ask him:
What should I say?

Tell me what to say?

Help me make friends
And he will send a juicy conversation starter your way!
#2: Tips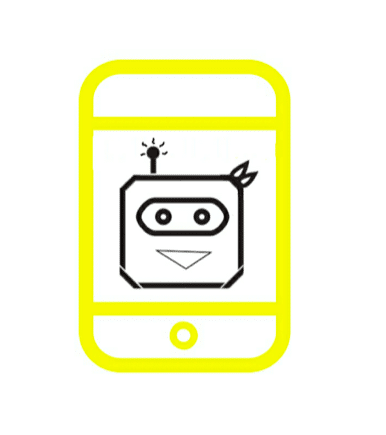 Want some last minute tips while you are getting ready? How about in your uber? Ask our bot for tips and he will send you some last minute pep talks, videos and articles that will get you ready to rock and roll. Try chatting him:
Give me tips
Help me
Send me tips
And we will send you something like:
Wondering where to stand at the event? Try placing yourself right by where people exit the bar or the  food table. These are 'sweet spots' at events where people are ready to mingle.
#3: Social Dares
Ok, this one is my favorite! If you are bored at a bar or party you can get some challenges to spice things up–feel free to do this with friends too. Just chat us:
Dare Me

Social Dares

Send me a dare
And we will send you something like:
Try this: Order a drink you have never tried before.

Draw a doodle on your napkin and leave it for your server or the person who sits down after you.
Ask the person standing next to you for a book recommendation.
#4: Jokes
Sometimes we just need to pass the time at a boring or awkward event. Don't pretend to chat with someone! Chat with us. We have a whole bunch of corny jokes lined up and waiting for you to find. Try chatting:
Send me a joke
Make me laugh
Tell me a joke
To our little bot and he will send you back something guaranteed to make you laugh–or at least chuckle. And then everyone will be super jealous because you are texting someone really awesome, hilarious and modest.
Goal: Anti-Awkward
Our whole goal with this fun little Artificial Intelligence bot is to save everyone from those horrible awkward moments. All you have to do:
Like our little bot on Facebook: https://www.facebook.com/thesocialsuperhero/
And send the page a chat message. Yes–the bot is hooked up to the messaging on the page!
Send him one of the prompts above.
Repeat! The best part is you can even chat with him from your phone on Facebook Messenger when you next need him.
Remember!
This is a bot– so your messages are going into a software we built. Why software?
It's faster than a human! When you chat our Social Superhero he responds instantly. If it was a real person on our team you would have to wait for a few hours for one of us to be online–not helpful at a live event situation!
It's smarter than a human! Our Social Superhero can monitor our favorite jokes, conversation starters, articles and videos all at the same time. Humans are smart, but not that smart.
It's free! This little bot is free for you to use unlike hiring a real-life dating coach or something.
The whole point of this is that you get instant responses and access to a social superhero whenever you need it. Gosh, technology is amazing.
Ok, we can't wait to hear what you think!
Cheers,
Science of People Team
---