Creating a personal brand is all about being purposeful about how other people see you. Crafting a personal brand will set you up for more success with others.
What is a Personal Brand?
A personal brand is your online representation and how you promote yourself. Your personal brand is the combination of the personality, authority, and expertise you showcase for others to see. A great personal brand gets the message across to your audience and complements your business or career.
When creating a brand, you need to consider
the type of content you are creating
your target audience
how you present it
Consider my brand, for example. Head on over to the front page and you're greeted by the big on-stage picture: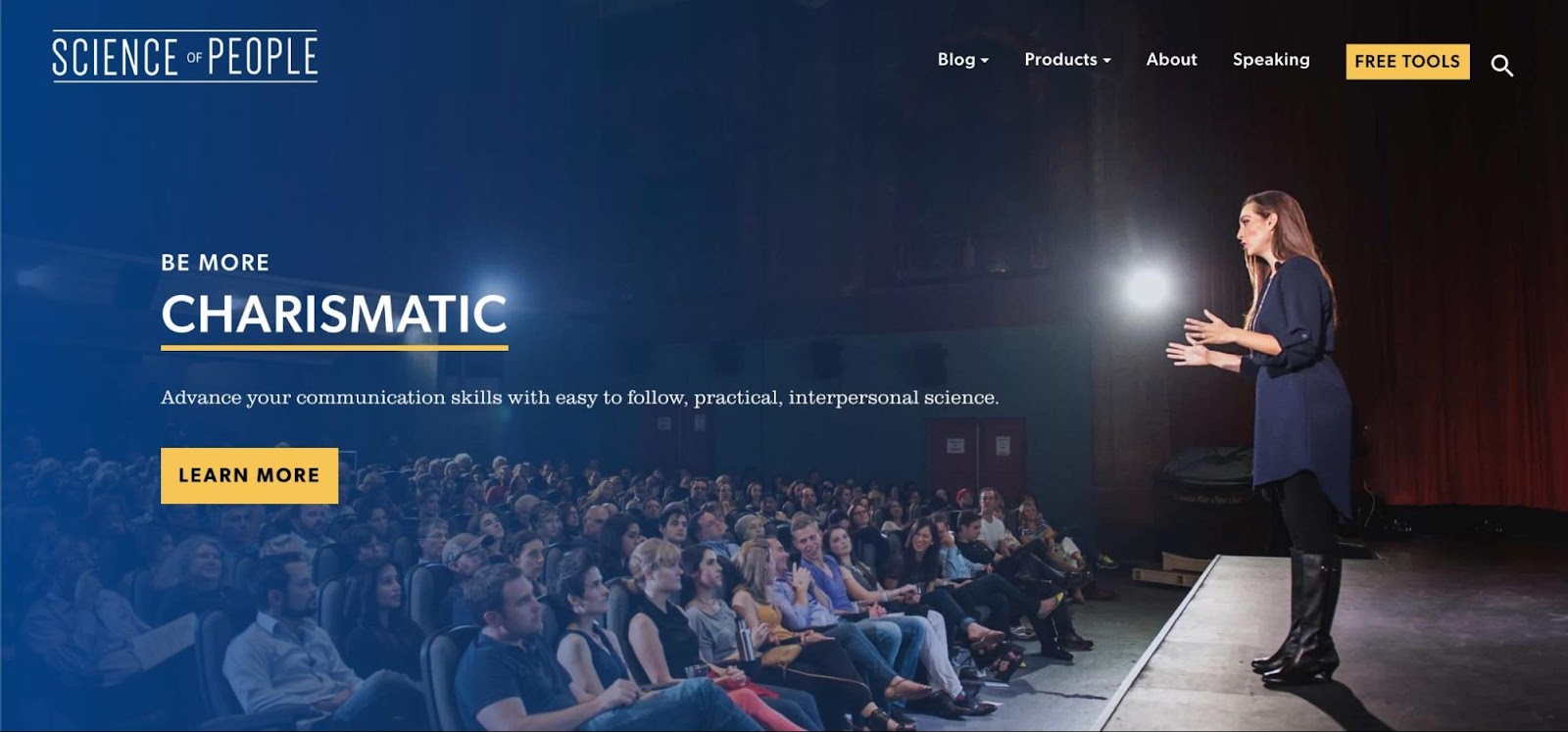 Science of People is targeting the modern professional. We create content that's all about career, relationship, and personal improvement.
Scroll down and you'll see a picture of me and a blurb that explains more of what we're about:
As you can see, the use of various elements helps highlight my personal branding. I want to give off the feelings of excitement, professionalism, relatability, and friendliness—the perfect blend of charisma.
No matter how well versed and knowledgeable you are, without personal branding, no one is going to notice.
How Do You Create a Personal Brand?
Your brand should be geared toward one simple goal—to be known as a credible and reliable expert. This goal applies whether you're
a content creator who streams video games
an entrepreneur selling a gadget
a chef creating food-related content
an Instagram influencer
And yes, it helps if you have experience and knowledge. You can even have unique personal branding that attracts a niche crowd—it all depends on your target audience.
For example, Nerd Fitness is a brand that applies to, well, nerds. And this is all over their branding. They call out to their people.
Here's how to get your branding on point—one step at a time:
Build a Future Bio
Your bio is a short blurb that's usually hidden in the "About Me" section of your website or social media profile.
But it's also one of the most important elements of your brand.
You'd be surprised at the number of people who want to learn about your personal story, and you'd be even more surprised to know that nailing your bio can be the make-or-break for how your brand stands out.
Why?
Once you know how you want to be portrayed, everything you create afterward will be much easier (we'll get to the creation part in a bit).
We're going to build our future bio:
First, head on over to LinkedIn. Scour your favorite famous people and check out their "About" sections. Here, we're going to use our favorite Shark Tank star, Kevin O'Leary, as an example: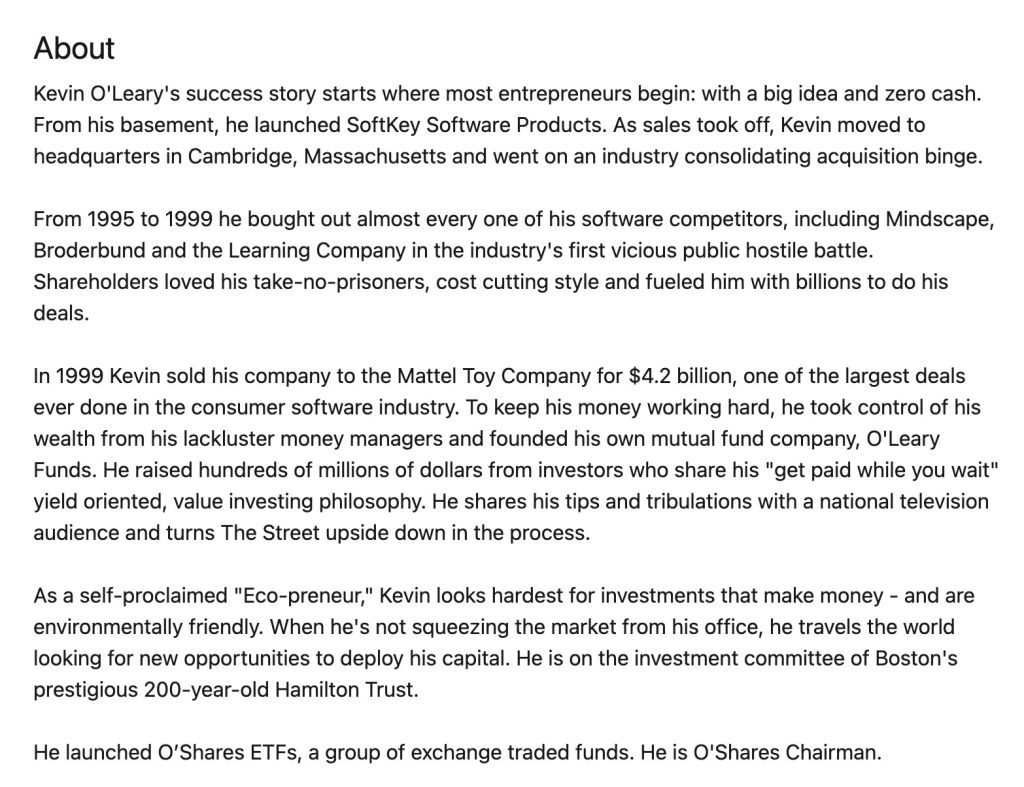 As you can see, there's a whole lot to read here. But if you haven't built your brand up, you probably don't have a lot to say. No worries!
Since we're building up a future brand, write out your bio as if you've already succeeded in your company or business.
Imagine what you'll have accomplished a year, 5 years, and 10 years from now—the products you'll have sold, clients you'll have achieved, and awards/recognitions you'll have won.
And remember, it's not about what you look like but more about the messages you send and their reach, your core values, your skills, and your beliefs.
And then write it all down!
Great. Now we have a goal to aim for. You can cut down on the "future" aspect and post your bio online now—even a short 2- or 3-sentence explainer can be good enough for now.
And speaking of online, let's take things public.
Create Your "You" Space
Once you know there's some demand, let's create a space about you.
What are YOU really about, and what type of image are you trying to portray? Is it
professional?
informal?
humorous?
serious?
authoritative?
friendly?
self-deprecating?
The first step is to get to the drawing board and list all the adjectives you want to be associated with. This is your "You" space and these are the traits you want your audience to remember you by.
Try this exercise: "When people think about me, I want them to describe me as…"
____________
____________
____________
Create Your Digital Presence
Whether it's your website, social media account, or YouTube channel, you should try to create a presence that lets people see the true you in the most convenient way possible.
Here at Science of People, we target many different forms:
blog posts
social media
YouTube
If you haven't started yet, then start with one avenue first. But the important part is to make it digital—we'll go over how to produce A+ content in the next step.
Create Golden Content
Content is King. To give this a little more perspective, consider this: 55% of management professionals have a habit of reading online content (whether it's in long-form ebooks or shorter "lunch" articles) every single day.
And all it takes is just one bad article for your brand to be tarnished forever.
To truly stand out, you're going to need some awesome content.
But not just any content.
Have you ever read a blog post where the tips sound something like "Stay positive; staying positive will keep you happy and it's important for your life"?
One word: boring!
To create golden content, your content needs to stand out above the rest. Whether you're
approaching a standard topic with a unique angle: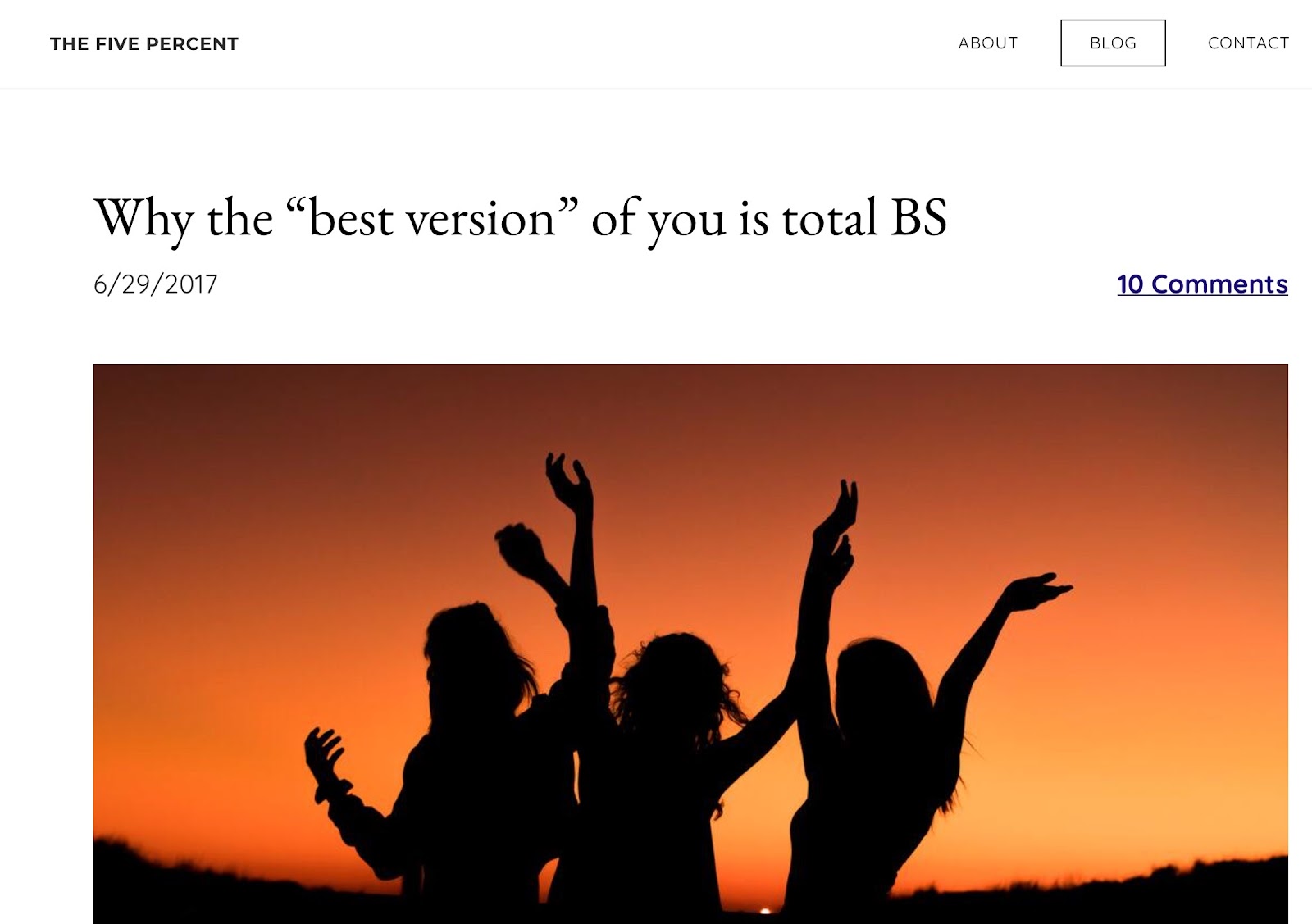 creating the most comprehensive guide out there: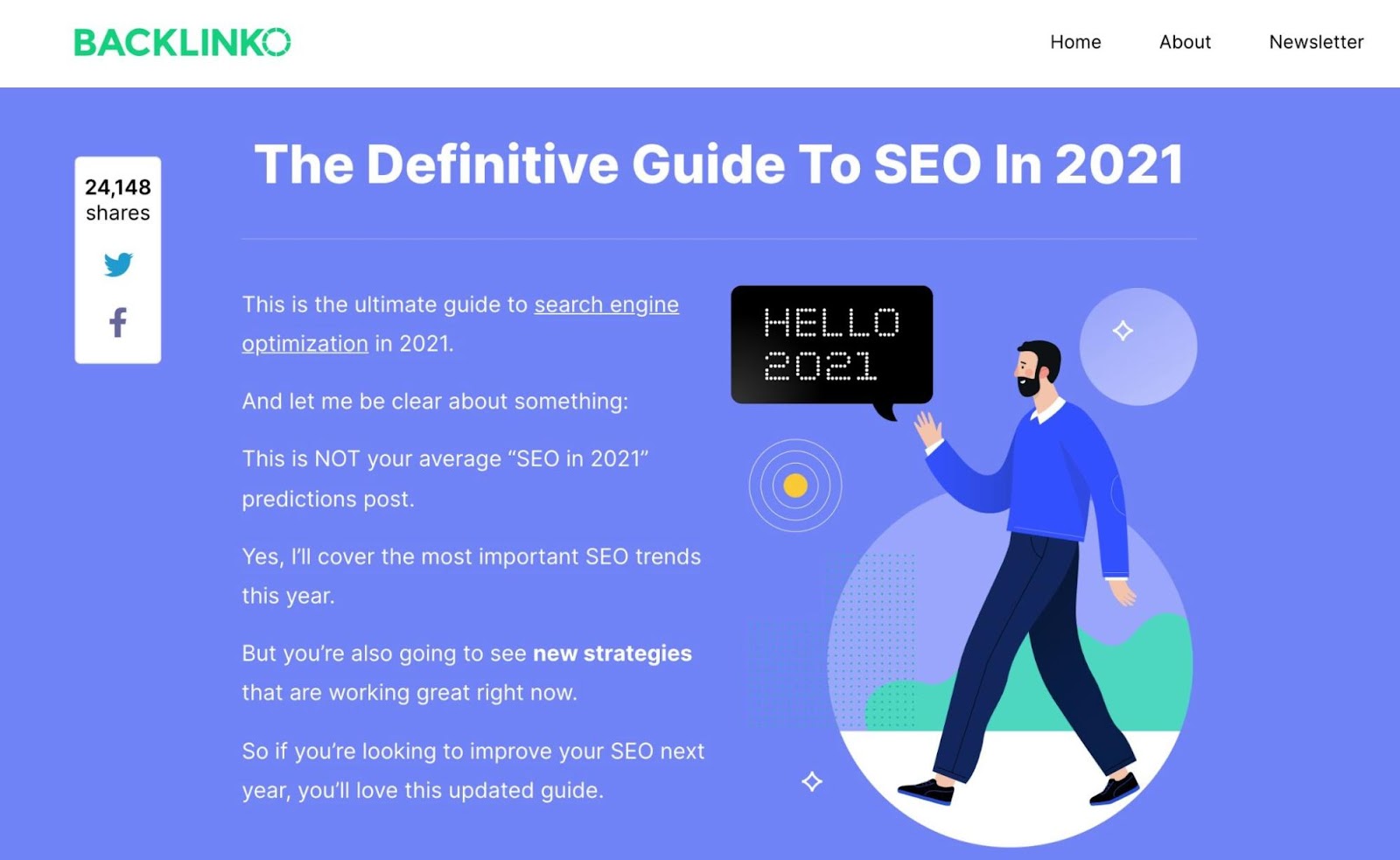 creating unique statistics that people want to share:
Your content needs to stand out above the rest.
This is the Golden Content approach—and this is the approach you should take with every piece of content you write.
And remember, the more effort you put in, the more poised for success your brand becomes. Need more ideas? Try the next step…
Spot the Trends
Before you even start branding, you'll want to know if there's demand for it.
After all, you could have the best hair-removal-from-the-shower-wall tool out there, but if nobody wants it, then who cares?
One way to get noticed (in the right way) is to keep an eye on Google Trends.


You can even try sending out an online survey, creating polls in online forums, or asking your closest friends (for their honest opinions!).
Activate Your Socials
Almost every millennial and every Zoomer is well versed in social media platforms like Facebook, Twitter, Instagram, and yes, even TikTok.
In 2016, the estimated number of people using social media was 2.65 billion, and recent studies suggest that there will be over 3.98 billion social media users in 2022.
So pick and choose the social channels that will engage your audience the most.
For a good idea on which social media channel to use, check out this article: Which Social Media Channels are Best for Your Brand's Marketing Goals?
Reach Out
When you think you have published enough content in your own space, it's time to reach out.
This means collaborating with other influencers and brands and asking them to give you a shout-out.
If you're branding yourself in person, try attending as many networking events and relevant summits in your industry as you can.
If you're branding yourself online, try online networking, or write up an outreach email and start pitching.
If you don't like to stand on others' shoulders, get in touch with a journalist. They are always eager for a good story. Help a Reporter Out (HARO) and Muck Rack are great places to start.
Yes, these services usually cost money; however, with the right pitch and valuable enough information, you can get published eventually. If you're presenting something new, they might even offer you money to get published by them!
Play the Response Game
Creating awesome content doesn't stop at your website or social media.
After you have posted your golden content, try the response game: go to different spaces and share your thoughts down in the comments.
For example, you can participate in comment threads on Quora or Reddit related to a subject you are knowledgeable in and offer valuable insights to those involved.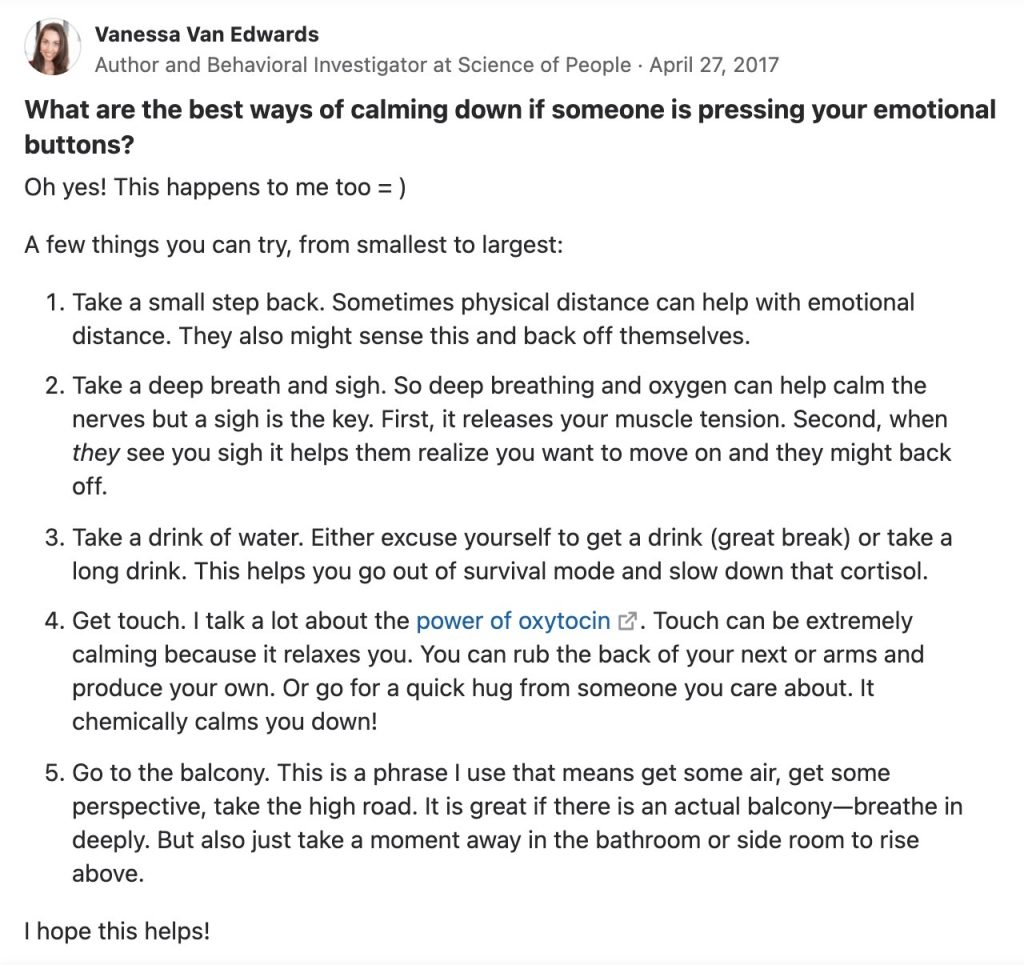 Be subtle, though—give people an indirect reason to want to check out your brand. You can subtly mention you have explained this in more detail on your page/channel/website.
Practice this on newsjacking posts, YouTube videos, or public debate forums where an interpretation is being discussed.
Hit a Wall? Pivot!
Many artists and marketers think of rebranding or pivoting as a failure, but that is not the case. Think of it like repainting the Death Star. Perhaps you paint it in rebel colors to infiltrate a system and destroy a specific planet that shall not be named here.
Or you just painted it black because… why not?
No matter what your goals are, rebranding is a way of reevaluating how you share your work and who you share it with. Start from the top of your potential-brand list and work your way down, choosing the one that reflects your mood or personality best.
Or work with another brand, like Staying Cool did—they managed to repurpose their unused apartments and partner with Alex Claridge, chef and owner of a restaurant called Wilderness, to bring customers a dine-and-sleep luxury experience!
Be careful, though. Don't paint your Death Star pink and turn it into a laughingstock or rebrand yourself so many times that you end up losing your identity.
Sometimes all it takes is a subtle shift to make the magic happen.
Don't Give Up!
Back in the day, people used to say "Rome wasn't built in a day." In the 21st century, this analogy has changed quite a bit. Now they say "Facebook wasn't built in a day."
Take, for example, the biggest brands out there—Apple, Facebook, Nike, Microsoft, Amazon. All of them took years to build their brands and even more years to spread them throughout the globe.
So keep on learning how to brand yourself as an artist, a musician, a subject matter expert, or just yourself, and don't give up! It's just a matter of time before you find your spotlight, stand out, and get noticed.
For more great reading, check out our article: 12 Amazing Tips to Stand Out (Professionally & Personally).