You have an incredible opportunity to supercharge your first impression and your business. It's small, but packs a punch… it is:
Your Business Card!
Most people think about their elevator pitch, their LinkedIn profile, their outfit, but they don't put all that much thought into their business card. Or, even more frustrating, they WANT to put a lot of thought into their business card, but have no idea how to do it.
Don't worry! I'm here to help by giving you several business card ideas:
Art and Science of Business Cards
I have experimented with business cards and found that by using the science of people and some nice visuals your business card can seriously change the way you network and meet people. With a little bit of pizazz (don't you love that word?) your business card can:
Help You Win Deals
Make You Memorable
Showcase Your Success
Here's what you can do to make your business card awesome:
1. Expert Tagline
Your business card needs to do three things:
Explain what you do quickly when you first give it to someone in person
Remind people what you do when they are following up with you days (or weeks) later
Show people what you do if your card is passed along
Knowing your business card has to serve these purposes, you have to make sure that it explains who you are and what you do in one line. This is your tagline. I want you to create a one-line answer to the question "What do you do?" I know, I know- you're shaking your head telling me that you couldn't possibly narrow it down. That it depends on the person you are speaking with, that you do too many things, that it can't be explained in one sentence. Well, this is going to be harsh: Suck it up! I know it's not comfortable, nor is it ideal. Most of the time you will be able to explain what you do to the receiver in person, but sometimes you will NOT be able to. And a one sentence tagline is better than no explanation at all. Check out this card- he uses his broad reach to make a joke with his tagline: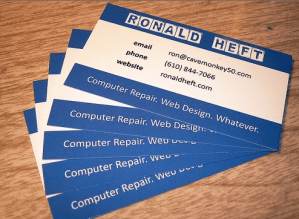 Tip: If you are having trouble thinking of one, ask 5 people who know you and your business well to come up with one for you.
Tip: Have 2 or 3 options? GREAT! Save them, we are going to use them in Step #5.
Examples: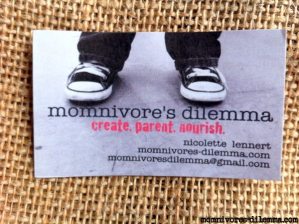 2. Hook 'Em
Your tagline does not have to be the 'perfect' explanation. In fact, it's even better if your tagline, image or title is a little interesting. Something eye-catching or unique. This is called a hook or an element of surprise that gives them something to talk to you about or remember. In my Master Your People Skills course I explain how surprise is one way you trigger someone's pleasure center in the brain. For example, you can do this by creating a word. One of our readers Carolyn Dempsey says she is a writer, marketing copywriter, editor and researcher. And her five-word brand description is:
I'm a marketing communications ideator.
Ideator is a cool hook word that makes you think, wonder and go into a brainstorm. This is a great conversation starter and way to remember someone. She also uses a uniquely shaped card — >
You can also do this with a visually unique image or something funny. I just met a Children's Author who pulled out a stack of business cards and each one had a different childhood classic book on it. She let me choose which one I wanted and we had the best conversation about our favorite childhood stories. Winner winner chicken dinner! I will remember her FOREVER and I bought her children's book even though I don't have children because I love the way she thinks and wanted to explore her stories.
Examples:
Check out some of these conversation worthy hook business cards:
3. Show Don't Tell
Why say something when you can show it? In addition to having a catchy tagline, you can also hook people and explain what you do through images, graphics or photos. One of our readers, Armando Ello submitted this awesome card:
Notice how instead of having to say he is a photographer, you just know. In fact, you know and you get to see an awesome shot of him and his talent!
When thinking about showing instead of telling you don't have to be literal. You can take your ideas a step further. For example, this graphic designer didn't put a big image of a computer and a pencil on his card, instead he made something super unique with awesome graphics: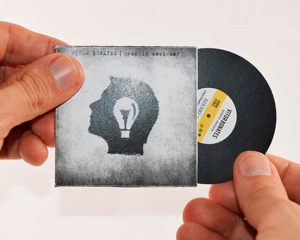 This ornithologist didn't put a big bird on his card, he made his card into how he sees the world:
Examples:
4. Match Your Brand
The other thing that business cards do is represent and explain your brand in a first impression. You could have the cleverest business card ever, but if it doesn't match your brand, it confuses people. I want you to think about your brand personality. What are three words you use to describe your brand? How can you put that into a card? For example, this card shows a very certain kind of brand. A little vintage elegant: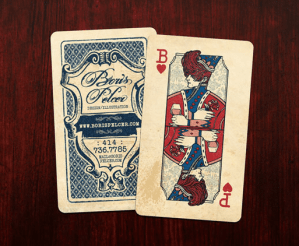 Whereas this card has a brand that is playful and applicable… it's also a super hook and very "show, not tell."
If you have a professional brand you want to use high quality paper, embossed lettering and professional colors. Something like this: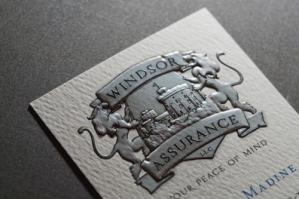 Tip: You can also consider applying your brand values to your card. For example, with the Science of People brand we are all about seeing truth and using our powers for good and not evil. So I play off of the phrase "see no evil, hear no evil, speak no evil" on my business card: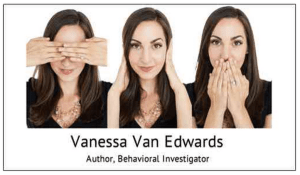 Or my friend Katie Lane actually puts a cartoon likeness on her card–which is an awesome way for someone to remember her!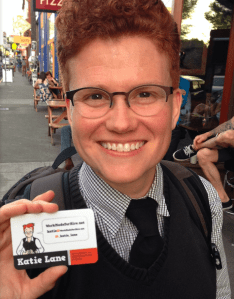 5. Experiment
The last way to supercharge your business card is to experiment! You don't know what is going to resonate with people or make them laugh or make you memorable until you try it. I tried tons of different business cards (and still will) before settling on the one I have now (see above). There are tons of printing services online that will let you design and print up to 100 cards typically for under $10. I typically use VistaPrint, but you can use anything you want. Print up to 100 cards, pass them out and see what kind of response you get and how you feel handing them out. You should feel proud and excited when someone asks for your card because it represents you! Don't be afraid to try something different or even have a few different cards you pass out at the same time. Tell them you are running an experiment–it makes for great conversation = )
Here's my final challenge for you:
Don't be boring. Don't be ashamed of your business card. Try something new, step outside your comfort zone and report back. I want to see the magic card you come up with and why it represents you and your brand.  And if you need a little inspiration, feel free to check out Design Wizard's article on 20 business card examples. Hopefully this gave you some great ideas and got the juices flowing–now go create!