Do you want to meet new people? Whether you're in a new city or in your hometown looking for a refresh, this guide will give you 50 easy ways to meet people!
Why Is it Hard to Make Friends? (According to Science!)
Once we enter work life, it's natural to lose touch with most of our friends, especially after relocating.
Watch our video below to learn how to meet new people!
A recent study by Oxford University even suggested that men and women start losing friends after age 25.
Distance, demanding work hours, and shifting priorities all contribute to a shrinking social life and the solitude that comes with it.
Can you relate?
If you're more like me, grabbing takeout on your way back from work and tuning into Netflix sounds like a much better plan.
But we absolutely need to make friends! Humans are wired to connect with others to regulate emotions, improve empathy and self-esteem, lessen anxiety and depression, and even live longer!
Unfortunately, making friends in adulthood is not as easy… especially if you're looking for a deeper emotional connection than you were back in high school or college.
So here's a thought to consider:
According to the United Nations, the global average life expectancy is 72.6 years.
This means that on average, if you meet just one new person every day, you'll meet around 25,000 people in your lifetime!
The opportunities are endless.
Here are a few more interesting statistics:

There is a better way! Here are the best places (in person AND online) to look:
The 50 Best Places to Meet People in Any City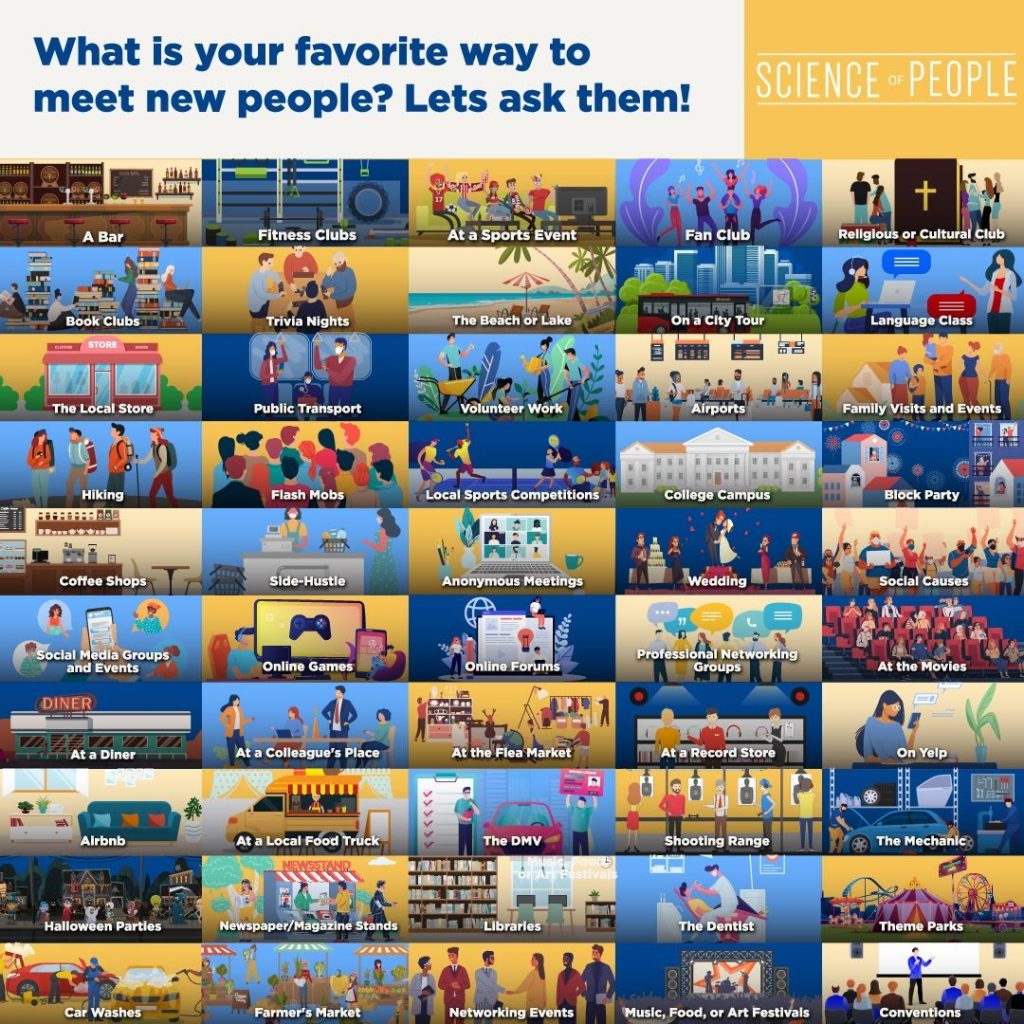 Trivia Nights
If you've never been to a trivia night before, you're missing out!
Imagine answering questions related to Harry Potter, Game of Thrones, or your favorite sports team, in front of a crowd while enjoying drinks and food.
Chances are, you'll impress someone—or be impressed by someone—and start a conversation!
Action Steps:
Arrive early on the night of the event! This is key to meeting people—do not be late. Make sure to speak to your teammates before and after the game too.
On a (Unique) City Tour
If you are new to a city, I recommend going on a few city tours to see if you can meet other newcomers.
If you have been in your city a long time, try doing a unique city tour. Many cities offer walking historical tours, art tours, food tours, architecture tours, and even ghost tours. Try them all! If you're in a completely new city, why not go on a city tour to explore famous landmarks, zoos, restaurants, and museums?
Action Steps:
Join online tour groups like SoloTraveller, ShowsAround, or PartyWith, etc., to learn more about the places you're expected to visit.
Minimize use of electronics. As much as you may enjoy music, don't be glued to your cell phone or walk around with earphones, or you might be seen as uninviting. Better yet, why not try a digital detox and get rid of social media altogether?
Try searching your town's name + art tour, ghost tour, food tour, architecture tour, museum tour, food truck tour and see what comes up!
Be a participant! Ask questions, be interested in the history, and make yourself known to the group. Try not to be a passive observer, or you won't be noticed as much.
Language Class
Learning a new language is a great way to learn about a new culture. It's also a smart way to form new connections with others.
Many people perceive willingness to learn as a good thing and will be more open to becoming friends. And if you'd like to learn smarter, check out our guide here!
Action Tips:
Join a language class! Don't be afraid to show you're new by mispronouncing even the basics. People will most likely be very encouraging, as people in a language-learning class are there to learn and get better.
Call a couple of the students in your class to invite them to lunch or a new hobby! You can even use this opportunity to grab some food from the same culture you're learning the language from.
Make a note buddy. Want to learn while also making friends? Consider finding someone you can exchange notes with in the foreign language.
A Bar
As cliché as this might sound, a bar is still among the most popular places to meet new people.
On most nights, bars are crowded with different people who have no problem sharing drinks with strangers. It's like hiring a new employee, but this time, they're not coming to you—you're going to them.
Action Steps:
Join a bar crawl near you. You can bring your colleagues from work, or take the solo route if you don't want to mix business with pleasure.
Dress like the person you're planning to meet. Are you a Ted or a Barney? How you dress says a lot about you, your habits, and your preferences.
Check your body language to ensure you're open to a conversation. Put your cell phone away, pay attention to the conversations happening around you, and open your torso toward where the people are, instead of leaning into the table.
Befriend a bartender. Bartenders are certified social experts who can give you valuable insight or make a casual introduction for you. Be sure to be a good customer.
Take a sip and dive into the conversation! "Where's the best pizza in town?" "Did you watch the game last night?" "What's your personality type?" For a list of amazing conversation starters, head on over to our guide: 57 Killer Conversation Starters So You Can Talk to Anyone
Fitness Club
Joining a fitness club is a great way to get social while staying fit!
Depending on your preferences, you could opt for a gym, yoga classes, or martial arts, etc.
Regardless of your choice, you're bound to meet new people. And if things go well, you might even find a new workout partner who you could be friends with outside the club.
Action Steps:
Go to a fitness club or class regularly! Sign up for a free trial to find the best gym around.
Pay attention to personal hygiene! After working up an intense sweat, it might be handy to take a shower afterward so you're pleasant to be around.
Look online in Facebook groups for people looking for workout partners with similar fitness goals.
Try a racket club, golf club, or specialized club.
At a Sports Event or Fan Club
Do you love football, basketball, or baseball?
You're not alone. You're bound to find and befriend people that support the same team you do in a new city.
Action Steps:
Look for your team's fan club in your city on the official website or social media pages. Stay connected with others by leaving comments and going to their local meetups!
Look for a sports bar showing the game and wear your team's jersey to it. You're bound to strike up some interesting conversation.
Talk about the game with other fans and celebrate/mourn the results! When you have a common goal and enemy, friends are more easily made.
Religious or Cultural Club
If you like Sunday school or the occasional Bar and Bat Mitzvahs, they are excellent places to meet and befriend new people.
Becoming active in a local place of worship will ensure you engage with like-minded people.
Action Steps:
Start visiting a religious center near you regularly and aim for the same spot every time. Eventually, you'll be recognized or start seeing the same people around you.
Smile! Not the fake kind of smile but the real smile that causes your face to have those crow's feet.
Get involved with activities like sporting events, fundraisers, Bible studies, and seminars, etc.
Book Club
If you're a bibliophile like me, a book club is the best place to meet like-minded people in a new city. Start one or join one!
By showing up to a weekly or monthly book club meeting, you can discuss a book with other members and exchange views.
Action Steps:
Use sites like My Book Club and the Reader's Circle to find the right club for your book taste.
Look for recommended books on Instagram or Facebook pages and join the comment section to look for people with similar views.
Bonus: Be Captivating!
If you want to learn the best way to improve your social skills and create long-lasting relationships, add this bestselling book to your list! In Captivate: The Science of Succeeding with People, you'll learn:
how to make a lasting first impression
how to stop being boring
how to be a great storyteller
how to say no
… and much more!
Grab the first chapter for free or check out the book here!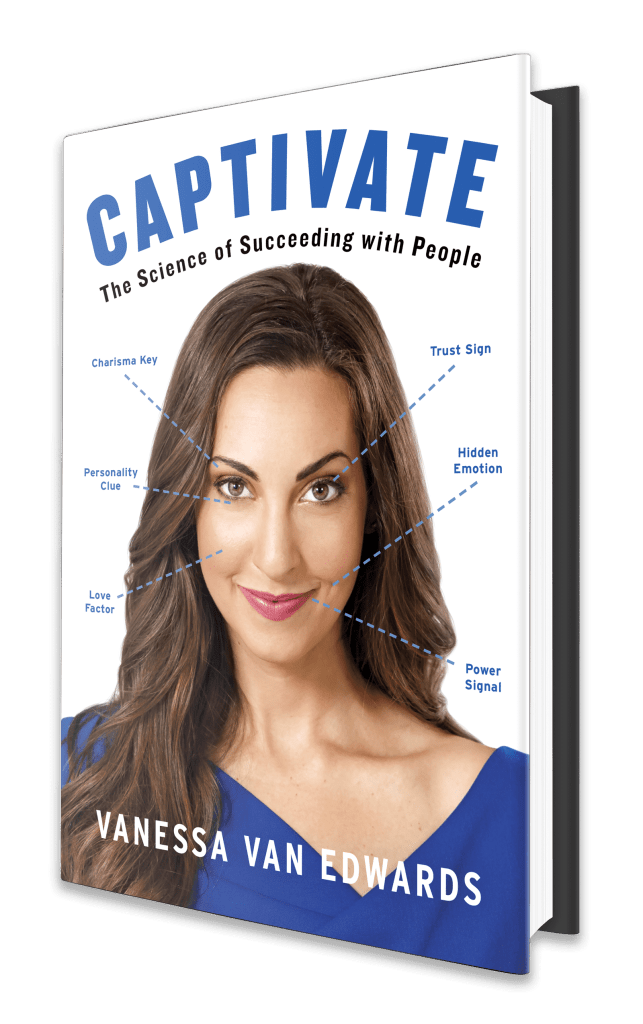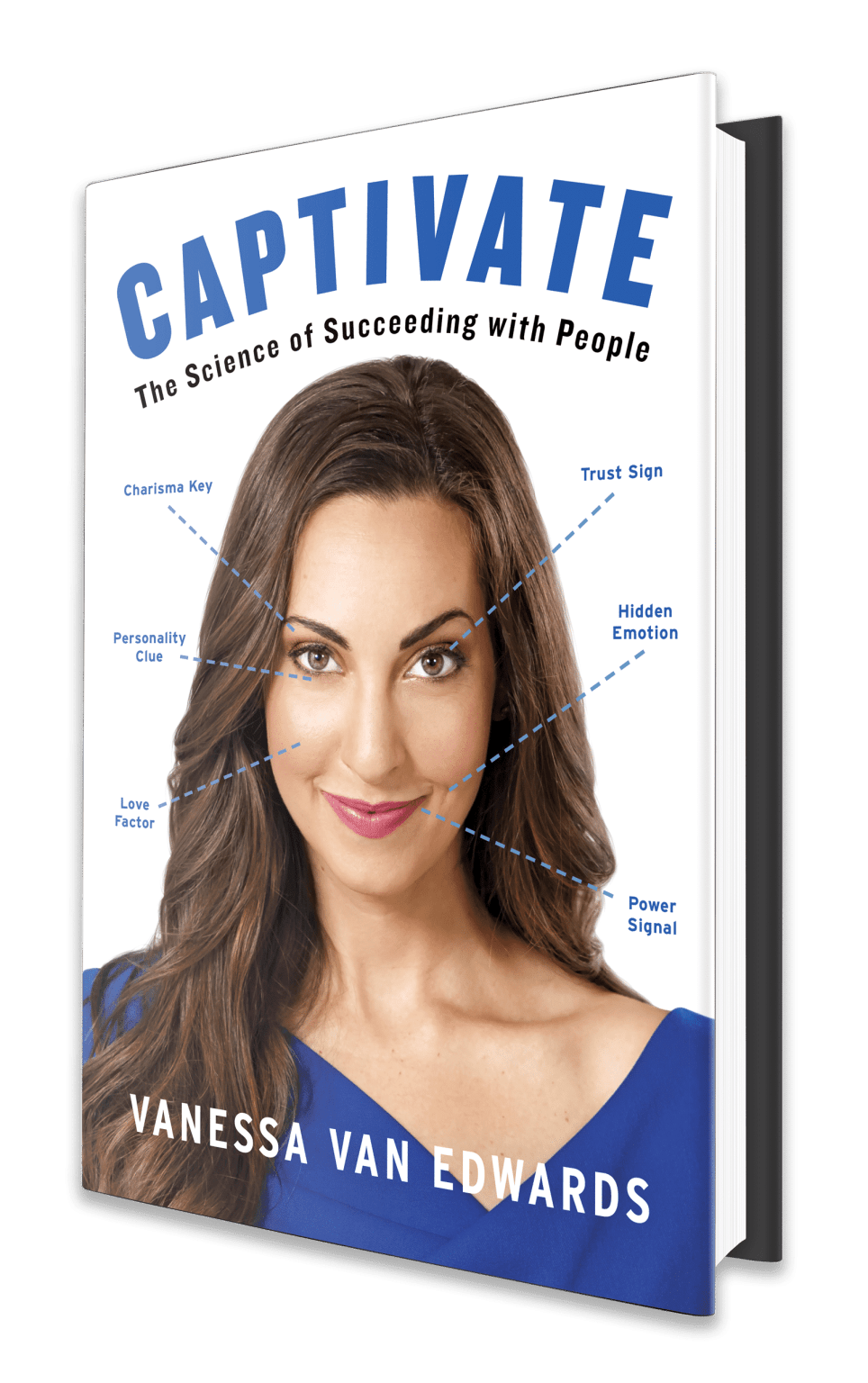 Succeed with People
Master the laws of human behavior and get along with anyone. Increase your influence, impact, and success.

Register below to get your FREE chapter of Captivate.
The Beach or Lake
Spending time at a beach or lake is not only relaxing and fun but also a great opportunity to make new friends since everyone is generally relaxed.
If you're new to the area, you could ask for directions, time, a drink, or even some sunscreen!
Pro Tip: Pick a spot on the beach or dock in a crowded area so you can make small talk with people on the towels next to you.
Action Tips:
Join a local meetup group at the beach or lake for yoga, jet skiing, or hiking.
Become a volunteer to help out with local projects and activities.
Make small talk without being creepy.
Music, Food, or Art Festival
Food, music, and art are things people are passionate about on an individual level. Attending festivals is among the best ways to meet people with similar social taste buds.
According to a study that tracked people's digital footprints, researchers concluded that individuals with similar likes and dislikes attracted each other and were more likely to become friends.
So find your favorite festival, go listen to some tunes, and make friends!
Pro Tip: If you are trying to meet new people, look for long lines. Then try to chat with the people ahead of and behind you!
Action Tips:
Introduce yourself to others! It sounds simple, but you'd be surprised at how many awkward introductions people tend to have. Break that awkwardness by learning to master the handshake.
Ask for opinions! How's the music? Do you like this particular painting? What do you think it means? Asking questions is a great way to meet people and hear different opinions.
Look for ridesharing opportunities on Facebook groups! If you're going to the same music festival, this is a great way to make friends before the actual event.
Dance like nobody's watching! If you're at a music festival, now's your chance to go wild. Even if you're the only one dancing, who knows? You might end up being the life of the festival (skip to 1:13 for the fun part. WARNING: Loud music):
Local Store
Local stores are often more welcoming than giant retailers like Walmart and Costco.
Go for a stroll down the street and walk into any local store or deli for groceries or a quick bite.
You might even run into your neighbor or others who shop locally!
Action Tips:
Use sites like Yelp, Google Maps, or TripAdvisor to find local businesses near you.
Find a moment of laughter. What kind of laughter can you bring to others in the store? For example, imagine if you had headphones on and started singing Christmas tunes in the middle of July. You don't have to go that overboard, but a little laughter can make someone's day. Learn to add some humor by reading our article: How to Be Funny: 7 Easy Steps to Improve Your Humor
Public Transit
Do you use public transit? People from all walks of life use public transit to get around the city.
Some might be staring out the window the whole time, while others will be nodding off or reading a book. You can ask for directions, the time, or even recommendations for lunch or dinner.
Action Tips:
Respect the boundaries and privacy of others, and only start a conversation if they show a willingness to talk to you.
Exchange numbers (with consent) and catch up with each other on other trips!
Volunteer Work
If you're passionate about giving back to society, you could take some time off your busy schedule and volunteer for different worthy causes, such as animal welfare, LGBTQ rights, crisis support, and other human rights programs.
Volunteering at these places will allow you to meet others with similar interests, while also doing good for humanity!
Action Tips:
Look up different websites for volunteering, such as VolunteerMatch.org, Catchafire.org, or Serve.gov, etc. You can search and filter out different programs based on the cause, location, and your capabilities.
Volunteer in your local clinic or hospital to find other like-minded kind folks.
Start your own fundraiser by doing an organized charity run or other event.
Dog Parks
Let's face it… everyone loves dogs!
If you have a dog, you can take your furry little friend to a dog park for morning or evening walks and meet people along the way.
You're bound to meet other dog owners that are there for the same purpose. While your pets play with each other, you can start a conversation.
You don't even need to think of a topic—just talk about your pet shampoo or food choices and build your conversation from there!
Action Tips:
Look for dog owners groups on Facebook to connect with people who have similar breeds. You could ask for advice related to diets or routines or even the closest vet in the area.
Check out this amazing video to see how easy it is to meet people just by walking your dog:
Airport
If you're headed to a new city, you're bound to be near other travelers!
Whether you're in the waiting lounge or on the plane, try building rapport with strangers through small talk or other conversation. You could talk about the weather, in-flight entertainment, or ask for recommendations, etc.
Action Tips:
Walk around! Don't get stuck in your seat. Depending on the airport, it could be a huge playground for social meetings.
Don't approach anyone not interested in conversation, especially if they're working or reading a book. You could make small talk, but if they don't reply or they simply nod, it means they're not interested. Especially avoid those in a rush to catch their flight.
If you speak to someone on a professional level, you can exchange business cards or emails to stay in touch.
Family Visits and Events
If you have family in the new city, the best place to start building a social connection is at family functions or paying casual visits.
You could reunite with your relatives and meet their friends as well!
Action Tips:
Friend get-together! Have a day where your relatives bring along their friends for a friendly new-person meetup.
If you're meeting a twice-removed cousin after a long time, you might want to take your time and learn about what's changed, instead of automatically assuming you know them.
Hiking
On your weekend off, you could go on a hiking trip to blow off some steam and connect with nature.
And since it's nearly impossible to NOT be relaxed hiking in nature, you're bound to meet new friends!
Action Tips:
Look for group hiking trips on TripAdvisor or other tourism sites operating in your area.
Join a local naturalist club or online forum.
Meet people at a local outdoor camping/hiking store.
Flash Mob
Have you ever seen a flash mob? Flash mobs are awesome.
But if you're not interested in watching their performance, you could join them!
You don't even have to be a professional, in most cases. Chances are, you won't be the only one watching, so it's a great opportunity to meet new people.
Action Tips:
Follow different flash mob groups on Facebook that usually perform in your area.
Subscribe to a viral email list on different websites or use Google to find a flash mob near you.
Local Sports Competitions
Are you athletic and ready to show off your skills? Try participating in different sports leagues, ranging from football to baseball, golf, or tennis.
Sports have proven to be quite an effective icebreaker for people at the start of friendships, especially since dynamics like teamwork and fair play are in place.
Action Tips:
Head to a local court or club near your residence and apply for membership.
Find a local sports league on sites like Sportsvite and look for upcoming events.
College Campus
You don't have to be a student to go to college. Most campuses have public spaces and host public events, both of which are excellent places to find new friends.
If you feel like your college days are well behind you, know that students and professors come in all ages!
Action Steps:
Join college groups on Facebook to explore upcoming events or parties. Popular events may include protests, charity 5Ks, music festivals, TEDx, and trade shows.
Study at the college library, join the gym, or go to your local college debate tournament!
See if your local school has an art exhibit or special collections in the library you can check out.
Block Party
Do you even know your neighbor? How about the person who lives at the house 3 doors down from you?
As long as they're approachable, you can start a conversation with just two words: "Hey, neighbor!" And you're set! Ask if they would be interested in attending a block party. Make some lemonade and ask neighbors to hang out.
Action Steps:
Host a casual housewarming party with drinks and snacks.
Chitchat in passing. You might be surprised at the conversation you can get going—even complaining about the landlord!
Go for a jog around the neighborhood in the morning or walk your dog around the block.
Coffee Shop
Do you have a favorite local coffee shop? My go-to place is warm and fuzzy—and best of all, I know the workers and regulars!
Do some studying or try remote working at your favorite local coffee shop. Along the way, you're bound to make some coffee buddies.
Action Tips:
Look for sites like Likemind to find different coffee dates in the world. The beauty of these dates is that anyone can show up!
Avoid the dark corner. If you like to sit alone in the corner, try sitting at the door instead. You'll be the first person people see when they come in, and you'll also have more opportunities to network this way.
Side Hustle
One job not paying the bills? Don't let that stop you from making friends in a new city.
Try taking on a part-time job—whether that's a side hustle, babysitting, or even dogsitting.
Unlike a full-time job, the lack of competition makes people more approachable and sociable, meaning there's a better chance of making a work buddy. Nice!
Action Tips:
Don't be a lunch loner! Participate in small talk during lunch or breaks and consider sharing these funny videos to spice up a dull lunch conversation.
Suggest after-work coffee, drinks, or dinner.
If you live close to each other, you can recommend carpooling or joining the same gym or sports club.
Here are 50 Side Hustle ideas to try.
Anonymous Meetings
We all have issues we're dealing with.
Sometimes, all we want is to be surrounded by people with similar experiences and struggles—and we can still be anonymous if we want to!
Make friends at group therapy meetings or online, and bond through shared experiences.
Action Tips:
Afraid to go in person? Start online. Try an app like Postmodern or post on Reddit to let your feelings be heard.
Start small with the right people. No need to connect with everyone—just those that you trust.
Be the storyteller. Do you have the right story to tell? Are you conveying the right message? Learn the essentials of getting your message across: How to Tell a Great Story: Learn Science of Storytelling
Wedding
A wedding is among the most popular events where large groups of people socialize.
While celebrating the new couple, you should seize the opportunity to meet new people who have mutual friends just like you!
Action Tips:
Hang out at the buffet or bar if you're solo. This way, you're bound to run into other solo attendees.
Have some conversation starters like "How do you know the bride or groom?" or "Have you tried the cocktails? They're ah-mazing!"
Social Causes
Whether you're speaking out for equal rights or raising environmental awareness, social cause gatherings are great places to find like-minded people who share similar beliefs.
Not only can you rally alongside them for a specific cause, but you could also go out for drinks or a meal after or before the event.
Action Tips:
Look for sites like Global Protest Tracker to follow crucial trends in your area.
If you're looking to make kind friends, avoid violence or vandalism and find peaceful causes.
Social Media Groups and Event
In the digital age, you might as well learn how to meet new people online—that's where most people are these days.
If a photo, comment, or video catches your eye, nothing is stopping you from reaching out to the person who posted it!
By joining different local groups, you can tune into community events and even join them offline.
Action Tips:
On Facebook, click on "Discover" in the group tabs and look for suggestions based on categories or location.
Create an "outreach list." Write a go-to template filled with your most common comments, like "Hey! That's a great picture. Did you take it yourself?" Start outreaching friends in your local area and hope for a response back!
Online Games
If you love online gaming on your Xbox or PlayStation, you could meet with other users that live in the same area!
And if you're into a specific game, why not join a local game tournament or watch from the sidelines?
Action Tips:
Talk to other gamers regularly on voice chat.
Ask users to meet up at a local video game shop in the city.
Go to your local video game tournament or meetup and play!
Online Forums
Have you ever joined an online forum?
These days, there's literally a forum for everything:
people who love Siberian Huskies
people who like to compete with Rubik's cubes
people who like to discuss the best wedding toasts
… the list is endless.
These forums are great for meeting new people, and if you're lucky, you might end up meeting someone in real life!
And if you work long hours like I do, it's not a bad place to start.
Action Tips:
Register for sites like Meetup.com or Omegle.
Find your favorite subreddit on Reddit.
Become an expert in your field and provide valuable advice on Quora.
Be active on different forums and try to diversify your niche to find different types of people.
Professional Networking Groups
If you're not into in-person events, you can opt for professional networking groups to meet business-minded people.
Not only can you boost your network but also build personal connections in the city.
Action Steps:
At the Movies
Have you ever gone to the movies alone?
It's not as scary as it sounds! Going to the movies alone is the perfect excuse to meet others. Try smaller theaters and morning times.
Action Tips:
Look for weekday or morning shows when buying tickets. Most people who go to the movies alone prefer these showtimes.
Got popcorn? Try chatting up people at the concession stand before buying your snacks!
At a Diner
Diners are great places to interact with locals while enjoying a cup of coffee or scrambled eggs. I love the ones with seats around a counter so you get to sit next to people—much easier to start a casual chat!
Since it's a friendly environment where strangers sit closely, you can easily strike up a friendly conversation.
Action Tips:
Look for sites like FoodandWine to find the best local diners and restaurants in your area.
Feeling adventurous? Try the Japanese style of diner—an izakaya! These places are designed to be rather intimate and offer close contact with strangers.
At a Colleague's Place
When you're new in town, the only people you're likely to interact with are your colleagues from work. And if you're friendly and approachable, your colleague might just invite you to a party at their place, where you can meet new people. Score!
Action Tips:
Pay attention to your colleague's attitude and lifestyle. This way, you can learn about the type of company they keep and if you're a good fit. More importantly, it will help you determine if they're a good fit for you.
Match with their personality. Another hack is to get to know their personality type. Are they extroverted? Agreeable? Neurotic? Find out with our free personality quiz: Big 5 (OCEAN) Personality Test
At the Flea Market
If you're low on cash, the flea market is a good place to buy used stuff. You're also likely to find people who also like to shop smart and save money!
Action Tips:
Use sites like Flea Market Zone to find an updated market list in your area.
When shopping around for items, use the objects you find as a starting point for conversation. Old video cassettes, antique vases, handmade items—everything's a potential conversation starter!
At a Record Store
If you're into vintage Broadway original cast recordings, cool bands, or jazz, you can find people with similar tastes when browsing at a record store.
And striking up a conversation is easy. All you have to do is ask for recommendations or offer one!
Action Tips:
Use sites like RecordStores.love to find all record stores in your area.
Visit your local record store and ask a random stranger what their favorite band is. You might make a friend—and find some cool new tunes in the process!
On Yelp
If you're active on Yelp and love to speak your mind, chances are, someone might enjoy your witty reviews or vice versa. Why not meet up this way?
Action Tips:
Yelp isn't too different from Facebook or Instagram, in that you can follow people and respond to their reviews. Strike up a conversation and if you get a response, you can take the conversation elsewhere—either online or in person.
Make sure to stay active! Leave Yelp reviews often and you're bound to get noticed.
Airbnb
Whether you're a guest or a host, Airbnb rentals offer a great opportunity to meet people from all across the globe (and earn a little extra cash on the side!).
Action Tips:
As long as the feeling is mutual, you could ask people to share their contact information and stay in touch whenever you or they are in town.
Try couch surfing! You can even sign up to sites like Couchsurfing.com and (literally) sleep on someone's couch. This is a great way to travel and meet people, without actually traveling far.
Try an Airbnb experience—many locals are offering classes and experiences you can do to meet fellow locals (or the creator of the Airbnb experience!).
At a Local Food Truck
Local food trucks in large cities are hotspots for great street food and social interactions! You may even be able to meet people from different cultures, if you try food outside your comfort zone.
Action Tips:
Use sites like FoodTrucksIn to search and locate local food trucks in your area.
When contemplating your next restaurant excursion, why not plan for a food truck? Hit up the next food truck—and make friends with the truck owner! After all, they're probably not going anywhere anytime soon.
The DMV
Everyone who owns or needs a driver's license ends up at the DMV at some point. Instead of gluing yourself to the phone while waiting in line, take this time to talk to others.
Action Tips:
Whenever there's a DMV, there's going to be a long wait. Resist the urge to glue your head to your phone and find an opportunity—sit next to someone who looks friendly or strike up a random conversation.
Shooting Range
Target practice can be extremely stress relieving, according to Health Fitness Revolution.
Plus, you could meet new people with similar interests. Perhaps even a worthy competitor.
Action Tips:
Use sites like Where to Shoot to find shooting ranges near you. This site is managed by the National Shooting Sports Foundation, so you know you'll be going where the pros go.
Ask for tips! If you don't know how to shoot, safety is top priority. You'll likely find the other range-goers are happy to give a few pointers.
The Mechanic
We all experience car trouble or accidents while commuting daily in city traffic. While waiting for your car to get fixed, you could have a conversation with another customer to kill the time.
Action Tips:
Proactively look for certified body shops to save time and money.
You can also ask people for recommendations on Facebook groups.
Halloween Parties
Halloween parties are a great opportunity to find and meet new people. Plus, any costume is a great conversation starter.
Action Tips:
Spice it up! Don't go as your plain old self. Dress up as a video game character, Disney prince/princess, or something completely hilarious! Use this as an opportunity to stand out—after all, Halloween only comes once a year.
Take photos with others. A great selfie is the easiest conversation starter you can use—plus, you'll have a memory to last a lifetime.
Newspaper/Magazine Stands
If you enjoy reading the old-fashioned way, you're bound to run into like-minded people at 8 a.m. at newspaper or magazine stands.
Action Tips:
What's going on? You can talk about the news or any topic related to what they're reading. Strike up a conversation—it's as simple as asking, "How's the weather?"
Libraries
If you like spending time at a public library, you can interact with others… as long as you do it quietly!
Action Tips:
Chat with the librarians! I've found librarians to be super helpful. They're quite knowledgeable and likely spend lots of time reading, so they'll be able to talk about many topics.
Ask others for book recommendations. While going over your favorite book categories, strike up a friendly conversation with a stranger who has similar interests as you.
The Dentist
We all enjoy dental hygiene but hate going to the dentist's office.
But you'd be surprised how talkative people can be while waiting. Don't be shy about joining the conversation!
Action Tips:
Share your vulnerability. Are you going in for a regular checkup—or even worse, a tooth removal? Share your fears and you may set others at ease. After all, you might not be the only one nervous.
Theme Parks
Do you like theme parks? Theme parks are great for the adrenaline rush—and not to mention FUN—that people experience all day.
This translates to a lot of excitement and happy vibes—a great place for socializing!
Action Tips:
Find the rides with long lines. If you're into deep or longer conversations, this'll be your golden ticket to make a friend. Be careful who you choose to stand in line with, though… you might be stuck with them for a while!
Car Washes
People at car washes are easy to talk to. You can start a conversation simply by asking for recommendations on products, body shops, or insurance companies, etc.
Or you can strike up a conversation about your car—no matter how beautiful (or ugly) it is!
Action Tips:
Got a car that needs to be washed? Try going for the manual wash, instead of the fully automatic one where you don't leave your car. You'll have more opportunities to meet others this way.
Farmer's Market
If you enjoy organic produce, you can visit the farmer's market in your area to shop for different products.
Unlike commercial supermarkets, these markets have a more casual setting with more vocal customers and salespeople, so it's easier to talk to other shoppers who are looking to eat better.
Action Tips:
Networking Events
In a big city, there's always a networking event going on.
And it doesn't have to be strictly to meet others—there are events for many things:
IT professionals
dog lovers
people who love writing
people who love cryptocurrency
mothers who are about to have their first baby
Who knows? A casual conversation for a few minutes could be the start of a new friendship.
Action Tips:
Conventions
I live very close to a big event center, and there are always fascinating conventions open to the public. Recently, I went to the model train show (my daughter loves trains, and we had nothing else to do) and while standing in line to see a big model, I saw an old friend from high school! We started chatting and now are hanging out again.
Action Tips:
Look up the nearest event center and see which events are open to the public.
Have an open mind. I am not super into trains, but I was willing to learn, and who knew we would have such a great time?
How to Meet People Quick Tips
Wondering how to even begin?
Don't fret. Here are some quick tips to take with you wherever you go!
Look for the long lines at the grocery store, coffee shop, or other place. Sure, most people despise waiting. But long lines can offer a potential-new-friend opportunity if you allow it.
Go towards people. Normally, you might try to find the emptiest spot in a big cafeteria or at the beach. Not if you're trying to meet people! Go be next to someone who you think you might be able to talk with. Remember, proximity is key!
Go early, leave late. At a party or networking event, going at these golden times creates opportunity. You might not even have any existing friends to rely on for conversation, so go out and make your new ones!
Graze. Don't be the one with the full plate of food. Going up to the food line multiple times creates new opportunities to meet new people.
Bring the right wing person. The right wing person isn't someone you always stick with, but someone who gives you enough "meet new people time" or introduces you to new people.
Go Out and Conquer!
"There are no strangers here; only friends you haven't met yet."

—William Butler Yeats
I'm sure there are many places on the list above that you've never considered before for meeting new people. The next time you visit any of these places, go for it!
Learning how to meet new people is one thing, and doing it is the difficult part. However, by using some of our action tips, you can proactively plan your conversations and improve your chances of building social connections.
So, over to you!
For the next steps, let's learn how to make friends—one step at a time: How to Make Friends As An Adult In 5 Easy to Use Steps