This is part of our Remote Work Guide. Click here for more.

Start learning everything you need to know about Remote Work.
Did you know that 85% of all jobs are filled through networking? And most people are missing out on one of the best ways to make connections: online networking.
Here's the truth: Networking online is an effective and easy way to meet many people in the same field or industry.
So whether you're an introvert or just prefer making connections digitally, here's how to build an online network of lasting connections.
What is Online Networking?
Online networking is the process of developing social and professional connections online. Unlike traditional networking, the process of online networking heavily involves using digital tools to form relationships.
My favorite is a blend of traditional and online networking. Of course you can also decide to network 100% online,but consider this shocking truth:
Most people don't make new contacts at networking events.
A study examined 100 professionals who gathered at an organized networking event. And guess what? Most of them spent over half their time mingling with people they already knew! In fact, the most successful networker at the event turned out to be…. the bartender.
Before we get into our 10 steps. Let's talk about your goal. Why do you want to do more online networking? Here are some goal ideas:
to get a new job
to get advice
to be social
to build your network
to meet new people
to expand your knowledge
Get clear on your online networking goal.
This will help guide you on these steps. Here's how to master online networking, even in the comfort of your own home.
Start with Warm Calls (not cold calls)
You do not have to start your work from home network from scratch. You might not leverage it, but chances are, you already have a network.
Start by making a list of all your favorite contacts. These can be people who have helped you, who have inspired you or are achieving similar goals. Use this to help:
I always get great advice from: ____________
I love speaking to: _________
A role model I have is: _____________
I wish I could be closer to: ___________
Someone who is doing great in their professional life is: _________
I highly recommend making a spreadsheet to organize your connections:
Create a spreadsheet of all the relevant people in your industry, along with a column for their phone number and / or email and contact history.
Now try the warm call.
A warm call is reaching out to people you already know to check in on, get updates from, or ask for help.
It is different from a cold call because they know you and you know them, but you need a little refresher.
Based on your goal, reach out to past teachers, ex-colleagues, distant relatives, acquaintances, friends of friends—they're all game! Start by contacting them, and then employing the Tortoise method of communication (more on that below).
The key to warm-calling these people—even those you have not connected with in years— is to do your research before you contact them. This involves taking a deep dive into their social accounts such as LinkedIn, contacting close friends that might be more up-to-date on their info, and doing research into their specific employer.
Once you have this information, reach for the phone and make that call! Here's a little tip: before you reach for the phone, try doing a 5 minute vocal warm up to ensure your voice is working 100%.
Bonus: If you're up for a challenge, try the 100 calls method. This cold calling technique developed by Brian Tracy gives you one goal: make 100 calls as fast as you can. The ultimate goal here is to make the 100 calls without focusing on the outcome. You can even set a goal to make 10 calls a day, or even 1 call a day for 100 days.
Join (or Create) an Online Mastermind
Being in a great Mastermind is like being handed a golden key that can unlock a new path in your career. And digital Masterminds can be just as good.
And when it comes to business networking online, your Mastermind group can be a huge source of social and business connections for you. I've personally made a great deal of connections from my Mastermind group.
Masterminds are like matchmaking groups, but for business.
There are 2 ways you can be part of a success-driven, goal-oriented Mastermind group— either join one or create one!
Reminder: Before you expect anything in return, make sure to apply the other tips in this article introducing your networks first (next tip)! You can also make sure your online communication is rock-solid by checking out the best tools:
15 Best Remote Communication Tools
Introduce Your Networks
You know those people who seem to know everyone? They're known as super connectors and they're the superheroes of the networking world. If they're unable to help someone, they know a list of people who can, which makes them great friends to have.
While you may not have the expansive contact list of a super connector yet, you can add similar value to your network by spending a little bit of time each week connecting people who should know each other, in two easy steps:
Keep up-to-date with what the people in your network need and what their strengths are.
Introduce people whose needs match another person's strengths.
Studies even show that people who receive an organized introduction make more and stronger connections than those who didn't receive an introduction.
To connect two people, you can send an email to your acquaintance who wants to, for example, transition into a marketing career, and connect them with a marketing professional you know:
Hey, Lynn!
There's someone I met earlier who's really good at marketing. That person is John Strawberry who owns his own marketing firm, Marketing Strawberries. I think he can provide some really good advice, and I think he's even looking for a new hire! Can I introduce you two?
Let's recap:
You offered value by connecting them? Yes!
Will they remember you and feel grateful for your connection? Of course!
Is this a winning strategy? Absolutely!
Special Note: Make sure if you are connecting VIPs you ASK them if they want more connections. When I was on book sabbatical a few very kind people tried to connect me with others and I had to awkwardly say I was on sabbatical. Ask first!
Be the Tortoise, Not the Hare
In the world of networking, there are two types of people: those who build up connections slowly and those who jump straight to the question: "What can you give me?"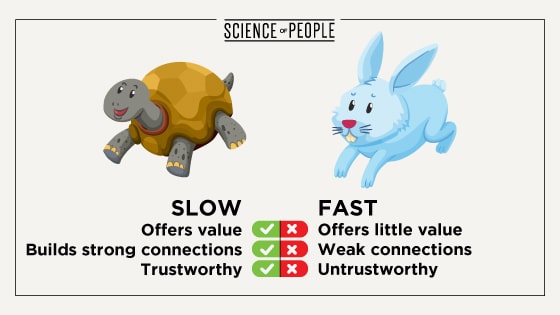 Tortoises are the people who offer value and make slow, trustworthy connections before they see a return on their investment.
Hares are those who go all-in like a straight arrow and ask for a business opportunity up front.
If you want to succeed at networking, playing the slow game is usually the way to go. Just imagine—who would you rather reply to? The guy who goes, "Hey! I saw your content and it was awesome, here's what stood out to me…" or the person who says, "I like your content, do you have any opportunities for me?"
Hares often fail to succeed because they haven't built up enough rapport with their social connections.
Again, it all comes down to trust (notice a pattern!?). Our trust in people is controlled by a single molecule called Oxytocin. Researcher Paul Zak has pioneered some of the latest research on the power of this single molecule:
Instead of focusing on what's in it for you, or what kind of business deal you're going to strike up, focus instead on transitioning from the "random person on internet" to "friend I can rely on."
Here are a few ideas:
Introduce a little humor into your conversations.
Send private messages complimenting them on their new content.
Spend time liking their content and commenting on their posts.
Call or video chat and get to know their interests / hobbies.
Read more on how to build trust.
Which one are you? The tortoise or the hare?
Send a Surprise in Snail Mail
Did you know studies show that we vastly underestimate how much people love receiving "thank-you" letters? I think sending a handwritten letter is one of the best ways to show your appreciation!
I love sending thank -you cards, surprises, postcards, and notes in snail mail. I even have envelopes made of recycled paper and flower seeds so people can plant the thank you card and it will grow flowers—which will always make them think of my gratitude!
"People will forget what you said, people will forget what you did, but people will never forget how you made them feel."

— Maya Angelou
It's also a great way to connect with people who have helped you in the past. Here's what you can do: Brainstorm all your past colleagues, mentors, bosses, and anyone else you can think of who helped you in some way. It can even be a friend or someone collecting dust on your contact list.
Then, write out a personalized message and send it through snail mail. When the letter gets to your recipient, it's likely they will message you digitally and thank you for receiving it. You might even spark great conversation in the long run!
This small act of kindness can go a long way in filling your networking jar!
Join a High-Stakes Activity
No, I'm not talking about online skydiving or poker. A great way to network online is to join an online activity!
According to the Harvard Business Review:
"Potent networks are not forged through casual interactions but through relatively high-stakes activities that connect you with diverse others."

— Richard L. Thomas, Kellogg School of Management
One of the best ways to network with people is to find common interests, so join something you are interested in. Just like with Mastermind groups, you can find and connect with your own hobby group through Facebook, Reddit, and Meetup.
Network Online with Social Media
It's called social networking for a reason: social media is one of the most effective ways to connect with people!
With almost two-thirds of all adults and thousands of potential groups you can join, Facebook is one of the best platforms you can use to gain connections. I recommend finding a group to join to form connections. But here's a tip: make sure the group you're targeting has an active population, good discussion, and low to no spam.
To find your group, head on over to the Discover section of Facebook groups and find a relevant group to network in. The best groups to join are relevant to your industry / profession, location, and expertise. You'll want to regularly post, comment, and like good content you see, as well as message the top players in the group. I find that being active in a handful of groups maximizes your time / effort ratio.
Twitter is also an alternative social platform to form relationships on a one-to-one basis. First, you'll need to follow your target. When they send a great tweet, retweet it, favorite it, and share it! You can also mention them in your own tweets to gain their attention. I find that success rates for Twitter can be a hit or miss since it can be hard to gain the attention of big influencers.
Reddit is a great place to build your presence too, believe it or not. While it's anonymous, there are a ton of opportunities to connect with people in your field (such as r/ProtectAndServe for law enforcement officers and (some of their more popular business subreddits are r/Entrepreneur or r/Medicine for healthcare workers.
Build Your Following
If you can't attract a good network, why not bring them to you? Building a following takes a lot of up-front time. But it can save you time in the long-run by bringing you followers who already have trust in you.
Depending on your skills and experience, there are a few ways you can go about promoting yourself.
The first and most popular way is through blogging. For me, this was my go-to strategy for gaining traction, but I started way back in 2013. Blogging takes time, but with a good blog, you can:
gather email subscribers
showcase your personality and expertise
attract like-minded people
All of which can help you create a greater network. If blogging isn't for you, you can also build your following through curation. Post great articles or videos from around the web that you think your network will like. You do not have to be the author but you can find other great authors to feature!
Swipe Right to Find Your Network
Did you know there's a number of networking apps that connect you with like-minded professionals? Other than the official LinkedIn app, here are 2 alternatives you can use to grow your network:
Shapr, the "Tinder" for professional networking. This app works like Tinder by showing you 15 relevant people each day, who you can swipe left or right on. There are a couple million users who use the app, and you'll only get a message if you have mutual interest. There's also a nifty filter option to search for people in specific industries or locations!
Invitly is the members-only version of Shapr. The trade-off for a smaller community is more exclusivity, and thus higher quality members. The app even offers mentoring and free video calls to other members.
Bridge the Gap
Once you make a connection in real life, don't let it escape you! We've all made great connections in real life, only to let them fade because we never see each other anymore.
This is a bad habit. Why spend so much time building up your connections only to let them fade away?
To combat this, a few times a year I go through my contacts list and send out a personalized message to the people I rarely get to see anymore. You never know who's going to provide great value to YOU, after all.
The opposite also rings true: when you make a strong online relationship, take it offline! If they live close to you, invite them for coffee or grab some lunch. I always make it a habit to have at least a yearly or bi-yearly meetup with my virtual team.
Think of it like this: the more connections you make, the wider your networking "net" is. And the larger you can extend the net, the more fish you can catch (and the more fish you can feed to others in the process)! Here is some help networking in real life:
18 Steps to Networking (in real life)
If you want to know how to manage remote employees after all your networking, I've got the guide just for you:
12 Reliable Tips to Manage Remote Employees
Here's your Networking Challenge: Pick any one online networking tip on this list… and do it TODAY!
Once your network grows, your success and happiness in life will follow! Have fun networking!
To your success,
Vanessa
This is part of our Remote Work Guide. Click here for more.

Start learning everything you need to know about Remote Work.