When most people hear the word "icebreaker," they think of boring, silly, or awkward. In this post, I want to share 80 meeting icebreakers that are:
fun
quick-bonding
easy to do
If you are a meeting planner, team leader, or event organizer (or simply want to make your meetings a little better), you MUST watch this video for my personal favorites:
And if you want better meetings, you MUST send this article to your meeting planner. I'm going to convince you to upgrade the age-old icebreaker.
What is an Icebreaker?
An icebreaker is an activity, event, or game that is designed to break down social barriers, make others feel more comfortable, and facilitate social interaction. Icebreakers are usually performed at the beginning of a meeting or team session and involve a group of people.
After hosting hundreds of meetings every year, from conferences to sales team retreats, one thing I've learned is that an icebreaker truly can make or break an event. Here's the crazy science on this:
Harvard Business School professor Michael Norton gathered 221 participants and had them form groups of two to four people.
Then, he asked them to do a campus scavenger hunt where they had to run around taking selfies in front of specific locations.
*There was a catch. Half of the teams were asked to do a pre-scavenger hunt icebreaker together, and the other half were simply asked to read an article together.
The results were clear. The teams that did the icebreaker reported liking each other more. This is incredible! Icebreakers improved performance, time, AND likability.
Here's a list of my favorite icebreakers to avoid having those awkward meetings.
Virtual Meeting Icebreakers
Not all meetings nowadays are in-person. Some are virtual. These fun icebreakers can be performed anytime, anywhere, no matter the distance!
Icebreaker #1: Show and Tell
Best For: Turning coworkers into show-and-tell-loving third graders again!
This is one of my favorite virtual icebreakers. Why? Because it reveals what your teammates really value! Here's how to perform this icebreaker:
Ask your remote team members to grab a nearby item (or even send a personal picture through group chat!). This item should be unique to them.
Share! Take turns sharing your item and the story or personal meeting behind it.
For example, I recently shared in my weekly team meeting a small personal item: a llama doll I received from one of my friends! It was a great way to show to my remote team how I value small gifts from friends, and an easy icebreaker, too. Win-win!
Icebreaker #2: Teach Something New
Best For: Learning new things, boosting confidence in presentation skills, and promoting engagement and fun in team meetings.
If you like having mini TED Talks sprinkled into your meetings, this one's for you! "Teach Something New" is one of my favorite icebreakers—each team member will have, say, 5 minutes to teach everyone one little thing. It could be how to draw a giraffe, how to juggle, or a magic trick.
Here's how you can introduce this activity:
Encourage team members to think about a skill or knowledge snippet they can share within a 5-minute time slot.
At the start of the meeting, ask for a volunteer to go first. They will have 5 minutes to teach their chosen topic.
Other participants should engage by asking questions or offering thoughts on the subject. Remember, the goal is to promote a light, fun learning environment.
Icebreaker #3: Creative Selfie
Best For: Showcasing workspace creativity, bonding, and inspiring décor discussions.
Zoom backgrounds make meetings fun, but they don't help people get to know each other very well. Location-specific photo challenges could start more personalized conversations because they'll reveal new things about each coworker.
Explain the Activity: Let everyone know they need to take a creative selfie at their workspace.
Take Selfies: Team members take their workspace selfies—could be in their home office, a coffee shop, or an outdoor setup.
Share the Pictures: Each participant shares their selfie in the group chat or designated platform.
Decide the Winner: The picture that is deemed the most creative (based on your established criteria) wins.
People don't need to share their location or name their city if they feel uncomfortable. The point is to showcase everyone's workplace setting because it speaks to their personalities.
After the scavenger hunt, team members could also swap decor ideas to elevate their remote workstations. It may open doors to conversations about their hobbies, pets, and other interests based on what showed up in everyone's selfies.
Icebreaker #4: Guess The Words (Codenames Online)
Best For: Strategic minds seeking to decode enigmatic clues and outsmart opponents in a witty word game.
If you've ever played one of my favorite board games, Codenames, this one packs all the fun—but now, it's online! In this word game, each Spymaster tries to get the other team to guess a combination of words on the table by giving a one-word clue. For example, in the above picture, if you needed to have your teammates guess the words "Bowl" and "Knife," you might give the clue "Kitchen."
If you've never played Codenames, this one's a great starter icebreaker that's super helpful if you want to boost creativity.
Head on over to https://www.codenames.game/.
Click on the CREATE ROOM button.
Select the preferred game settings and start the game.
Connect with your friends using your favorite audio or video chat.
Share the room URL with your friends.
Enjoy the game!
Icebreaker #5: Draw Anything Your Teammates Imagine
Best For: People who love drawing (even if they are terrible at it!)
Even if you're not artistic, this game is absolutely funny and fun. Gartic Phone gives you a short time frame to sketch photos based on other players' prompts—and can result in some hilarious artwork.
Imagine trying to draw your teammate's prompt of "Harry Potter riding a unicorn in space."
The weirder the prompt, the crazier the doodles! Here's how to play this game that combines the classic games "Pictionary" with "Telephone."
Go over to https://garticphone.com.
Whip up a nickname and select an avatar that screams "you."
Hit "Start."
Click the "Invite" button and broadcast the link to your team.
Once the game starts up, everyone is invited to write down a hilarious sentence.
Wait for a sentence from your colleague, and then give it your artistic spin.
Next, it's your turn to interpret someone else's doodle by guessing the original sentence.
Have fun and unleash your inner Van Gogh!
Icebreaker #6: Meet the Pet (or child, or partner, or plant)
Best For: Animal lovers, whether furry, leafy, or miniature human ones!
This icebreaker idea is super simple, and who doesn't like pets? It's best performed for remote teams that are newer and/or as a first-day icebreaker. Here's how:
Have your remote team grab their pets or show a picture of them.
Start the introductions! You can start off with the basics (name, age, where you got him/her), but make sure to throw in one personal/fun story you had with your pet.
Pro tip: If your teammate does not have a pet, ask them to describe their ideal pet. Or meet each other's kids. Or meet each other's plants. Feeling funky? Ask them what their spirit animal is!
Icebreaker #7: Draw and Guess
Best For: Tapping into your team's inner Picasso while testing their quick-thinking skills in a vibrant guessing game.
If you're a big fan of draw-and-guess games, then this one's for you! Drawasaurus is Pictionary with a twist where everyone gets a shot at the scoreboard—the artist and the guessers alike. The game slips a secret word to the doodler, who then creates a visual puzzle for others to solve. The speed of your guesses matters—quicker guesses mean more points.
If every participant manages to decode the drawing, the artist also hits a points jackpot. This sure adds an extra dose of fun to the classic game, doesn't it?
Head on over to https://www.drawasaurus.org.
Choose a nickname (no stress, this won't kick off the game).
Tap + Create a Room.
Make your room Private, give it a name, set a password, and select the number of players you want.
Copy the link from the URL bar and send it over to your team.
When everyone's geared up and clicks Ready to Play, the game begins.
Take turns picking a word to sketch, while others try to guess it.
Rack up points by being the quickest to guess correctly.
Have fun!
Icebreaker #8: Explore The World
Best For: Best For: Armchair explorers and globetrotters looking to test their geography and deduction skills in a thrilling virtual quest.
I absolutely love GeoGuessr—it's especially fun if your team is located across the globe or loves to travel.
GeoGuessr is a captivating global exploration game that virtually parachutes you into a random corner of the world, using a street view panorama. Your objective? To scour the surroundings for clues that might help pinpoint your exact location on the world map.
For example, GeoGuessr might drop you in a random spot on a canal, and you might use building signs or other clues to help you guess where in the world you are.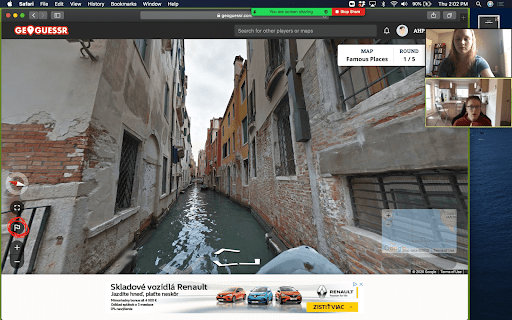 Here's how to play:
Head to https://www.geoguessr.com/.
Sign up for an account.
Click on "Party" to create your own room.
Invite your friends by sending them your unique room code.
Start playing!
*GeoGuessr does cost a small monthly fee for team play, although it is still recommended.
Icebreaker #9: Phone Photo
Best For: Revealing hidden layers of team members through snapshots of their most memorable (or embarrassing) moments!
Do you want to get to know your team on a more personal note? This icebreaker activity is a great way to break the ice by putting your most embarrassing/awkward/awesome/proud moments up front for the world to see.
Before the video call starts, send out a team message to find an embarrassing/awkward/proud/awesome/proud photo on their phone and post it in the group chat.
When the call begins, share the details about your photo! The more ridiculous the photo, the more laughs you'll get out of this icebreaker.
Everyone has an interesting photo on their phone, so this is a great activity for everyone! Here's mine…
Icebreaker #10: Partner Lunch
Best For: Cultivating deeper connections over shared meals and intimate one-on-one discussions.
Want a fun way to make a meeting more… dare I say… delicious? Enter: the Partner Lunch. This icebreaker requires a bit of prep work with your team, and it'll be better if you're in similar time zones.
Schedule a time where you and your team can video call and eat a meal together.
Find a partner. Randomly assign partners in your team to talk one-on-one for 10-20 minutes before your group call.
Talk! Now's a great time for the partners to get to know each other over lunch. You can even have a list of deep questions to help facilitate discussion.
Icebreaker #11: Personal Logo
Best For: Encouraging creativity, self-expression, and understanding team members on a personal level.
The Personal Logo icebreaker is a fantastic way to get your team's creative juices flowing. It's not just about doodling a pretty image—it's a window into each person's world, reflecting their personality, interests, or passions. Here's how to get this activity buzzing:
Give guidelines on what the logo should include—it could be a combination of symbols, initials, colors, or abstract shapes. Stress that artistic skills are not being judged; it's the thought and creativity that count!
Set a timer for the creation process. 5-10 minutes should suffice for a quick sketch. If doing this in a meeting, consider having a quick discussion while everyone works on their logos.
Each participant shares their logo on screen (either by holding up their drawing or sharing it digitally) and explains the concept behind it.
Encourage team members to give positive feedback and ask questions about each logo.
If your team enjoyed this, you could even consider having these personal logos professionally made or used in some team swag!
Icebreaker #12: Scattegories
Best For: Engaging quick-witted competitors who enjoy a playful battle of words and ideas.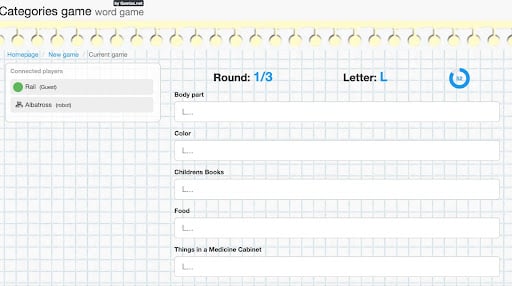 Flexing your rapid-fire brainstorming muscle becomes a thrilling challenge in Scattergories. The person steering the game can select categories as general as fashion and wildlife or as quirky as "famous comic book catchphrases."
In every round, the game highlights a random letter from the alphabet, asking players to think on their feet and come up with any word or phrase from the chosen category starting with that letter. This game serves as a fantastic icebreaker, especially for those in your crew who can't resist a competitive streak.
Go over to https://scattergoriesonline.net/new-game.xhtml.
Select your game categories, maybe you like "Team names," "Thiings You Shouldn't Touch," or "Superpowers."
Hit the Create new game button.
Set up the game's variables—the starting letters (a majority will be preset), player count, and round numbers.
In the "Who can join" section, opt for Invited friends.
Click again on Create new game.
Grab the link and send it to your teammates.
Everyone will be racing against the clock to fill multiple categories with words starting with a designated letter.
Get through all the rounds and discover which teammate boasts the most impressive word arsenal!
Icebreaker #13: Virtual Background Contest
Best For: Adding a fun twist to virtual meetings, sparking creativity, and enhancing team members' storytelling skills.
This fun-filled activity not only adds a splash of color and joy to your meetings but it also nudges team members to showcase their creative sides and storytelling skills. Let's see how you can get this show on the road:
Challenge your team members to pick a virtual background that is uniquely creative or amusingly original.
During the meeting, set aside time for each participant to present their background choice, along with the story or concept behind it.
After all presentations, host a vote to select the "Virtual Background Champion". This could be a quick poll or even a show of hands.
Celebrate the winner and offer them a chance to lead off the next meeting or decide the theme for the forthcoming contest.
Pro Tip: Having a hard time picking a Zoom background? Check out our guide: 101 Best Zoom Backgrounds to Rock Your Next Meeting (2023)
Icebreaker #14: One Word at a Time
Best For: Best For: Storytelling enthusiasts ready to weave a quirky narrative, one unpredictable word at a time.
This game is commonly known as "One Word at a Time." It's a simple and fun icebreaker or warm-up activity for groups, and it's also super popular if you've ever done improv as well.
Here's how to get started:
Start the Game: The first person begins the story by saying a single word. It's often easiest to start with "Once," but any word that can start a story is fine.
Continue the Story: The next person in line adds another word to the story, and this continues with each participant adding a single word in turn. This can follow a designated order, like going in a circle or following the order of participants listed in a video call.
Listen Carefully: Participants need to listen to each word carefully to make sure their word makes sense in the context of the story.
End the Story: Eventually, the story will reach a natural conclusion. Typically, the facilitator or someone who senses a good ending coming might say "And" and the next person can say "The" and then "End" to wrap it up.
Icebreaker #15: Change My Mind
Best For: Encouraging communication skills, team bonding through friendly debates, and a creative way to learn about diverse viewpoints.
This isn't just your run-of-the-mill icebreaker—it's a fun-packed mini-debate club that can spice up your meeting. Best part? While your team enjoys this engaging banter, they'll also polish their communication skills, flex their persuasive abilities, and experience the art of friendly debate. I love this icebreaker for flexing your creativity!
Here's how to pull it off:
Introduce the game and ask a teammate to share a non-controversial opinion.
Set a timer for two minutes. During this time, the rest of the team attempts to sway the opinion-holder's view.
After the timer ends, the teammate shares if they've been persuaded and why.
Repeat with the next person.
Icebreaker #16: Rotating Questions
Best For: Diving into your teammates' minds through a volley of thoughtful and unexpected queries.
In small groups, you can use great questions to get people to open up.
Gather a list of icebreaker questions, or check out my favorite 57 conversation starters you can use.
Have everyone take turns answering questions. If they don't like a question, they can choose another one to answer!
Icebreaker #17: Culture Exchange
Best For: Promoting cultural awareness, fostering deeper connections, broadening perspectives, and keeping meetings engaging.
This simple, yet incredibly powerful activity, invites participants to share a tradition or custom from their culture. But here's where we crank up the heat: don't just stop at explaining the custom. Bring it to life! Share a personal anecdote, cook up a traditional recipe live, showcase an artifact, or even perform a quick traditional dance if you're up for it.
It's not just about sharing, it's about experiencing. This allows for deeper connections, broader perspectives, and hey, it makes for an incredibly fascinating meeting. Just remember to keep the shares short and sweet to keep the momentum going.
Icebreaker #18: Quiz Time
Best For: Uncovering hidden team traits and testing trivia prowess with a friendly dose of competition.
One of the most fun icebreaker activities is to take quizzes and compare the results with your team! Here at Science of People, we absolutely LOVE quizzes. We've got a ton of quizzes backed with science to help you and your team understand each other:
Icebreakers You Can Do In Person
If you can't take advantage of icebreakers for virtual meetings, don't sweat it! Here are some icebreaker ideas you can do in-person.
And if you want to increase your charisma while you're at it, check this out: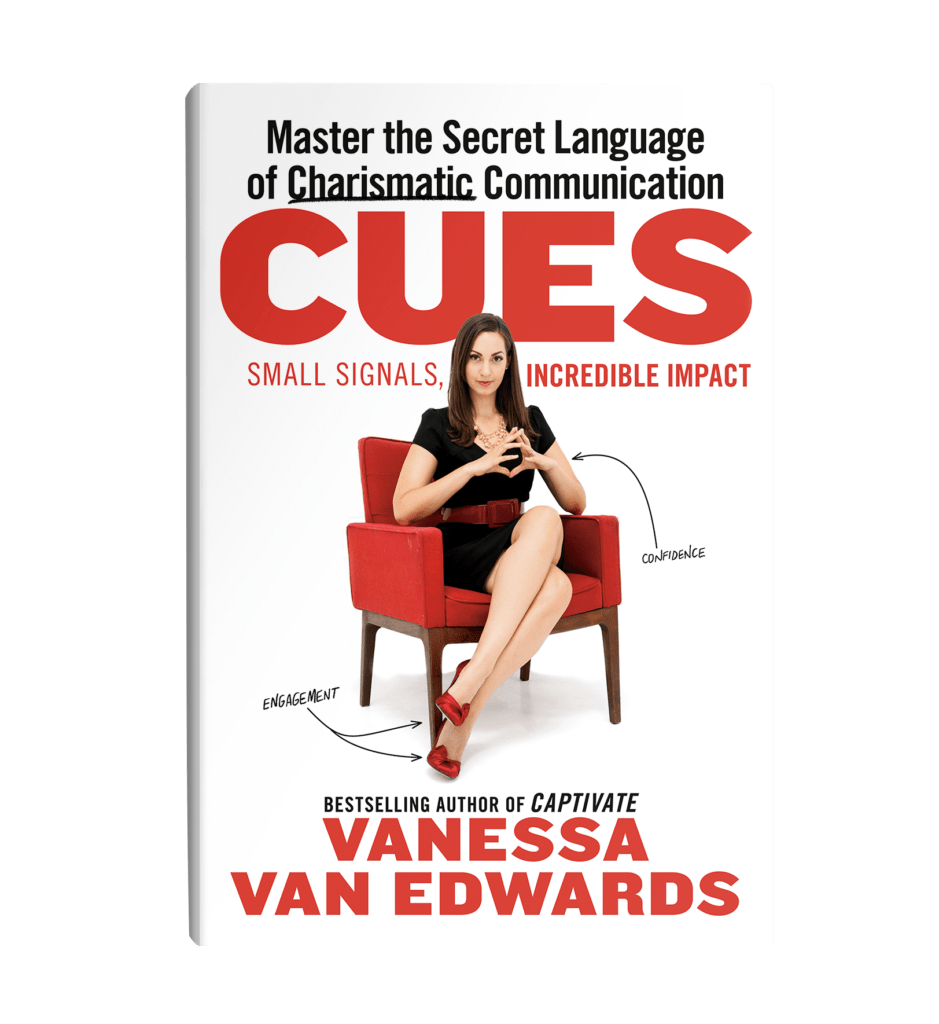 Unlock the Secrets of Charisma
Control and leverage the tiny signals you're sending – from your stance and facial expressions to your word choice and vocal tone – to improve your personal and professional relationships.
Succeed with People
Master the laws of human behavior. Get along with anyone, increasing your influence, impact, and income.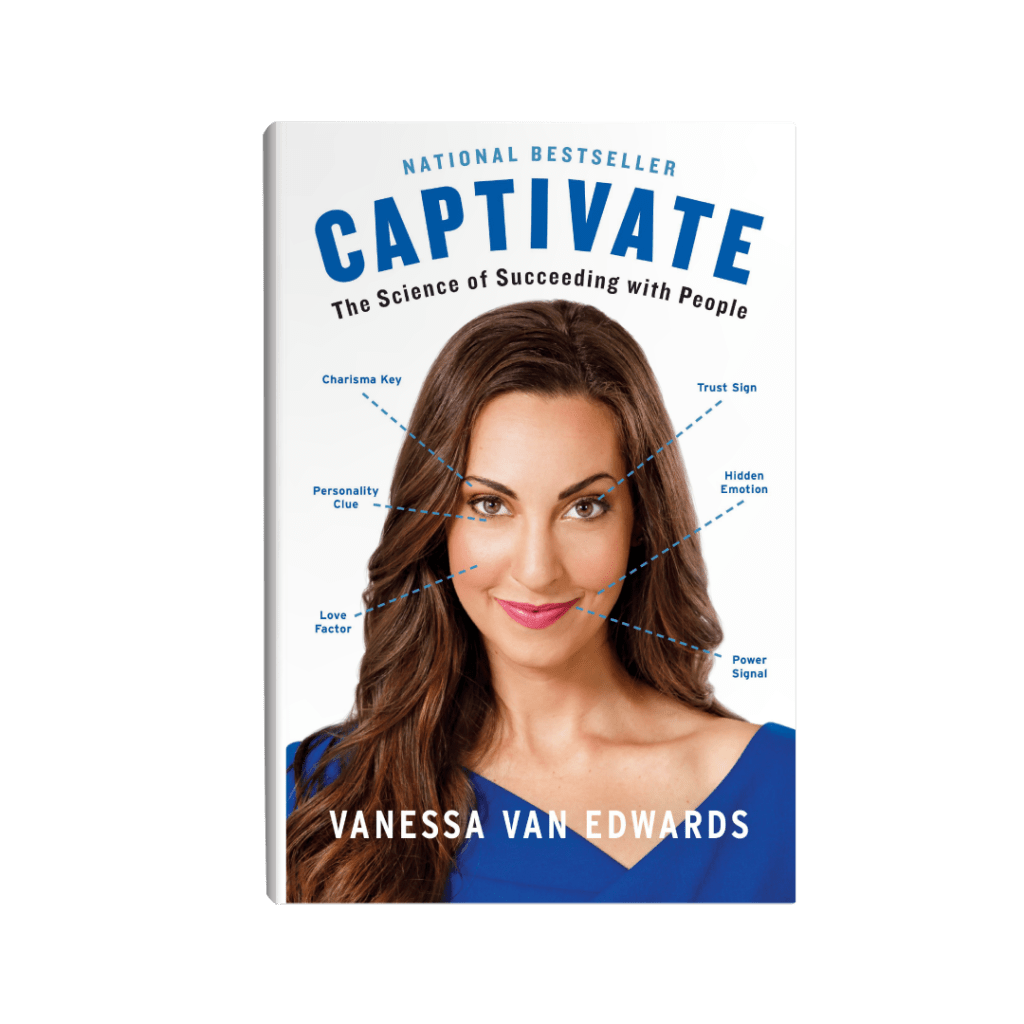 Let's dive in!
Icebreaker #19: The Candy Game
Best For: Sweet-toothed conversationalists ready to trade colorful candy for flavorful personal insights.
This is my favorite icebreaker, because you combine easy bonding with the best possible ingredient: sugar! To coordinate this icebreaker:
Pick your favorite kind of multi-colored candy–a bowl of M&Ms, Starbursts, Skittles or whatever tickles your fancy.
Next, pass around the bowl and ask people to take as many candy pieces as they like, but NOT to eat them.
Once the bowl of candy has been passed around, each person has to answer a question for each color they take. For example, you can assign questions such as:
Red: What's your favorite book?
Orange: What's the best vacation spot you have ever been to?
Blue: What's your favorite kind of food?
Green: What TV show are you addicted to?
Brown: If you could have any superhero quality, what would it be?
Yellow: What's the best part of your work week?
Icebreaker #20: The Marshmallow Game
Best For: Creative builders looking to showcase teamwork and engineering skills with a side of sweet victory.
Another icebreaker based on food? Of course! This icebreaker's end goal is to build the tallest freestanding structure… out of spaghetti, string, tape, and a marshmallow. And if that wasn't enough? The marshmallow has to be on top! Here's how to play:
Divide your group into teams of four.
Hand each group these four things: 20 sticks of spaghetti, one yard of tape, one yard of string, and one marshmallow.
Set a timer for 18 minutes. After 18 minutes, the team with the tallest standing structure wins!
This is a great team-building exercise and also forces your teammates to cooperate with each other. I also recommend giving out a prize to the winning team—stacking uncooked spaghetti is definitely not an easy task! This icebreaker was originally introduced by Tom Wujec, who made a TED talk about it, which you can check out here:
Icebreaker #21: I-Spy Riddle Scavenger Hunt
Best For: Injecting fun into mundane schedules, sparking adventurous spirits, and stirring up the team's inner explorers.
If you want people to get out of the office, you also can have your icebreaker be a mini scavenger hunt. It can be around town, around the office, or around the building.
For example, hunting for bugs is a great way to create an outdoor scavenger hunt for kids or adults. They can take a picture of the first bug they come across, which might not take long. Being outside will refresh everyone so they're more energetic for whatever's next on their daily calendar.
Want more ideas? Check out our list: 40+ Scavenger Hunt Games You Can Try Virtually or in Person
Icebreaker #22: Two Truths and One Lie
Best For: Laughter and bonding through uncovering truths and hilarious fibs!
I love the game "Two Truths and One Lie," because it allows you to get a little more creative with your teams and to have some fun.
Start by asking each person to come up with two facts about themselves and one believable fib.
Next, everyone shares their three statements and the group votes or discusses their guess for the lie. For example, here are three statements about me.

I have a pet turtle.
Growing up, my family called me "Sasa" as a nickname.
I speak Mandarin.
Can you guess which is the lie?
I do not have a pet turtle! Yes, my family called me Sasa because my little sisters couldn't say "Vanessa." And I lived in China during college. Fun facts, right? This icebreaker is a great way to get to know each other, and to have some laughs along the way.
Special Note: If you have introverts in the group, it's nice to let the group know ahead of time that they should think of two truths and one lie for the meeting. This is helpful for not putting people on the spot.
Icebreaker #23: Desert Island Scenario
Best For: Adventure seekers ready to share their survival instincts and imaginative flair in a hypothetical scenario.
Spice up your virtual meetings with the Desert Island Scenario. It's fun, it's simple, and it's your ticket to knowing your colleagues in an intriguing new way.
Here's how:
Set the Scene: Tell your team to imagine they're about to be stranded on a desert island.
Pick Three: Ask each person to come up with three items they'd take with them. Real or imaginary, practical or bizarre, it's their call.
Share and Explain: During the meeting, everyone shares their chosen items and explains why they picked them.
Have Fun: Enjoy the hilarious, touching, or surprising revelations!
Pro Tip: Give your teammates a heads-up to come prepared with their three items. Nobody likes being put on the spot, and it gives them a chance to think about their answers and let their imaginations run wild. Plus, it builds anticipation for the big reveal.
Icebreaker #24: Paper Airplane Game
Best For: Unleashing creativity and learning fascinating facts through airborne paper revelations!
I love this icebreaker because it is more hands on.
Pass out different-colored sheets of paper to each person attending the meeting.
Then ask everyone to write an interesting fact about themselves on the piece of paper and fold it into a paper airplane.
Then, everyone launches their paper airplane to somewhere around the room.
Finally, everyone retrieves one of the paper airplanes, reads the fact, and guesses whose paper airplane they got.
It's fun to guess, and you learn new things about each other!
Icebreaker #25: Guess The Item
Best For: Sparking curiosity, igniting laughter, and providing a unique, tactile team-building experience.
Want to challenge your team's senses and create some laughs along the way? "Guess the Item" is the perfect in-person icebreaker to mix things up. I love this game because it tests your team's sense of touch and sparks curiosity.
Here's how you can introduce this tactile teaser to your next gathering:
Prior to the meeting, gather various objects of different textures, shapes, and sizes. Place each object in a separate paper bag.
During the meeting, invite each participant to reach into a bag without peeking and try to identify the object inside only by touch.
Allow each participant to share their guesses. The group can have fun discussing and debating what the mysterious object might be.
Reveal the object to the group once all the guesses are in.
Rotate until everyone has had a turn.
Icebreaker #26: Year of the Coin
Best For: Unearthing memories and forging connections as you journey back in time with coins as your guide.
Have a bowl of coins sitting at home? Perfect! They are great for icebreakers.
Sort through the bowl to make sure you don't have any coins that are too old
Then have everyone pick a coin out of the bowl.
Go around and ask each person to share something they were doing the year the coin was minted.
This is great for getting to know someone's past—and to test people's memories.
Icebreaker #27: One Common Thing
Best For: Discovering unique similarities among your teammates.
This is a great icebreaker if you want to get people moving around the room.
Give everyone a list with each person's name on it.
Set a timer and have people go around and find one commonality with each person in the room.
The key is, you cannot share the same commonality with anyone else. If everyone in the room works at the same company, that commonality wouldn't count. This is a way to get people exploring beyond what they already know about each other.
Icebreaker #28: Lego Tower Challenge
Best For: Encouraging teamwork, creative problem-solving, and healthy competition within a fun, hands-on environment.
Looking to unlock the hidden architects within your team and promote a bit of friendly competition? The "Lego Tower Challenge" is the perfect way to engage your team. This hands-on activity encourages teamwork, creativity, and quick thinking under time constraints.
Here are the steps:
Divide your team into smaller groups, preferably of equal size. Provide each team with the same number of Lego bricks.
Set a timer for the challenge. This could range from 5 minutes to 15 minutes, depending on the complexity you wish to add.
The objective is simple yet challenging: each team has to build the tallest Lego tower possible within the given time.
Once the timer goes off, it's time to measure the towers. The team with the tallest standing tower wins!
Debrief and discuss. Ask each team to share their strategies and thought processes. This can lead to interesting insights about teamwork and problem-solving.
Icebreaker #29: Speed Networking
Best For: Rapid connections, exchanging thoughts and laughs in a lively speed networking setup.
A speed networking session doesn't just have to be for networking or new people. It also can be for groups that want to get to know each other. You can even do this with a large group of people, as long as you have a big open space.
Ask everyone in the room to find a partner.
Give everyone a conversation starter to answer and set a timer for two minutes. Each person has one minute to answer.
After both people have answered and the two-minute timer is up, have them find a new partner and assign them a new conversation starter.
You can do as many rounds as time allows. If you have a small group, you can make sure everyone in the room gets at least one turn with each other.
Icebreaker #30: Pictionary
Best For: Harnessing creativity, boosting team spirit and light-hearted competition through drawing and guessing.
Here's the last icebreaker and also a fun one: Pictionary! You can do it online, as mentioned before, but it's also an amazing game to play at home—you can even bring it to your meetings as a cool icebreaker activity.
If you've never played before, Pictionary is basically a word-guessing game where one player chooses a randomly-selected word and draws it, while the other players guess what the word is. Normal Pictionary is played using a physical board and pencils/pens.
You can also print out a Pictionary board here and a word list here, and use candy pieces as playing pieces!
What Are Good Icebreaker Questions?
Icebreaker questions are a fun, easy way to get to know people and lighten the mood. They are similar to icebreaker activities but usually do not require much or any preparation at all.
Here are some great icebreaker questions you can ask!
Icebreaker Questions to Get to Know Your Teammates
What is your proudest accomplishment?
If you could write a book, what would it be about?
What is the happiest moment in your life? What made it so special?
What is the scariest thing you've ever done for fun?
What is the best gift you've ever given/received?
What is your dream job?
What is something you were known for in college/high school?
What's the best piece of advice you've ever been given?
Where is one place you'd love to travel to?
What does your ideal day look like?
Fun Icebreaker Questions
What is your spirit animal?
Who would win in a fight: a horse-sized duck or 100 duck-sized horses?
If you were a color, what would it be?
What superpower would you choose to have? Why?
What was your favorite television show as a kid?
If you had a time machine, what time period would you travel to?
If you could only eat one thing for the rest of your life, what would it be?
If you had one wish, what would you wish for?
If you were stranded on an island, what 3 things would you bring with you?
What song best describes you?
Personal Development Icebreaker Questions
What's one skill you'd like to improve this year, and why?
Can you share a book that significantly influenced your life or career?
What's the best piece of advice you've ever received?
Can you name a person who has had a significant impact on your professional development? How so?
If you could go back and give your 18-year-old self a piece of advice, what would it be?
What's an accomplishment you're proud of from the past year?
If you had unlimited resources, what kind of project or business would you start?
What's a goal you've set for yourself recently, and what steps are you taking to achieve it?
How do you handle stress and maintain work-life balance?
If you could learn about any new topic or skill, without any constraints of time or money, what would it be?
Travel and Leisure Icebreaker Questions
What's the most interesting place you've ever visited?
If you could go anywhere in the world right now, where would you go?
What's the longest trip you've ever taken?
Do you prefer nature trips or city trips? Why?
What's your most essential travel item?
Have you ever traveled alone? What was that like?
What's the strangest thing you've ever eaten while traveling?
Have you ever visited a place just because you saw it in a book or a movie?
What's one travel experience you'll never forget?
If you could live in any city in the world, where would you choose and why?
Work Preference Icebreaker Questions
Do you prefer working in teams or independently? Why?
How do you typically organize your workday for maximum productivity?
What motivates you most at work?
What kind of work environment helps you to be most productive?
Do you prefer to have clear guidelines or do you like having the freedom to figure things out yourself?
What part of your work process do you find most fulfilling?
How do you handle feedback and criticism at work?
What is your preferred method of communication in a professional setting (email, phone call, in-person, etc.)?
How do you usually handle tight deadlines or high-pressure situations?
How do you ensure a good work-life balance?
How Long Should an Icebreaker Last?
An icebreaker should not be too long, or it will take time away from the actual meeting. Icebreakers typically last anywhere from 5 minutes to 20 minutes. It should last enough time for people to feel comfortable and relaxed enough to easily discuss more important topics later on in the meeting.
These are my favorite icebreakers, and they work for different-sized groups. When thinking about having a successful meeting or retreat, we often think about the basics, such as a strong agenda, a yummy lunch, and planning. These are all good strategies, but don't forget about the professional warm-up. A good icebreaker can break the tension, break the awkwardness and, of course, break the ice.
To your success,
Vanessa