the body part men find the most irresistible on a woman (hint: it's not what you think)
the #1 body language cue that men love more than ANYTHING else
why the way he looks at you reveals his level of attraction
why men lie more when around people they're attracted to
Which Body Part Attracts Guys Most?
face
butt
breasts
stomach
What Body Language Do Guys Find Attractive?
smiling
exposing your neck
biting your lip
being available
He'll Touch You Back
His Pupils Will Dilate
The bigger the pupil size, the greater the interest.
He'll Make Extra Eye Contact
His Eyes Will Dip
He'll Get Closer
choosing to sit next to you at a restaurant, instead of across from you
leaning forward
standing physically closer to you or even touching you while walking
He Will Flex His Muscles
straightening the back out to increase the size of the chest
keeping shoulders rolled back and wide to emphasize a V-shaped body
sucking in the belly to hide unwanted fat
tightening forearms or upper arm muscles
He'll Turn His Torso Toward You
He'll Make You Laugh
He'll Preen Himself
Rearranging clothes. Unbuttoning the top of his shirt, adjusting his suit, straightening his socks, and readjusting his tie can be subtle preening behaviors to look for. Men want to look clean and powerful around others, unless they're going for that rebellious look.
Fixing his hair. Men may check for loose strands of hair or ruffle it to make sure everything's in place. Preening the hair not only makes it appear better groomed, but it also draws attention to the hair since our eyes are attracted to movement.
Glancing in the mirror. If you're walking by a mirror or window, you might notice him paying close attention to his appearance. He might be checking to see if his outfit is wrinkled or his hair is in place.
He'll Point His Toes
His Lips Will Slightly Part Open
He'll Play With His Drink
His Face Will Be More Expressive
His Voice Will Be More Positive
His Nostrils Will Flare
His Body Language Will Open Up
crossing his arms
putting objects between you, creating a barrier
turning his torso away
keeping his hands uncrossed from his torso
removing objects between him and you
keeping his forehead pointed toward you, instead of away
He'll Mirror Your Body Language
The arms. If you cross your arms, does he cross them, too? If you put one hand on your hip, does his body language follow?
Leaning. Are you both leaning close or leaning against the wall?
The legs. Watch his leg movements. If you're both sitting down on a sofa, are your legs both crossed? Both open?
Are Men Good at Reading Body Language?
On average, women need to eye gaze three times before a man even takes notice.
Do Men Lie When Flirting?
Men lie to appear more powerful, interesting, and successful. They lie about themselves eight times more than they lie about others. If a man is trying to woo you, he may lie about his talents, skills, and experiences to make himself look better.
Women lie less about themselves and more to protect others' feelings or to make others feel better about themselves. When asked for an opinion like "How does my suit look?" she may respond positively to maintain social harmony.
Nervous or Attracted? You Decide
His Hands Are Buried in His Pockets
He Might Be Tense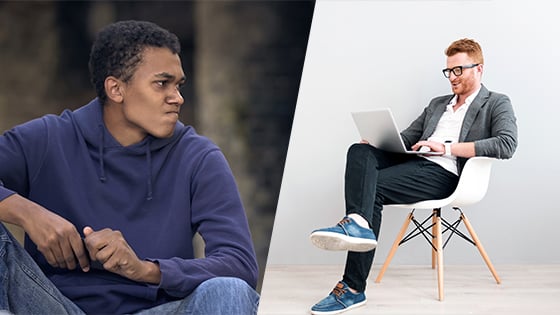 Arms. Are his arms more open around you? Are they freely moving and not held closely to his body? Men are more likely to fold their arms across their torso around unattractive women, but if they find you attractive, they'll open their body up4.
Legs. Crossed legs doesn't necessarily mean he's not into you. If they are crossed, make sure to note the direction of his knees to see if he's pointing toward you or away from you.
Bonus: How Do You Tell If He's NOT Interested?
Is he avoiding touching you?
Are his pupils constricted?
Is his torso pointed waaaay toward the exit?
Is his face expressionless with you but not around his buddies?
Is his body leaning so far away that you can't even touch him?
Disgust. If he's totally not into you, you'll notice his nose wrinkle up, and you might even see his upper teeth showing. If you touch his arm or give him a few eyebrow flashes of flirtation, and he responds with disgust… sorry, but he's probably not that interested.
Anger. Anger microexpressions can be as subtle as a quick lowering of the eyebrows or pursed lips. If he's chasing, and you're playing hard to get, watch to see if he's really cool as a cucumber, or if he's playing it off and actually getting angry.
Unlock the secrets of charisma
Control and leverage the tiny signals you're sending—from your stance and facial expressions to your word choice and vocal tone—to improve your personal and professional relationships.
---
Crack The Code on Facial Expressions
The human face is constantly sending signals, and we use it to understand the person's intentions when we speak to them.

In Decode, we dive deep into these microexpressions to teach you how to instantly pick up on them and understand the meaning behind what is said to you.

Don't spend another day living in the dark.
This article is part of our body language guide. Click here for more.