how to tell when a dog is feeling happy, aggressive, stressed, or scared, like Cesar Milan can
the best way to approach a dog
how to pet a dog (to scratch or pat?)
… and more!
Can You Read Body Language? (Quiz)
How good are your body language skills? Take our free body language quiz to find out!
Playful & Happy
Open Mouth: Generally, a happy dog might have an open mouth with its tongue flopping out.
Relaxed Body: A relaxed dog with loose shoulders is likely calm and happy.
Play Bowing: A happy dog might feel playful and lower its front, with its rump in the air. This is called a "play bow," and researchers suggest a bow is used to reinitiate more play after a pause.
Wagging Tail: Watch for the classical tail wag. If your dog is wagging back and forth in the air (you might even notice the dog's bum moving), your dog may be happy.
Exposing the Belly: A happy dog might even roll over onto its back and show you its belly. Dogs might even expose their belly if they're nervous and want to show submissiveness, but other times they will expose it if they're happy and want to invite a belly rub.
Dominant & Aggressive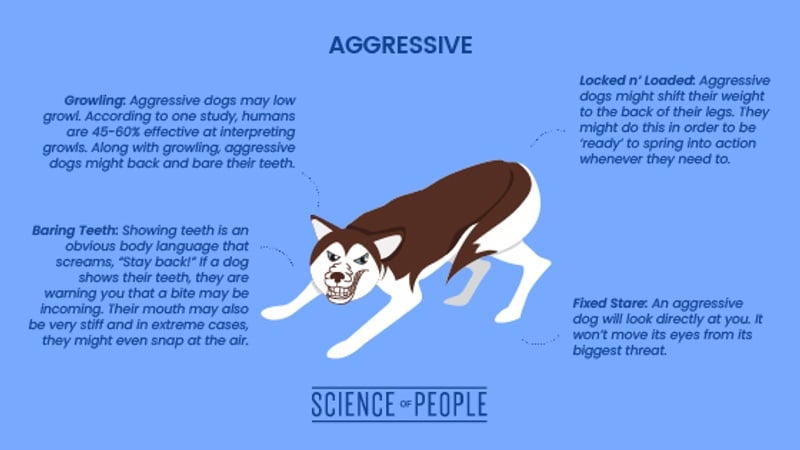 Locked & Loaded: Aggressive dogs might shift their weight to the back of their legs. They might do this in order to be "ready" to spring into action whenever they need to.
Growling: Aggressive dogs may give a low growl. According to one study, humans are 45–60% effective at interpreting growls. Along with growling, aggressive dogs might bark and bare their teeth.
Baring Teeth: Showing teeth is an obvious body language that screams, "Stay back!" If a dog shows their teeth, they are warning you that a bite may be incoming. Their mouth may also be very stiff, and in extreme cases, they might even snap at the air.
Fixed Stare: An aggressive dog will look directly at you. It won't move its eyes from its biggest threat.
Whale Eye: This is a term describing when the whites of a dog's eyes are showing. Dogs who give the whale eye might turn their head away and look slightly at their target, fixating on it.
Calm & Relaxed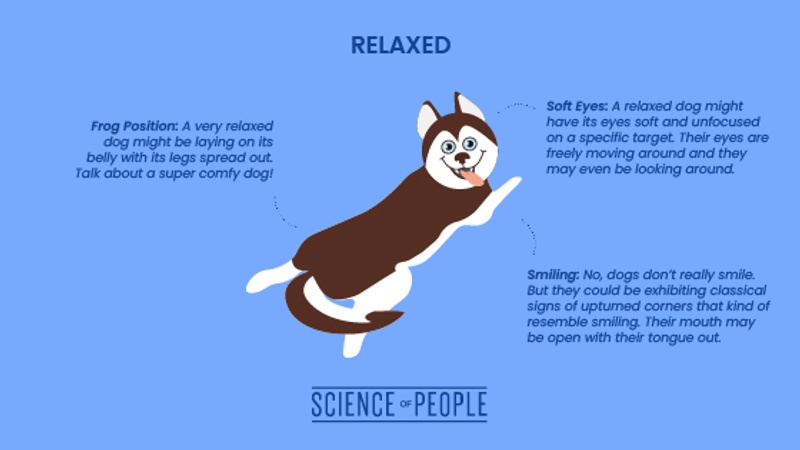 Smiling: No, dogs don't really smile. But they could be exhibiting classical signs of upturned corners that kind of resemble smiling. Their mouth may be open with their tongue out.
Soft Eyes: A relaxed dog might have its eyes soft and unfocused on a specific target. Their eyes are freely moving around, and they may even be looking around.
Frog Position: A very relaxed dog might be lying on its belly with its legs spread out. Talk about a super comfy dog!
Leaning: A relaxed dog might want to lean on you for support. This might be similar to how a cat rubs its body on you. Except the dog might want you to rub their head or give them pats on the back.
Stressed & Anxious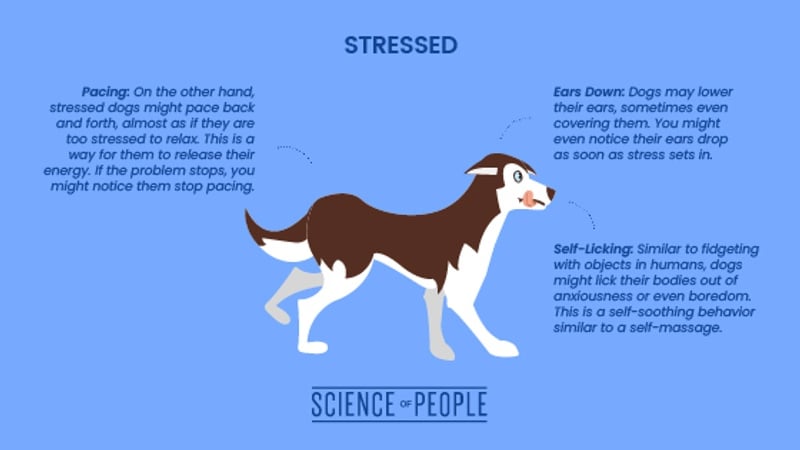 Ears Down: Dogs may lower their ears, sometimes even covering them. You might even notice their ears drop as soon as stress sets in.
Self-Licking: Similar to fidgeting with objects in humans, dogs might lick their bodies out of anxiousness or even boredom. This is a self-soothing behavior similar to a self-massage.
Slow Mode: Stressed dogs might not be as vibrant or active as normal. Their movements might slow, and their walking speed might decrease.
Pacing: On the other hand, stressed dogs might pace back and forth, almost as if they are too stressed to relax. This is a way for them to release their energy. If the problem stops, you might notice them stop pacing.
Yawning: Dogs who are tired might yawn, but they may also yawn when stressed. A stressed yawn is usually drawn out longer and can also be accompanied by excessive drooling.
Alert & Ready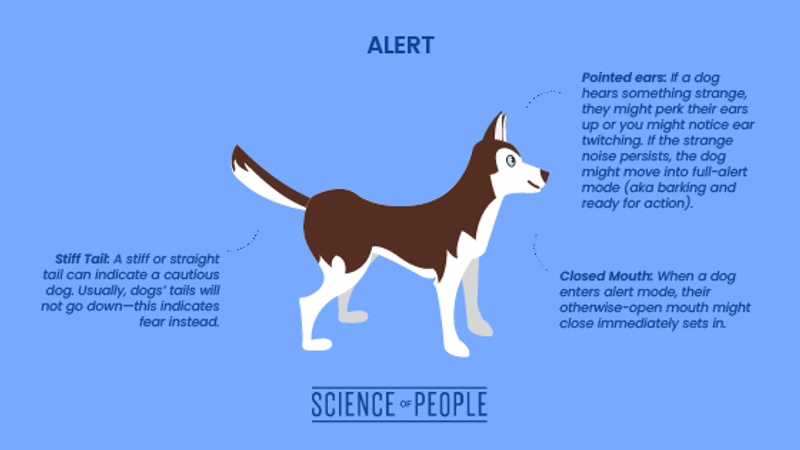 Closed Mouth: When a dog enters alert mode, their otherwise-open mouth might close immediately.
Pointed Ears: If a dog hears something strange, they might perk their ears up, or you might notice ear twitching. If the strange noise persists, the dog might move into full-alert mode (aka barking and ready for action).
Barking: A common sign in dogs, barking indicates a dog is scared, angry, lonely, irritated, and more.
Stiff Tail: A stiff or straight tail can indicate a cautious dog. Usually, dogs' tails will not go down—this indicates fear, instead.
Scared & Fearful
The Slow-No Wag: A slowly wagging tail or tail that is down and immobilized might indicate fear.
Trembling: A fearful dog might tremble or shake its body. This is a normal fight-or-flight response that helps a dog's muscles to prepare to fight or flee if necessary.
The Hideaway: Scared dogs might retreat behind desks or other objects. They are trying to block themselves from physical harm. They might even stick to the corner of a kennel or close to the side, away from others. To avoid further fear, don't try to chase them—instead, let them calm down and feel safe first.
Deactivated: Fearful dogs might not display "normal" dog behaviors like sticking their tongue out. Their bodies might be completely frozen in fear. You might only see this in extreme circumstances and if a dog has no choice to run away or fight.
Submissive & Sorry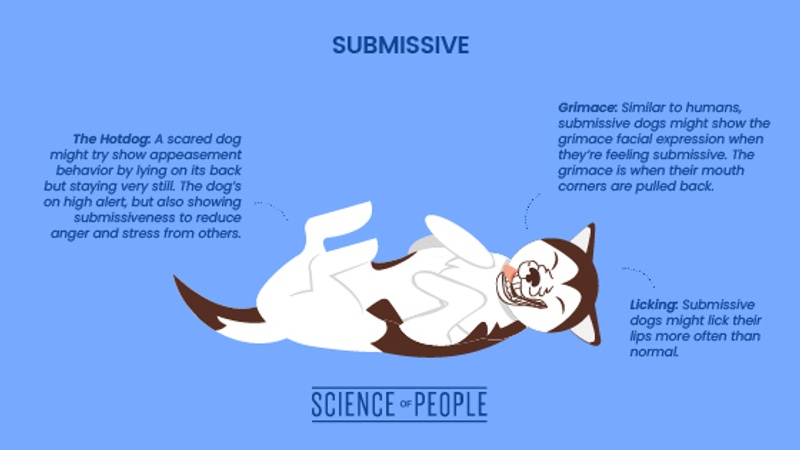 The Hotdog: A scared dog might try to show appeasement behavior by lying on its back but staying very still. The dog's on high alert but also showing submissiveness to reduce anger and stress from others.
Grimace: Similar to humans, submissive dogs might show the grimace facial expression when they're feeling submissive. The grimace is when their mouth corners are pulled back.
Licking: Submissive dogs might lick their lips more often than normal.
Hushed Voice: Submissive dogs generally will not bark loudly or aggressively. They might be quieter than normal or even whimper if they're not playing.
The Approach
The Smile
Mounting
Scratch, Don't Pat
The Look Away
The Tail Wag
Dog Noises
A lower pitch usually indicates more seriousness. Playful dogs might bark with a high pitch.
The number of barks can play a role—if a dog keeps barking, they may be more aroused.
How fast your dog barks can be important. The more barks, the more aggressive or stressed your dog might feel.
Piloerection
Are Children or Adults Better at Reading Dog Body Language?
---
This article is part of our body language guide. Click here for more.
Crack The Code on Facial Expressions
The human face is constantly sending signals, and we use it to understand the person's intentions when we speak to them.

In Decode, we dive deep into these microexpressions to teach you how to instantly pick up on them and understand the meaning behind what is said to you.

Don't spend another day living in the dark.