Powerful Presentation Skills
Learn to captivate any audience on stage, on video, and in meetings in this livestream training.
All You Need For Every Presentation
Craft powerful presentations
Make your ideas more impactful; make sure your audience walks away loving your idea.
Project Confidence
Presence is essential. Learn to be confident in any setting.
Enhance Vocal Charisma
Deliver your ideas with power. How you say something is sometimes more important than what you say.
Presentation Templates
My five favorite presentation structures to use in any situation.
Pitch Brilliantly
Learn to effectively engage VIPs, build trust, and motivate people.
Power Body Language
Use the latest social neuroscience to develop a new attitude and assertiveness.
Increase Engagement
Increase your audience's engagement, retention, and trust.
Open and Close Strong
Kick off your presentations (and meetings) right. And use my favorite closers.
Let's add presentation skills to your professional toolbox.
Successful presentations all possess the same elements. Whether video calls, conference calls, sales presentations, virtual trainings — any venue where you're sharing your ideas with others.
The good news? I've found the best presentation skills are 100 percent teachable.
Whether you're already a speaking pro or simply have an idea you just need to share, I'll help you elevate your speaking game.
I developed the perfect format for helping you become an amazing presenter, and we are going to do it together in an amazing one-day training. This presentation skills training will cover everything you need to know about presenting.
Vanessa in the Media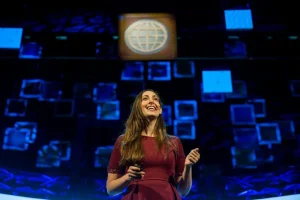 Share your ideas.
I believe everyone has ideas and stories that make this world a better place. So often those ideas stay just an idea, and stories remain untold.
Usually this has more to do with how you communicate an idea than the quality of the idea itself.
You deserve to have your ideas heard. You can have a memorable and authentic presence that enables you to share, teach and speak confidently.
Together, let's build, hone, and perfect your presentation skills. Let's get people talking about your ideas.
About Vanessa
I've spent the last 12 years crafting presentations.
Over hundreds of events—in person, on stage, and virtually—I've figured out what it takes to deliver a great presentation. I've been fortunate enough to speak on stages from MIT to SXSW, lead meetings at Fortune 100 companies like Microsoft and Google, and even host virtual trainings for thousands of attendees for companies like Amazon.
My best career opportunities came from specific presentations.
A few of my past engagements.
What Makes Our Approach Different
A Science Based Approach
No more guesswork or generalities about presentations.
Real Life Case Studies
We'll use real life presentation examples to explore critical concepts.
Workshop Your Presentation
Have a presentation in mind? Apply what you learn immediately.
Bottom Line: We present ourselves and our ideas every day.
We constantly present: from opening a meeting, to giving a toast, to hosting a video call, to speaking up on a conference call. My presentation skills framework trains you to present your best self. Every time.
Who should attend?
Ambitious professionals who present or share ideas in meetings
Entrepreneurs presenting to customers, VIPs, or investors
Salespeople seeking a better pitch
Introverts & ambiverts wanting to present authentically and powerfully
Extroverts wanting to become masterful public speakers
Authors, inventors, side-hustlers, and aspiring professionals who need presentation skills to break through their career walls
Self-development lovers who want to add presentation skills to their toolkit
If this is you… then I would love to work with you.
Who shouldn't attend?
This training is not about becoming a professional public speaker. It is about equipping yourself with advanced presentation skills for your unique career goals.
$149
Get full, lifetime access to the recorded teaching so you can rewatch it any time.
Get access to these exclusive bonuses:
How to crush your presenting fears
An expert guide to interacting with your audience
How to be funny
My favorite strategies for powerful slides and visuals
How to prepare and practice before your presentation
Confident question and answer sessions
How to tell powerful stories
How to effectively use props (and podiums, clickers and microphones)
How to up your verbal power and be more persuasive
What to wear (and NOT to wear) to your presentation
What to eat (and drink) before your presentation
The best 5-minute vocal warm-up