I like to have juicy, stimulating conversations. I also love to read good books – and lots of them.
These rarely happen, but when they do–ahh–such pleasure. Here's what happens:
The event flies by
You feel like you have known the person you are talking to for years
You are so glad you decided to come to the event
Your cheeks hurt from laughing or smiling
Never had one of these conversations? Don't worry! I have found that the best conversations are born from interesting or stimulating books that come up over and over again.
I sat down and reviewed all of the books I have ever read (thank you Goodreads!) and selected the top 10 books that come up in conversation most frequently. I also added 'follow-up' questions about each book as an easy way to stimulate conversation.
My Top 10 Good Books to Read:
A Rogue Economist Explores the Hidden Side of Everything
By Steven D. Levitt and Stephen J. Dubner
Freakonomics is filled with amazing stories and facts. There are about 20 juicy conversation worthy stats that you can bring up on everything from sumo wrestlers to school teachers. The cool part is they talk about the hidden side of every day items, people and issues.
Follow Up Question:
Have you ever discovered a hidden side to a seemingly boring subject?
By Patricia Schultz
Travel always comes up in conversation–whether someone has just gotten back from a business trip or is planning a vacation. It is easy to bring up 1,000 Places to See Before You Die and get into an awesome conversation about travel and passions. Bonus tip: You can also weave this conversation into bucket list items and really get to know someone.
Follow Up Questions:
Have you ever been to one of the 1,000 Places to See Before You Die?
What are the top places you want to visit?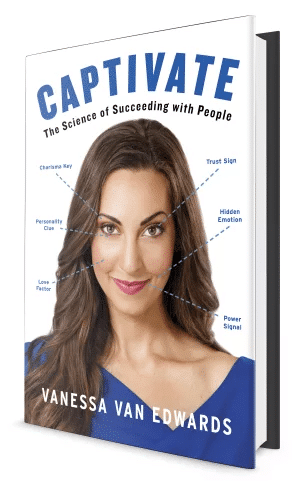 The Science of Succeeding with People
By Vanessa Van Edwards
I might be a little biased, but I wrote this book as a giant conversation starter. I packed it with interesting tidbits, human behavior hacks, crazy facts about relationships and a never ending list of ideas to talk about. I would be honored if you would consider picking up a copy!
Follow Up Question:
How will you hack your next conversation?
And 333 Other Surprising Facts That Will Make You Wealthier, Healthier and Smarter Than Everyone Else  
By Mark Di Vincenzo
This book is filled with odd and bizarre facts that kind of blow your mind. Now, you have to be careful not to be the weird person at the party spouting obscure facts–but when brought up in context you will get 'ohh's', 'ahh's' and 'wow's' to these tidbits.
Follow Up Question:
What is the weirdest fact you have ever heard?
The Power of Thinking Without Thinking
By Malcolm Gladwell
I love all of Malcolm Gladwell's books–but this one is my favorite. Blink talks about how our intuition knows the truth and how we can look at something and instantly know the answer–our rational brain can get us in trouble.
Follow Up Question:
Do you believe first impressions are always accurate?
6. A Kickass Body Language Book
I might be a little biased, but I love body language. I find this makes for great party talk as well. For example, I will often look around the room and cold read people with the person I am speaking with. We look at body language and guess who has a crush on who, who is the boss and who is nervous. If you can read body language, it's easy (and fun) to do this. I couldn't pick one. Here are a couple of my favorite body language books:
The Secret to Love that Lasts
By Gary D Chapman
This one doesn't usually come up during business events, but is great for dates, parties and get togethers. The most natural way to bring up the 5 Love Languages is when someone mentions a sweet, romantic or cute thing someone does for someone else. For example, a friend recently told me that his cousin proposed to his girlfriend in a really long letter he left in their garden. I said, "A letter? Thats so sweet! His love language must be words of affirmation." This started a fascinating conversation about love languages.
Follow Up Question:
What's your love language?
8. Your Favorite Book Turned Movie
I leave this one up to you because it is a great conversation starter! Anytime someone brings up a movie that was made from a book (often) or you know something current is out, you can have the "Book Turned Movie" conversation. I find out a lot about people this way and it is a fascinating conversation with lively (but good humored) debate. Some ones that come up a lot for me (especially recently): Hunger Games, Ender's Game, Life of Pi, The Hobbit and The Help.
Follow Up Question:
What's your favorite book that turned into a movie? Least favorite?
The Hidden Forces That Shape Our Decisions
By Dan Ariely
Why are people so weird? Seriously, we do some really strange things sometimes. Dan Ariely explores this irrational side of people in his book Predictably Irrational–which I love. His stories and studies come up all the time while eating out and at events. I also use his research in my work to increase sales–definitely worth the read!
Follow Up Question:
Have you ever done something irrational?
How We're Different and What to Do About It
By Allan Pease
This is the book that made me want to study people! So, I love love love it. This comes up naturally all the time whenever you are talking about the differences between men and women, getting lost, and even the male/female ratio in a room. It has fascinating science and tips for both professional and personal relationships. For the record, I can read a map…most of the time.
Follow Up Question:
What do you think is the biggest difference between men and women?