Preparing for an excellent performance review is a secret job strategy for high achievers— managers and employees alike!
Read our tips below for:
What is an Employee Performance Review?
An employee performance review or employee evaluation is an assessment of an individual's performance in the workplace. It is a two-way conversation between an employer and employee where they can give and receive feedback on their strengths, weaknesses, goals, and opportunities.
Employee performance appraisals typically happen on a quarterly, mid-year, and/or annual basis. These reviews are milestones that formalize, document and bring structure to employee feedback. More casual career conversations and check-ins are essential weekly or monthly.
8 Tips for Performance Reviews (for Employers)
XpertHR's 2021 Performance Appraisals Survey found that over 60% of 344 major U.S. companies still conduct annual employee reviews. They are vital for setting expectations, rewarding quality work, and documenting the business's metrics.
Here's the problem: A CEB survey of Fortune 500 companies found that nearly 70% of employees were very dissatisfied with performance reviews at their organizations. Most of them even thought that they were utterly irrelevant to their job.
However, checking in with employees is crucial to know what's working and what's not. After all, there is a clear correlation between employee motivation and receiving feedback.
Here are 8 tips for employers to conduct annual performance reviews that feel motivating and productive rather than dreadful, plus 5 tips to help employees approach their performance review meeting confidently.
#1 No surprises! Check-in regularly
The most important thing to remember about a performance review is that neither the boss nor the employee should feel blindsided. Nothing should be a major surprise in a mid-year or annual review because a good leader regularly checks in with their team.
Surveys show that over 90% of U.S. workers want job performance feedback more frequently than once a year. Casual weekly or monthly check-ins ensure that significant problems or minor workflow blockages are acknowledged as they arise.
For example, if an associate is struggling with time management and deadlines, they should already be aware of this issue from their weekly meetings. The performance review is not a time to suddenly bring up a problem with an employee you've never discussed before.
If you let problems pile up or wait to address them during a performance review, you may risk severely harming employee motivation and team morale. Nobody wants to feel like the rug is being pulled from under them!
Instead, be sure that you maintain open communication with your employees throughout the year so that they feel supported as they try to overcome challenges. This reserves space in the performance review for bigger-picture discussions about overall metrics and goals.
Pro-Tip: Be very clear with your employees about when performance reviews will happen. The more lead-up you can give, the better employees have time to think about questions and prepare themselves. Email new performance review schedules out today!
#2 Be as objective as possible
Performance reviews have a bad reputation for being biased. A study led by Steven Scullen at Drake University found that, when colleagues and peers cross-reviewed performance ratings, there was over 65% variance in ratings among 5,000 managers across industries. A mere 25% of the reviews link to how well the manager performed their job.
For employees who dread being judged unfairly by their boss, that's a problem! Surveys have found that 85% of polled workers would consider quitting if they felt their performance review was unfair or biased.
To honestly use employee evaluations for good, it's crucial to set personal idiosyncrasies and opinions aside as much as possible.
The easiest way to infuse more objectivity into performance discussions is to create a data-based system for these assessments, including:
KPIs (key performance indicators) for individuals, teams, and company-wide performance
Quantitative measurements like attendance, productivity, and time management
Qualitative metrics to measure more abstract initiatives and creativity
If your company doesn't have objective criteria for evaluating performance, it can be tough to remain unbiased in reviews.
Action Step: Use this resource from Workable to define precise and objective measurements for evaluating employee performance. You may also want to try performance review apps like Trackstar, PeopleGoal, and Small Improvements to track your staff's progress toward goals.
#3 Send and perform an employee appraisal 1-2 weeks in advance
The primary function of an employee appraisal is to take care of the legal documentation part of the performance review. It adds a layer of fairness to the process to ensure that employees are rated consistently across departments and job titles.
Ideally, these documents are standardized throughout the organization to provide that objective, quantitative and qualitative data everyone wants to see. This may also help protect your company from legal issues surrounding terminations or demotions.
The employee appraisal typically includes two responses to the same document that covers specific goals set at the beginning of the year:
Your assessment of their work: Review the employee's performance based on numerical ratings and open-ended questions. Fill this out at least 1 week before the actual review meeting so you have time to reflect on the quality of your employee's work thoroughly.
A self-assessment: Allow the employee to reflect on their past performance and provide input on future development goals. Send this 1 – 2 weeks in advance to give the employees time to contemplate and review their work performance.
If you are in a smaller company or want something less formal, send out a goals worksheet and agenda for the performance review 1-2 weeks ahead of time, so your employee has time to prepare.
Action Step: Download this employee performance review form and this self-evaluation form, or use these performance appraisal templates as inspiration for your performance appraisal document. To ensure objectivity, use the same appraisals for every employee evaluation.
#4 Make it a two-way collaborative conversation
Modern performance reviews should be a far cry from the stuffy, intimidating performance reviews of the past. This meeting should be an opportunity for both the employer and employee to speak freely about how things are going and how they can improve these.
Imagine that you and your employee are collaborating to review past metrics and find ways that you can support them in reaching future goals.
To ensure a two-way conversation, remember to ask questions and create a dialogue, so your staff doesn't feel you are talking "at" them.
Here are a few ideas for questions to ask employees during their evaluation:
What is your proudest accomplishment in the past 3-6 months?
What learning or career development opportunities are you most interested in?
Which areas would you like more or less direction from me?
How well do you think we're working together as a team?
How would you currently rate your work-life balance?
#5 Focus on the future
Traditional performance reviews focused heavily on past achievements and setbacks. Although it's essential to evaluate successes and areas of improvement in the past, Forbes recommends that modern evaluations stay forward-focused.
Use performance reviews as an opportunity to re-establish clear goals, KPIs, and objectives for each team member. This will help them better understand the direction they are heading as an individual within the organization at large. Ask:
How would you like the next 3 months to differ from the last 3 months?
What would you like to change about your role or job?
What's your hope for the next year?
#6 Have an open discussion
One survey of 344 U.S. companies found that in 99% of organizations, managers provide the most feedback during performance reviews. Yet less than half of the surveyed organizations consider what the employee says. This mistake can be detrimental when building trust and open communication with your team.
There is no use in having someone fill out a self-assessment if you're going to ignore it completely. Instead, make the performance review a safe space for your team members to reflect on the quality of their work and yours.
Action Step: Review your budget or talk to your manager about what changes it can have in the next 6 months.
#7 Use this science-backed trick to provide critical feedback kindly
Constructive criticism is inevitably part of the evaluation process. Shockingly, 37% of managers feel uncomfortable providing negative feedback because they think an employee might respond negatively.
In a 2014 study about giving "wise feedback," psychologists found that using this one simple sentence can make negative feedback up to 40% more effective:
"I'm giving you these comments because I have high expectations, and I know you can reach them."
The delivery of constructive feedback is often far more critical than the feedback itself. Using a calm vocal tone, relaxed composure, and a sentence like the one above can help lubricate the process. You can also use the opportunity to coach them through specific ways they can improve future performance.
Kindness and empathy are vital qualities for leaders who want to connect and build trust with their team members.
However, remember that toxic positivity is never a good idea, either. If you need to terminate or demote an employee, you should avoid being too cheery during the review.
Action Step: Learning to distinguish between constructive criticism and positive feedback isn't always easy. But these are crucial leadership skills to help organizations excel toward larger goals. Advancing your interpersonal skills could be the next step in becoming a more charismatic and empowering leader. Check out our science-based communication training with award-winning speaker Vanessa Van Edwards to learn more: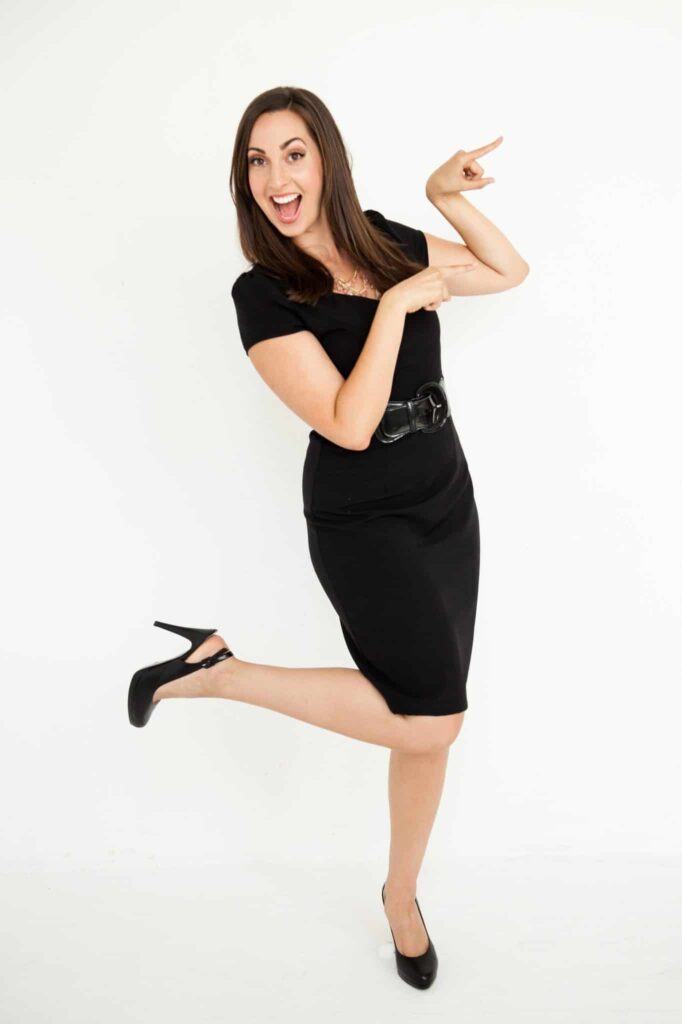 Master Your People Skills
Create a Memorable Presence
Communicate with Confidence
Achieve Your Goals
Have a question about the presentation or People School? Email Science of People support.
#8 Make it comfy
When in doubt, a welcoming environment can make uncomfortable conversations easier. If your employee performance reviews feel awkward or intimidating, consider taking a few steps to create a more comfortable environment, such as:
Take the meeting outdoors: Moving work outside has been proven to reduce the risk of burnout and positively affect mood. Consider doing the review in a peaceful park, outdoor workspace, or even on a midday walk around the office.
Offer food and drinks: Tea, coffee, and snacks can take the edge off of anybody.
Use casual language: The performance evaluations in your grandfather's era may have been very formal and "official," but the modern workplace is undeniably more laid-back. Casual lingo (as opposed to big words and abstract or technical jargon) helps keep the conversation comfortable and relaxed.
5 Tips for Performance Reviews (for Employees)
As an employee, you may be anxious or uncertain about your performance evaluation. These tips can help ensure that you enter the room with confidence and poise so you can make sure you are pretty evaluated and your hard work doesn't go unnoticed.
#1 Track your accomplishments throughout the year
In fast-paced work environments, it's easy to forget what projects they worked on last month, alone 6 months ago. Moreover, most managers are so busy that they may overlook your specific above-and-beyond contributions to the team. You must keep track of your key achievements throughout the year, so you are able to emphasize them during your performance review.
This may include good emails from team members or days when you loved your job and wanted to be reminded of those positive triggers.
Action Step: Create a Success File. This is a spreadsheet or document to note each specific accomplishment, details about your performance, and the project's time frame. Present this resource during your review, especially if you are up for a promotion or plan to ask for a raise.
#2 Do an honest self-assessment
You should receive an evaluation form ahead of your performance review where you can showcase your strengths and areas for improvement. If not, note how you rate yourself on core competency metrics such as:
Driving results: Do you consistently achieve results, even under challenging circumstances? Do you have data to back up your claims?
Effective communication: Are you able to deliver clear, concise communication with customers as well as your team through email, phone, video call, and in-person meetings? What specific presentations or communication modes do you excel in? Which do you need to streamline?
Taking the initiative: Self-starters are among the most coveted employees. Are you known for taking the initiative to go above and beyond on specific tasks? Your annual review is the perfect time to showcase how you've grabbed the reigns and driven a project forward without being told to do so.
Quality decision-making: How do you make decisions promptly? Do you need a better framework for independently making decisions, or do you feel you're ready to take on more responsibility?
Building effective teams: Are you a team player? How have you contributed to your team's effectiveness as a whole? Whether you have direct reports or operate mostly independently, it's essential to showcase your leadership and cooperative skill sets or discuss opportunities to develop them.
Adaptability: Have there been times in the past year that you had to rapidly adapt your demeanor or your plan in a quickly changing environment? How did you adjust to challenging situations, and how can you improve your reaction to unexpected circumstances in the future?
Don't be afraid to toot your own horn, but be honest about what you need to work on. This level of self-awareness can only help you improve more in the future.
"Try to look at your weakness and convert it into your strength. That's a success."

—Zig Ziglar
#3 Bring your professional development plan
If you don't already have a professional development plan, your mid-year or annual performance review offers an excellent opportunity to create one. This big-picture roadmap and vision not only guides your personal life but puts you in a position to progress toward your professional goals.
It is also an excellent resource to present to your manager during your review because it demonstrates that you are:
Organized
Motivated and driven
Dedicated to the company
Ready to advocate for yourself
Watch this video of Vannessa Van Edwards' trick to being hyper-capable in your vision toward success:
Action Step: Use our template for creating a Professional Development Plan: What It Is and Why You Need One. Follow the 5 steps, and then review your goals with your manager to see how they can help you work towards your career vision.
#4 Consider compensation and promotion possibilities
It is common to ask for a raise or receive promotion during an annual review. But these career milestones don't typically happen on their own. You must advocate for yourself and communicate your desire for growth within the company.
Pro Tip: Bringing up a possible raise or promotion at the wrong time can backfire. Some companies prefer to keep compensation discussions separate from performance reviews. Approach this conversation carefully and consider speaking with an HR representative to determine if your performance review may be the right time to discuss a raise.
The easiest way to approach these conversations is with a "we" rather than "me" mentality. In other words, frame the conversation so that you are marketing yourself as a valuable asset to the company rather than just asking for more money for your purposes.
Your raise or promotion is more about answering the question, "How can I advance our agenda (as a team/company?" rather than "How can I advance my agenda and get more money?"
Before asking for a raise, remember to:
Use "The Slow Burn Method": Over the months leading up to your evaluation, regularly initiate discussions with your manager about your work ethic and dedication to the team. For example, in a weekly check-in, you can say, "I've enjoyed the new learning opportunities I've had during recent projects. I want to continue expanding my abilities in the X department so I can become a more integral part of the company. Could we work together on developing a growth plan before my annual review? I would like to discuss specific goals and growth metrics that could lead to a pay raise when my performance evaluation comes around."
Do industry research: It's helpful to enter a compensation discussion with benchmark numbers. This prepares you to justify why you deserve a raise with actual numerical data. Use this payscale search database and this salary calculator to gauge the typical pay trajectory for your position. Most importantly, go into the meeting with an exact number or specific range for your raise request.
Focus on value: Use your self-evaluation before the review as an opportunity to emphasize the value you are offering to the business. Don't hold back on showcasing your most valuable contributions to the team.
Send written updates before performance reviews: Send written updates and log accomplishments with your manager.
Action Step: Review this resource on How to Ask Your Boss for a Raise at Work to dig deeper into your negotiation strategy for a raise increase. Then, outline and rehearse your scripts ahead of your performance review.
#5 Don't hide significant concerns
Unhappy employees are a big concern from both a profitability lens and a human resources perspective. But nobody can read your mind. Whether you're struggling with work-life balance or seeking a change in your schedule, the annual review is a great time to bring up more significant concerns about your job that you may have been putting off.
While these can be awkward or challenging conversations, you must bring them up as soon as possible. Then, you can ask your boss how you can work together to create an action plan for dealing with issues.
Suppose you think about possible solutions to your complaint. This way, you can bring up an issue and a resolution plan.
Action Step: Before discussing more significant challenges in your job, clarify exactly what you want to say and the outcome you hope to achieve in conjunction with your manager. Vague complaints are not usually productive in attaining recognizable changes to help you improve your work experience and the company's performance.
Good and Bad Performance Review Examples
There are certainly some cringe-worthy employee evaluations that you should avoid at all costs. Here are some examples of things to work towards and things to avoid during a midyear or annual review:
Good: Personal responsibility as a leader
The hallmark of good leadership is being able to take responsibility when your staff fails to meet expectations. After all, you are the leader of the team.
If you are giving negative feedback in a review (for example, revealing that an employee dropped the ball on a major project), be sure to ask yourself how you might have failed your employee in that situation.
Did you provide vague or unclear instructions? Did you forget to follow up on an important deadline? Did they have the resources they needed to get the job done?
Bad: Bringing up personal biases
Few things are as awkward as a boss bringing up inappropriate comments during a performance review.
If you let personal opinions about an employee (for example, their behavior outside of work, their race or sexuality, their choice of clothing, differences in political views, etc.) affect your review, you could risk harming team morale or even receiving discrimination allegations.
Objectivity is of the essence. Remember to leave your personal opinions about a person at the door.
Bad: Overly casual lunch-time review
It is not the best idea to randomly sit down with an employee during their lunch break to discuss low ratings or poor conduct. Similarly, you shouldn't have performance conversations in a team setting where someone could be embarrassed in front of their colleagues.
While modern performance evaluations aren't nearly as formal as past evaluations, they should still be professional and pre-planned.
Key Takeaways: Make Performance Reviews Open Positive, and Future-Focused Conversations
Ultimately, an employee review should be productive rather than agonizing. Streamlining the performance review process involves adequate preparation and clear communication.
As a manager, remember these tips for conducting an effective performance review:
Check-in regularly throughout the year: There shouldn't be any big surprises during performance evaluations. Be sure that you're periodically checking in with employees on a weekly or monthly basis.
Be as objective as possible: Objectivity is one of the biggest challenges for performance reviews, but it's essential for fair and equal employee evaluations. Try to streamline company review criteria so nobody feels like they're being judged solely on their bosses' opinion.
Make it a two-way conversation: The best performance reviews include commentary from the employee's self-assessment and the manager's evaluation. But surveys show that managers often do most of the talking during assessments. Instead, openly ask questions, so your employee doesn't feel like you're dominating the conversation.
Focus on the future: Nobody wants to dwell on the past. After covering past performance metrics, focus the bulk of the review on setting goals or creating an action plan for overcoming challenges.
Prepare 1-2 weeks in advance: You should carefully plan the performance review meeting and pre-prepare, so both parties have time to reflect. Be sure to send out the employee evaluation ahead of time.
Give wise criticism: If you need to provide negative feedback, be as clear and kind as possible. Then, follow up with a phrase that emphasizes your belief in the employee's potential and importance to the team's functionality.
Make it comfortable: Nature, snacks, and a cozy environment can help take the edge off tough conversations.
As an employee, don't forget to take these steps before participating in your performance review meeting:
Track your accomplishments: Create a spreadsheet to track your critical achievements throughout the year, so you are able to showcase your efforts during your evaluation.
Do an honest self-assessment: A refusal to acknowledge your weaknesses can only hurt your professional trajectory in the long run. Don't be afraid to toot your own horn, but also be truthful in revealing places where you need help to improve.
Bring your professional development plan: This career trajectory document can be incredibly useful for working with your boss the following year to accomplish your bigger goals.
Bring up raises and promotions: Performance reviews are the perfect opportunity to ask for a raise or discuss potential promotions. Don't forget to come prepared with an explicit request and evidence to support your claims.
Avoid holding in significant concerns: If you are unhappy with a major issue that unfolded in the previous year, don't hesitate to bring it up during a performance review. This allows you and your manager to collaborate on solutions moving forward.
If leaders have already built a company culture of trust and open communication, performance reviews can be easy and even exciting ways to connect with employees and celebrate their work. However, if you want to improve your relationship with your team, annual reviews can signify a great opportunity to invest in your leadership capabilities.
If you want to improve your leadership skills and employee motivation, use these 10 Effective Tips on How to Lead a Strengths-Based Team.