This article will discuss strengths-based team leadership. Research has demonstrated that focusing on employees' unique competencies and strengths results in greater productivity and job satisfaction. Strengths-based leadership also helps team leaders delegate tasks, roles, and responsibilities to those most talented and naturally adept.
This approach is based on a simple formula:
"Talent (a natural way of thinking, feeling, or behaving) X Investment (time spent practicing, developing your skills, and building your knowledge base) = Strength (the ability to consistently provide near-perfect performance). "Gallup
In short: Talent x Investment = Strength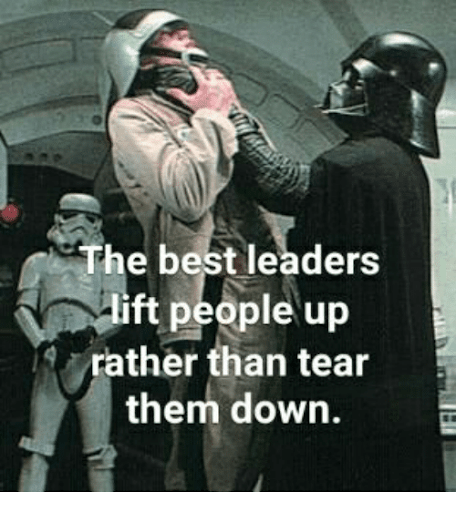 What Is Strengths-Based Team Leadership?
Strengths-based team leadership is a scientifically proven approach to optimizing teamwork based on growing research evidence. The strengths-based team is understood as a group of diverse, talented individuals valued for their signature strengths and compensating for each other's shortcomings.
"Teams that focus on strengths every day have 12.5% greater productivity. Teams that receive strengths feedback have 8.9% greater profitability."

— Inspired Engagement
Each team member will have a unique set of signature strengths and competencies. The key to leading a strengths-based team is identifying how the strengths of some members compensate for the weaknesses of others to create a powerful synergy and focus. Team members should be aware of their own and each other's talents and skills to sustain the team's motivation and confidence.
Strengths-based team members are aware of each others' talents and limits. They understand how their colleagues are likely to think, feel and act on the job.
To hear more about the benefits of strengths-based team leadership, take a look at this short video about how this approach inspired Justice Ruth Bader Ginsburg's remarkable achievements.
So, what's not to like about playing to your team members' individual strengths to build a dynamic, high-achieving team? The science indicates a "win-win" situation for both leaders and followers.
Now here's the "how-to" part. The ten tips below will help you identify your own and your team members' strengths, then combine these insights to empower and lead your strengths-based dream team.
Ten Tips on How to Lead Your Strengths-Based Team
Identify your team's shared values.
When a team identifies their shared values, it ensures they are all heading in the same direction, regardless of their different strengths and shortcomings. Shared values can be defined as the common factors motivating team members to achieve their collective goals.
This doesn't refer to corporate or organizational values usually addressed during the hiring and onboarding process but to the relationship values that create bonds between team members.
Relationship values support the development of camaraderie and often rest on core principles such as honesty, fairness, trust, and accountability. Try our 12 Non-Awkward Team Building Activities That Build Trust to get the ball rolling.
Shared relationship values also determine team members' attitudes toward working together for shared success. As the old saying goes, "to err is human, but when your whole team is willing to take the blame, you have great management potential." Seriously though, this approach works.
Understanding and respecting each other's strengths and shortcomings help relationships avoid the misunderstandings caused by unrealistic expectations.
"Having shared values at work means employees share common work attitudes and principles with their colleagues. It can also reflect how an employee's personal values align with the organization and the work they're performing." Amplify
Some great methods for identifying shared team values are described in this Harvard Business Review article by Amelia Friedman.
Delegate based on team members' strengths and encourage job crafting
Leading a team entails delegating tasks and responsibilities to those ablest to fulfill them. Some team members may be very experienced performing tasks that do not play to their strengths. For example, you may have a financial planner who is also a great communicator. So, if your accountant is great at writing reports and creating graphics, encourage job crafting to convey fiscal information using different formats.
Job crafting involves individuals tailoring their jobs in ways that get the work done while also providing greater fulfillment. In the short video below, Dr. Amy Wrzesniewski, Professor of Organizational Behavior at the Yale School of Management, describes how hospital cleaners crafted their jobs in ways that emphasized their work as a form of healing.
As well as providing a sterile environment where healing could take place, one cleaner from a unit where patients were in a coma described how she took time to move the pictures on the walls in the hope it may stimulate recovery.
Another took care of patients' elderly relatives by accompanying them through the maze of hospital wards to find the car park when needed. These additional duties added meaning to their work. Check out the video to see Dr. Wrzesniewski explain job crafting benefits for individual workers and organizations based on decades of workplace research.
In an office environment, job crafting that plays to a team's strengths ensures that the organization meets its objectives. It doesn't just refer to tasks but also roles and relationships in the workplace. Does this sound vague? If so, look at the excellent What is Job Crafting? on Positive Psychology.com.
If you feel inspired to try it out, the Job Crafting™ Exercise (JCE) devised by Dr. Wrzesniewski and colleagues is now available online.
Identify your strengths as a leader.
While you will have some idea of your strengths and weaknesses as a leader, it's difficult for anyone to assess themselves objectively. The good news is that there are several scientifically validated strengths assessment tools available to help you do just that.
Once you identify your particular strengths, you can use the guide below to discover what type of leader and how to play to your strengths and compensate for your shortcomings.
You can start by taking the free VIA Institute adult strengths survey. A range of more detailed strengths tests is also available for a modest charge. You can then dive deeper by taking the Gallup Clifton Strengths Assessment, which leaders and managers often prefer to optimize their professional development.
Donald Clifton wondered what would happen if workplace managers began to focus on what employees were doing right rather than what they were doing wrong.
Clifton was influenced by the positive psychology of Martin Seligman that focused on optimal human functioning rather than psychopathology. He developed the Clifton Strengths Assessment tool to produce your unique 'talent DNA' profile. The report identifies your top five signature strengths from the four leadership domains illustrated below.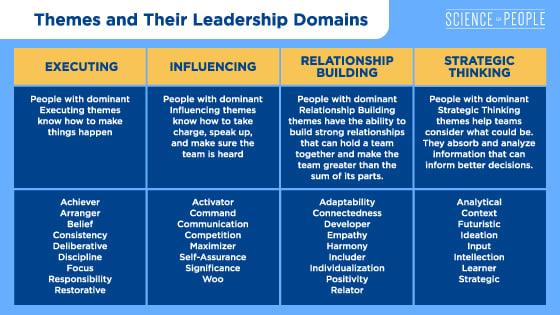 Identify the strengths of team members
Next, identify the strengths of every member of your team. You can use the same assessments to recognize everyone's signature strengths. Make sure that team members realize there are no right and wrong answers to the survey questions and no more desirable or less desirable outcomes.
Strengths are not just about competencies but also what motivates people to achieve their goals. Remember…
"Strengths are not simply what you are good at; they are what you are energized by."

— My Leadership Strengths
As a leader, you can optimize teamwork by focusing on each member's signature strengths and recognizing that a wide range of strengths is required to ensure a fully functioning team. You could ask your team members to complete the survey in a signature strengths team-building workshop. The tips below offer some ideas for workshop activities and how to take a strengths assessment project forward.
Assign strengths-based roles to team members
Ensure that each team member is assigned a role to their unique combination of strengths. There's no point asking an excellent researcher to make a sales pitch or present a marketing strategy.
Every team benefits from a combination of talent rooted in seven personality types, with you as the leader, a great communicator, and a motivator with a vision of your project. A well-rounded team needs a mix of the other six personality types: team players, experts, researchers, planners, creatives, and communicators.
Some individuals will have signature strengths that cover more than one personality type. Status Hero has a great article on the seven types of people you need on your team for more information.
Set strengths-based goals for your team
Once team members have a clear picture of their strengths and have agreed on their shared team values, setting strengths-based goals becomes possible.
When organizing a team, the leader should ensure that members' different strengths offset other members' shortcomings to form a well-rounded whole. Liquid Planner has a great guide on how to set strengths-based goals.
You can also look at our goal-setting tips to ensure you are meeting your own leadership goals.
When setting goals for your team, ensure you:
Be clear about what you want to achieve in the short, medium, and long term.
Set goals at the team level.
Encourage individuals to set their own goals within the team using a framework like SMART goals. When people set their own goals in ways that meet the team's objectives, they are much more likely to achieve them.
Set deadlines.
Track progress regularly.
Provide strengths-based feedback
Research by the Chartered Institute of Personnel and Development (CIPD) has found that regular strengths-based feedback is more effective at improving performance and steering professional development than addressing weaknesses and deficits.
This method is rooted in the practice of appreciative inquiry, which includes a strengths-based approach to organizational change.
Feedback should be regular and take place individually and in the team. Avoid micromanaging people as this tends to demotivate. But be sure to factor in informal feedback and formal appraisals that focus on each individual's achievements. Even informal praise for a job well done boosts motivation and productivity.
The frequency of team feedback should follow project deadlines. Consider combining monthly team meetings with a celebration when a long-standing goal has been achieved.
Great leaders also offer support to team members who face challenges and difficulties at work. For example, supporting team members by providing flexible working opportunities, hybrid working arrangements, and access to stress management training positively impacts well-being and productivity.
Celebrate team achievements
You probably don't need any tips on how to celebrate! Don't forget that making time to have fun cements social bonds at work and enhances productivity.
"Social connection provides a sense of cohesion in the office, which is essential for cultivating creativity, teamwork, and collaboration."

— Alan Kohll at Forbes
Reasons to celebrate could include team members' birthdays, hitting a project goal, receiving higher customer ratings, and of course, making sales.
While your team might love a traditional office party, it's also great to celebrate in ways you all enjoy and remember afterward! Team achievements can be shared across multiple channels, like Slack, or your company's Facebook, Twitter, or LinkedIn page.
Organizing a team "away day" with a catered lunch is another great way to celebrate. For more options, take a look at these employee recognition ideas.
Provide strengths-based development opportunities
Strengths-based professional development has an established evidence base indicating that team members' talents, rather than criticizing them for their weaknesses, result in greater vitality at work, more confidence, less stress, and greater effectiveness.
In other words, focusing on team members' strengths when appraising performance and planning professional development results in better work performance overall.
"Strengths-based cultures don't try to "fix" people's weaker areas; they help people manage them through their strengths and the right kind of coaching feedback."

— Gallup
However, a strengths-based performance appraisal should not ignore team members' shortcomings. Instead, team members should be encouraged to improve by applying their strengths to areas needing professional development.
Prevent team burnout
The last thing any leader wants is for a team member to burn out. High performers who've worked too hard for too long can be suffering from chronic stress that is difficult to spot.
For example, make sure that a team member with specific strengths as a mediator and empathizer does not become the "go-to" person for every conflict resolution issue. Also, make sure that team members who are great administrators and conscientious planners don't become the progress chasers of less organized but more creative team members.
Even the most successful team members hit plateaus and flatline for a while.
The entertainment world is full of stories about highly successful celebrities who experienced burnout and took time out for their mental and physical health.
In this interview with Oprah, writer and comedian Dave Chappelle describes how his achievements left him stressed out and exhausted as the people around him began to exploit his strengths; his humor, creativity, and wealth.
If you notice a team member being exploited due to their particular strengths, check in with them and offer support. Our article on how to fight burnout is a helpful starting point.
6 Takeaway Tips For Leading A Strengths-Based Team
Here are six takeaway tips for the super busy leadership professional for a quick go-to guide.
Identify your signature strengths and leadership style.
Assess the strengths of team members using the VIA Institute or Clifton Strengths tools. Ensure you have a well-rounded team covering the seven main team personality types.
Assign roles to team members based on their strengths.
Clarify your team's workplace relationship values. These steer the team toward mutual support and cooperation away from internal competition and conflict.
Set strengths-based goals in the short, medium, and long term.
Never forget to celebrate your achievements.
Remember: Talent x Investment = Strength
If you enjoyed this article, you might also enjoy this article on building your dream team: How to Build a Dream Team with Shane Snow.