Leadership training is crucial for any management role. Whether you have a large team or just got your first hire, leadership training can help you be the best possible leader.
A strong foundation of leadership training will help you effectively direct your team towards success. This is a key part of reaching your goals.
First, let's answer the big question:
What is leadership training?
Leadership and management training courses are specialized programs designed to help you learn new leadership techniques and refine old skills to run your team, including assertive communication, motivation methods, and coaching.
Leadership training is ideal for anyone in a supervisory role, from people who have just stepped up to a new position to more experienced managers who want to keep on top of their game.
As a leader, you are the driving force of your team.
You are the person who will push your team to reach their full potential, bring out the best of each individual, and achieve your career goals.
If you're the leader in your team, you also know how important influence is. Influence is a skill that can create great teams, persuade clients to land sales, and even get a job promotion. Here's the best way to gain influence: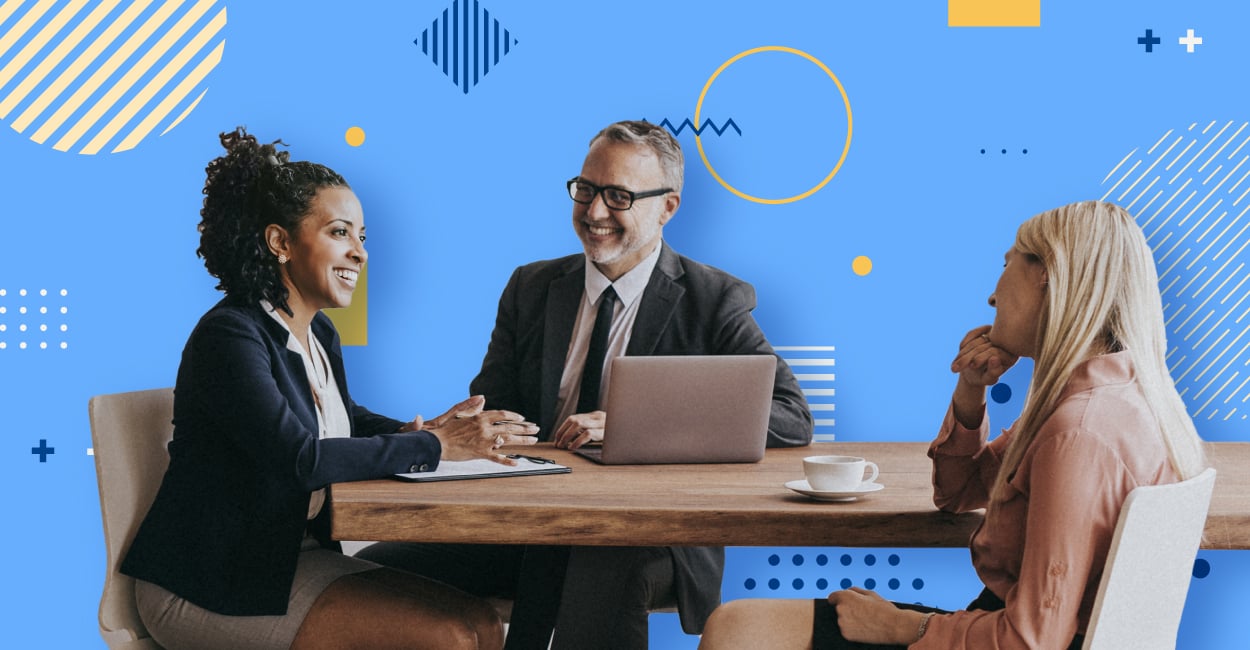 Become More Influential
Want to become an influential master? Learn these 5 laws to level up your skills.
Here's how you're going to do it. I want to dive into the most important leadership skills you need from any leadership training.
Learning Core Leadership Practices
Before you master anything else in your leadership classes, you will first need to tackle the basics. The basics to leadership training are about establishing what your purpose is as a leader and the mindset you need to be cultivating in yourself and your team.
These core leadership practices include:
Being a role model
Making an impact
Focusing on following a vision
Encouraging collaboration
Being positive
A good leadership training will guide you through identifying your core leadership practice and mission. One lesson we cover in our leadership training program, People School is how we can be charismatic authentically.
Read on for the other important leadership skills…
Identify Your Leadership Style
Think of the best leader you have ever met – perhaps a colleague, your first boss, maybe even a high school teacher. What type of leader were they? How did people see them? Did they manage the team in a task-focussed way or were they more people focussed and ambitious to putting power into the hands of the individual to take responsibility of tasks themselves?
A good leadership training will help you identify your leadership style. Not all leaders are the same … nor should they be!
Ask yourself:
What type of leader are you? What type of leader do you want to be?
When you are in a leadership position, it's important to assess your own leadership style.
There are three basic leadership styles.
Autocratic leaders are clear in their expectations, tell employees exactly how they want a job done, and make decisions on their own.
Delegative leaders are the opposite and instead of micromanaging they allow the group to make their own decisions.
Participative leaders are a mix of the other two styles and provide direction while also taking feedback from their team.
Most people want to be a good manager, but all three leadership styles have advantages and disadvantages. For example, autocratic leaders are fantastic when disaster strikes and a problem needs solving urgently but they don't foster the same morale and sense of unity as a democrative leader.
On the other hand, democrative leaders might build a wonderfully close team but find that some of their employees struggle to take full responsibility and initiative in their work.
You might already have some idea of your leadership style (knowing your personality type might give you a hint) but a strong leadership course will go into these subjects in more detail, perhaps breaking each leadership type into further subtypes.
Knowing your leadership style is important when you are managing people and projects to give you a better understanding of your own strengths and weaknesses, and learning how to use your leadership style to your advantage.
You might also check out our 14 most important management skills:
Read all 14 management skills here.
How to Delegate
Leaders face one big problem:
They want to do it all.
But you simply can't do it all! One of the hardest things to do as a leader, particularly if you're a perfectionist, is to delegate (and sometimes negotiate) tasks. You might feel that doing all of the work yourself is the best way to get results. However, as a leader you will have to distribute the workload among your team.
Different leadership courses might show you how to delegate in different ways, but the general steps for delegation are clear:
Define the task at hand
Make sure it is SMART (specific, measurable, agreed, realistic, timebound, ethical recorded)
Identify the best team or team member for the job
Communicate why they have been selected
Explain the goal to be achieved
Discuss how the task should or could be executed
Agree a deadline
Keep communication open through the duration of the task
Provide feedback after completion
There are many other aspects of delegation which leadership training courses will go into in more detail – some more than others. If you know that delegation skills are something you need to develop further, consider a course that provides a deep dive on the subject. Here are some other resources for you:
Motivating a Team
'Thank you!' It's just two words, but don't underestimate how much it does for you and your team. Being openly grateful for your teams work by thanking them leads to you been viewed as a warmer person which means people will be more interested in communicating with you and building a relationship.
Studies suggest that positively motivating a team is a great way to improve an employees effectiveness and efficiency.
Which is hardly surprising. You want your team to face the day feeling confident they will be recognised for their hard work, and supported with their ambitions. Unsurprisingly, low morale can lead to low productivity and has other knock on effects such as an increase in workplace absences.
So what drives motivation?
The freedom to make decisions
Having realistic goals
Being recognised for achievements
Recognizing progress on your team
Differences in gender at the work and advice for leading women
These are the fundamentals to keeping your team members motivated.
When employees are positively motivated, it improves both their effectiveness and efficiency which leads to huge improvements in achieving organizational goals. It's a win-win for everyone, because everyone wants to be happy at work.
Here is our full motivation guide: 10 Steps to Getting Motivated
Make Good Decisions
What was the last big decision you made at work?
Perhaps you have changed tactics last minute when you were trying to close a sale, or tried something new on social media to reach a larger audience.
Decision making is one of the most important skills you can learn as a leader.
When a fork in the road appears, ideas will get batted around by your team, but when it comes to the crunch – it's you who will have to make the final call.
Just as we all have a personality type, we also have decision making types. Some people will excel in one particular type of decision making, while others will be a combination of these different methods.
Analytic decision making
Analytic decision makers are all about carefully examining the information in front of them before making their decision. They rely on facts, data, and observing the situation to support the action they choose.
Behavioural decision making
Behavioral decision-makers like to make sure everyone is working together and making group orientated choices and will offer decisions to their team before deciding on the best course of action.
Conceptual decision making
Conceptual decision makers are more social in their methods than either directive or analytic types, and integrate more creative thinking and collaboration from a team of people. They tend to base their decisions on many different perspectives and will think further into the future when making a decision.
Directive decision making
Directive decision makers are rational and direct. They base their decisions from their own knowledge, and tend to make lightning fast decisions, though rarely view the situation from a perspective.
Once you've worked out your decision making style, you can purposely take some of the best attributes from the other approaches to making decisions and applying them to the situation where they best fit. (See, we said it would get harder after learning the basics of management).
Managing Conflict
You're tired – your team has been working hard to meet a deadline, and right at the last minute.. It all falls through. Everyone is deflated, and tensions have started to rise. It's only a matter of time before the blamestorm erupts in the office.
Does this sound familiar?
Managing conflict might be one of the tougher leadership training topics – the trick is to keep calm and communicate. But it's one of those skills that are usually easier in theory than they are in practise.
The type of techniques you will learn on a good management training course will include:
The report "Workplace Conflict and How Businesses Can Harness It to Thrive" has some really startling statistics on the importance of this type of leadership training.
Did you know that 85 percent of employees deal with conflict on some level? And almost 30 percent deal with it 'almost constantly'!?
Not only is this terrible for your stress levels, but it has a knock-on effect on your health and your performance. Stress can cause memory problems, slow down your ability to learn, and weaken your immune system.
It's better for everyone to tackle conflict when it arises, and quickly resettle the team. Most leadership training courses will teach you how to handle conflict.
Performance Management
Performance management is the process of creating an environment at work that allows people to perform their best and aligned with the company's objectives. As a manager, it's your responsibility to make sure your team are performing.
How many times a year do you monitor and feedback your teams performance?
Performance management is a continual process.
It is a continuous cycle of setting goals, planning how to achieve those goals, reviewing the progress, and further developing the teams skills.
Conducting annual appraisals
Giving feedback
Empowering employees
Using performance management tools
Using Key Performance Indicators (KPIs)
Implementing personal development plans
Learning these techniques in leadership training programs for managers will give you the knowledge to successfully monitor, analyse, and progress with your teams performance.
Research shows that performance management training for managers improve performance and that an effective performance management system helps you keep your top performers.
It's also important to note a key scientific study revealed that 93% of employees report a willingness to put in additional work when their managers provide ongoing support and feedback, compared to just 33% of people who receive no or poor support and feedback.
You also should make sure that your leadership training program tackles the single biggest mistake leaders make:
Digital Leadership Skills
Did you know that companies with the most digitally-competent managers and leaders financially outperform the average by 50%?!
And it's no surprise really – everything has gone digital. Who would have thought twenty years ago we'd be able to make phone calls through our watches, pay for things just by tapping a bank card against a small machine, or accessing our bank accounts using a fingerprint scanner.
Imagine in another twenty years. What other technologies lay just around the corner?
Every organization will need to embrace new technologies if they want to flourish. And, those with the most capable digital-ready leaders will continue to stay ahead of the curve.
When you're looking for a leadership training course, make sure that they have some information on how to get your business or your team up to date virtually. This might involve syncing up calendars on Gmail, communicating using Skype, or any other digital tools that help people communicate faster and work more efficiently.
How to pick the best leadership development courses for you
There are many great leadership training courses are out there. So, where do you start when you are trying to pick one?
First, check to see if there are any courses specifically aimed at your field. There are plenty of leadership development courses which have been tailored to different fields, whether you're in the business of real estate or technology or catering.
You also should investigate courses that specialize in an area that you've identified as a weakness. Perhaps you know that you need to brush up on your digital skills, but you're not sure where to start, or you know you need to improve your conflict management skills as your team are struggling a bit.
The rest of choosing a sales training course really just comes down to:
What Are Online Leadership Training Courses?
We're in the digital age. We have artificial intelligence making decisions in our home, robots to clean homes, and more computing power in our mobile phones than the computers used in the rockets that landed men on the Moon. So, it's no surprise that some of the best leadership training programs for managers are online.
Can you really beat the experience of sitting in a classroom with a real teacher right there? Absolutely.
Online sales training programs are usually available 24/7, and should include interaction with your teacher through comments or office hours. For example, in People School we reply to every comment and assignment, and have live office hours every few weeks as you learn and try out the material.
Online programs also typically have lots of ways you experience the material. This can be better than an in-person day where you have to consume all the content at once and might miss some of it.
Most online leadership training give you access forever. Our videos never expire, so you have access to re-watch as your business grows. We also deliver the content to you through videos, a physical workbook, downloadable reading material, and even interactive question and answer sessions.
Online leadership training is also great for people who need to fit their learning around a busy schedule.
Interested in our next class of People School? Let us tell you more! I would love to meet you and help you achieve your sales goals.