I would say there was a big tipping point in my business.
It was the moment I moved from print to video.
When I first started the Science of People I wrote articles, wrote columns, wrote ebooks and wrote books. This is all one medium. In the online business world there are a few you can work in:
Writing: Articles, blogs, books, ebooks
Visual: Infographics, Videos, Graphics
Audio: Podcasts, recordings, webinars
Everyone consumes content in different ways. I realized my sweet spot for my ideal reader (you) was actually visual. I needed to do more videos. This was when I started my YouTube channel: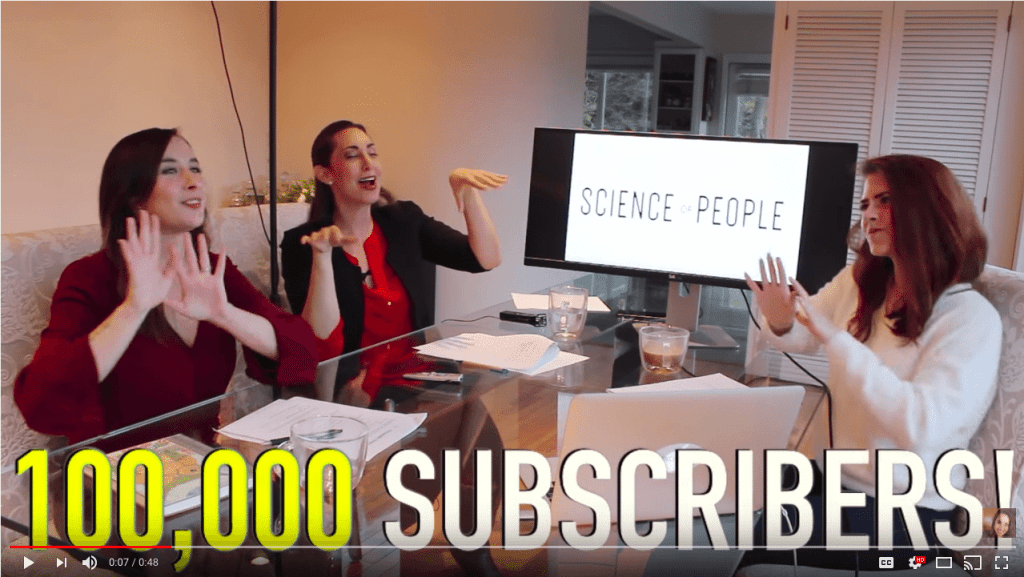 We just hit 100,000 subscribers and 10 million views. WOOHOO!
We knew videos were more of a fit than articles because our videos grew and went viral so much faster than our articles! But why?
I partnered with Dialsmith to help me figure out why some videos work and others don't. A few months ago we posted 2 versions of a book promo for my new book Captivate!
Version #1: Short White
The short white version was a quick promo and shot on a white background (you can see it in the video below).
Version #2: Long Grey
The long version felt more like a laboratory because it was filmed on grey and had a bit more explanation (you can see it in the video below).
Dialsmith helped me figure out the emotional activity while people watched each video.
Dialsmith has tools to measure emotional activity—dials for in-person focus groups and, in the case of our study, a slider of online surveys.. So as people watch the video online, they move the slider left or right to indicate if they like or dislike what they're viewing and the intensity of that feeling.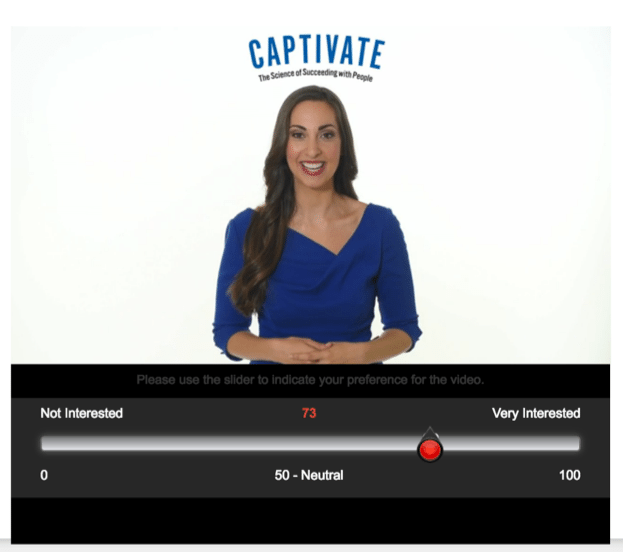 For this project, Dialsmith developed a survey to measure the appeal of the two different versions of the promo. We surveyed 100 people and segmented participants based on:
Gender
Employment status
Relationship status
Likelihood to purchase the book
Preferred book genre
The Winner!
The Long Grey version won by far–with an average rating of 68. The Short White had a 56! Watch the results in this video:
From Dialsmith after looking at the ratings:
"Ratings for both videos show a strong preference for when Vanessa is on screen and there is a notable drop in appeal during the various montages featuring other characters. The longer version received a higher overall score (68 vs 56), largely bolstered by two segments of Vanessa on screen."


I also noticed that the ratings went up when I used EMOTION words. Like:
I believe
Here's the bottom line
I promise
So we actually made a new combo video of the promo keeping all the best parts. Here is the final version of our book promo! I hope you like it!
Bottom Line: I love experiments–and you never know what will happen!
Also major thanks:
Thank you so much to Dialsmith for their amazing help with this experiment.
Thank you to Maggie Kirkland at Honeysuckle Photography for shooting both versions.
Thank you to the whole Science of People team AND all the actors who helped us shoot these videos!
---
More about Dialsmith:
Dialsmith develops products and services for research, audience engagement and live event polling. They are pioneers in the development of methodologies and tools for capturing and displaying continuous and in-the-moment feedback. Dialsmith's Perception Analyzer tools have been featured on CNN, Fox News, 60 Minutes, Food Network, X Games and more, and are used in more than 45 countries around the world to fuel dial testing focus groups, public opinion studies, academic research, mock juries and more.
Advance Your People Skills. Improve Your PQ. Level Up Your Life.
Ever wonder what makes people tick? Want to know the hidden forces that drive our behavior? In Vanessa Van Edwards' new book Captivate, she explains a simple blueprint for hacking human behavior. In this science packed, anti-boring guide you will learn:
The formula for fascinating conversation
How to walk into a room full of strangers and make a killer first impression
What to do to increase your impact and income using people skills
Our strategy for hacking the people code–we call it the matrix (Keanu Reeves not included with each book sale)
The art and science of understanding people
Learn the new–science based way for winning friends and influencing people.