One of the hardest things about public speaking is knowing how to start a speech. Your opening line is your first impression. It's how you capture attention. It's how you captivate the audience. So how do you make sure you nail it every time?
The best way to know how to open a speech is to look at what has worked in the past. When we examined the top speeches of all time and the most popular TED talks of all time we found some interesting speaking patterns.
Time has identified the top 10 greatest speeches of all time. They are:
How do all of these historical greats start their speeches? Is there a difference between these and some of the more modern top TED talks? The top 10 Ted Talks of all time according to view count are:
What can we learn from these opening lines? There are some patterns that can help us. First, let's start with what you shouldn't do. Have you ever made one of these cardinal speaking sins?
Never Start a Presentation with…
Anything technical! This is a big mistake people make when they have not done a tech check ahead of time or are feeling nervous. Never start with these openers:
Is this microphone working?
Can you hear me?
Wow these lights are bright!
Your nervousness. Many people think it is vulnerable to start with how nervous they are speaking — you can mention this later, but it should not be the first thing. Why? People will then only be looking for signs of your nervousness. Don't start with:
I'm so nervous right now!
Wow there are so many people here.
I'm not a great public speaker.
A lackluster or non-believable nicety. It's great to be grateful to the person who introduced you, but it's not a great way to include the audience. It's ok to thank the audience for being there – but do it at the end (not as your opening line). These are all too boring:
Thanks for having me.
Thanks for that intro.
Nice to be here.
Boring, shmoring! I have an exception here if you can make it funny. Ken Robinson started with a nicety and then turned it into a joke. He said, " "Good morning. How are you? It's been great, hasn't it? I've been blown away by the whole thing. In fact, I'm leaving."
More Public Speaking Resources
Get even more public speaking tips with our related resources:
How to Start a Presentation
A story. The absolute best way to start a presentation is with as story. There is nothing better to capture the imagination and attention of an audience. Try to use these speaking openers as fill-in-the-blanks for your speech.
I'm here for a reason. And it's an interesting story…
The best thing that ever happened to me was…
Once upon a time…
In his talk, "The lies our culture tells us about what matters," David Brooks started off with a great opening line AND a story. He said, "So, we all have bad seasons in life. And I had one in 2013. My marriage had just ended, and I was humiliated by that failed commitment." Makes you want to watch right…
And if you need help on storytelling basics, be sure to check out some of my top 5 favorite speakers.
A BIG idea. Sometimes you want to share your big idea right up front. This can be helpful because it is intriguing and gets people clued in right away. All TED speakers try to integrate their big idea early.
You're here for a reason. It's…
The single most important thing I want to share with you today is…
Today, I want to share a big idea…
I love how Stacy Smith starts off her talk with her big idea framed in an interesting way. She said, "Today, I want to tell you about a pressing social issue. Now, it's not nuclear arms, it's not immigration, and it's not malaria. I'm here to talk about movies."
Special Note: Be very careful to NOT deliver your one-liner by re-reading your title slide. You also want to position it as exciting and intriguing. For example, don't say, "Today I am going to talk about body language." Instead say, "Today I am going to teach you the single most important thing you can do to improve your charisma…and it starts with your body."
A quirky one-liner. If you can use humor — do it! Humor or curiosity is a great way to start a speech on a high. You can get creative with these! Think of an interesting fact about you, your audience or your topic that can lead you into your content.
One thing most people don't know about me is…
A teacher, a mother and a duck walk into a bar…
I want to tell you something surprising.
When I gave my TEDx London Talk I started off with a quirky one-liner that immediately got a few laughs. It was "Hi, I'm Vanessa and I am a recovering awkward person." It worked so well it is also the first line of my book, Captivate. 
I love the way Eve Ensler opens her speech with an interesting one-liner: "For a long time, there was me, and my body."
With a question that matters to the audience. This is a great tip from Conor Neill. He says that it is great to start with a question that the audience is asking themselves or would be very curious to know the answer to. This might be phrasing a pain point or worry for your audience.
Do you ever worry about…?
Have you ever wondered…?
You might have always thought…
See Cono Neill's examples here: 
Did you know…? Any interesting factoid or curiosity is bound to intrigue your audience. This is great if it leads into your content or a story. I like to start off with did you know…Here are some that I use, you will have to fill in the blank for your audience:
Jamie Oliver does this amazingly in his TED Talk. He starts with this mind blowing fact, "Sadly, in the next 18 minutes when I do our chat, four Americans that are alive will be dead through the food that they eat."
Hopefully these opening lines will give you some ideas to use to open your speech. Want to know how to close your speech?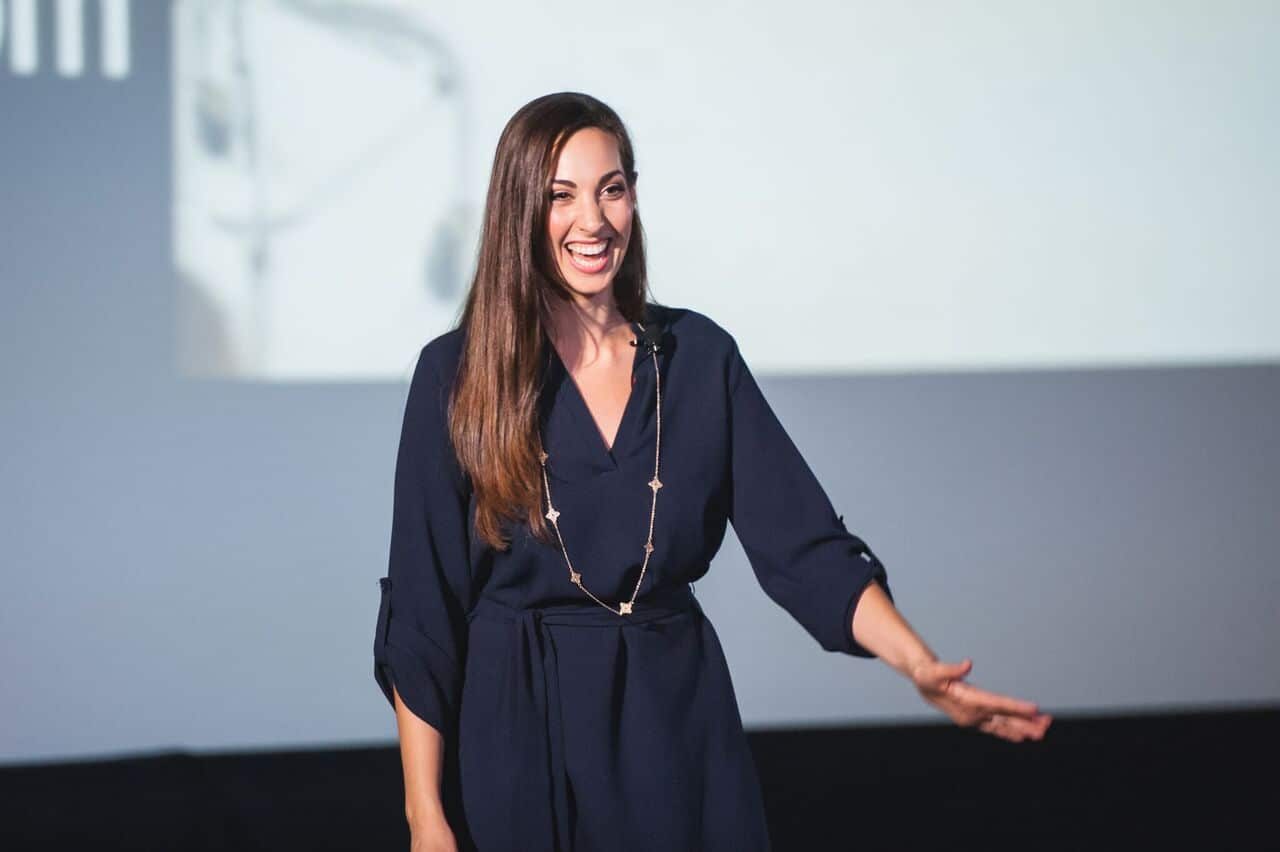 About Vanessa Van Edwards
Lead Investigator, Science of People
I'm the author of the national bestselling book Captivate, creator of People School, and behavioral investigator.
I've always wanted to know how people work, and that's what Science of People is about. What drives our behavior? Why do people act the way they do? And most importantly, can you predict and change behavior to be more successful? I think the answer is yes. More about Vanessa.
Join Over 500,000 Students
Are you looking to kickstart your career? Level up your leadership? Join thousands of students learning to master their people skills and make an impact on the world. And for joining today I'm giving away a free one hour audio training to help you jump start your learning!
On a journey? Choose your path below
10 People Skills You Need to Succeed
Be Confident with Your Body Language
How to Be Charismatic (without being inauthentic)