Harvard Business Review found that one of the most common complaints interviewers have after an interview is:
"I wish they had asked me more questions."
But what questions should you ask the interviewer? In this guide, I've put together the most engaging, non-boring questions you should ask to ace your next interview.
Let's get started.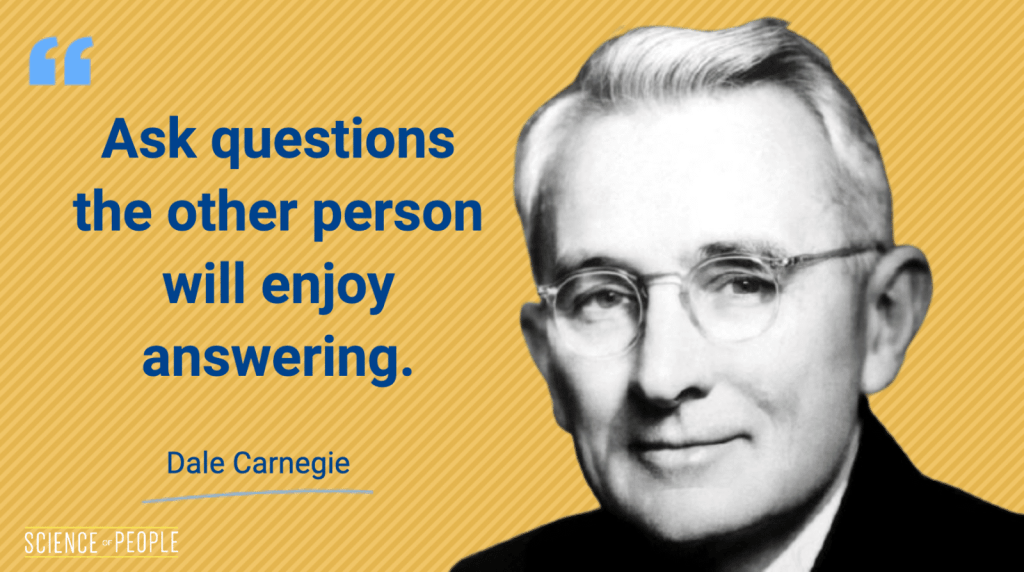 Questions to Ask About the Job
The most important thing you want to know for a job is if you are a good fit. While most companies list the job requirements in the job description, there are ALWAYS going to be things they miss.
Is there anything you think I will be doing that is not included in the job description?
Are there any smaller tasks I might be doing in this job that I should be prepared for and that are not in the job description?
It seems like I will mostly be doing ____. Is there anything else that isn't as regular but I should be aware of?
What projects is the team working on now?
What would a typical day at the office look like for me?
What challenges have past employees faced in this job?
How do people in this role interact with its audience and user base?
Do you expect the primary responsibilities of this role to change in upcoming months?
Questions to Ask About the Company
Asking about the company helps you see if you can really work for them for the long term. Are they the type of company you admire? Are their current problems something you can solve?
What are the company's goals for this year?
What new changes or innovations about this company are you most excited about?
Where do you see the company in the next few years?
What are the most common reasons people leave the company?
How has your opinion changed about this company from before being hired to now?
Who would you consider to be your top competitors and why?
What challenges has this company faced recently, and what new challenges do you expect the company to face in the future?
Questions to Ask About Your Colleagues
The other important aspect of your job is people—who you will be working with can greatly affect your success and job satisfaction. I like to ask directly about the people I will be working with—going so far as to ask to meet them!
Who will I be working with most in my role?
What is my team like?
What kinds of personalities are on the team?
How often do the projects my team works on succeed or fail?
How does the team give each other feedback?
Does the team usually eat together for lunch?
Does the team hang out after work?
Will my colleagues be available to contact during off-hours?
Questions to Ask About Career Advancement and Performance
A huge measure of happiness is progress. We like to know we are working toward something. It is also essential for your career and professional growth that you know you are on a track or there is upward movement. It's great to ask about this early on.
What is the growth path for this position?
How would you measure my success in this role—what would next steps be?
If I do well in this job, what would a career future at XYZ company look like?
What would you say is a good measure of success for this job position?
How often does the company do a performance review, and how are reviews conducted?
Questions to Ask About Company Culture
Even if you have the skills, it won't matter if you don't agree with the company culture. Do your values align with the company? Or does the company share beliefs you don't necessarily agree with?
What is your favorite thing about the company culture?
Most companies value traits such as responsibility and hard work. If you had to choose, what would you say is your company's highest value and why?
Are there any company events or annual get-togethers? Could you tell me about the last get-together?
Are there any special office traditions that outsiders may not know about?
Does the company value more independent workers or team collaborators?
Has the company culture changed since you started?
What is something new this company does that you've never experienced before?
Questions to Ask About Professional Development and Skills Training
Many companies offer free training to sharpen your skills on the job. These questions are great to ask to show the interviewer you're looking to be a growing asset to the company.
Are there opportunities for professional development?
What training can I expect during or after onboarding?
Does your company place a high priority on skills training? Why or why not?
Are employees currently undergoing any training or skills development?
Questions to Ask About Yourself
Asking questions about yourself can be risky, unless you're hitting it off with the interviewer and know your questions will be perceived well. Proceed with caution.
How do I compare with the other candidates you've interviewed so far?
What is your favorite thing I said or did during this interview?
Is there anything else you'd like to know about me?
Questions to Ask About the Interview and Hiring Process
Sometimes you might need clarification on the hiring process or what comes next. Don't be afraid to ask! Many interviewees get left in the dark waiting since they didn't ask these essential questions.
What are the next steps in the interview process?
How long does your recruitment process usually take?
If I were hired, what would be the ideal starting date?
11 Questions to Avoid
Yes, there are questions you definitely want to avoid asking in an interview. Generally, these questions ask about salary, are too personal, or indicate you didn't pay attention in the interview. Avoid these 11 questions at all costs:
How much is the pay?
What do you do in this company again?
What other jobs are available here?
Are you religious?
Can I watch Netflix here?
Can I get a higher salary after a while?
Do I have to show up here every day, or can I work part-time or remotely?
I forgot your name—can you remind me?
Do you check references?
Does the company give any warnings before firing people?
Do you guys have casual Fridays, or do I have to dress professionally all the time?
Want an extra list of things you MUST avoid during an interview? Head on over to our article: The 8 Things You Should Never Say in An Interview.
Interview Question Tips
Whatever question you ask, keep in mind these essential rules during the interview: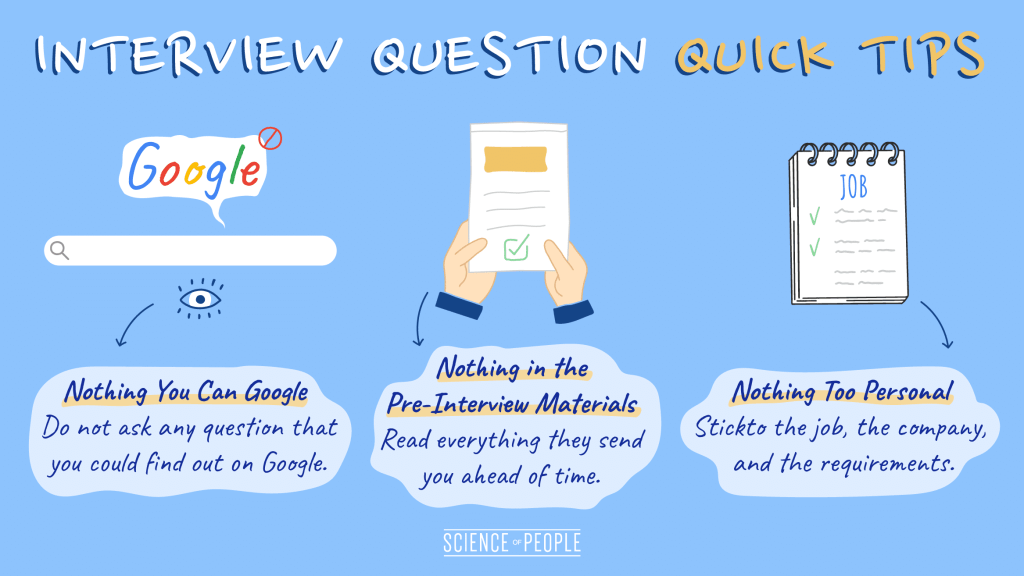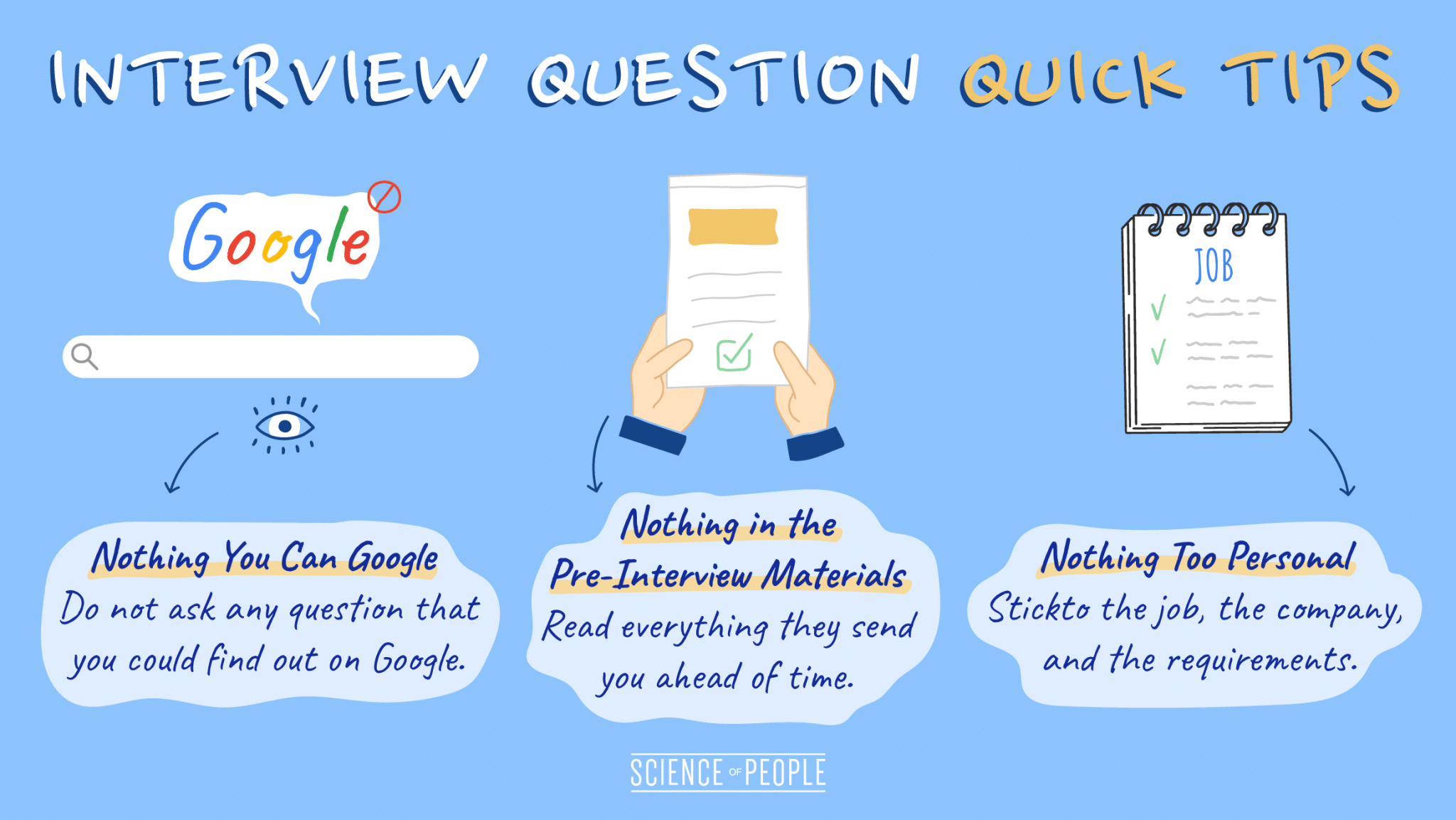 Nothing You Can Google
Do not ask any question that you could find out on Google. This includes:
anything on the company's Wikipedia page
anything on the company's website
anything on the interviewer's LinkedIn page
Nothing in the Pre-Interview Materials
Duh, but seriously, read EVERYTHING they send you ahead of time.
Read every link in their email signature.
Read links on the pages they send you.
Do not ask questions that could be answered by reading—if you do this, you are telling the interviewer you didn't do your due diligence.
Nothing Too Personal
Some may disagree, but many recruiters and HR personnel feel the following commonly asked questions are non-serious, gimmicky questions:
How did you get into this line of work?
Do you like working here?
How long have you been working here?
. These questions are not seen as relevant to your job, and, of course, the interviewer can't gauge whether the candidate is a good fit on the basis of these questions.
My recommendation: Do not ask anything personal to the interviewer; stick to the job, the company, and the requirements.
Bonus #1: Job-Specific Interview Questions to Ask The Interviewer
If you're interviewing for a specific job, it might be best to ask questions related to your industry. You'll not only boost your knowledge but also demonstrate to the interviewer your expertise. Here are some great questions to ask if you're applying for sales, software engineering, college, pharmacy, or teaching.
Questions to ask a sales interviewer
What does your most successful sales rep do that the others don't?
What are some issues customers face that I can help fix during the sales process?
What are some similarities between underperforming sales reps?
What percentage of your sales team reaches their goal?
Where do most of your current sales leads come from?
Roughly how many sales are closed in a single interaction? How many interactions does it normally take?
What is the biggest threat to your sales growth right now?
Questions to ask a software engineer interviewer
What technology or tools is the company currently using?
Has the company ever run into communication problems when working on a project? How are communication issues handled?
What systems do you typically use for managing tasks and projects?
Who is responsible for live website issues? What if something bad happens in the middle of the night?
Does your company run hackathons?
What is the tech stack used by the team?
How big of an impact does a junior-level engineer usually end up making on the whole product?
Questions to ask a college interviewer
What do you love most about this college that other colleges don't offer?
Are there opportunities to study abroad?
I've heard about XYZ event here. It seems quite popular in this college. Have you participated? What's it like?
What does a typical weekday or weekend look like for a student here on campus?
How is this college addressing the XYZ social cause?
What can you tell me about the X program?
How did going to this college help you get to where you are now?
Do you think college life differs greatly between on-campus- and off-campus-living students?
Questions to ask a pharmacist interviewer
How many patients or prescriptions does this pharmacy handle on a daily basis?
How many pharmacy technicians or other staff are usually available?
What are some of the recent complaints from customers, and how did your company deal with them?
What regular problems does this pharmacy encounter?
How does this pharmacy keep up to date on new medicines and procedures?
Questions to ask a teaching interviewer
What kinds of extracurricular activities are available or mandatory for teachers?
What are some common duties of teachers during student breaks?
What sorts of technology are available in a normal classroom?
How often do teachers have meetings together?
What is the average student-teacher ratio?
How involved are the parents?
What other departments or staff members will someone in this position expect to work with?
Bonus #2: Remote Work
Are you applying for a remote work position? Then you've got to deal with remote people problems:
Check out my ultimate guide for remote workers to step up your virtual interview game, or take the quiz below to find your remote work personality!