Sometimes it takes getting out of the day-to-day routines to spark new ideas and build rapport. Team building retreats are a science-backed way to improve communication, create a positive company culture, and develop teamwork and leadership skills.
But they don't have to be the stereotypical corny games or boozy happy hours.
Whether you're retreat planning for a small company getaway or a significant corporate retreat, you can boost employee motivation, reward outstanding performance, and improve team morale by treating your team to a one-of-a-kind office retreat that they'll never forget.
Here are 26 work retreat ideas for any budget.
What is a Team Retreat?
A team retreat is an out-of-office staff gathering designed to combine work, play, and team building. Retreats can be as short as a couple of hours or even a week-long travel experience where staff experience a new place together. 
A diverse blend of activities, strategic meetings, and team bonding is key to making the team retreat worth the company dime. Through shared experiences, staff retreats help employees connect and feel mentally refreshed when they return to the office.
27 Best Company Retreat Ideas
Whether you want to plan a day-long office retreat or a weekend meetup for remote workers, you can incorporate these corporate retreat ideas into virtually any retreat agenda or budget.
#1 Digital Detox Retreat
Unplugging from technology for just one day can markedly increase productivity. A digital detox allows staff to de-stress and recover from the endless barrage of social media notifications, emails, and news. This type of retreat is particularly transformative for a virtual team or anyone in the tech industry.
It can be as simple as scheduling 1-2 hours away from screens during the workday or combining one of the outdoor activities below with a "no-phone" zone. Brands like Digital Detox also offer specially coordinated unplugged retreats, "Mystery Trips," and unplugged night events.
And if you're in a virtual team, you'll know how beneficial a digital detox can be. Whether you're managing a virtual team, or you're part of one, knowing how to thrive in a virtual workplace is an essential skill. Learn how: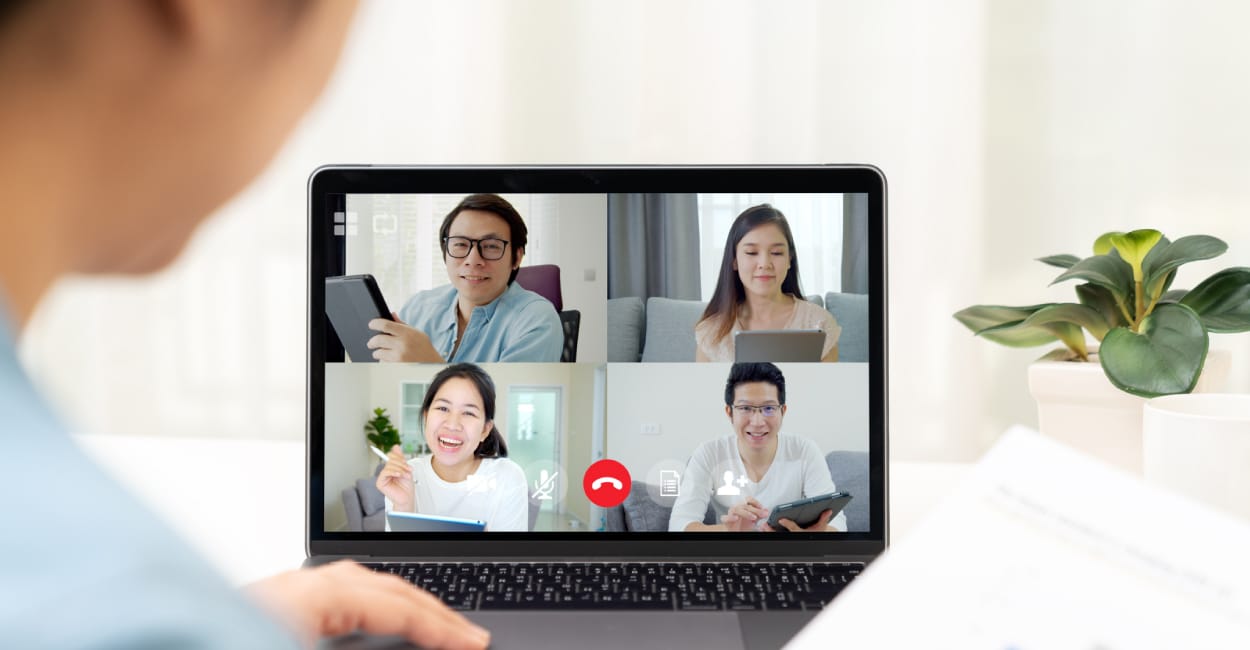 How To Thrive In A Virtual Workplace
Do you know how to work from home effectively? Do you know the science of bonding in a virtual environment?
I'll show you what you need to do to be productive, effective, and more valuable than ever while working remotely.
#2 Compliment Card Exchange
Warm fuzzies are the perfect way to promote more peer-to-peer recognition and help everyone feel appreciated during a team retreat.
Write down team members' names on index cards, shuffle them up, and place them in a bowl for everyone to draw from. Then, have each employee write a compliment on the other side of the card. During a meal or interlude between retreat activities, go around the group and have staff read their compliment cards aloud to colleagues.
#3 Meditation Retreat
Get your office zen on with a guided meditation retreat. Classes and a relaxing ambiance can help your staff learn to quiet their minds so they can enjoy the many incredible science-backed benefits of meditation, including:
Reduced stress
Improved communication
Improved memory
Helps enter a "flow state."
Increased sense of connectedness
There is even evidence that people who meditate together experience synced brainwaves! Talk about teamwork!
Action Step: Take your team to a meditation retreat center or hire a meditation teacher to lead a private group session near your office.
#4 Learning Day
Investing in your people's people skills is one of the best ways to recharge and reset a team. Bring a speaker to tackle one crucial skill your team could benefit from. We love soft skills that make a difference:
Learn to read body language
The science of leadership
The science of team personality
Master-level communication
How to be more authentically charismatic
Our founder, Vanessa Van Edwards, would love to train your group. Check out more about bringing her to your team retreat here:
Button→ https://www.scienceofpeople.com/speaking/
#5 Art Class Retreat
Creating art together reduces stress and helps introverts feel more at ease in group settings. You can also promote workplace creativity with a team art class (without pressure to be the next Picasso).
Google "group art classes near me" and book a class at a local painting gallery, ceramic studio, or even a botanical natural dye workshop.
Remote team? Try a virtual art class where your team gets mailed an art kit and comes together for an online interactive experience.
#6 Team Workout
Teams who sweat together stay together. As health and wellness programs become ubiquitous in workplaces around the country, team fitness challenges
Register your team for a group fitness class, hire a personal trainer, or try some of these group boot camp workout games:
#7 City Walking Tour
Steve Jobs and Mark Zuckerburg favored walking meetings because the fresh air and exercise helped get ideas flowing while connecting to others. A city walking tour leaves ample time for staff to chat, relax, and contemplate while seeing the most beautiful sights of a new place.
New research shows that walking side-by-side helps people feel more connected to each other when first meeting. If you are retreating with a new team or remote team, this can be a beneficial bonding activity.
Action Step: Use GPSMyCity to find a self-guided walking tour of nearly any city worldwide. Bring along some brainstorming ideas for new work projects, or keep a handy list of conversation starters to help people get to know each other better.
#8 Bike or Segway Tour
If you want to enjoy a new city at a faster speed, load your team onto rented bikes or segues to check out all the best sights while learning about the history and culture. Though there's not much room for work talk, the exercise and educational stops will spark some conversations later on.
Action Step: Look through the 10 Best U.S. Segway Tours, Google "bike tour [city]," or check with a local tourist agency in any city you visit.
#9 Escape Room Retreat
Who doesn't love a friendly competition? Research shows that team retreats with challenging activities promote the most staff cohesion and improve job satisfaction.
Escape rooms or "exit games" are immersive adventure games where a team uses clues and tasks to accomplish a goal in a specific amount of time. The exciting figurative scenarios offer ample exercises for communication, problem-solving, and plenty of laughter.
Action Step: Find an escape room nearby and choose a game theme that fits your industry or employee's interests (zombie apocalypse, wild west, murder mystery, or something else?). You can even opt for a virtual escape room if that's your thing.
#10 Horseback Riding Retreat
There is nothing quite like a team riding into a new business challenge like:
Horseback riding can help your team learn to read body language, improve nonverbal communication, and work together to stay on the trail. Horses are herd animals with a remarkable capacity to respond to group energy, leading to more group collaboration.
Search for a horseback riding stable near you. For an outdoor-minded team, you may even consider renting cabins for a few nights at a beautiful rural dude ranch or retreat center.
Pro Tip: Before booking an outdoor or animal that none of your staff have allergies or a fear of large animals.
#11 Farm/Garden Volunteer Day
Get your hands dirty and de-stress while growing some tasty herbs or vegetables for your staff to take home. Gardening is scientifically proven to build stronger bonds between people.
Action Step: Sign up for a group volunteer day at a local community garden or search PickYourOwn.org to find a U-Pick farm where your team can connect while hand-harvesting delicious fruit and berries.
If you have the space near your office, consider starting your staff garden or renting a community garden plot for weekly team meetups. For remote teams, you can send out some seed packets and a gardening guide, then create a designated chat channel for staff to share their successes and challenges.
#12 Botanical Garden
There's nothing quite as refreshing as inhaling the oxygen-rich air of a plant-filled oasis. Take your team for a rejuvenating day retreat or a walking meeting through one of America's finest collections of rare and native plants.
Action Step: Pack a cooler full of refreshing drinks and head to a nearby botanical garden for a shady meeting, guided tour, or a stress-relieving stroll.
#13 Take a Hike
Research with Amazon employees found that interaction with natural environments reduced stress and less burnout in the workplace. Better yet, embracing communal challenges builds a company culture of teamwork.
Combining group exercise with the great outdoors is a win-win: your team can de-stress in beautiful natural spaces while rooting each other on through a semi-challenging hike to a destination.
Action Step: Search for nearby trails on AllTrails.com, then pack employee care packages with snacks, water bottles, and bug spray. Be sure to consider your team's fitness level to ensure that the hike is beginner-friendly and accessible.
#14 Cooking Class
Nothing brings people together quite like preparing a meal and breaking bread together. Studies show that teams who cook together feel more socially connected and creative.
Action Step: Take a quick staff vote on what cuisine people are most interested in learning about. Then, peruse Airbnb Experiences or local classifieds for group cooking classes. For remote teams, invite your staff for a live virtual cooking class with a professional international chef on CozyMeal.
#15 Get on the Water
Kayaking, canoeing, stand-up paddleboarding, or jet skiing are the perfect getaway for a hot summer's day. While you may not get any work done, you'll help your team let loose and bond with their coworkers.
Action Step: Search online for "water adventures near me" and book a group expedition at a local lake, river, or beach.
#16 Board Game Night
Board games aren't just for kids anymore. Hosting a game night can be one of the best ways for staff to connect and unwind. Set aside a few hours for an after-work game night, or bring a few board games along on your corporate retreat to fill in your free time.
Action Step: Find the best games for your team on this list of 30 Best Games to Play with Every Kind of Friend. Cranium, Quantum, and Taboo are some great ones for encouraging collaboration and strategic thinking. Don't forget refreshments and snacks!
#17 Trivia Night
Old-school trivia is a fun way to test your team's knowledge of diverse topics while getting in some good laughs and conversations. This can be a recurring monthly meetup or a relaxed evening in the hotel lobby after a corporate event.
Action Step: Use this guide to host a trivia night. Create your industry-specific trivia questions or use premade trivia questions. You can also give out gift cards to the winners. TriviaHub is a great way to host a virtual team building trivia night. 
#18 Cross-Team Dinner Groups
Promoting cross-functional team collaboration is vital for more considerable organizational success. But you'll often have employees sticking with their immediate teammates because that's what's comfortable. Mix things up with cross-team dinners by seating separate teams together.
Action Step: Whether you're sharing a meal at a retreat venue or local restaurant, use name tags to designate specific tables for people you'd like to collaborate with. Place a bowl with a few strips of paper with conversation starters or business discussion ideas (like "how to improve our retention rate" or "new product roadmap") to encourage more collaboration.
#19 Icebreaker Game
Warming up a meeting or retreat can be much easier with icebreaker questions and games. These are simple, fun ways to get staff relaxed, laughing, and ready to cooperate.
Watch this video for some of Vanessa Van Edwards's favorite icebreaker upgrades:
#20 Ropes Course
Ropes courses are intriguing physical challenges that involve navigating an outdoor high or low adventure park or obstacle course. They encourage more trust, risk-taking, and collaborative coaching as participants expand beyond their comfort zones. Ropes course challenges can be a half-day or full-day adventure for small or large groups.
Action Step: Use AdventureAssociates' guide to finding the ideal team building ropes course for your staff. 
#21 Casino Night
A private casino night adds some low-stakes gambling fun to your office retreat. Blackjack, poker, and roulette can be easy icebreakers for groups of any size—and no need for actual cash here. You can opt to play with Monopoly money with an auction for cool prizes at the end instead.
Action Step: Hire an all-inclusive casino night package or try a virtual casino night. You can make it a charitable competition by handing out raffle tickets as the winnings of each game. You can collect the tickets at the end for a big prize drawing or donation to a staff member's favorite employee.
#22 Skiing Retreat
An out-of-office exploration in fresh mountain air can help everyone de-stress, disconnect, and get a little thrill on the slopes.
Resources: SkiSync is a one-stop shop that helps coordinate specialized company events and retreats.
#23 Karaoke Night
Laughter is scientifically proven to bring people together and make people feel more comfortable opening up. Get your team laughing and rooting each other on with a goofy karaoke night.
Resources: Head to a karaoke bar or host a virtual karaoke event to show off the pipes and bond over throwback tunes.
#24 Photo Ops
Whether you snap a bunch of group photos on your smartphone or invest in an office Polaroid film camera for nostalgic film fun, pictures of staff activities are essential for hanging onto team-bonding memories. Not to mention, you get some fantastic assets for your company's "About Us" webpage.
Assign one or two employees (who love taking pics) as the designated photographer(s) for the retreat. Collect all the photos and share them in an open group drive for everyone to enjoy.
#25 Tea, Coffee, or Wine Tasting
Explore new flavor palettes with a unique take on office happy hour. Instead of serving regular coffee at a morning retreat meeting, spice things up with a global tea or coffee tasting.
For a relaxed afternoon, wine tastings are an easy way to decompress and discuss interesting ideas. Employees can get to know each other better as they try new blends and discuss their favorites.
Resources: Head to a local tea or coffee shop, winery, or a sommelier-guided Airbnb Experience event. You can also host a virtual winery team challenge.
#26 Kids and Pets Retreat
Most people don't want to sacrifice too much of their family time for more interaction with the coworkers they spend 8+ hours daily with. Why not bring the office together to meet each other's loved ones with a family-friendly event?
Organize a meetup at a nearby park, kid-friendly trail, staff member's backyard, or a playground where staff can bring their pets and kids for a fun hangout. Don't forget snacks, drinks, and lawn games!
#27 Bonfire Night
We all know how incredible Mother Earth can be for helping people de-stress, but there is something extra special about sitting around a bonfire under the stars. This is the perfect weekend getaway for teams who live close to a state park or campground.
Cook veggie skewers, roast marshmallows, and share some drinks in the open air for a nostalgic camping experience.
What Makes a Good Team Retreat?
The best team retreats combine strategy and leisure. They achieve a business-driven result while simultaneously boosting morale and teamwork.
The most successful work retreat ideas meet the TEAM framework:
Teamwork: Successful in the modern workplace requires working together to achieve common goals in the most efficient way possible. Team retreats build teamwork and collaboration for more profitable, effective businesses.
Experiential Learning: As opposed to reading from a presentation in a meeting, team retreat experiences let employees learn by doing. Challenging people in a low-pressure gamified setting helps build problem-solving skills and productive team communication. Escape rooms, ropes courses, team sports, and trivia are great
Action: While vacationing and partying on the company dime sounds like a nice expense write-off, a successful team retreat must pay off by accomplishing business goals. When retreat planning, set aside a few hours per day to brainstorm new strategies, take stock of current projects, or progress on larger goals. It helps define 2-3 objectives for the retreat ahead of time.
Meaningful Connection: Workplace friendships link to more productivity, job satisfaction, and engagement. Team retreats help break the barrier between people's "professional side" and their "personal side." As employees get to know each other more, they feel more cohesive as a team and more equipped to tackle workplace challenges together.
Key Takeaways: Plan Memorable Team Retreats with These Strategies
The most memorable team retreats are productive and low-stress. Bonding with colleagues and collaborating on team activities shouldn't feel forced; instead, the best retreats set up scenarios for employees to enjoy themselves while connecting with others.
When designing a retreat plan, don't forget to:
Set your retreat objective ahead of time: Are you treating your staff to a relaxing getaway after meeting a huge goal? Do you want to include brainstorming and strategic meetings in the itinerary? Or are you simply trying to bring a virtual team together to get to know IRL?
Plan things out: While it may seem like an open-schedule retreat allows things to "just flow," too much free time can leave employees bored or unsure about what to talk about. Be sure to have conversation starters, business topic ideas, and board games on-hand to fill any free time between sightseeing or team building activities.
Ask for feedback: Survey your team before and after team retreats to see what employees are interested in and think about past events. Make sure the expense is worthwhile by planning activities and destinations that staff genuinely enjoy.
Emphasize collaborative, creative, and conversation-initiating activities: Set aside the bulk of retreat time for games, challenges, and courses that prioritize cooperation and teamwork. The more ways you can promote conversation and idea generation, the better.
Looking to build more trust and collaboration amongst your staff during or after a retreat? Try one of these 12 Non-Awkward Team Building Activities That Build Trust.