Content Usage Guidelines
Thank you for your interest in sharing or republishing our content. We love that you're diggin' what we're doing and appreciate the content love. Here are a few ground rules:
What Science of People Content Can You Use? And How?
Feel free to share links to any of of our content by email and social media. We'll love you for it!
Feel free to reference or quote up to 75 words of our text content in your own blog articles, presentations, documents, etc. as long as you honor the Content Attribution Policy below. SPECIAL NOTE: This does not apply to text content within guest posts appearing on our site.
Photos that appear on the Science of People website are not to be republished without our explicit permission. We grant permission on a case-by-case basis so please email us if you'd like to use a photo/s and we'll let you know if you can!
Unfortunately, we cannot let you republish in full any of our text-based content on the web. Why's that? Google really doesn't like seeing duplicate content on the web, and we really don't like making the Google gods angry. We sometimes make special exceptions, if you think you are one of these please email us.
Please do not repurpose our content for resale or commercial uses. Our content is free. Do not make money off of our content, meaning that you cannot use our content to sell or promote any paid external product or service. You also cannot use our content alongside any paid or sponsored links. We take pride in offering our blog content for free, so you also need to keep it free by passing it along.
You cannot claim our content as your original ideas (i.e. using our content and publishing it on a channel as your own). We're stoked that you want to share our content, but please share the original link instead. Thank you!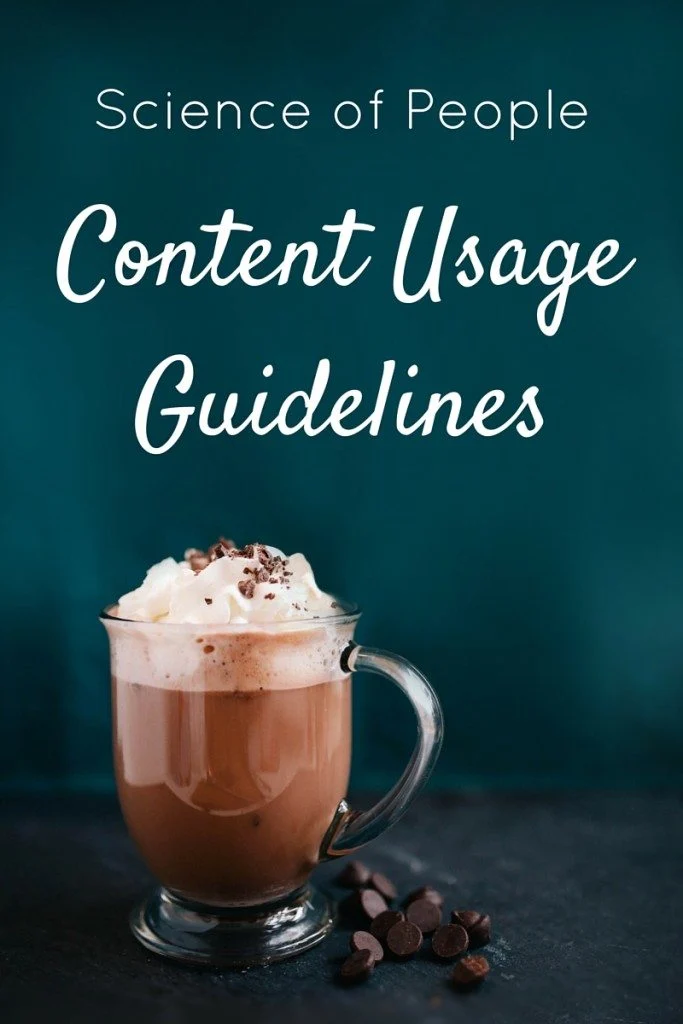 Content Attribution Policy:
Attribute Science of People as the source
Link to the original Science of People source you're referencing
For references to a specific Science of People blog article, link to the URL of the specific blog article you're referencing
For references to Science of People's downloadable content offers behind a form, please link to the landing page URL with the form for that individual offer
Thank you! For any specific inquiries on using our content, please email us.