Your resume tells recruiters, hiring managers, and interviewers about your skills. On the other hand, a portfolio shows those skills in action. We're going to give you everything you need to create your portfolio today.
What is a Work Portfolio?
A work portfolio is a collection of projects and work samples that showcase your skills. A work portfolio can be digital and should also include information that you would include on a resume, such as work skills and work history. Unlike a resume, a portfolio is a curated selection of things you have worked on that build a story about your career skills.
In creative careers, a portfolio can be a physical collection of sample work that someone can flip through in a meeting or be left behind after an interview.
Why Do I Need a Portfolio?
You need a work portfolio to document your skills and accomplishments. Even if an employer doesn't require a portfolio, this can give you a competitive edge and make you stand out from other applicants. A work portfolio is also a dynamic record of your skills that can attract the attention of recruiters and potential clients.
How to Make a Portfolio, Step-by-Step
Believe us when we say you won't regret the time you invest in creating a great portfolio. Portfolios give recruiters a chance to connect with you on a personal level and be inspired by your work. Plus, creating a portfolio can be a lot more fun than writing a resume! We take you through the process step-by-step and even include examples of great portfolios.
1. Gather the highlights
Do you have screenshots, files downloaded, and data gathered? This becomes difficult if you haven't gathered information before moving on to a new job! Before you build your portfolio, gather everything you think you'll need to present your best work.
Items to Gather:
Data and reports
Case Studies
Images of Completed Projects
Links (check that old links are still live)
Client feedback, reviews, recommendations
Awards, rewards, grants, residencies, etc.
Transcripts of credentials and licenses
Volunteer history
Record of career development
Logos of clients you've worked with (with client permission)
Updated professional headshot
Up-to-date resume
Pro Tips:
Make it a practice to write a one-page case study after completing major projects. This will serve you well when you make a portfolio (all data and information are easily accessible), but it's also a good way to track your personal growth and look for ways to excel on your next project.
If a lot of your work is in digital communication or on websites, save PDFs of live web pages. That way, if a website gets updated or pulled down, you still have a record of your work.
Ask designers to send you mockups and final design files at the end of a project so you can keep a catalog of all digital assets you were involved with.
If your portfolio is on Instagram, that's a nice starting point, but it's not enough for recruiters who want to see all the most important information in one place.
Do you have learning certifications? Make sure to include portfolio items that showcase your soft skills, like negotiation and communication. Believe it or not, studies have shown that improving your soft skills is directly related to an increase in salary. You might have also invested in courses that you can add to a portfolio. In our soft skills course, you receive a certificate once you complete all the lessons. Check out our ultimate course here: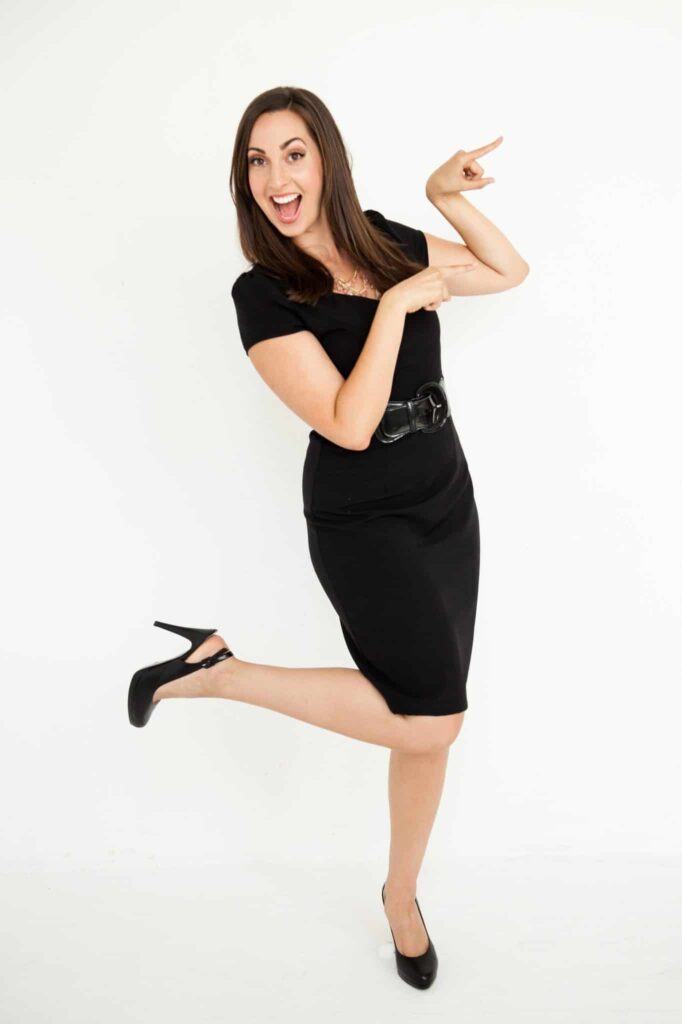 Master Your People Skills
Create a Memorable Presence
Communicate with Confidence
Achieve Your Goals
Have a question about the presentation or People School? Email Science of People support.
2. Write your big idea summary
The first thing people see when they come to your portfolio should be a summary on the home page.
This attention-grabbing blurb is a great way to inject personality into your portfolio while giving a big-picture view of what you offer employers. It can include your big idea or big differentiator.
Ask yourself: What do you want people to remember about you? Here is an example headline:
Action Step: Use Vanessa Van Edwards' techniques for writing an elevator pitch to craft an intriguing and personable summary.
Write down one line that describes you best.
Expand with your mission statement, problems you solve, or something that makes you stand out.
Add some spark by wrapping things up with a memorable tagline or statement.
Get the step-by-step process to Nail Your Elevator Pitch (Summary).
3. Rethink your resume & start curating
Have you updated your resume recently? If you haven't, you'll likely find it challenging to put together a portfolio. Your resume should act as a foundation point for putting together a portfolio.
Action Steps: Once your resume is updated, consider what job you hope to acquire. What skills and experience are needed for that job? Even if you don't have the job experience, brainstorm how your past experiences have equipped you with the skills to succeed in this new career.
Make sure your list uses good action verbs like:
Agile
Appraised
Change Agent
Condensed
Conferred
Configured
Constructed
Cultivated
Customized
Resourceful
Click here to get over 300 more action verbs!
Once you have a list, start curating projects and accomplishments you want to highlight on your resume. Include up to 10 in your initial list, then pair it down to your top 3-7 projects.
4. Include assets in your portfolio
There are a number of basic assets you should have in your portfolio. Start with the basics and move to assets that impress.
Your name, job title, and contact information
A headline or elevator pitch—this can include your values and vision
Accomplishments and work history
Education and credentials
Professional development activities
Testimonials, recommendations, companies you've worked with
Project highlights
Samples of previous work
Awards and press
"Your portfolio should also include experiences and capabilities that are customarily left off your resume yet fundamentally make you, you. For example, my status as an orphan, globetrotter, insatiable handstander, and mental-health advocate are all essential components of my portfolio. They power the work that I do."

—April Rinne, Harvard Business Review
Pro Tip: If you don't have much work experience and your list of accomplishments feels short, don't worry! Flesh out an empty portfolio with some of these things:
Recommendation letters from teachers
Photos of a science project or other school assignments
A personal essay
A paper you wrote for school
Writing you had published in the school newspaper
School activities such as drama club, yearbook, or sports
Volunteer activities
Organizing an event at church, at a club, or for a family event
Personal art projects
A cover letter
Certifications from courses
5. Do this to improve your portfolio
Building a great portfolio will take time, but it doesn't have to be difficult. As you build your portfolio, think about the story you want to tell. Decide what parts of your career are most important, not in terms of your personal feelings but the work you want to do in the future.
You may treasure your memories of being a nanny or working for a nonprofit in East Asia, but do they contribute to the narrative you're building for your portfolio? They may! But also, they might not.
Remember: you have more room for fun in a portfolio than a resume, but you still need to treat every inch of your portfolio as prime real estate.
Don't be afraid to let your personality shine through. A portfolio should tell us a career-focused story of you.
Use the same font(s) throughout and stick to a color palette. Use a tool like Coolors to find a nice color scheme.
Choose the best and most compelling information and projects to include.
Include a contact page or a contact form; your goal is to make it as easy as possible for people to contact you.
| | |
| --- | --- |
| Do this | Not this |
| Include case studies | Finished projects without any context or project summary |
| Include personal projects that showcase your skills | Pretend to have more skills than you do |
| Provide a comprehensive portfolio | Include everything you've ever done or created |
| Keep your portfolio current | Include outdated projects and information |
| Include good writing, even if that's not your main skill | Skip spellcheck or include long chunks of text (digital paragraphs should be 1-3 sentences, 4 sentences max) |
| Include your personality | Tell your life story |
| Curate your portfolio to showcase a variety of skills and experience | Make your portfolio complicated to navigate |
6. Choose your platform
The most important decision you'll make about your digital portfolio is what platform to use. Different platforms will offer different functionality but require more time and budget.
Pro Tips: Simple is often best. Look for an option that showcases your skills and accomplishments.
We've gathered the 4 most common platforms for setting up a portfolio and ranked them in order of ease of use.
Take Advantage of LinkedIn for Your Work Portfolio
The fastest step to building your portfolio is getting started on LinkedIn. There's no setup or costs involved, and while we've included this as a bonus platform, this should be your first step because 77% of recruiters rely on LinkedIn.
Here are a few tips to get you started:
Set your profile picture with a professional headshot
Fill out all the sections
Remove buzzwords like "strategic," "passionate," or "creative"
Give and request a few recommendations
Get in the habit of posting regular updates
Examples of Great Profiles
Dr. Carol Parker Walsh has optimized every inch of her LinkedIn profile from her job title down to the honors and awards section.
Tonya Parham does a great job of providing all the relevant information and taking advantage of the option to add links and images in the experience section.
We might be a little biased, but we love everything about our founder, Vanessa Van Edwards' profile. We especially love the captivating use of color in her profile picture and banner.
Keep going with 15 More Profile Tips to Make Your LinkedIn Profile Pop!
This option is totally free! We recommend it if you're looking for an entry-level position, need a portfolio for an internship, or for a university application.
Pros
Easy to use and no need to learn a new tool
Completely free
Great way to organize your files and documents
Easy to update as needed
Cons
Less suitable for mid-career or later-career portfolios
Limited customization
Less visually appealing
Check out this tutorial that walks you through building a portfolio on Google Drive and learn about some things to include.
It's not surprising that Canva, the design-made-easy platform, expanded into website building. The great thing is that this platform has two (free or paid) options!
Publish a website portfolio using the website templates
Create a PDF portfolio by simply searching "portfolio" in the search bar on Canva
Pros
Easy user interface
Beautifully designed templates
Ability to create a digital portfolio that isn't a website
Option to purchase a domain or use an existing domain
Free and paid options
Cons
No options for optimizing your website for SEO
Limited customization
Best used as a landing page (one-page website) or downloadable PDF.
This video from Le-An Lai Lacaba walks you through the process of creating a portfolio on Canva as a PDF, but it also gives tips that are relevant for creating a website in Canva.
One of the first platforms to offer easy website building, Wix is more complicated than Canva but still very accessible. With more functionality and customization available, Wix is a great option for a multi-page site.
Pros
Dynamic user interface
Large selection of templates
Option to purchase a domain or use an existing domain
Free and paid options
Drag-and-drop editor
Cons
SEO Optimization tools are relatively new. Web designers have differing opinions on how effective WIX optimization is
Some lagging in edit mode
Long URL if you don't purchase a domain
While Wix may have been one of the first easy website builders, Squarespace entered the stage as a solid middle ground between Wix and WordPress. Possibly more robust than Wix, Squarespace is still much easier than WordPress.
Pros
Easy shop setup. Some people have services or products they end up including in a portfolio website.
Less, but better, selection of high-quality templates
Most commonly recommended platform
Recent updates have made the interface less clunky and easier to use
Snap-grid instead of drag-and-drop (for some, this is a negative, but many prefer the structured editor)
Cons
No free options
Less control over SEO optimization than WordPress
Although it's easier to use than before, using the editor still isn't as intuitive as Canva or Wix.
People either love it or hate it. Translation: trial it for yourself before committing to pay
WordPress has dominated website creation for a long time. While some people debate its ranking as the #1 choice, it still stands out as one of the most powerful platforms for creating a website.
We only recommend WordPress if you:
Want total creative control and customization
Expect to expand your portfolio into a full website
Already have some experience with web design and development (or you're willing to learn it)
Have time to invest in making it look professional or have the budget for someone else to create it for you
Pros
Plugins for anything and everything you can imagine
Full control over customization and SEO
Strong Content Managing System (CMS)
Easier to make it responsive (mobile-friendly)
Cons
Can be vulnerable to hackers
Requires regular maintenance and updates
Choosing the wrong theme can slow your site WAY down
The power of customization can cause problems with making changes later (don't customize code unless you know what you're doing)
Expect to purchase a website template or create a custom site – there isn't a large selection of good free ones
Inspiration for Building Your Own Successful Portfolio
We've gathered 3 very different portfolio examples to help inspire you in the process of creating a career portfolio.
This portfolio demonstrates that you don't have to be a photographer or graphic designer to put together a visually compelling portfolio. Whether you're in business or another career focused on data and numbers, a digital portfolio is just as important for your career development as it is for those in creative careers.
What We Love
Eye-catching and visually compelling
Clean design with easy navigation
Good selection of projects and testimonials
More information is provided when you hover or click
Big picture view of his career timeline
The style of the portfolio and writing gives us an idea of Yan's personality and communication style — direct and to the point.
In a world where few people have one career for a lifetime, this portfolio stands out because it showcases the many aspects of who April Rinne is. As you look at April's portfolio, be inspired to consider what matters to you, even if it wouldn't traditionally fit on a resume.
What We Love
Gorgeous illustrations uniquely replace a traditional headshot
Compelling writing
The home page provides the most important information, but every section provides a deeper dive into her work.
We chose this portfolio to show you don't have to include a list of high-profile clients and breathtaking projects to catch the attention of recruiters and clients. If your career or passion is focused on helping people, or you've traditionally done work with classified/private information, you can still create a compelling portfolio.
What We Love
Good professional headshot that communicates Barbara's personality
Visually arresting use of black and white that contrasts with the other site colors
An interesting summary that piques our interest
Use of plugins for booking appointments
Icons to show quick facts
A good example of a portfolio that is also a full website
Bonus Tip: How to Set Up a Custom Domain and Choose Hosting
If you choose a platform like WordPress, you'll need to purchase a domain name and a hosting site. This can be combined or purchased separately.
For other platforms, like Wix, you're already purchasing hosting, but you'll still need a domain. You may have the option to purchase the domain directly through them.
Fast Facts:
A domain or domain name is the location where your website exists. More simply, a domain name is the name of your website. You have control and authority over your domain name.
Hosting is a service that allows you to publish content on your domain. Your website will consist of data, and someone has to "host" that data so that it isn't lost and is accessible to other people.
Choosing Your Domain
For a work portfolio, purchasing a domain name that corresponds to your name makes sense. No need to get fancy! For example, if your name is Jenny Jane, then JennyJane.com is a great domain name for your portfolio. That is if nobody has taken it yet.
Pro Tip: Check if a domain has already been taken using Google Domains. You don't have to purchase through Google Domains, but we find it's the quickest tool for checking if a domain has already been taken.
Unfortunately, JennyJane.com IS taken, but you can also choose from .org, .us, .info, etc. For a work portfolio, it may look a little strange to choose JennyJane.org. You could go with something like JennyJane.site or JennyJane.us (or whatever country you live in).
If your name is taken and you don't like any of the alternate endings to .com, try adding your middle name, an extra word before or after your name, or even try to purchase the domain from the person who owns it.
Pro Tip: If you don't have the budget to get your domain name, use Bitly.com to tidy up your URL. For example, if you set up your portfolio on Wix, you'll end up with an outrageously long URL that looks something like:
https://JennyJaneIsGreat.wixsite.com/portfolio/home
With a shortlink tool like Bitly, you can turn that link into: bit.ly/JennyJane
Top Places to Purchase a Domain and Hosting:
If you go with a platform like Canva, Wix, or Squarespace, you won't need to worry about hosting, but you'll need to think about your domain. These platforms usually offer you to purchase the domain through them, or if you prefer, you can sometimes bring in the domain that you purchased elsewhere.
Some platforms, such as WordPress, will require purchasing domain and hosting. We've included a list of highly rated places to get your domain and hosting.
Domains:
Hosting:
Portfolio FAQs
What are employers looking for in a work portfolio?
Employers are looking for these things in your work portfolio: an overview of your work, personal vision, curated examples and samples of things you have worked on, and highlights of accomplishments and awards. 
Do I need a website for a work portfolio? 
Having a website is the best option for a work portfolio. It can be as simple as a one-page website. When providing a digital portfolio, we don't recommend sending attachments or a link to Google Drive—unless they request this. According to one survey, 71% of employers were strongly influenced by the quality of a portfolio. 
Key Takeaways for Creating a Work Portfolio
Choose the best platform for your needs. It doesn't have to be fancy, but it should look professional.
Gather all the most important information for your portfolio before getting started.
Include your contact info, a summary, accomplishments, work history, best projects and work examples, testimonials, and awards.
Make sure your resume is up to date; if it isn't, this is a good chance to update it. A resume provides a foundation for your portfolio.
Don't include everything you've everything worked on or created. Instead, curate the best.
Include some of your personality, but avoid telling your whole life story.
Regularly update your portfolio, ideally once a year.
Keep records of data, case studies, and digital assets so that you never lose important information that you'll want in your portfolio.
Is imposter syndrome keeping you from creating a portfolio that really stands out? Don't hold yourself back! You have something special to offer, and it's ok to present yourself in the best light possible. Vanessa Van Edwards and Dr. Kevin Cokley understand the struggle and have tips that they've used in their own lives to overcome imposter syndrome.