Can being positive go too far? Yes! Here's why: toxic positivity is an invisible force causing people to become less successful, more selfish, and even more gullible.
I call it "invisible" because most people don't even know what it is. Our research from the Science of People lab shows that most people have never even heard the term "toxic positivity" before: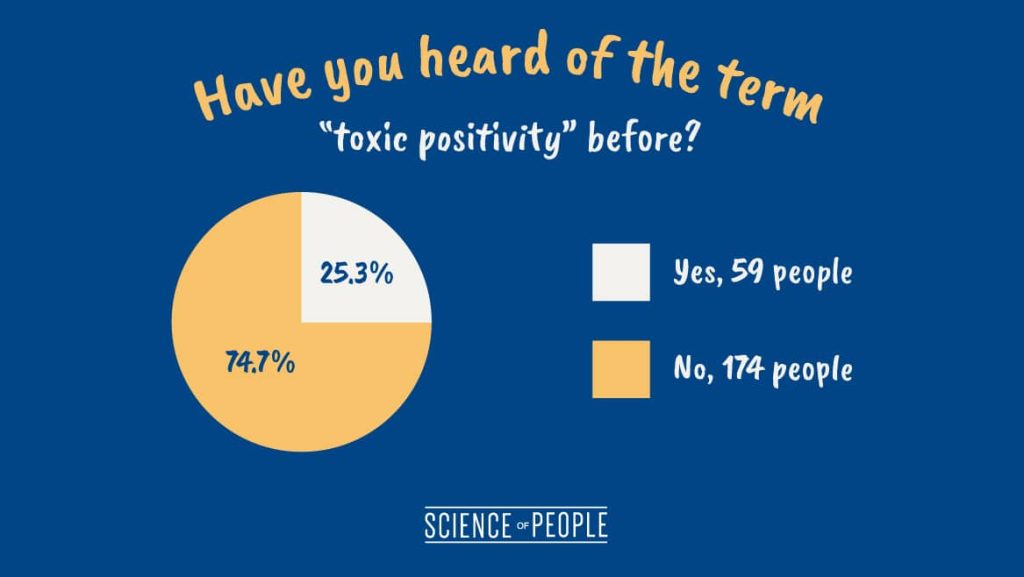 Here's where it gets interesting. As soon as we explained toxic positivity to our participants, most people instantly recognized it and said they experienced it…
67.8% said they experienced toxic positivity from someone in the past week.
So what exactly is it, and why is it dangerous?
What is Toxic Positivity?
Toxic positivity is the feeling of acting happy or cheerful when you're really not. It's that fake kind of happiness people say to you like "Just cheer up!" or "It'll get better, don't worry," when something really bad happened to you.
Toxic positivity is inauthentic happiness and can cause damage in personal and professional relationships.
I have also found that toxic positivity comes in 2 different forms:
Toxic positivity you can experience from someone or give to someone, and
Toxic positivity you can inflict on yourself.
Both types of toxic positivity appear to be damaging. Not swallow glass-type damaging, but still pretty damaging nonetheless.
Compared to the 67.8% of people that experienced toxic positivity from someone in the past week…
More than 75% of people said they sometimes, often, or very often ignore their emotions in favor of being happy.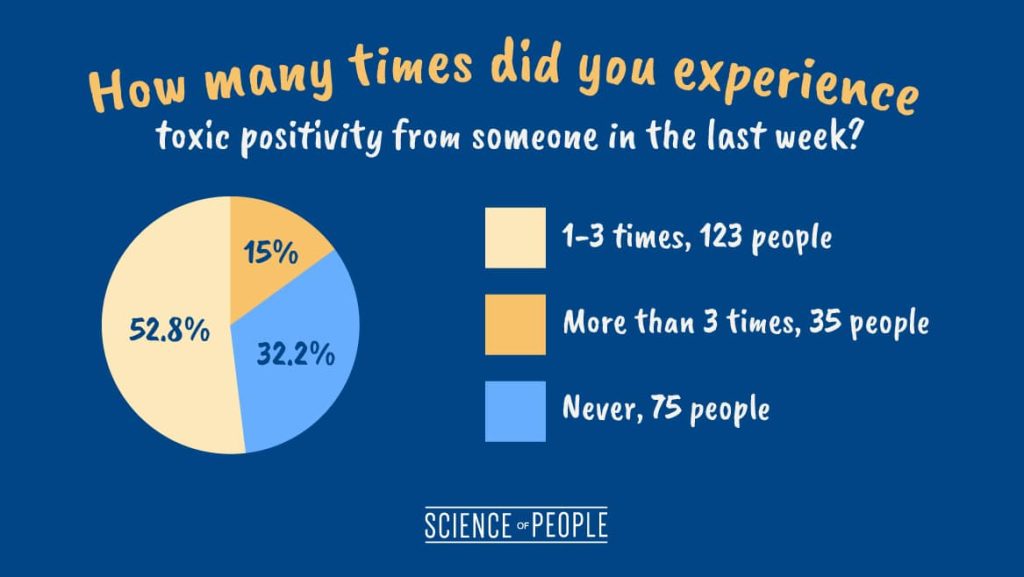 And it's definitely not all sunshine and rainbows, especially if repeatedly ignoring negativity in favor of happiness becomes a habit.
With the help of our Science of People readers like you, I donned my wool overcoat and grabbed my metaphorical magnifying glass, and set out Sherlock Holmes–style to find out 4 things:
5 reasons toxic positivity is so dangerous,
The 10 best ways to combat toxic positivity,
The origins of toxic positivity, and
Why too much positivity can be a bad thing.
This is what my research lab and I found.
5 Dangers of Being too Positive
Here's what you need to know: Too much positivity, like anything, is bad for you. Toxic positivity can make you inauthentic, distance you from others, and lose touch with reality.
Basically, toxic positivity is the Ned Flanders of The Simpsons (slightly NSFW):
The following are 5 ways too much positivity can be dangerous.
#1: The Negative Jar build-up
I like to think of negativity as a jar. Everytime you experience thoughts or feelings, this jar gets filled a little more each time. Eventually, if your jar gets too full, the negativity WILL find a way in your life… one way or another: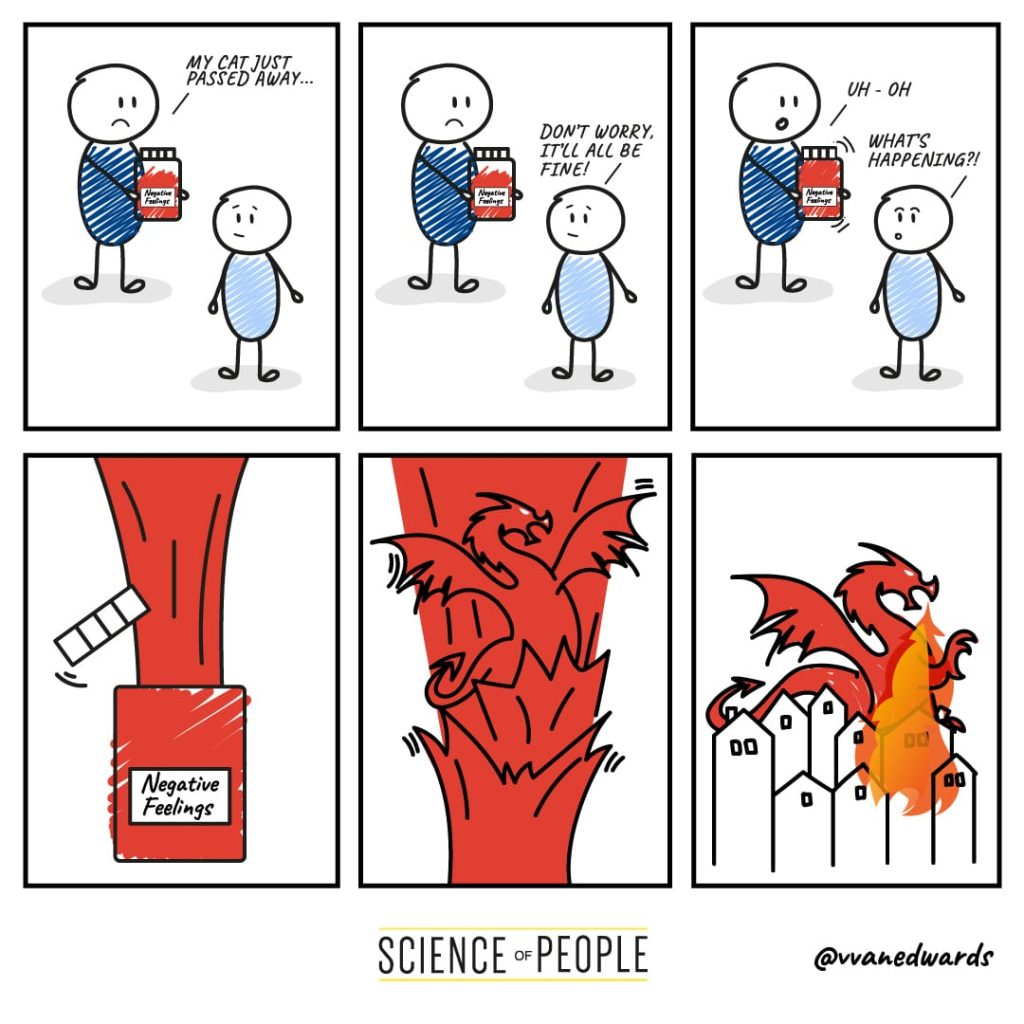 Here's the problem: the more you avoid your negative thoughts, the bigger they grow, and the more you reinforce your tendencies to ignore negativity. But we aren't only happy humans. We're sad. Angry. Fearful. Anxious.
Science confirms this: a 1997 study looked at the effects of emotional suppression on stress:
Two groups were shown disturbing medical procedure films and their stress responses were measured.
One group was asked to express their emotions while watching, while the other group was asked to suppress their emotions.
Here's the aha-moment: Group 2 was found to be worse-off than the group that expressed their emotions. They had worse cognitive functioning since inhibiting emotions takes a whole lotta brain power, not to mention the increased physical toll (researchers found that they had increased sympathetic activation of the cardiovascular system).
The bottom line: The more you suppress your emotions, the more damaging it is for you.
And unless you are Superman (or woman) or have psychopathic tendencies, the only solution to this vicious cycle of negativity-blocking is to experience a true cathartic release.
#2: The fair-weather friend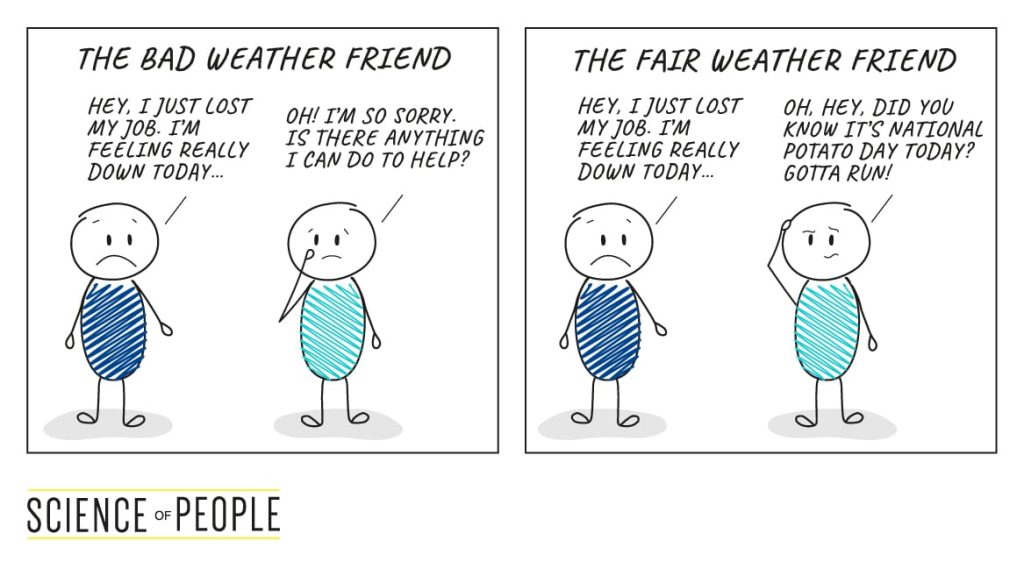 In life, there are 2 types of friends: the bad-weather friend and the fair-weather friend.
The bad-weather friend is there for you. He/she's got your back during the tough moments, during the ups and downs, during the rollercoaster ride of emotions our life will inevitably go through (aka the bad weather). These are your:
close friends you can rely on
family members you trust
your cat (as long as she is willing to put up with it, that is!)
The fair-weather friend, however, will only stick around during the good times (the fair weather) and leave you as soon as you've got a real problem. They will tell you to cheer up, make up an excuse, or hey, girl, you better stop bringing those bad vibes my way. Here's an example from Maureen: "After having a miscarriage I broke down while telling a close friend about the experience. Her response was, 'everything happens for a reason' and 'you'll have more luck next time.' I know she was trying to be friendly and supportive but it made me feel like my feelings were invalid."
How to Deal with Difficult People at Work
Do you have a difficult boss? Colleague? Client? Learn how to transform your difficult relationship.
I'll show you my science-based approach to building a strong, productive relationship with even the most difficult people.
Now… What if you're the toxic one?
If you spout words of positivity and encouragement when your friend really needs sympathy and compassion, you may come off as insincere or uncaring. In the long run, you can lose true, meaningful relationships as your friends might not feel comfortable confiding in you.
One reader, Catherine, describes how her experience with toxic positivity made her even angrier:
"I was sharing my disappointment in something that happened at work and how frustrated I was about it. I was told, 'Well at least you still have your job'… It felt like my frustration just didn't matter and invalidated my feelings entirely. It actually made me angrier!"
#3: Toxic positivity is fake positivity
Here's a scenario for you: you find out an acquaintance of yours was fired from his job due to his coworker's fault. You expect him to be angry, but he is smiling and cheerful instead, saying things like "It's OK, I'll cheer up!" and "Stay positive!"
And then, all sorts of signals go off in your brain— something's not quite right. You have a strange feeling in your gut. You feel disturbed. And then you realize…
He's not actually happy at all.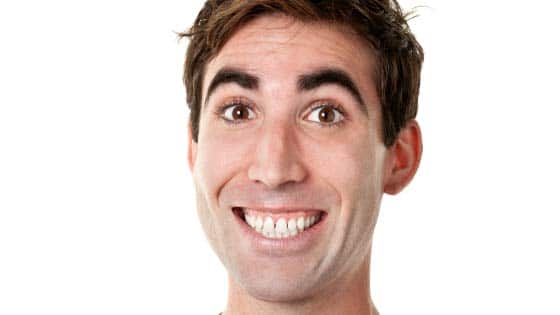 OK, OK. Sorry for taking you on a trip down Creepy Lane. But fake happiness disturbs us for a reason— real emotions are extremely hard to fake. If you pay attention to someone's body language, there's bound to be a mismatch between what someone is truly feeling and the emotions they're expressing.
It's unnerving when we see happy people who aren't actually happy because of the giveaways:
The eyes lack a Duchenne marker when they are smiling, indicating a fake smile.
They may use their arms or other objects as a barrier to indicate they are closed-off.
Their feet may be pointing towards the exit during your conversation.
All the while, they may be fake-smiling and putting on a happy face. Oftentimes, toxic positivity even backfires and causes shame or anxiety more than it helps the situation. And it's not an uncommon phenomenon; out of 233 respondents, only 4 people said they never ignored their emotions in favor of being happy: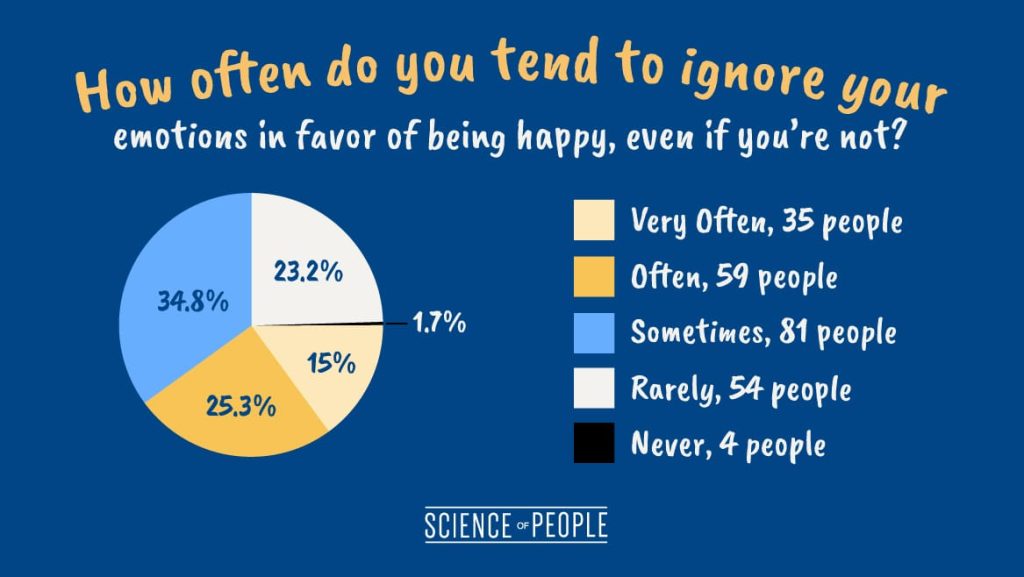 A reader named Marianne describes her experience of putting on a fake smile to the rest of the world:
"I have trouble controlling strong feelings so I would go somewhere private like a bathroom to let it out and then come back out, probably fake a smile until I can go home."
#4: It makes you sadder
A 10-year Stanford study found that denying negative feelings as a coping mechanism was linked to higher levels of depression. Another study in 2011 found that people actually felt sadder when others expected them not to feel negative emotions such as sadness.
No matter how much we like to convince ourselves, we are all social creatures who rely heavily on social expectations:
| What they say: | What you say: | What you really think: |
| --- | --- | --- |
| "What's up! This party is amazing, right!?" | "Oh yeah, it's the best!" | Uhh, not really. The music is too loud and the food is crap. Can I go home now? |
And it's not just what people tell you that dictates social expectations. The sideways glances, the scrunched eyes of disapproval, the crossed arms when you're doing something you "shouldn't" be doing— body language plays a large part in our social conditioning.
Here's an example from Catherine who wanted support, but instead received a condescending sigh and look from a counselor:
"I'm an elementary teacher and I was getting hit by a large (5'2″ 130 pound) kid… I saw a new counselor and she said, that 'It'll get better!' all cheery… and she gave me a condescending sigh and look, like, 'Oh come on, don't be a brat and pout!' It made me feel worse, like no one cares about me or my issue/problem. I also felt angry at them for being dismissive. I felt frustrated and really alone."
And when you live in a society filled with positive vibes, feeling OK about feeling sad becomes a lot more difficult.
M: "I've told myself to be happy so that the people around me don't know I'm not and it makes you feel very lonely and tends to put me in a worse mood than before."
#5: It can make you insensitive
Sometimes you might wonder if toxic positivity spreaders are just too insensitive— studies show this might be true.
Here's one study in 2008 that shows happiness may have a dark side:
Researchers took kids and asked them to locate a simple shape in an embedded figure.
The happier kids took longer to find the embedded figures, and also found less of them.
And the other kids?
Neutral or sad kids were faster AND found more figures than the happier kids.
So what gives?
Researchers suggest that being in a happy state might make us see the "big picture" instead of "small details." When we're in a sad or neutral state, we're more likely to pay attention to small details because we might think something is wrong or not quite right— hence our not-happy state.
This neutral or sad state lets us pinpoint more precisely what is causing our down mood, identify it, and try to get rid of it as soon as possible.
So if overly happy people seem to be a little insensitive, it might actually be true.
10 Ways to Overcome Toxic Positivity
There is some (real) good news at the end of all this: There are ways to combat toxic positivity. Let's dive in.
#1: Be aware of your N-E-Os
According to a 2012 study that gathered results from happiness studies and questionnaires, there was a correlation between personality traits and happiness:
Neuroticism is negatively correlated to happiness.
Extroversion and openness to experience are positively related to happiness.
These results ring true because neurotics tend to stress about tiny details, leading to a decrease in their happiness. And extroverts tend to have stronger and more relationships, leading to a happier life. Lastly, people who are more open tend to go to more social events, try new things, and have a better time getting out of a 'rut.'
Here's how to use this to your advantage: Look for those people who are:
high in Neuroticism,
low in Extroversion,
and/or low in Openness to experience… or NEO, for short.
By the way if you want to learn more about the Science of Personality (there are actually 5 personality traits: Openness, Neuroticism, Conscientiousness, Agreeableness, Extroversion). Check out my personality guide here (or watch this overview):
Your NEOs in your life are the ones you should focus on the most. These include:
Coworkers that constantly stress over which font to use in a presentation.
Friends who shy away from parties and prefer to read alone at home.
Family members who want to go to the same restaurant every single birthday.
Since NEOs' natural levels of happiness may not be as high as others, telling them to "just be happy" may just simply be impossible. Their happiness levels may only be 3/4 of what others feel, and they may be more prone to negative emotions, but you should keep in mind that it's perfectly natural. This means that if you're spreading toxic positivity, taking it slower and employing other methods (see below) with the NEOs in your life can greatly help them out.
And if you're a NEO yourself who constantly peps themselves up with positive talk, realizing your happiness might work differently than others can lead you to greater liberation and the beginning to an end of the positive-talk self trap.
Who are the NEOs in your life?
#2: Replace these phrases
Sometimes, all it takes is a change in what we say. Here's a nifty chart I came up with: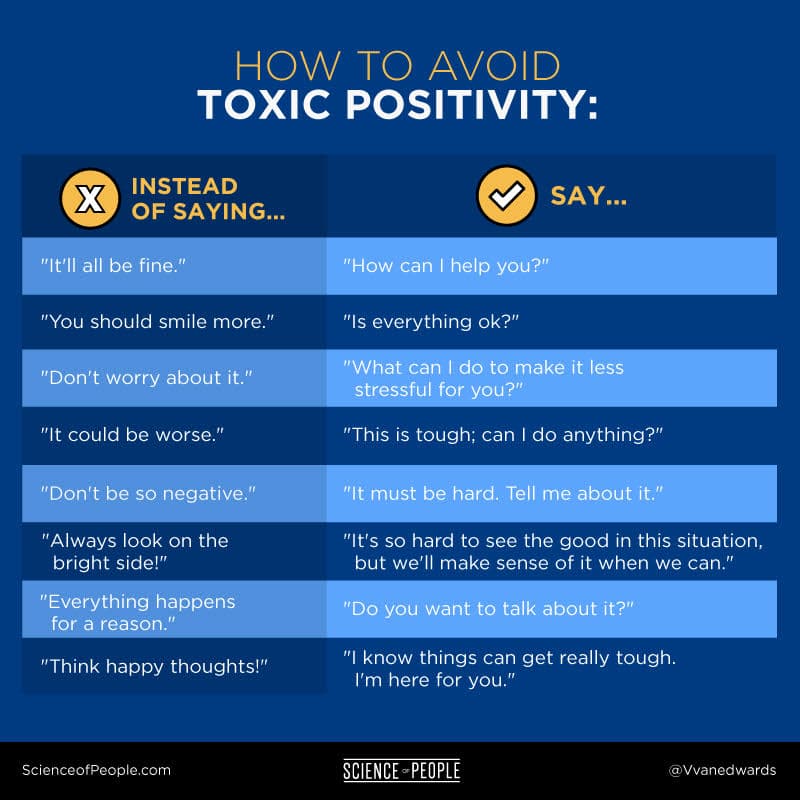 Examples of toxic positivity phrases are:
"It'll all be fine."
"You should smile more."
"Don't worry about it."
"It could be worse."
"Don't be so negative."
"Always look on the bright side!"
"Everything happens for a reason."
"Think happy thoughts!"
Instead of saying these toxic phrases, replace them with:
"How can I help you?"
"Is everything ok?"
"What can I do to make it less stressful for you?"
"This is tough; can I do anything?"
"It must be hard. Tell me about it."
"It's so hard to see the good in this situation, but we'll make sense of it when we can."
"Do you want to talk about it?"
"I know things can get really tough. I'm here for you."
#3: Don't be the expert
You might feel like you can be the next Oprah or Dr. Phil, but many people just want to be heard and not offered advice or opinions. The Golden Rule of toxic positivity is to offer advice or opinions only when asked. Otherwise, sympathize.
When asked of a time when someone discounted her feelings, Claire said, "It made me feel worse because I wished it could be that easy to feel better. Also, I wished they wouldn't discount my emotions simply because they think it's not that big of a deal. I wanted someone to listen to me, but that didn't happen."
And speaking of listening, there's one specific technique you might benefit from.
#4: Employ the pause
When is the last time you truly listened to someone's problems? How did you listen to them?
Our reader, Gracie, demonstrates her feelings about listening: "I know I should be happy, but for whatever reason I'm not happy at that time. 'Can you at least listen to why I'm feeling this way?'"
But it's more than just about listening— it's how we listen. For example, you might have heard about 2 types of listening:
Passive listening is a type of listening where you tune things out and only pay half-attention, but your mind is somewhere else in la-la land; and
Active listening is the 2nd type of listening when you concentrate on what is being said, fully understand the situation, and provide your feedback to the best of your abilities.
Here's the big problem: You might think active listening is enough, but it only works if you're not already conditioned with a toxic positivity mindset. For example, if you're autopilot screams, "Oh, Sammy, why are you complaining? Don't you know there are starving children all over the world? Pssshh!" Then this might be your go-to mindset for all your friends who need support. Since we're trying to avoid that, you've got to take a different approach to your response: the pause.
Leila Janah, in her interview with Tom Bilyeu on Impact Theory, says:
"The worst decisions I've made, the worst comments I've made, the most damage I've done to relationships or in my companies has been when I've responded [impulsively] and not taken a pause."

— Leila Janah
You can check out her opinion on the pause here:
Pausing works by getting rid of the autopilot— there's less automatic "toxic positivity" and more genuine reflection. Pausing allows you to take your understanding to a new level, paying
attention to what will be the most appropriate response to a situation.
Another reader, Frankie, uses this technique to overcome toxic positivity during conversations:
"I just stay silent and try to concentrate on what others are saying. Eventually I find myself engaging in conversations and come out of my funk without too much effort."
You can even implement the pause method anytime throughout your day if you're overloading yourself on positivity. It'll give you a good opportunity to dig deep and find the true emotions you're feeling instead of the inauthentic, toxic ones.
#5: Disengage from social media
Imagine this: it's 2 in the morning, you're lying in bed, and you're scrolling through Facebook or Instagram looking at your "friends" having parties and luxury beach get-togethers. You want to stop, but your finger keeps scrolling. Your eyes keep looking. And the sad thing is…
We've all been there. And we know it's damaging. How many times have you seen something like this on Facebook?
One study demonstrates that we are more likely to engage with and like other posts that have been liked by a large amount of our peers. Getting likes or upvotes turns into a popularity contest, favoring only the posts that the majority of people agree with. And, what do you know? Everybody LOVES to post their happy moments and avoid their sad or even normal ones. Social media is THE playground for toxic positivity.
Studies show our own feelings of self-worth depend on how many "likes" we receive on a post.
So how do we solve this?
Besides limiting your social media usage, one thing I love to do is a digital detox, or going on a digital "fast." A digital detox works by resetting your level of dopamine, your pleasure hormone, which has been damaged by repetitive social media use.
And the end result? Feeling less stressed, less comparing yourself to others, and more… well, normal. I try to do a digital detox a couple times a year. I highly recommend detoxing by reading my guide below:
How to Do a Digital Detox: 3 Easy Steps for Success
#6: Focus on meaning
Nowadays, people are too focused on the happy. But studies have shown the more we pursue it, the harder it becomes to achieve. We want to achieve our happiness goals, but what if we can't? But an even scarier question might be: what if we do?
Happiness is a rather fleeting emotion— that's why instead of happiness, a better goal may be the pursuit of meaning. A study from the UC San Diego School of Medicine found that those who had meaning in their lives also lived a happier and healthier one— no positivity needed.
And it turns out, we're very capable of creating meaning— like cancer survivor, Diane Berberian, going through hardships can create meaning and can fuel you to live a happier, more meaningful life:
Instead of, "why am I not happy in my life?" Ask: "What meaning do I have in my life?""
Instead of "why is this situation not making me happy?" Ask: "What kind of meaning can I create from this situation?"
Instead of "should I be happy?" Ask: "Is there any meaning?"
You can also focus on meaningful activities instead of chasing the Happiness Unicorn:
#7: Create an ideal reality journal
There's a negative side to being positive all the time— it can even lead to burnout. People who spread toxic positivity can feel like they're taking on a huge burden— after all, why is everyone else so negative and not positive like me?
Remember: your negative emotions are valid. If you're someone stuck in a toxic positivity rut, I highly recommend journaling— more specifically, journaling about all your negative thoughts for 2 reasons:
It will give your negative thoughts real, tangible form so you know they exist.
Journaling will help you understand negative emotions so you can help others better.
Journaling is like taking your bottled-up negative emotions and transferring them onto paper. The only real bad news? You might end up with a dozen filled journals in a cardboard box under the bed (umm, too specific?).
#8: Read body language
If you're spreading the toxicity, sometimes you may have a problem— other people might not tell you directly that your positivity is unwanted.
Luckily, communication is mostly nonverbal. It's not so much WHAT we say… but HOW we say it. If you pay attention to bodily cues— some subtle, some not so subtle— we can tell a lot more about what a person is truly feeling.
How good are you at reading body language? It might be helpful for you to take our body language quiz:
Also, check out a few of our body language reading resources:
#9: Understand why others do it
A reader named Haley mentioned:
"Maybe something's going on with them where they want to avoid any pain or discomfort so, to bypass, they think happy thoughts… They're not deliberately going around thinking 'how can I enforce this toxic positivity status quo everywhere I go and make people feel bad about themselves when they don't feel the same way.'"
The reality is that positivity can be an effective coping mechanism for life's hardships. And we all deal with life's struggles in different ways:
We go to the gym to toughen ourselves up and raise our self-esteem.
We implement humor to make dark situations lighter (high humor is even linked with less stress and anxiety).
We shut down and isolate ourselves from everyone to avoid further humiliation.
Emotions are messy and complicated.
If we were all masters of our emotions, there wouldn't be such a thing as toxic positivity in the first place. But it's important to realize that people do want to help.
#10: Warm the oven, don't flip the switch
Do you find yourself spouting toxic positivity to your friends and family? Telling someone to simply "flip a switch" isn't going to magically make their worries go away, and it might only make things worse— especially if you're as compassionate as a squirrel hoarding its acorns for the winter.
Luckily, there's a fix for that. And I'm not telling you to just "flip a switch" and be compassionate. Because being more compassionate takes time and effort.
Developing compassion is a lot like turning on the oven and waiting for it to get warm rather than flipping on the light switch.
Compassion is important if you want to truly connect with others and help them. I recently wrote an article all about compassion that you can check out here:
Positive Vibes for All
It's early morning. You walk into the office and the first thing you hear is…
"Positive vibes, everyone!"
We've all experienced this before, whether at a party, business meeting, or hanging with friends.
But the question is: Does it work? Does being positive actually spread positive vibes?
Before we get into the details, we should understand what causes it: an over-reliance on "positive" or "good" vibes, or, according to the trusty Urban Dictionary:
Good Vibes: That feeling you get in your stomach when you look around and everything is perfect. It's a beautiful day, you are surrounded by beautiful people, and you feel beautiful.
But where did the term "good vibes" come from?
It didn't just start with a bunch of peace-lovin', flower-van-driving hippies gathering around in circles with colorful bandanas and aviators on.
Nope— the first mention of good vibes started waaaay back as early as the 19th century in a book, according to Jon Pennington on Quora. He reference a book by Frank Earl Ormsby called "The Law and the Prophets":
The Beach Boys later popularized this song in the 1960's with their hit song "Good Vibrations":
I'm pickin' up good vibrations
She's giving me excitations
I'm pickin' up good vibrations
According to Beach Boy Brian Wilson, he took lyrical inspiration from stories his mother would tell about getting different kinds of "vibes" from different people.
After being popularized, we kinda got a little… Well, obsessed with happiness. The Good Vibes movement spun a little out of control, creating a toxic positivity culture, to the point where we feel like we have to be happy all the time.
Happiness is now the default— either you're happy or you're depressed.
Our society now cakes on feelings of happiness to cover sadness and grief, just like a bandaid.
Another reader, Lauren, says:
"As a young person with a chronic health condition, the toxic positivity people have shown towards my condition… has been deeply upsetting. It came as vague comments designed to make other people feel better about my situation, rather than actually support me; like 'it'll be alright in the end' and 'you never know what science will come up with!' It's dismissive and terribly isolating, and made me feel that people were not interested in hearing about my fear or grief."
This is toxic positivity. Toxic positivity is the feeling one gets when they are sad, grieving, or angry, and reach out to someone— only to receive a "just cheer up!" or "don't worry, it'll get better" phrase.
Usually, people who dismiss others' problems with positivity don't intend to be mean— they are probably just trying to help. Alex says, "Since I am an extremely positive person it is more often that I do toxic positivity for someone… Sometimes it helps them and sometimes not."
True, most people would agree that being more positive is preferable to being negative. But is there a point where too much positivity actually hurts us?
The Positivity Debate — Is Too Much Positivity Bad?
Google "world's most positive person" and you'll find Diane Berberian. She competes in endurance events, refuses to give up, and has a kickin' tattoo.
Oh yeah, and she's legally blind, a stage 4 cancer survivor, and on top of that, she's 60 years old. Diane's a shining example of "keeping positive" when the going gets rough.
And having a positive attitude is great— a 2012 review of more than 200 studies found that being happier lowers cardiovascular disease, blood pressure, and inflammation. And it also opens doors to new opportunities, allows you to connect with others, and just feels good.
But there's a tipping point to this happiness scale, and it happens when happiness causes you to become disillusioned with reality.
Here's an easy way to find out if you're too happy. Ask yourself: on a scale of 1-10, how happy are you right now?
How about the past week? Past month?
Chances are, if you've consistently said above an 8, you might be a little too happy. In his course, Thrive From 9-5, Scott Crabtree mentions that the ideal number for self-reported happiness is an 8 out of 10, with a 10 being always happy.
He explains that people who are too happy may be out of touch with reality, since being happy all the time just isn't normal. Studies even show that being too happy can lead to excessive spending, risky sexual behavior, and drug and alcohol abuse.
According to Dr. Jennifer Robinson, too much of these traditionally "good" things can be bad for you:
Too much exercise can cause damaged joints, tendons, ligaments, and even the heart.
Too much sleep can increase your risk of death from heart problems by 34%.
Too much sex can cause addiction and detract from everyday life.
Too much food can cause high blood pressure and diabetes.
Too much people-pleasing can make you unhappy.
Life is about reality AND positivity
Remember: you don't have to shy away from positivity. It's totally OK to say "Cheer up!" or "You can do it!" if it helps you or someone else get through their harships. My hope for you is that you can find that healthy balance, so eventually you can maintain an 8/10 positivity while still feeling comfortable with your other emotions.
True positivity is about accepting all your emotions.
For those of you who helped contribute to scientific research and this article— THANK YOU!
I read every single response and I appreciate them SO much! Your stories of overcoming toxic positivity— or those who are still dealing with it— are truly impactful, and I hope some of you can benefit from reading this article.
If you'd like to participate in future research and perhaps be featured in one of our upcoming articles, make sure to subscribe to our newsletter