Trivia night has become the go-to group activity for many people. If you haven't joined the wonderful world of trivia, or you're just looking for fresh options, grab our list of 25 trivia games to play anywhere.
Can't get enough trivia? Trivia is a great way to build connections, boost team morale, and improve cognitive thinking. Plus, answering questions correctly provides a nice little dopamine rush.
Before you get started, check out Vanessa Van Edwards's tips for hosting a game night.
Free Trivia Games
If you want to play but don't want to pay, these 6 options give you a chance to play free trivia.
#1 Plan Your Own Trivia Night
It may take more time and effort, but there's just something about planning your own trivia night to play in person.
What you'll need:
A host
Use our themed list of trivia questions. Make sure to plan an extra question for a tiebreaker question
Pens or pencils and paper for each team
A whiteboard or something to visibly write the team names and keep points for each round
Plenty of food and drinks
4-10 people per team with 3-8 teams
For smaller groups, aim for at least 6 people with teams of 2 each
Plan 5-8 questions for a round and expect to play 5-7 rounds
1-3 hour time slot
Prizes for the winning team
How to play:
The host should plan all the questions before the trivia night and if you expect to have trivia night regularly, take turns with a different person hosting each time.
Start by picking a theme (you can pick something as broad as "history" or as specific as "Renaissance art"). Choose a theme you expect the people attending to enjoy, and make sure you tell everyone what the theme is so they can be prepared.
Once you're ready to play, make sure everyone is on a team and have them choose a team name.
Review the rules before starting (e.g., absolutely no looking up answers, how many rounds will be played, etc.)
After asking the question, repeat it once and give the team 1-2 minutes to answer. Keep an eye on the teams, and once conversation reduces, this is a good indication people are ready to move on.
At the end of each round, have teams exchange answer sheets. The host will announce the answers, and each team will score another team's answer.
Once a round has been scored, the host will record the points on the board.
If any teams are tied, use the tiebreaker question to determine the winner.
To play trivia, a host reads questions, and each team (5-10 people on a team) writes down their answers. Questions are asked in a set of rounds, and answers are given at the end of each round. Points are also tallied up at the end of each round. Usually, there are 5-8 questions per round and 5-7 rounds total. A trivia night usually lasts 1-3 hours.
Get a complete guide to hosting a trivia night here.
With over 100,000 trivia questions on this website and a beautiful interface, TriviaNerd tops the list of trivia games online. Play alone or host a multiplayer event.
Pros:
Large database with specific categories to choose from
Add your own trivia
Play without an account
Easy and fun interface
Paid option allows up to 200 players
Cons:
Cost: Free for single-player, $11.99 a month for multiplayer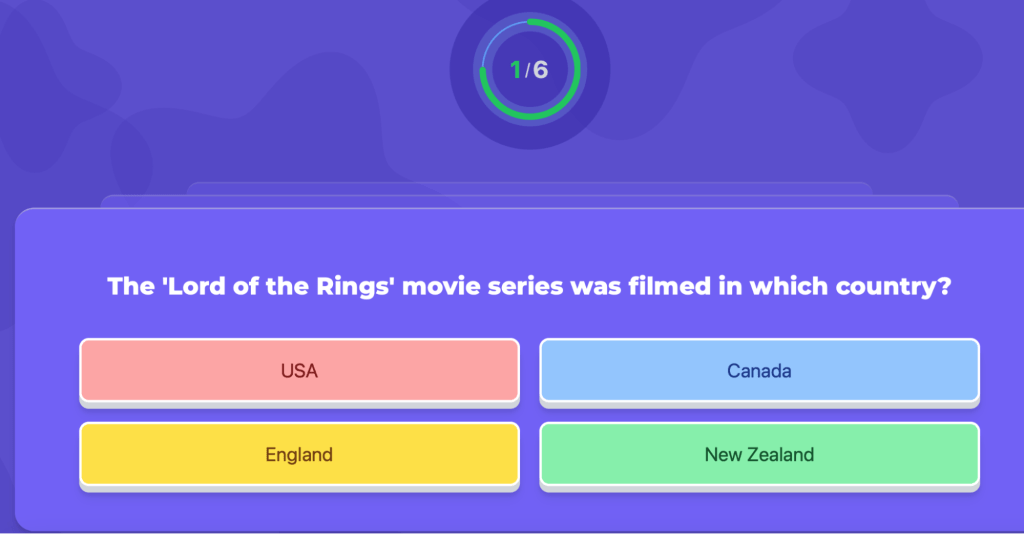 If you're looking for a trivia game platform that offers extreme customization and can be used for live, virtual, or hybrid events, Crowdpurr has all the bells and whistles. Join free if you have a small group of up to 20 people or pay for larger groups. Most platforms cap out at 200 people, but they offer packages for up to 100,000! Plus, anyone can join their free live trivia night on Thursdays.
Pros:
Social media integration
Live leaderboard
Customizable
Play on your phone for virtual and live events
Paid option allows up to 100,000 players
Cons:
Free option requires an account
Cost: Free for up to 20 people, $49.99+ a month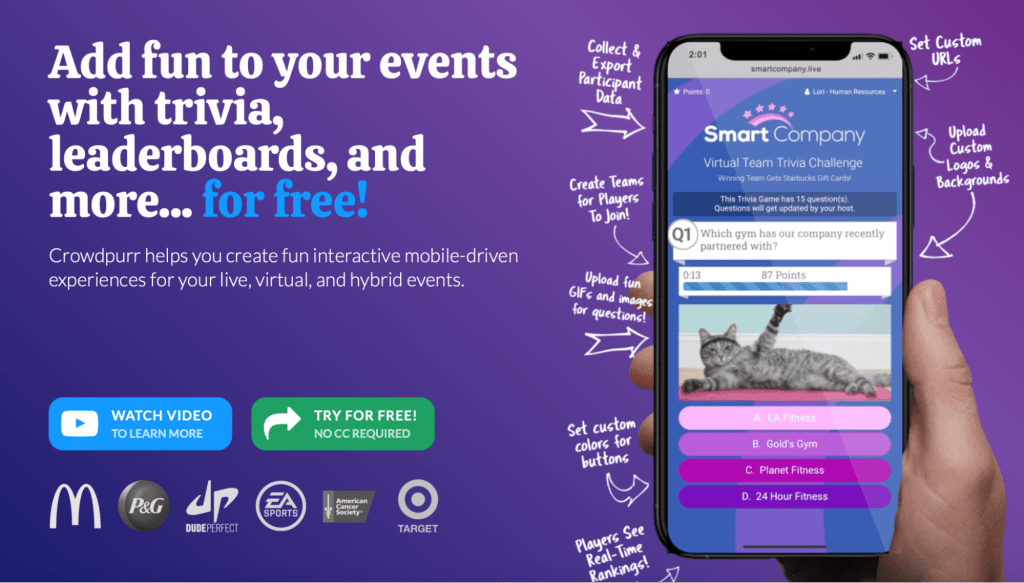 Test your knowledge every day with a new set of trivia questions. Just choose your category and play! Other games include a word search, sudoku, and wheel words. All the games are completely free.
Pros:
New trivia every day
Other game options
Easy navigation
No login required
Cons:
Best for a single-player game
Cost: Free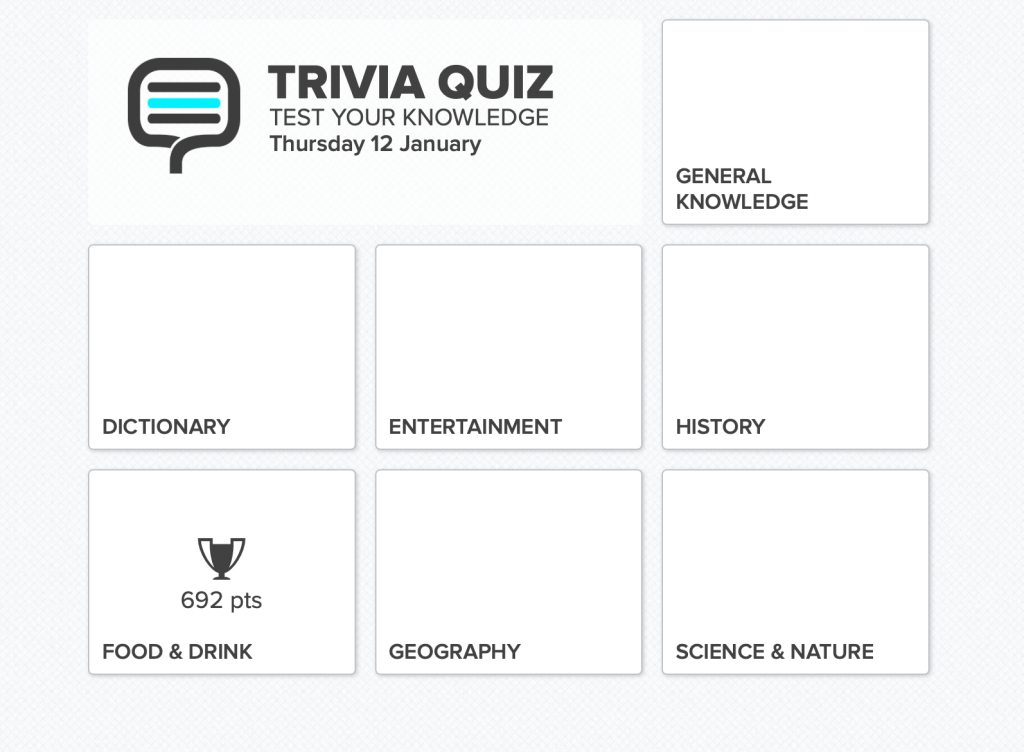 Although it's not set up as a trivia game site, it has one of the most comprehensive trivia databases with over 100 categories. Answers are blurred until you click on them, making it possible to test your own knowledge.
Pros:
Trivia questions and answers on almost any topic
New trivia questions are added on a regular basis
Answers are blurred so you can test yourself
A great resource for hosting your own trivia
Cons:
Isn't completely interactive
Cost: Free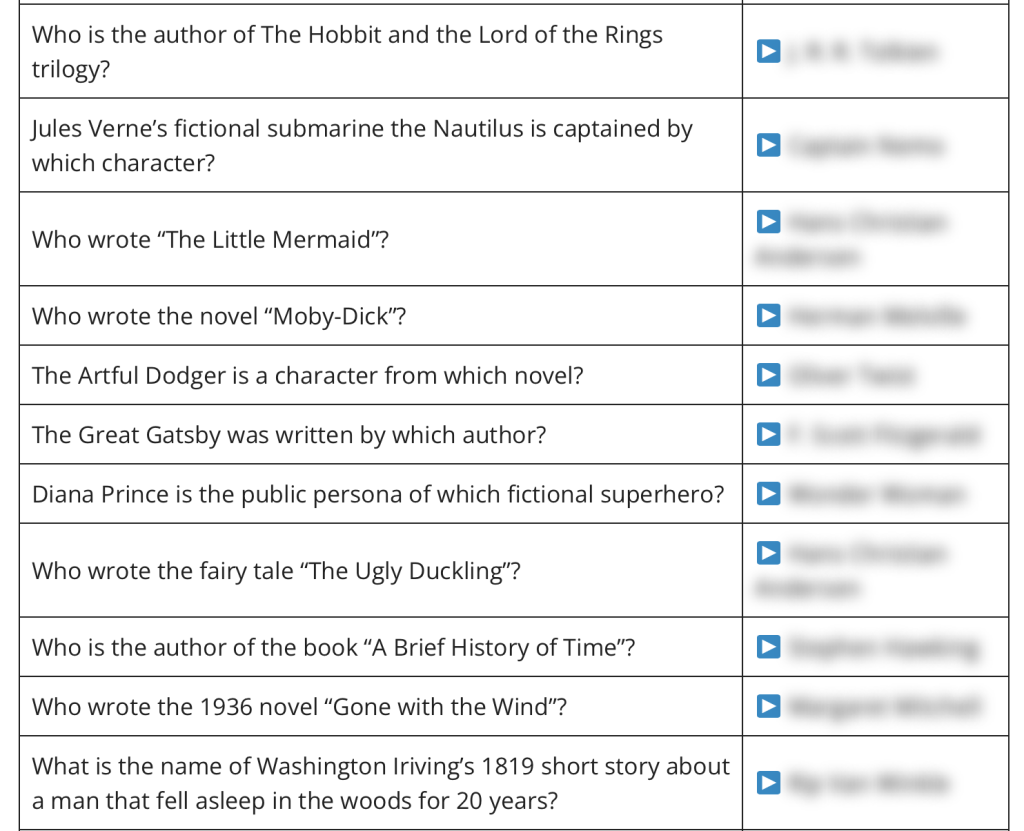 The Pew Charitable Trust designed this website to display non-partisan information about America and Americans. Unlike other trivia games, this one includes questions and extra information to help you learn more about the politics of America.
Pros:
Learn more than random facts
Non-partisan information
Interactive and informative
Cons:
Limited amount of interactive trivia
Cost: Free

Trivia Games for Adults
Choose from these adult trivia games to play on your own, at home, or live and in person.
Whether you're looking for bar trivia games, or an easy way to host trivia at home, the Random Trivia Generator is a great, free tool with an endless supply of trivia questions. Choose your category to generate a page of trivia questions with answers.
Pros:
A large amount of trivia with answers
Search by category
Combination of easy and hard trivia
Answers are hidden by a flipboard function
Cons:
It's not fancy (but it's a great database of trivia)
Cost: Free
We wouldn't be true to our roots if we didn't include at least one board game on the list for adults. Anyone born in the 1900s will (likely) remember with nostalgia the days of playing Trivial Pursuit. If you've never heard of the game or haven't played it since you were 12, it's time to try the Master Edition. This one comes with a 16+ rating, so keep it for your next adult trivia night or try the Family Edition with cards for kids and adults.
Pros:
Everything you need to play is in the box
The joy of playing a board game
Almost 3,000 questions in different categories
Cons:
Cost: $33+ on Amazon
Looking for someone to host your trivia night? Trivia Mafia is available for in-person hosting at select locations around the US. If you're not planning an event but looking for live trivia, check out their trivia locator to find locations near you.
Pros:
In-person and live hosting
Search for free live trivia locations
Hosting options for weddings, fundraisers, corporate events, and parties
Cons:
Most of the free live trivia is in the Midwest
Cost: Free for select locations. Contact them for pricing on private events.
Want to attend in-person trivia events but don't know what to do in social situations? Try this goodie to have confident, engaging, and captivating conversations with anyone, anywhere.
Communicate With Confidence
Do you struggle with small talk? Do you often run out of things to say or feel awkward and self-conscious in social situations?

💪 Speak so people listen,
🤐 No more awkward silences,
🚫 No more small talk.
Trivia Games for Kids and Family
Kids are a wealth of random information. Foster their curiosity by making trivia games a part of your family game night.
An online quiz show hosted by the Berkshire Museum, this trivia is designed for kids eight and older, but the museum encourages all ages (younger or older!) to participate. The trivia was hosted live on YouTube, and you can catch the replay.
Pros:
Fun trivia for kids
Potential to learn a lot
Hosted for you
Suitable for the whole family
Cons:
A limited number of videos to watch
Cost: Free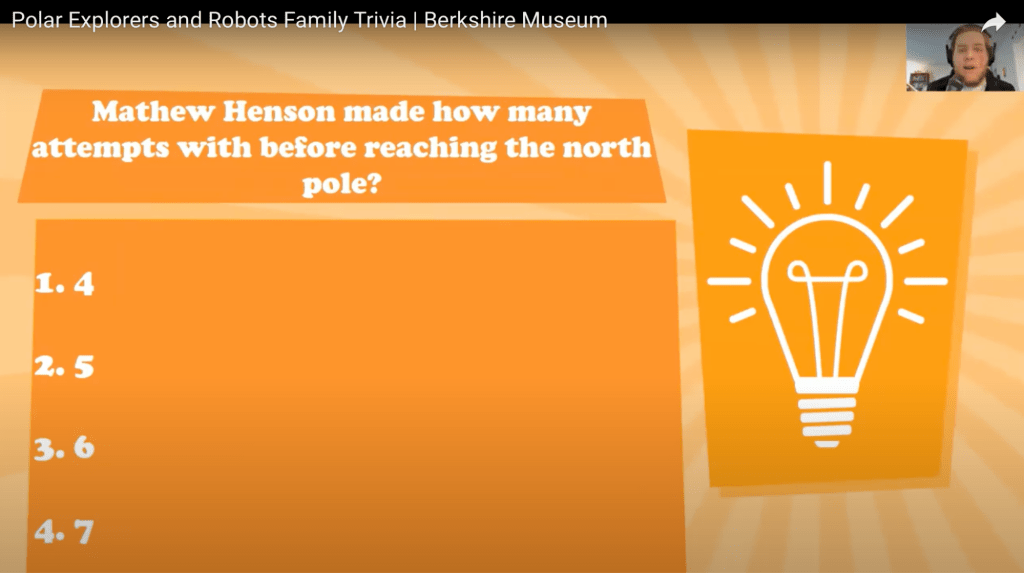 Leave it to Netflix to hop on the trivia game craze! You can now play trivia directly on Netflix. While the company says it didn't design the trivia for any specific demographic, it's suitable for teens and adults, making it a fun family trivia game as long as your children are older.
Pros:
Easy to play
Each game is 9 minutes long
Trivia becomes more challenging as you go
Collecting knowledge keys offer positive reinforcement for increasing your knowledge
Cons:
It looks like it's for younger kids, but the questions are for teens and adults
Cost: Included in Netflix plans ($6.99+ per month)
Bonus: If you're looking for a free alternative to Netflix for younger kids, Trivia Crack has a series of animated trivia videos called Triviatopia. Suitable for 5 to 10-year-olds. Triviatopia also has an app.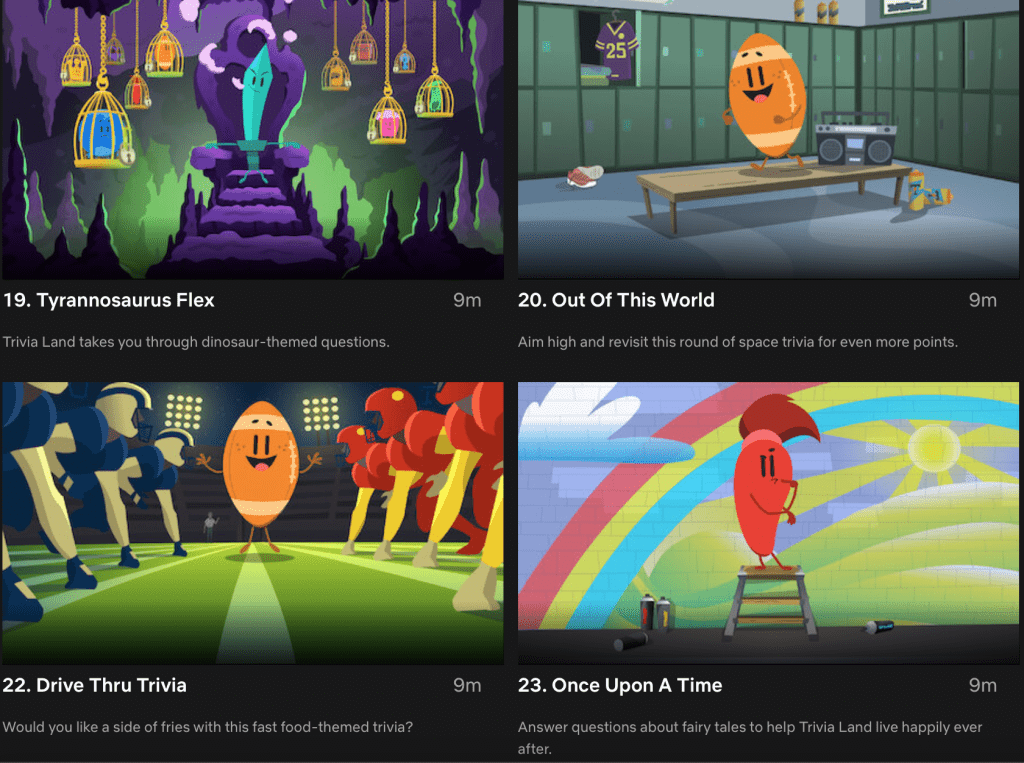 Looking for a bright and interactive tool to play trivia games with your students or kids? Kahoot! is designed to support and test knowledge in a fun and interactive environment. Used mainly by teachers, Kahoot! is great for kids up to 7 years old.
Pros:
Great for teachers and school groups
Customizable
Play in-person or virtually, including on your phone
Options for much more than trivia games
Cons:
If you're looking for a stripped-down, simple trivia tool, this isn't for you
Cost: Free for a basic plan or $3.99+ a month
Online Trivia Games (+Including Games for Zoom)
Hosting a corporate event or keeping employees engaged doesn't have to be hard. Try these trivia games to help keep everyone connected.
Remote teams are here to stay. If you've found it challenging to keep your team motivated and connected, this weekly trivia game can help. Unique to other trivia games, this one is sent to the team by email every week.
Pros:
Customizable, but you don't do any of the work
You set the day to play
Leaderboard
Questions are funny
Weekly team engagement instead of a one-off event
Cost: 4-week free trial, $10+ per month after that.
Check out a sample quiz here.
#14 Trivia Hub: Hosted Online Trivia Games for Multiplayers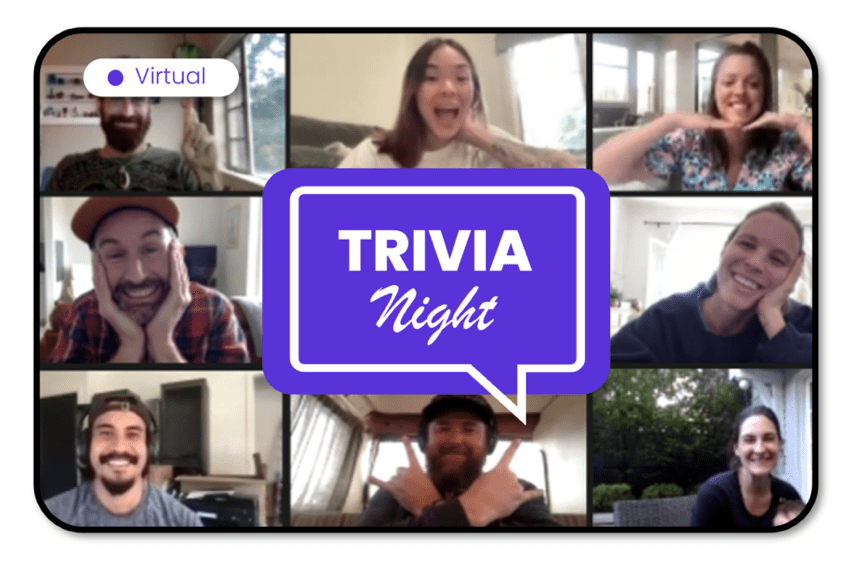 Looking for hosted trivia for your next event or employee appreciation party? Trivia Hub is an excellent Zoom option that does all the planning and coordination, so you don't have to. Choose from Team Trivia, The Feud, and Quizpardy.
Pros:
Have someone else host the event for you
Options for the kind of game you'd like
Fun and interactive
Participants of 1-200
Cons:
Only virtual, no in-person hosting
Cost: $299+
Trivia Board Games
If you think board games were better left behind in the 90s, you haven't played these trivia board games! We've selected three games that take a unique approach to trivia.
Are you great at spotting patterns and finding connections? Linkee includes solving four questions on a card and then finding the link between those four things.
Pros:
A fresh take on game night trivia
Suitable for 12 and up
Great for people who aren't good at normal trivia
Challenges you with lateral thinking
Cons:
Cost: $21.99 on Amazon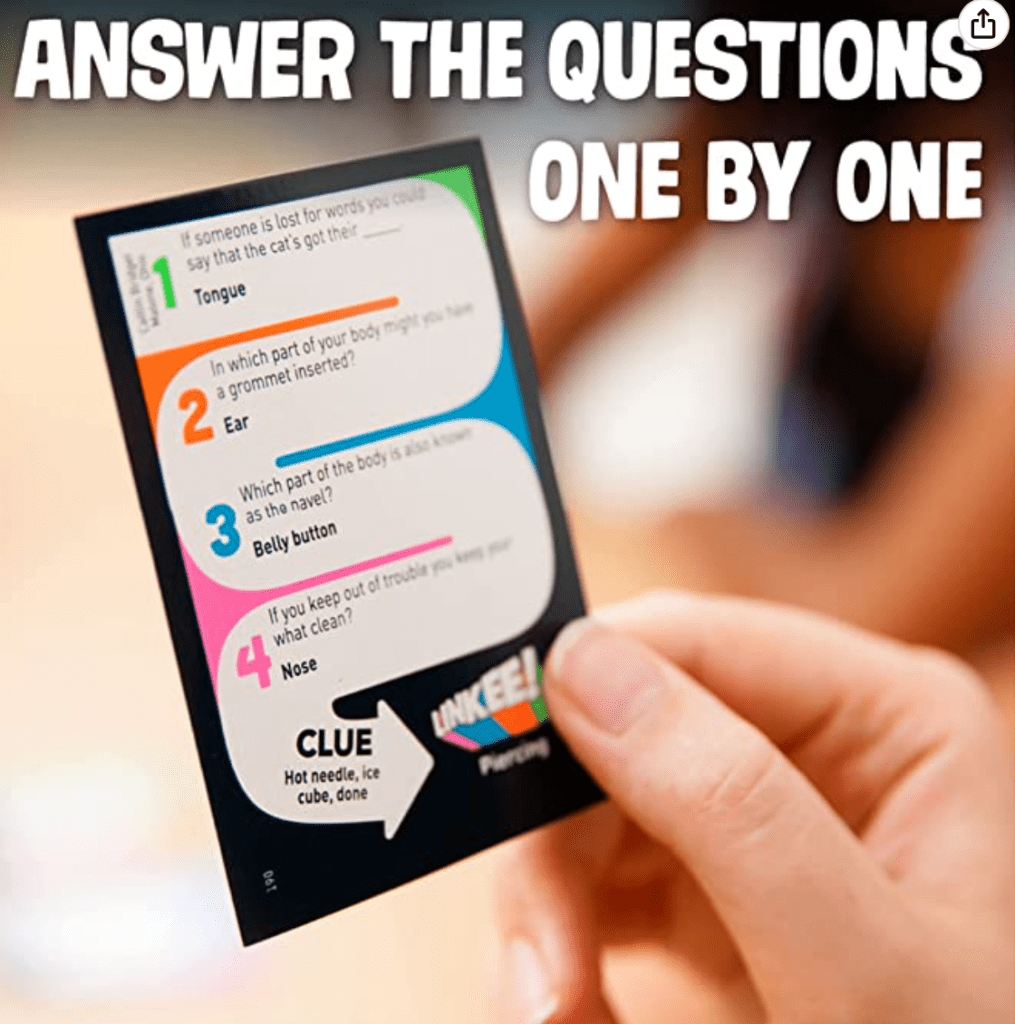 If you're not a movie person, you probably won't enjoy this. But if you're all about movie nostalgia and have a rich knowledge of movie quotes, this is the game for you.
Pros:
Fast-paced
Includes triple movie charade, movie buzzer battle
Alternates between 1-to-1 competition and team competition
Goes beyond the basic ask-and-answer trivia game
Designed as a party game
Cons:
Only 260 cards
Marketed for everyone, but it requires movie buff knowledge
Cost: $21.99 on Amazon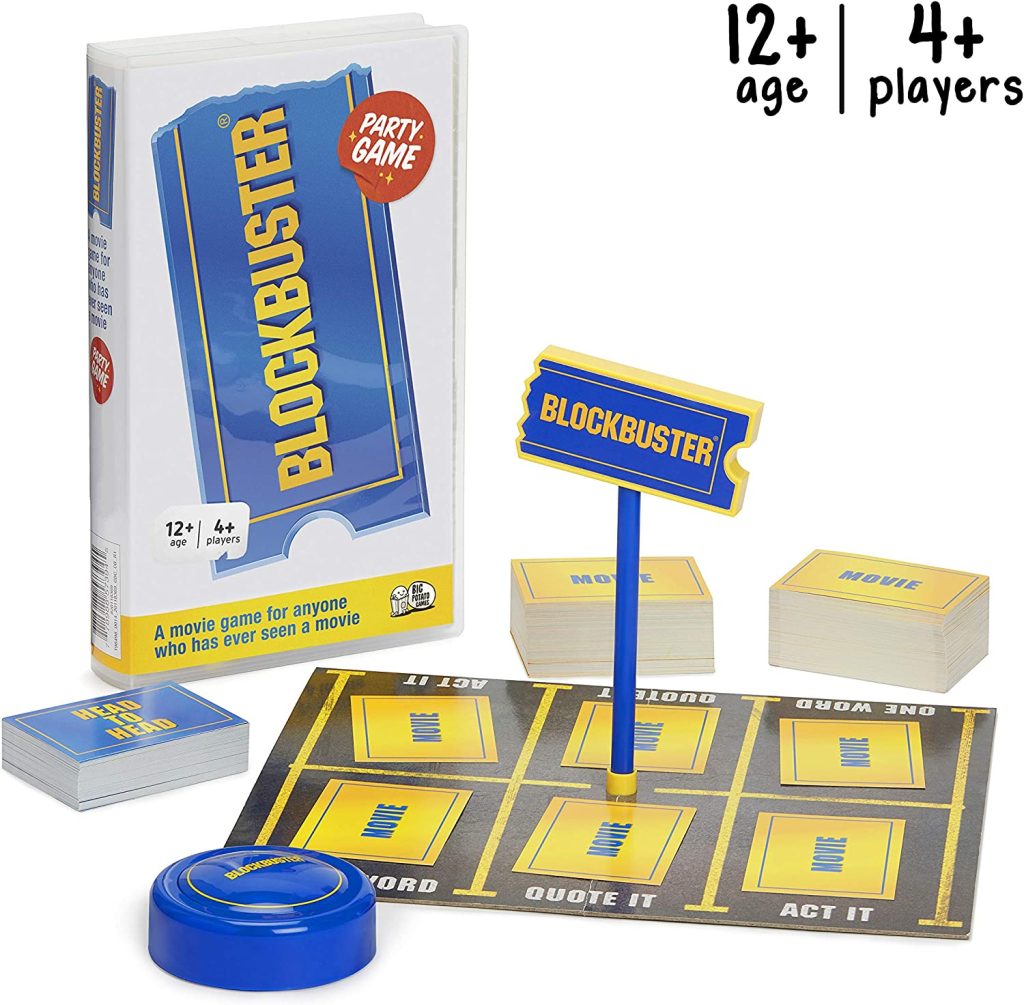 Another fun take on trivia, this trivia board game is all about colors! Suitable for ages 12 and up, it's an excellent game for people who might not remember dates and numbers but can remember what they've seen. It'll test your knowledge of pop culture, history, and things in daily life.
Pros:
2-20 players
300 cards
Easy to play
Includes a scoring system that adds to the sense of competition
Cost: $20
Road Trip Trivia Games | Trivia Apps
If you're going on a road trip, you need some games for the long road. Your best option for road trip trivia is to take advantage of a trivia app. We've gathered a list of apps for both iOS and Android.
Calling out the answers to Jeopardy! while eating dinner on the couch is iconically American, isn't it? If you've always dreamed of competing on Jeopardy!, you'll love getting a thumbs up from Alex Trebek in this app.
Genre: Quiz
Cost: Free
League of Quiz gives you options to play on your own or challenge friends and family! Experience the satisfaction of seeing your name on the leaderboard, and keep the kids occupied on the long drive.
Available on: iOS
Genre: Quiz
Cost: Free
Imagzle offers a fun spin on trivia, combining the concepts from games like Trivial Pursuit, Pictionary, Taboo, and more. Note: This app isn't suitable for kids. Use it for a road trip with friends or solo traveling.
Genre: Puzzle
Cost: $1.49 – 28.99
Content Rating: 17+
Topic-Specific Trivia Games
Trivia is all about themes! Check out these options for trivia games that are topic-specific.
#21 Christmas Trivia Door Prize Game
You don't have to host a full trivia night to enjoy some festive trivia! Print out our trivia worksheet, and include it as an activity in your holiday party. Just right-click the image and save it to your computer.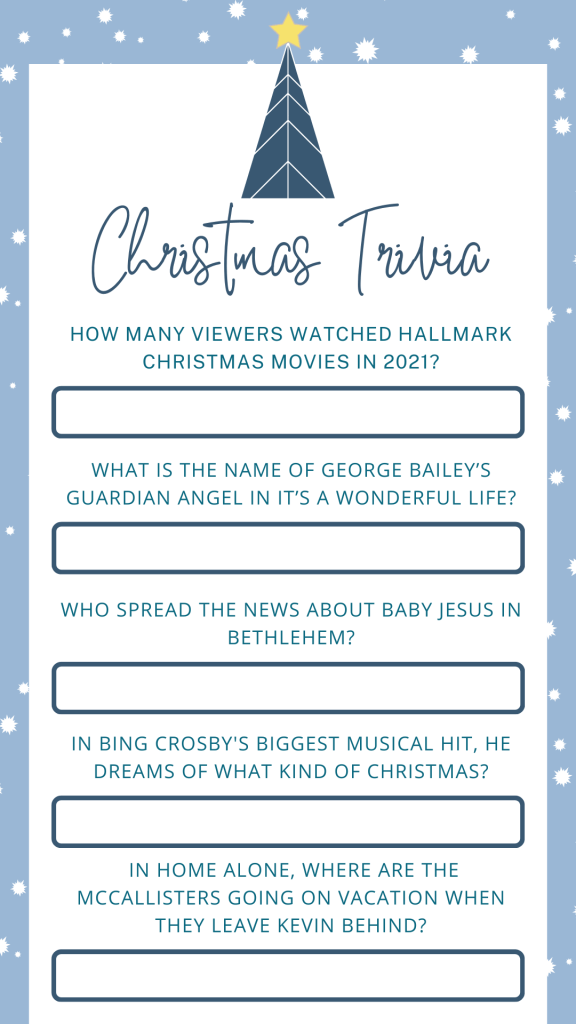 Answers:
1. 45 Million (give points for the closest number)
2. Clarence Odbody
3. The shepherds
4. White
5. Paris, France
YouTube has an endless amount of information, so why not get your trivia fix there as well? The Quiz Channel has tons of topical trivia videos, including this playlist for music lovers. Videos range from 7 minutes to over 30. You'll hear a concise music clip (about 6 seconds), have 6 seconds to identify the song, and then the answer is revealed.
Just keep track of how many you get correct! Use it for an icebreaker at your next meeting, or use the video to host an easy trivia night.
Pros:
"Hosted" for you without cost
A large number of videos to choose from
Geared for music lovers
Semi-interactive
Play on teams or with one person
Cost: Free
For the most ardent fan of all things Disney, the Disney Play app offers weekly trivia, tests your knowledge of their theme parks, and has interactive adventures.
Genre: Interactive Adventure
Cost: Free
Think you're a history buff? Test your knowledge on Brittanica's interactive quiz platform! New quizzes are added regularly and organized by category.
Pros:
History-focused trivia
Interactive
Easy to play
No login necessary
Cons:
Cost: Free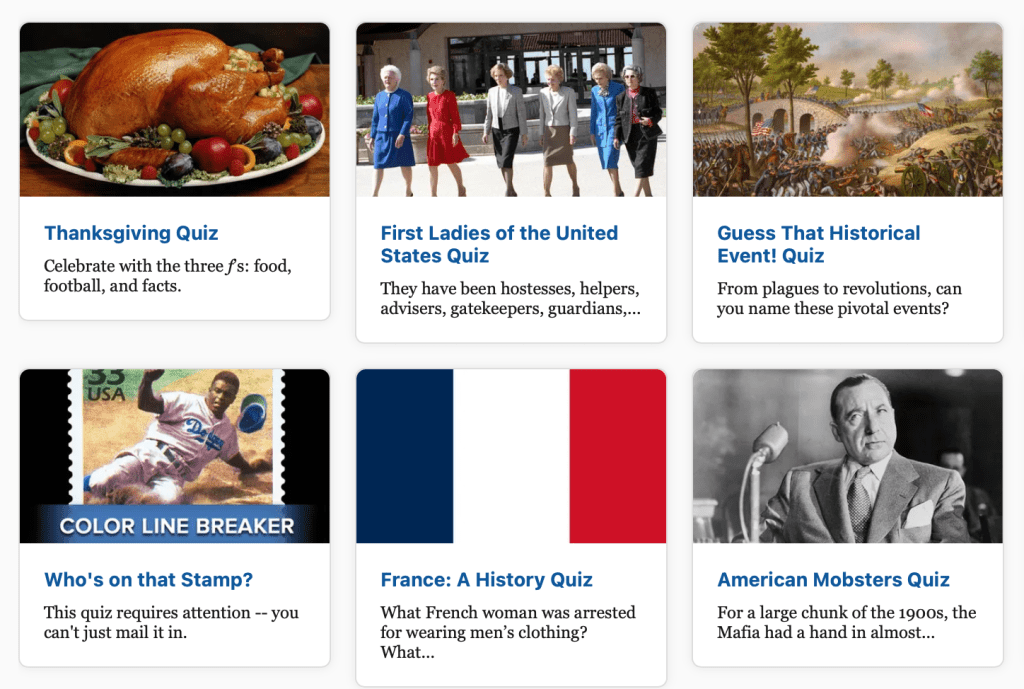 #25 Baby Shower Trivia Sheet
We couldn't find any interactive baby shower trivia games, so we made you a trivia sheet to print out for your baby shower. Just right-click on the image to save it to your computer.
Answers:
1. 6 months
2. 300
3. 8-14 inches
4. Red
5. 22 lbs 8 oz
6. 14-17 hours
7. 8-12 diapers
8. Kneecaps
6 Bonus Strategies to Win at Trivia
Be prepared. Most trivia is categorized by theme or topic, making it easy to prepare in advance. Start by quickly searching the theme and looking for surprising or interesting facts. Write down what stands out to you, paying particular attention to dates, names, and numbers.
Be curious. Beyond researching specific topics, start reading more! Scan articles, listen to audiobooks, and watch educational videos. The list could go on. Start with things you've always been curious about and expand your knowledge base.
Trivia is a team sport. Instead of coming up with all the answers, remember that you're working as a team and want to find an answer together. If you constantly give the answer first, quieter team members might be reluctant to offer their (usually correct!) answer.
Be serious, but don't take it too seriously. We're competitive too, but trivia is ultimately about having fun and interacting with others. If you get too focused on becoming the reigning champion, you'll lose a lot of the fun, especially if you don't win.
Be a sportsman. Besides not taking things too seriously, don't forget to be a good sportsman when you win. Gloating over a win isn't pretty; you're all there to have a good time!
Fuel your brain. You'll need more than craft beer to win at trivia. Most trivia events are held at locations with great food – take advantage of that so you have the energy and focus on answering questions.
Want to host your own trivia night? We have a mega list of trivia questions to make it easy.