Highly engaged business teams1https://www.gallup.com/workplace/236366/right-culture-not-employee-satisfaction.aspx are 23% more profitable! Having a team name can help with engagement and boost team morale in a corporate office. It's also useful outside of the office–whether you want to build community identity with a local sports team or just hit trivia with your friends, having a team name matters.
Why Create a Team Name?
Creating a team name is important to build team spirit through a sense of ownership and belonging. It can also help with retention by creating a company culture of unity and pride.
Team names can be used in different contexts. Choose a team name for sports, corporate teams, and trivia night.
Real-Life Examples of Team Names
Team names impact how others perceive you and how your team views themselves. To understand how names impact goals and responsibilities, check out these names and their role in history.
Skunk Works
This team of engineers is a division of Lockheed Martin that developed secret projects for the Pentagon during WWII. The name was inspired by a comic strip and was a tongue-in-cheek response to the smelly location where they worked. Read the fascinating history of the team, which is now called Lockheed's Advanced Development Programs. Personally, we like Skunk Works better.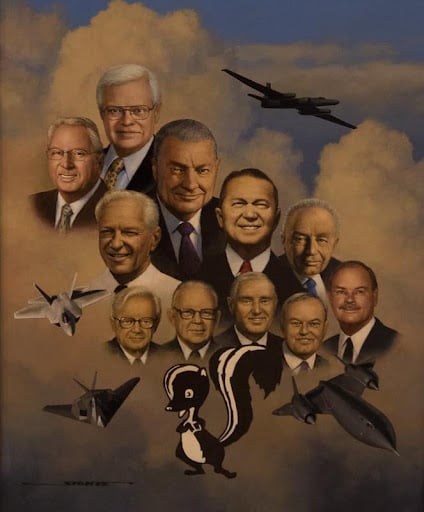 Image: dbking via Flickr
Foundry
The name brings to mind a group of skilled artisans who are creating amazing new things and are responsible for founding the latest technological innovations. That's exactly what AT&T's division for developing tools for developers does. This innovative team is focused on startups and using cross-disciplinary skills.
Image Source: XO Agency
Doctors of Dunk
If you can imagine, there was a time when dunking was against basketball rules. When that rule was finally lifted in the 70s, the Doctors of Dunk, or the Louisville Cardinals, changed the whole aesthetic of American basketball with their white jerseys and high-flying dunking precision.
How Do You Create a Team Name?
To create a team name, you'll want to consider a few things, like your team goals and a theme relevant to your project or team. Here are some more tips to make the process simple and straightforward.
Brainstorm as a team. This is a great activity at your next retreat. You can even dedicate time to brainstorm at the next team meeting. A team name should be a team project, and you can even hold a contest to vote for the best name.
Explore your goals and values. A team name should express who you are as a company. And that is largely guided by your goals and values. If you're working on a specific project, think about how you want others to perceive you.
Think about what your team needs. Along with who you are as a company, your team will have individual needs and personality. Are you leading a team of innovators who need to feel empowered to take risks? Your team name should be powerful. Do you have any inside jokes or common interests? Right those down as you brainstorm your team name!
Use a name generator. This business name generator is an excellent tool for creating a formal-sounding team name. Plus, it even generates a logo that you can purchase.
Pro Tip: As you develop a team name, remember to make it short, simple, fun, memorable, and professional.
Whether coming up with team names or communicating your ideas to a group, this training can help you become an even better communicator.
Want to sharpen your presentation skills and make your ideas more impactful? Whether it's a video call, conference call, or sales presentation, here's your free sneak peek at our ultimate science-based course, Powerful Presentations:
550+ Different Team Names
This list of over 500 team names will help you find a name that fits your team's personality and culture.
Our Top Ten Team Names
Here's a roundup of our top ten favorite team names based on different talents.
Talk Tank
Soaring Rocks
Attention Force
Rapid Snail Committee
New Risers
Blitz League
Posse in Motion
Gotham Giants
Anticipation Room
Fiscal Fighters
Inspirational Team Names
When creating an inspirational team name, list inspiring adjectives. Then add a noun to create your name. Easy peasy, right? Here are some examples.
Goal Getters
Truth Barristers
Determined Dogs
The Challengers
Freedom Table
Learning Heads
Faith Point
Tenacious Teachers
Resolute Rangers
Enduring Engineers
Brain Bombers
Time Tank
Novel Systems
Bright Line
Agile House
Alert Force
Centered Service
Crafty Cabinet
Knights Enterprise
Fit Fighters
Free Group
Illumination Tank
Innovation Industry
Intuition Systems
Stoic Starters
Air Strikers
Charisma Charters
Electric House
Bright Body
Powerful Team Names
Power words are a great starting point for a team name that boosts morale and gives your team confidence. List your favorite power words and pair them with a noun to craft the perfect team name. Here are some examples of powerful team names.
Pro Tip: Don't underestimate the power of alliteration.
Massive Mind
Ultimate Advantage Team
Now Makers
The Extra Effect
New Capital
First Influence
Dark Phase
Elite Sky
Certified Masters
Battle Secure
Focused Dreamers
The Certain League
Magic Angle
Iron Alive
Light Farmers
Massive Boot
Captivating Cats
Champion Challengers
Riveting Risers
Transformers
Wheel Crushers
Relentless Riders
The Now Force
Planet Fusion
Triple Dimension
Complete Pass Team
Keen Clue Team
Shock Drivers
Clear Alarm
Capable Conference
Vast Attack
Devastating Double
Bulletproof Bears
Justice Jury
Top Pace
Descriptive Team Names
Adjectives, adverbs, and participles. If it sounds like a boring grammar lesson, don't worry, we won't be testing you later. But these are the makings of a great team name. Look for adjectives, adverbs, and participles to describe your team's personality, and use those descriptions as the foundation for your team name.
Intrepid Explorers
Practical Personnel
Whimsical Winners
Eager Beaver Editor Group
Masterful Mind Benders
Passionately Profound Club
Secret Schemers Unit
Dazzling Intellect League
Dreaming Pioneers
Driven River League
Puzzling Matter Troop
Adventure Company
Federation of Bold Endeavors
The Brightside League
The Briskly Bunch
Royal Confederation of Cheer
The Coalition of Calm
Diligently Hungry Management System
Assembly of Abiding Goodness
Awaking Lions
Barracuda Rising
Bursting Brightness Association
The Choosy Cheetahs
The Digging Settlers
Firefighting Commanders
Flying Porcupines
The Growing Giraffe Group
Steady Blobfish
Spinning Plate Society
Thriving Pineapples
Team Names for a Small Company
If you have a small team or company, have a little fun with your team name. Here are some silly ideas to get you started.
Mind Benders
Cash Cows
Listening Lindas
Welcome Detectors
Team Empower
Quest Promotion Enclave
Anticipation Advisors
Resolution Makers
Target Breed
Logic Logistics
Wit Kingdom
Strategy Masters
Pixie Mob
Mystic Mirage
Viral Nation
Communication Flowmasters
The Rowdy Roosters
Silent Sensations
Virtual Venom
Amazing Hawks
Xtreme Geckos
Taco Tornado
Sneaky Pilots
Thunder Robots
Mighty Taters
Retro Nostalgia
Racers and Sprouts
Pause Pack
Vibrant Voltage Group
The Outrageous Oranges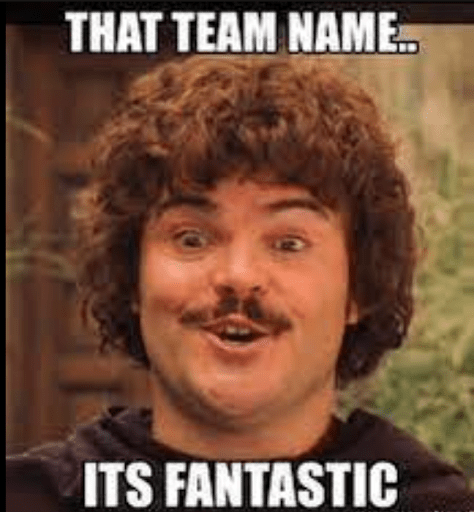 Team Names for Different Departments
If your team specializes in something or works in a specific department, choose a name that describes your skills or the work you regularly do.
Glowbots
Stable Base
Byte Capital
Distilled Info Corp
The Data Base
Agent Information Lab
Asset Kickers
Smooth Coordinators
The Value Team
Engagement Eagles
The Concept Crew
New Gen Crew
Talk-It Tycoons
Happiness Infectors
Fortune Fliers
New Gen Pack
Mind Dealers
Cash Crushers
Star Chasers
Future Hungry
Word Force
Color Fools
Corporate Dropouts
Product Hustlers
The People Crew
Customer Satisfaction Keyholders
Radiant Radars
Market Burn
The Lantern
The Light Keepers
The Gatekeepers
Volt Unit
Open Source
Swift Sails
Rapid Resource Team
Executives on Demand
Pro Actuators
Advanced Adviser Board
Clarity Sponsors
Affirmation Crew
New Revolution
The New-New
The Brain Trust
Funny Team Names For Work
If funny matches your workplace culture, by all means, pick a team name that's funny or tongue-in-cheek.
Control Crunchers
Dough Makers
Periodical Spenders
Young Money
The Fellowship
The Way of the Market
Sob Story Central
Sweat Room
Spin Sellers
Team Cogitate
Board of Smiles
Hearts & Brains
No Name Cats
Usual Suspects
Incognito Interactive
Meme Team
Lords of the Chords
The Office Muffins
The Gouda People
Salt and Pepper Crew
Savage and Average
Tea Spillers
Hey, Siri
Trivia Titans
Sherlock Homies
So-So Hackers
Promotion in Motion
Red Eyes
The Back End
The Rabbithole
CIF––The Coalition for the Implementation of Fun
Colony of Grownups
Team Toppers
Team Sparkle
Tomorrow Stars
Team Worry Not
Fun Makers
One-Word Team Names
Shorter is always better for a team name. If you want to make it as short as possible, these one-word names are just for you.
Innovators
Conquerors
Allies
Strikers
Vaporizers
Vigilantes
Fusion
Dynamite
Chargers
Crushers
Rockets
Eagles
Vanguards
Rangers
Accelerators
Enforcers
Express
Cyclones
Ambassadors
Avalanche
Fire
Foxes
Golden
Gunners
Jets
Lions
Meteors
Outlaws
Thunder
Rockets
Sparks
Swords
Starfire
Stealth
Strikers
Cool & Unique Team Names
If your coworkers are the kings of cool, try out a name from this list of cool and unique team names.
The Hive
Deportment Specialists
Pansophism Personnel
Placid Pack
The Water Coolers
The Scanners
Desk Champions
Keyboard Crackers
Graveyard Goons
Old School Rockers
Toon Squad
The Commanders
Product Masters
Firm Logistics
Power Riot
Bot Squashers
Team Fliers
Risk Investment Group
Virtual Vagabonds
The Rolling Phones
Corporate Core
Goal Catchers
Concept Counselors
Free Thinking Guides
Skyline Watchdogs
Innovation Directors
Head Maniacs
Smashing Audits Chair
Vision Committee
Gold Dust Executives
Mind Movers
Mind Agents
Cyclones
Fast Fanatics
Venture Explosion
Global Nuts
Good Team Names
A fun way to create good team names is to start with a descriptive word and then add a word that wouldn't normally go with it. For example, if you think of the word "howling," you might think of dogs. Instead, choose a different animal, maybe penguins. The name "Howling Penguins" suddenly becomes interesting simply because it doesn't match what we know.
Starcatchers
Impact Code
Tank Toppers
Power Peak
White Lions
Wave Masters
Plug Pioneers
Nuts & Machines
Bruisers and Builders
Eliminators
Estate Surfers
Brick Group
Infinity Bunch
Truth Miners
Power Players
Performers
Pure Brains
Talking Heads
Firefly Squad
Rampage Giants
Digital Directors
Rhythm Seekers
Stage Riot
Low Theory
Underground Fixers
The Sweepers
Firefusers
Wonderland Target
Ambush Arm
Mystic City Club
Street Umbrella
The Paper Disco Board
Hot Bears
Slow Drifters
Honey Dreamers
Skylight Stingers
Black Hole Group
Scarlet Strikers
The Dynamic Dogs
Golden Dominators
Drastic Goal Getters
Open Source
The Chicken Tenders
Firetwisters
Deck of Hearts
The Howling Penguins
Glow Group
Team Trope
Compassion Club
Bellow Partners
Bright Ties
Birds of Boulevard
Derivative Makers
Generative Jacks
Affable Mates
Discreet Anchor
Red Oak
Low Country
Sizzle Source
The Forgotten Branch
Mavis Beacon Fan Group
Venture Voyagers
Toad Timers
Colossal Cabbage
Trivia Team Names
We love some trivia, and you can't play trivia without a team name! We've curated a list of our favorites and added some fresh ones to help you choose the best trivia team name.
Here for Beer
Fellowship of the Facts
Darth Taters
Winning Wings
Zoom Zucchinis
The Knowing Stones
Herd of Nerds
Smart Pints
Cautious Kids
Fancy Pants Winners
Fierce Cookies
Gleaming Onions
The Happy Peanuts
Jolly Chickens
Lazy Champions
Nutty Wallabies
Shiny Dogs
Flying Turkeys
Wildfire
Chocolate Donkeys
Thinking Rabbits
Scheming Lions
Talking Pandas
The Clever Crew
Apt Army
Sharp-Witted Squad
Crafty Company
Expansion Brigade
Acceleration Alliance
The Possible Coalition
Flair Partners
The Able Group
The Splendid Set
The Bright Band
Pansophism Personnel
The Keen Administration
Dancing Posse
Brilliant Gang
Team Tenacious
Sports Team Names
Whether you're playing on a work team or playing sports more seriously, we have team names for bowling, football, basketball, and soccer.
Volleyball Team Names
Air Traffic Control
Arm & Hammer
Busta Spike
Chaos
EZ Pass
Fight Club
Fighting Bumpers
Hot Hitters
SMASHers
Sand Blasters
Thrill Setters
Triple Hits
Clever Blockers
Diggers
Bump & Set
Block Party
Right Servers
Sneak Attack
Set Vetters
Setting Ducks
Net Results
Served
Safe Sets
Upperworld
Shark Attack
Vision Quest
Spin Doctors
Shockwave
Hit-Faced
Raider Nation
Bowling Team Names
Tipsy Pinsters
Pin Dealers
The Bowler Army
Crazy Rollers
Elbow Launchers
Lucky Strikes
Pin Props
Split Ends
Seasoned Steak
Super Bowl
Counter Striker
Bowling Mates
Double Impact
Alley Splits
Pinishers
The Urban Achievers
The Dudes
Ten Pin Wizards
Phantom Strikers
Flaming Ballers
The Glow Bowls
Mortal Pins
Turkey Baggers
Late Night Crew
Scratchers
Senior Stars
Hot Shots
Fellowship of the Pins
Turkey Quirkies
Alley Masters
Spare Wars
Boardwalkers
Alley Cats
Football Team Names
Red Badgers
Biting Bison
Pink Cheetahs
Black Surge
Red Royals
Big Blues
Black Fire
Wind Warriors
Fleet Foxes
Flying Squirrels
Raging Ravens
Battling Boars
Silver Bombers
Gold Rebels
Filthy Runners
Gunners
White Phantoms
Cold Lightning
Fighting Force
Stone Blades
Fire Starters
Screaming Foxes
The Rhinos
Fierce Fighters
The Interference
Basketball Team Names
Net Rippers
Basket Hounds
Traveling Tigers
Dunkin' Dads
Net Positive
Bruisers
Ball Blazers
Hella Hype
Spring Shooters
South Suns
West Coast Hawks
East Coast Storm
High Side Lightning
Rough Revolution
Low River Stampede
Aces
Tri-County Liberty
Feel the Fever
Dark Dream
Blue Lions
Shooting Stars
Basket Brawlers
Storm Serge
Fast Chargers
Shockers
Fighting Fish
Rim Riders
Ankle Crushers
Legends
Mad Ants
Night Stampede
Riptide
Soccer Team Names
West Coast Rangers
East Coast Old Boys
Midland Canaries
East Bay Veterans
Colossal Stars
Rush Hour
Hooligans FC
Blue Frogs
Breakers
Thrashers
Nemesis
Mighty Thunders
Hustlers
Banana Slugs
Dust Devils
Fighting Bees
Hurricane FC
Firestorm
Raptors
Screaming Nachos
Bombers United
Mad Squirrels
Blue Jays
Referee Beaters
The Stinky Bakers
Thunder Cats
Wind Riders
Slayers
Outbreak
How to Pick an Appropriate and Inclusive Name
When choosing a team name, think about the words you're choosing so you don't offend or exclude any team members or stakeholders.
Avoid offensive language. Swear words make for funny puns and team names, but ultimately it's not worth offending others.
Keep it clean. Chauvinistic or sexual jokes don't deserve a place in team names.
Avoid stereotypes and cultural appropriation. This is simpler than it might seem. Avoid using words or terms from a culture that isn't yours, and don't use groups of people in your team name.
Use colors, animals, and things you can see or feel. This will help you avoid using words and names that could be offensive.
Practical Tips to Get the Most Out of Your Team Name
Get buy-in from team members and leadership. The best way to do this is to get them on board early. We recommend having everyone involved in the brainstorming process. Picking a team name can be a team-building experience on its own, and if everyone is involved, the brainstorming session should naturally create a sense of ownership and interest.
Register your team name. Once you've chosen a team name (or have a couple to choose from), you might want to set up an Instagram account, a private Facebook page, a Whatsapp group, or even a website. Check if the domain name or social media handles are available using a tool like namecheckr. If it's already taken, choose one of your backup options instead. Decide as a team what communication tools you'll want to use.
Create team merchandise. There are few things better than good swag. Once you have a team name, t-shirts are a top priority. But you can also explore other fun swag ideas to build team spirit.
A great team name is just one way to boost morale and build unity. Get more tips to learn How to Build a Dream Team.
How to Deal with Difficult People at Work
Do you have a difficult boss? Colleague? Client? Learn how to transform your difficult relationship.
I'll show you my science-based approach to building a strong, productive relationship with even the most difficult people.