Gift-giving can be a little stressful sometimes, especially when it's a goodbye gift!
But with a few tips and ideas, giving a going-away gift doesn't have to add to your stress of saying goodbye—it can actually produce oxytocin and foster a deeper connection in your relationship!
In this article, we'll look at what makes a good going-away gift, the science and benefits of gift-giving, a few tips to make the process easier, and 65+ going-away gift ideas!
What Are Good Going-Away Gifts?
Good going-away gifts are thoughtful gifts you give friends, family, or colleagues when they are making a life transition to a new city, new job, or new stage of life. Going away gifts can also be given from the person who is going away, especially when they want to show gratitude to someone they are leaving behind.
What makes a going-away gift good is the intentional thought you put behind it to make it meaningful and memorable.
The best goodbye gifts include a thoughtful message, an inside joke, or personal memory. Consider these various factors to personalize the gift:
The person's impact on your life. How have they made your life better?
Where they are going. What's exciting about what's next for them?
Where they are coming from. What's a valuable memory to look back on?
Their interests and likes. What's unique to who they are?
Does putting this much thought into a gift make a difference to the recipient? Yes!
Here's why. Think about the best gift you've ever received. What made it meaningful to you? It might not have been the most expensive thing you've received. Rather, you probably remember it because it was thoughtful, expressed gratitude or love, and showed you support.
65+ Going-Away Gift Ideas
It may be overwhelming to try to think of the best goodbye gift, but we've curated a list of ideas for all kinds of categories to help get your juices flowing and make a great choice!
Practical going-away gifts
Home state cutting board
If someone is leaving their home state, give them a piece of home with a home state cutting board like this one!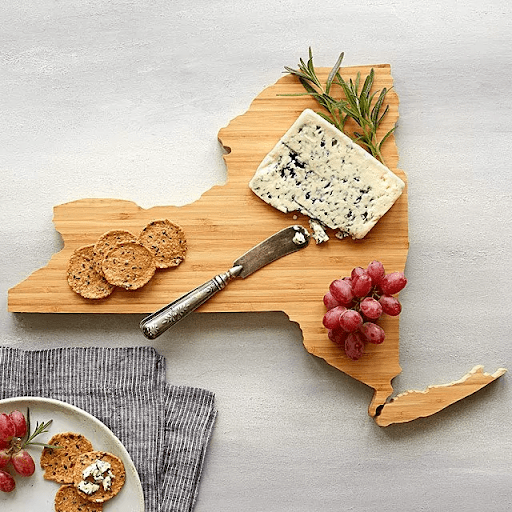 Throw blanket
Throw blankets are not only practical but also a fun way to give someone a "hug" from a distance, especially with a "very big hug" throw blanket like this one!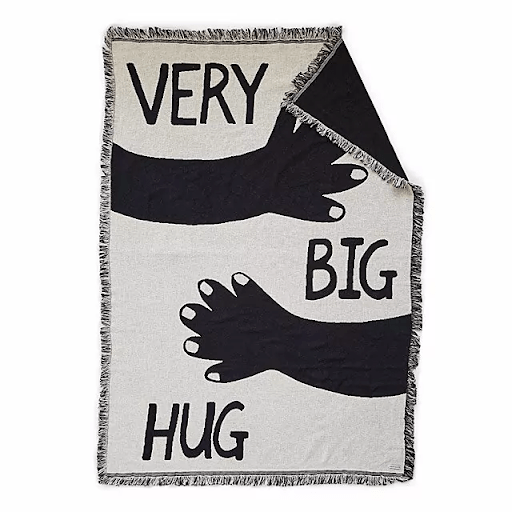 Local guidebook
If the person you're saying goodbye to is moving into a new city, one fun gift idea is to get them a local guidebook for things to do, places to see, and restaurants to try in their new home.
There are even some unique guidebooks based on certain interests; for example, the best places to get a donut in New York!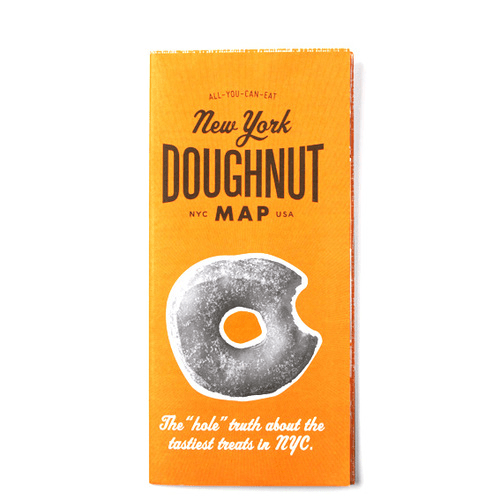 Funny socks
Socks are among some of the most practical gifts you can get someone. They also make a fun going-away gift because you can play on the idea that they are "walking a new path" and need to take care of their feet along the way! You can customize them or make them funny with a personal twist.
Is the person moving to Austin, Texas? Get them taco socks.
Is the person retiring? Get them golf socks.
Does the person have a corgi? Get them corgi socks.
You can also get them Bombas socks because, for every pair purchased, they donate a pair to those in need!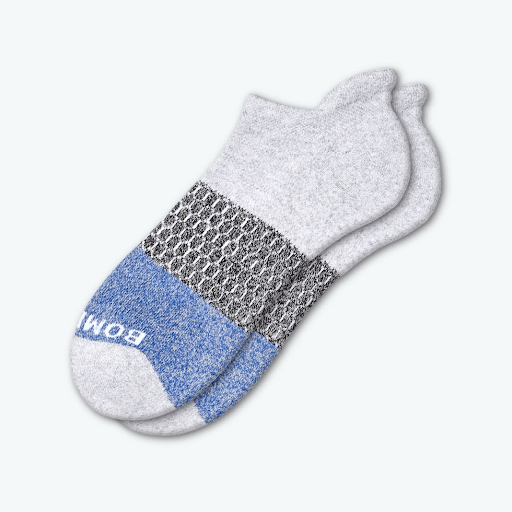 Funny going-away gifts
Your face on (almost) anything
Do you want someone to remember you and get a good laugh? Put your face on something like a pillow, sticker, or magnet! (Your options are plentiful, actually!)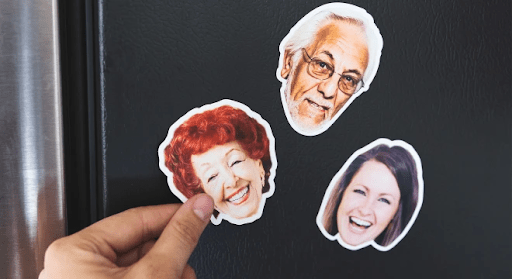 "My life will suck without you" succulent
A succulent plant is a funny/punny way to say "my life will suck without you." Play it up with a succulent gift basket to make it extra special!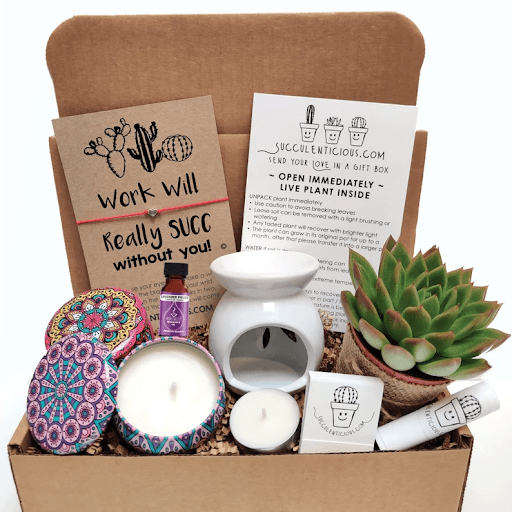 Donuts with a pun "I donut want to say goodbye"
Who doesn't love a good pun? Make someone smile with donuts and a punny card that says, "I donut want to say goodbye. I'm going to miss you a hole lot."
Custom bobblehead
If you want to go for an extra laugh with your goodbye gift, and you're willing to spend a little extra for it too, one fun idea is to create a custom bobblehead of yourself, so your friend can never forget you!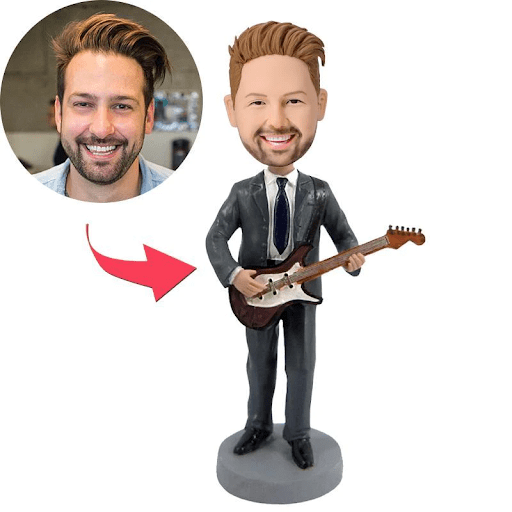 Sentimental going-away gifts
Homesick candles
Homesick candles with a scent that reminds someone of home make great sentimental gifts for someone who may be feeling nostalgic.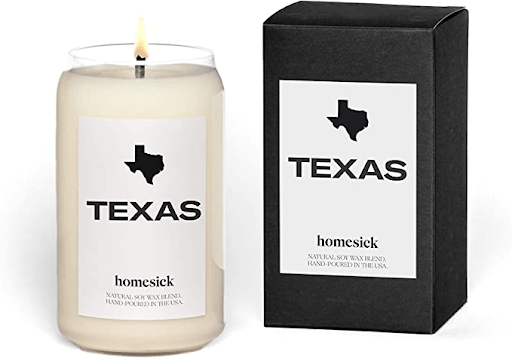 Spices from home
Leaving home can also mean leaving behind some of your favorite flavors. One sentimental gift idea is a gift box of spices that reminds someone of home, like this one featuring flavors from Chicago!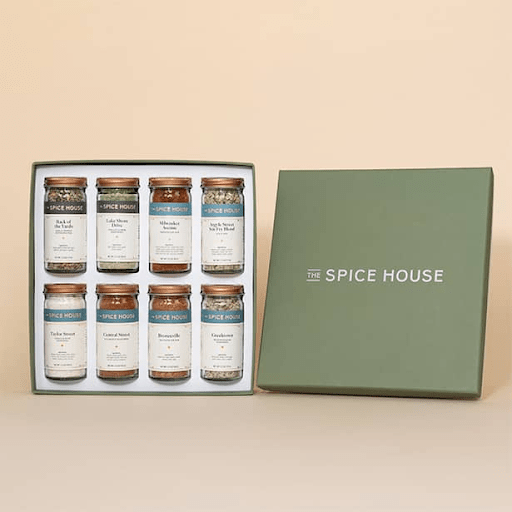 Open when letters
Open when letters are letters you write before you say goodbye and gift in a bundle for someone to open at times when a note from you would be encouraging, for example, when they're stressed, bored, need a pep talk, need a hug, sad, or need a laugh.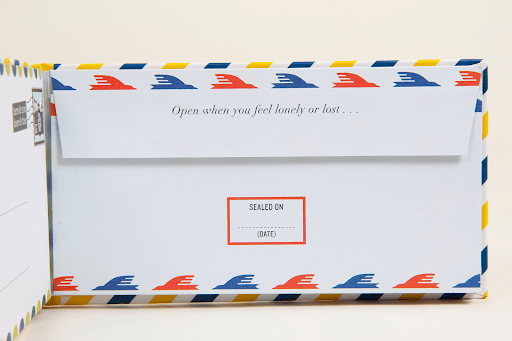 Pop-out photo album
Who doesn't love reminiscing over photos with friends? Pop-out photo albums are a great sentimental going-away gift idea for those you love.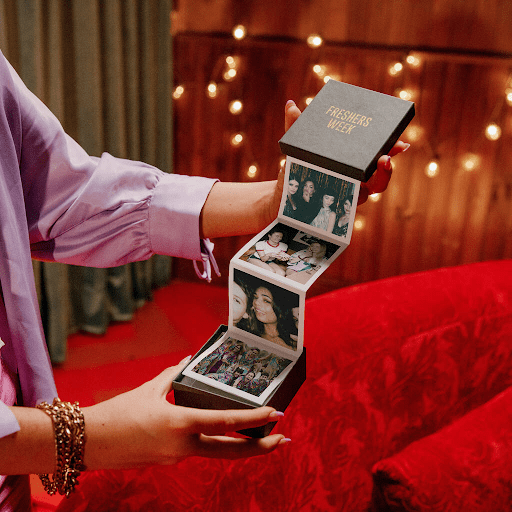 Last-minute going-away gifts
I'll miss you "a latte" coffee gift card
Coffee gift cards for coffee lovers are always great gifts. Paired with a cute pun and a sweet note about how you'll miss someone "a latte" is a fun and thoughtful last-minute going-away gift.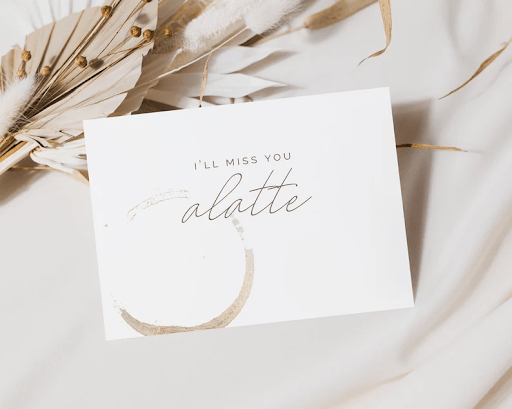 Back-and-forth journal
A back-and-forth journal adds an extra element of interaction between friends and family members. Most popular among mothers and daughters, these journals can be used in any close relationship. They include prompts for each person to respond to individually, and then pass to their friend to read and answer too. It can be a great way to stay connected when you're apart!
Gift cards to support a move
A gift card for gas, movers, restaurants, or other essentials is a practical, last-minute gift idea that can help cover the cost of an often expensive move.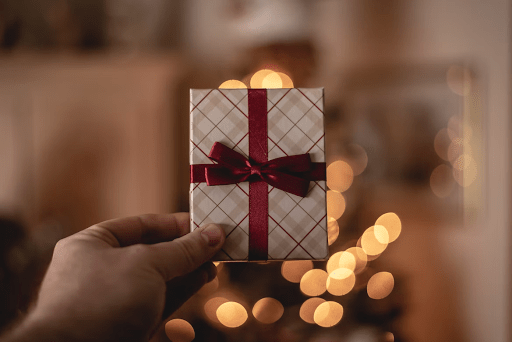 "A warm hug" aroma therapy
A microwavable neck wrap or neck pillow paired with their favorite essential oil scent is a sentimental way to send someone off with a hug.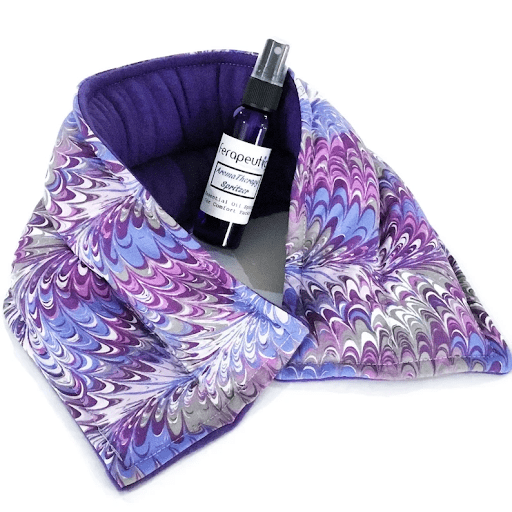 Inexpensive going-away gifts
State keychain
If someone is moving to another state, give them a state keychain to remind them of their home.
Personalized playlist
There are two great things about creating a playlist. They are thoughtfully curated by you and they are essentially free to create on programs like Spotify. Make it extra special by putting your playlist code or special song on a keychain, like this one!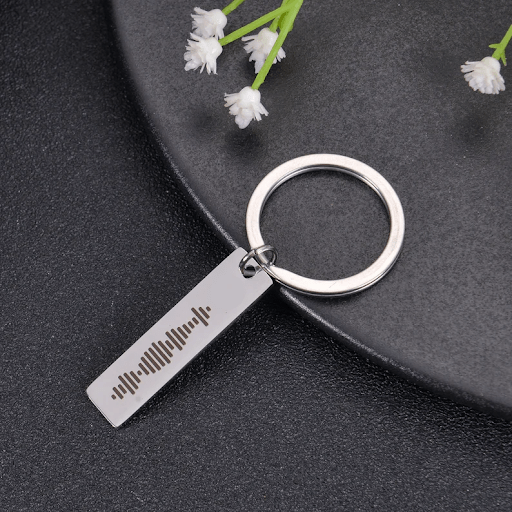 Custom crossword puzzle
For the game lovers out there, a custom crossword created by you, including words from your inside jokes and memories, is a fun and free gift idea. Use a crossword generator to customize yours to your liking!

Gratitude plant
Gratitude plants are a fun and affordable way to remind someone that you care! These are fun options for people who enjoy plants or gardening. Bonus: they can also be pretty punny too, like this tomato plant with a message on it that says, "Grateful for you from my head to-ma-toes!"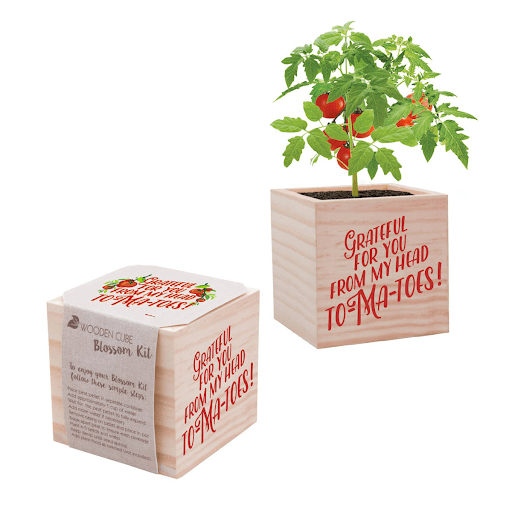 DIY going-away gifts
Jar of notes
A jar of notes is a great way to share encouragement with someone when they may need a pick me up down the road. This is an affordable gift you can create on your own. All you need is a jar, paper, a pen, and a little time to write your notes! Otherwise, you can also get a premade jar of notes like this one.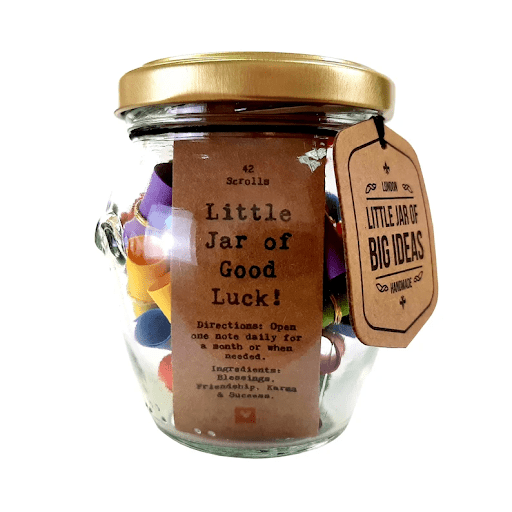 Punny gift basket
Put together a punny gift basket with different items to show how much you're going to miss someone. Here are some ideas to get you started:
Ketchup. "Let's ketchup soon!"
Blue Gatorade. "I'll be blue without you."
Ice cream gift card. "Thanks for being so cool."
Lip balm. "You're the balm!"
Suckers/lollipops. "My life will suck without you."
Bottle of wine. "I said I wouldn't cry, so I'll just wine."
Oranges. "Orange you going to miss me?"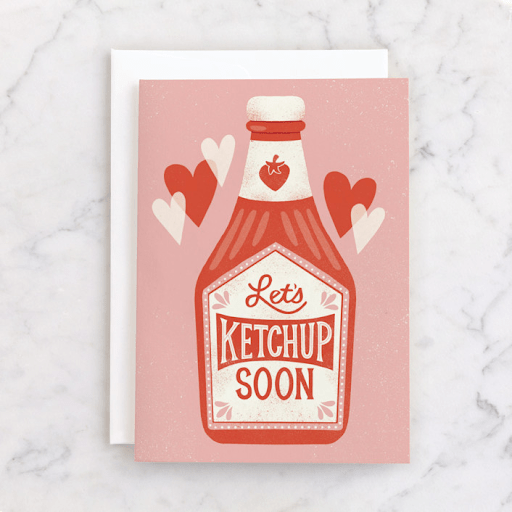 Photobook
Create a photobook to cherish all your memories together! Many platforms help you do this easily with ready-to-use templates. The templates provided by Mixbook are a great choice!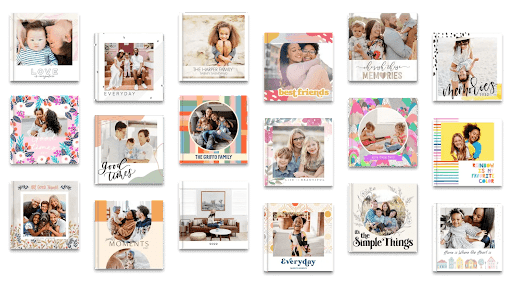 Cute going-away gifts
Merci chocolates and notes
Say thank you or "merci" with merci chocolates and a sweet thank you note to show how much you appreciate someone.
Photo credit: https://www.pinterest.com/pin/2462974787922435/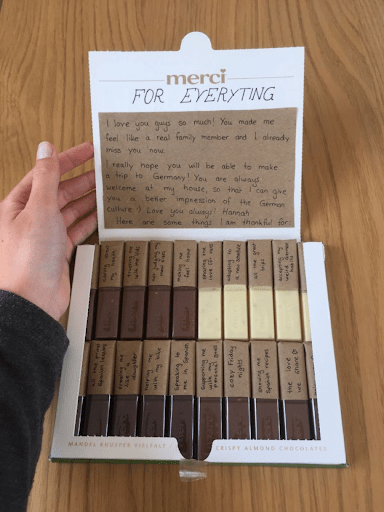 Creative Photo Art
This cute and creative art print based on your photo is a sweet gift idea to remind someone how much you care about them.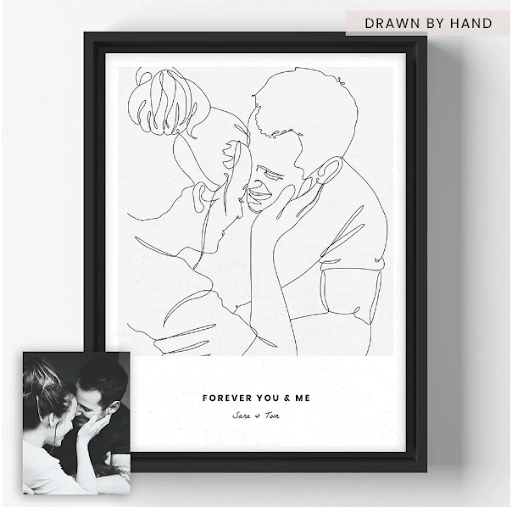 Personalized M&Ms
M&Ms are many people's favorite candy, but one thing that can make them better? Personalization. Yup, that's right. Did you know you can personalize your M&Ms? Put your own well wishes on your M&Ms to put a smile on someone's face.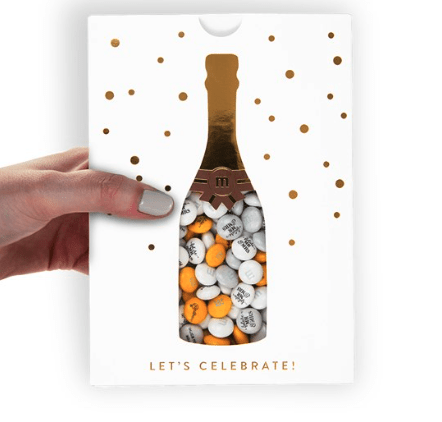 Winnie the Pooh Art
Can you get much cuter than Winnie the Pooh? This print with a quote from Winnie the Pooh is a sweet choice for a cute goodbye.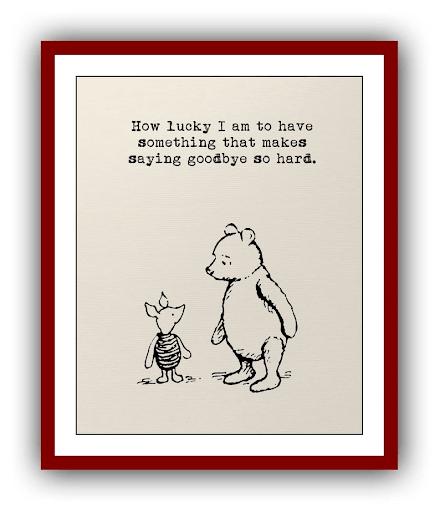 Personalized going-away gifts
Personalized calendar
Like a personalized photobook, a photo calendar uniquely reminds someone how you feel about them all year! And it's practical too. Shutterfly is another great option with plenty of templates to choose from!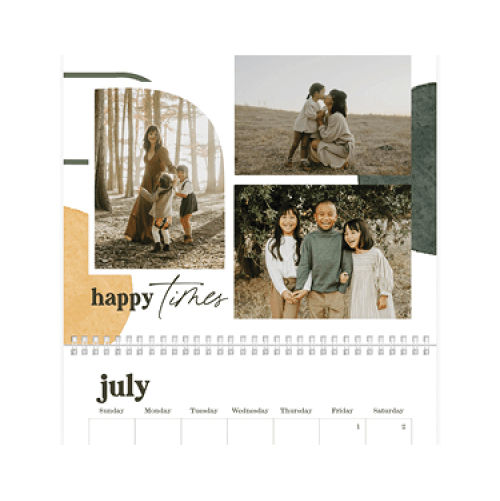 Night sky art
Night sky art is such a unique, thoughtful way to remember a significant moment in your life, like the time you first met or the day something significant happened in your relationship. Remember that moment with night sky art showing you what the sky looked like on that very night!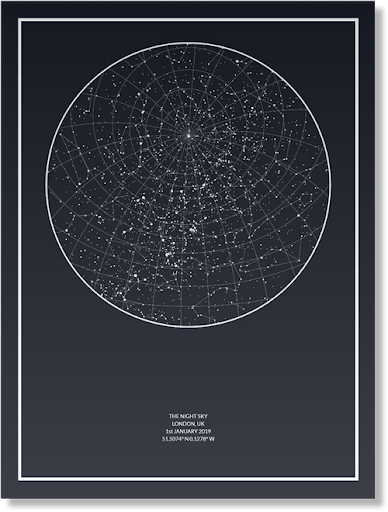 Personalized picture pendant jewelry
Picture pendant jewelry is extra special because even though it looks like regular jewelry when you get up close and look through it, you can see a photo of one of your favorite memories, making it a great going-away gift for someone special.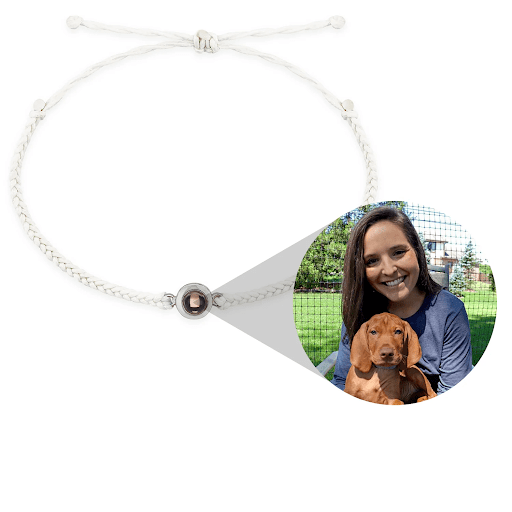 Long-distance state art
If the person you're buying for is moving to another state, one fun gift idea is a long-distance state art piece to remind them that you'll miss them!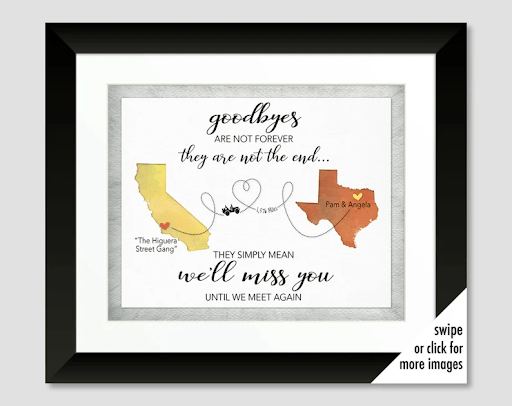 Going away gifts for friends
Friendship Lamps
Friendship lamps are a great long-distance going-away gift. These lamps come in pairs. You get one, and so does your friend. When you turn yours on, theirs turns on wherever they are, too! It's a fun way to remind your friend that you're thinking about them.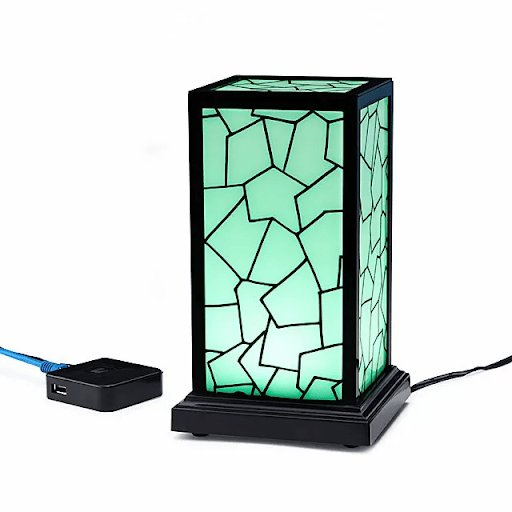 Hometown ornament or mug
Get your friend an ornament to remind them of home whenever they put up their Christmas tree. Not into Christmas? You can do the same thing with a hometown mug.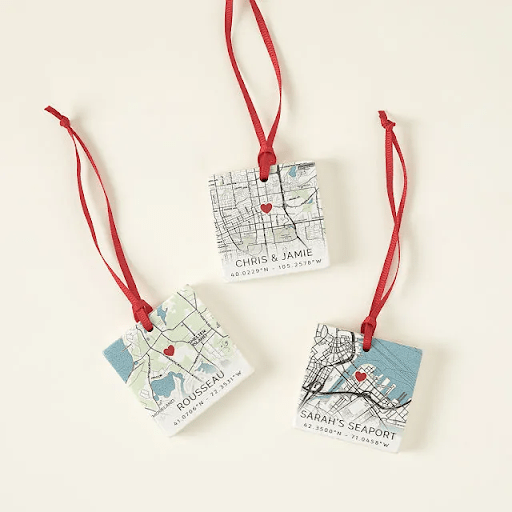 Friendship bracelet
Friendship bracelets are a classic gift to give your friend a reminder that you love them every time they look down on their wrist. You can make your own or pick up classic designs like these!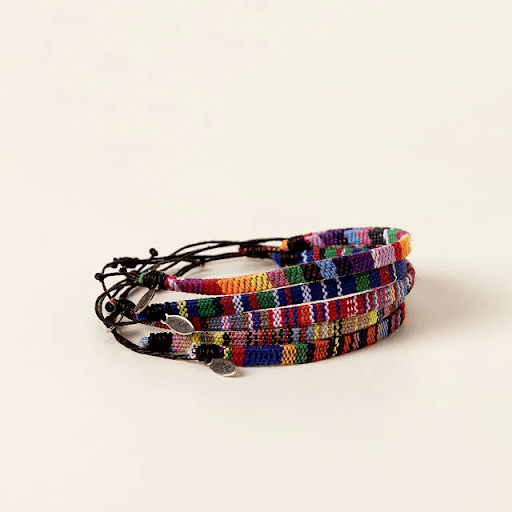 Recipe board
Does your friend love a recipe you make? Put your recipe on a personalized recipe cutting board so they can be reminded of you and enjoy something tasty too!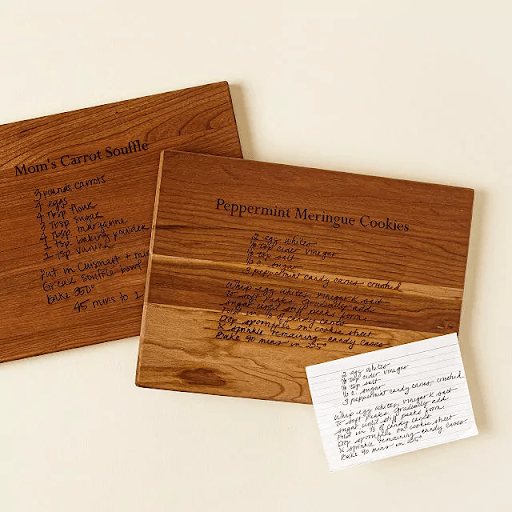 Going away gifts for teachers
Favorite Coffee Sampler
Pick out your favorite coffee beans from a local seller or get a sampler of coffee from around town.
Custom thank-you ornament
Teachers always appreciate a thank-you note. And by putting it on a personalized thank you ornament or charm, you can continually remind them of your gratitude!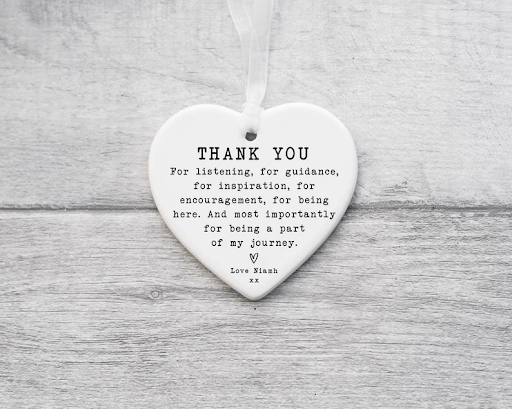 Teachers Pay Teachers gift card
Teachers Pay Teachers is a website where teachers can buy and share resources with each other to support one another. A gift card is a great way to help curb a teacher's often minimal budget, especially if they are transitioning to a new school or classroom.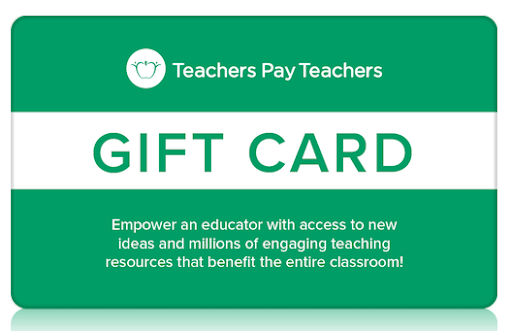 Self-care package (with gift cards)
At the end of the year, the gift of self-care is an excellent way to show a teacher you appreciate them. Include some gift cards to common places they like to visit like Target or Starbucks, add in a gift card or two for a spa day, and this will likely be one of the best gifts they receive!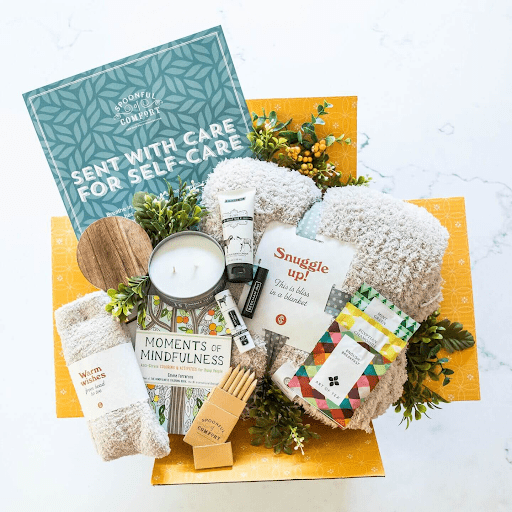 Military or deployment going-away gifts (Air Force, Army, Navy, Marines, Coast Guard)
Personalized stationery
Being away from home can be tough, so keeping up with friends and relatives during boot camp or deployment is a great way to stay encouraged. A stationery set with pre-stamped envelopes makes keeping in touch a lot easier! Better yet, you can even create personalized stationery directly with USPS!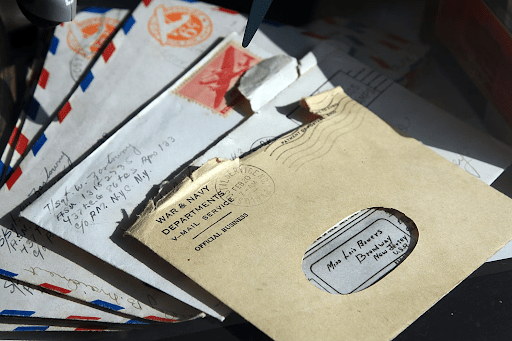 Custom playing cards
During deployment, access to the internet may be limited. Doing something fun during downtime, like a game of cards, can be a great way to pass the time. With custom playing cards like these, you can also remind them of home!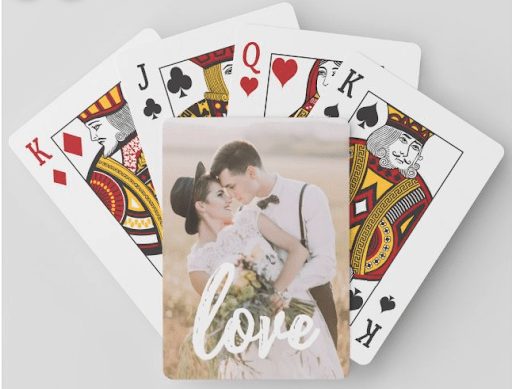 Personalized compass
A compass can be a personal reminder to someone in the military about why they decided to join and the love and support they have back home. Make it personal with an encouraging note or image inside for when they might feel homesick. "So you can always find your way back to me!"
Personalized photo keychain
With limited access to the internet, having pictures conveniently on a personalized keychain to look at when they're feeling homesick is a great way to remind them how much you care!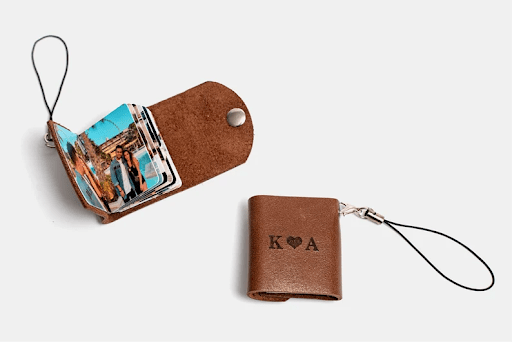 Going-away gifts for coworkers
Group Together card
If you're trying to figure out how to send a memorable going-away gift from a group, Group Together cards are a great option. They allow you to create a card digitally with messages and photos from your group, and all pitch in on a gift card. You can have the card printed, or you can send it virtually.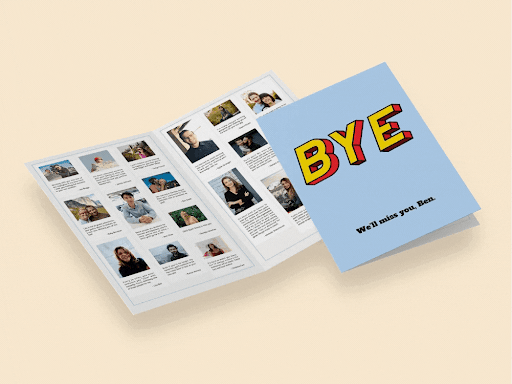 New job survival kit
If your coworker is leaving for a new job, a survival kit is a fun way to say goodbye and send them off with some practical or "punny" gifts. Create your own, or check out options like this new job survival kit from Walmart.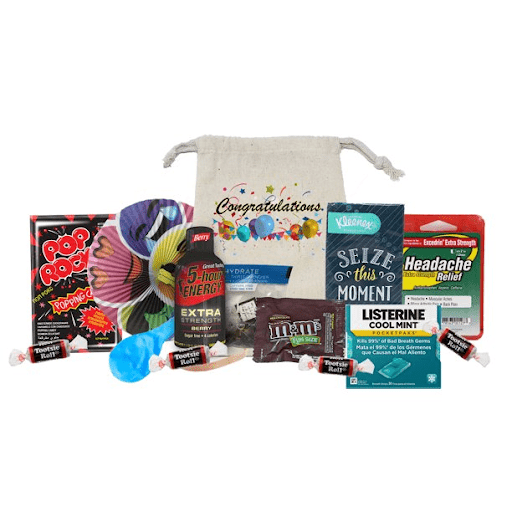 Framed team photo
Remind your coworker how much your team is going to miss them with a signed group photo!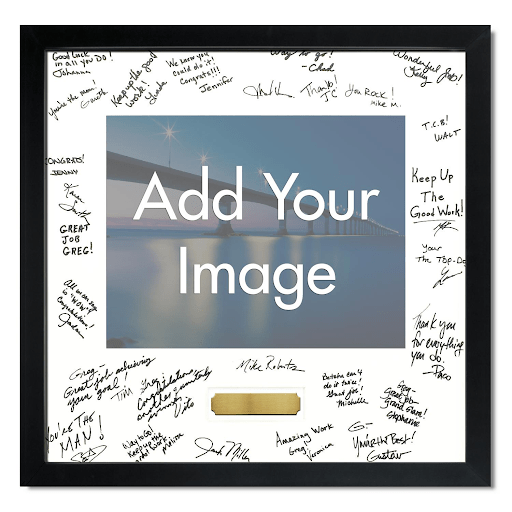 Custom team socks
If your coworker likes to have a good laugh, these custom team socks are a fun option!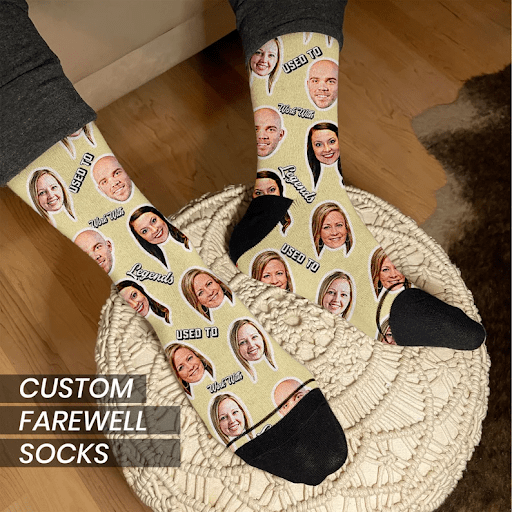 Going-away gifts for your boss
Bright days ahead gift box
If your boss is moving on to a new opportunity, send them a little encouragement about their bright days ahead with this fun gift box!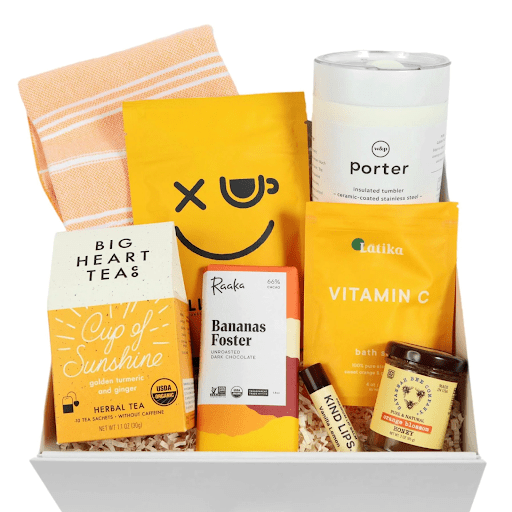 Shattered glass ceiling paperweight
If your boss is a woman, and they are moving up the ladder in opportunity, one fun idea is to get them this "shattered glass ceiling" paperweight to encourage them about their progress!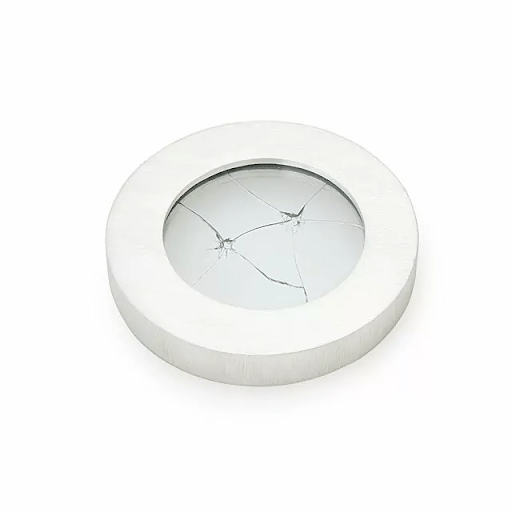 Personalized team mug
Send them off with a mug that will put a smile on their face every time they drink their morning coffee! This customizable team mug turns your teammates into fun cartoon characters!
College going-away gifts
Money balloons
Do you know what's better than balloons? Balloons with money inside! This is a great going-away gift for college graduates and a fairly easy DIY option. If you can't figure out how to get the money inside your balloons, contact the company you order your balloons from for help.
Be sure to let the college grad know there is money inside; consider a message on the balloon that says, "pop me for cash!"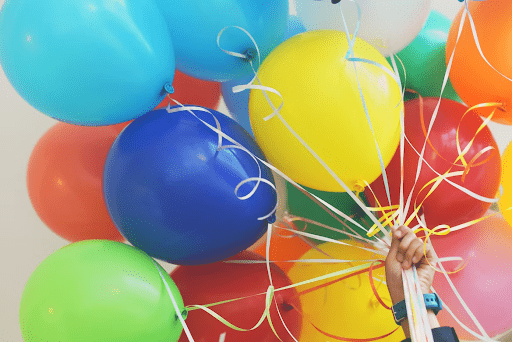 Box of recipes from home
A recipe box filled with personal recipes from friends and family is a great way to send your college graduate off with meal ideas when they're away from home.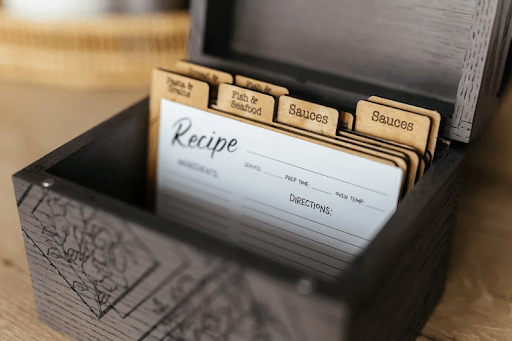 College survival kit
College students don't always know what they might need when they're away from home, so send them off with a college survival kit! This is a great DIY option you can pull together, too. If you want some fun survival kit notes to include with your gift, check out this great option from Etsy.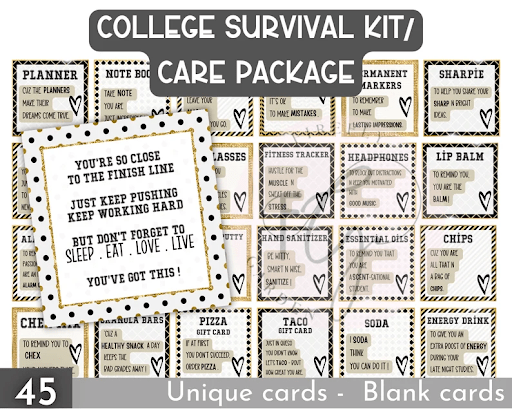 How to manual for basic life skills
For college students wondering where to turn for advice on cooking, cleaning, or managing money, can find some basics in this life skills manual.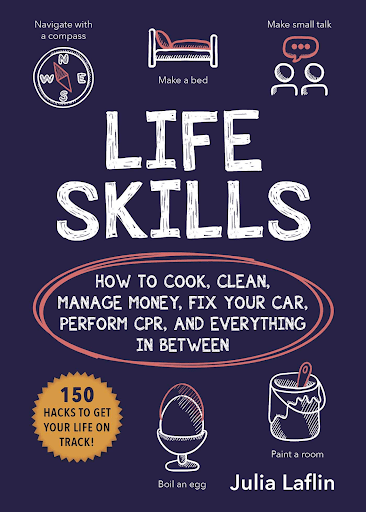 Going-away gifts for your boyfriend
Local beer
If your boyfriend enjoys beer, send him off with a customized selection of his favorite local beer and a selection of new beer in his new town!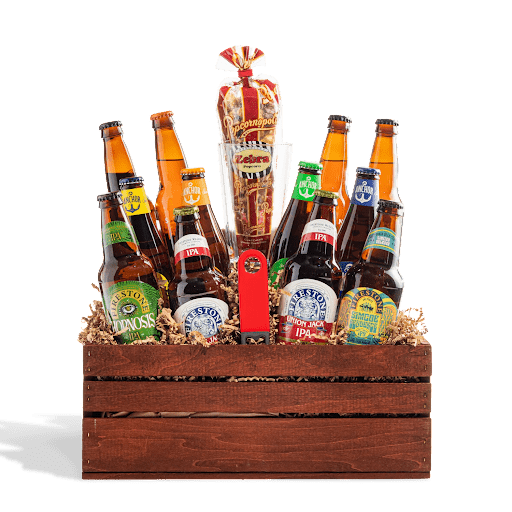 Jar of chocolate kisses
Remind your boyfriend that you miss him with a jar of chocolate kisses!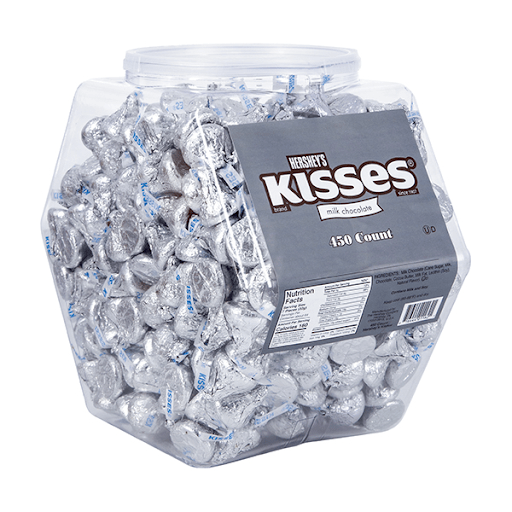 Significant moments map
Remind him of the special moments in your life with a significant moments map!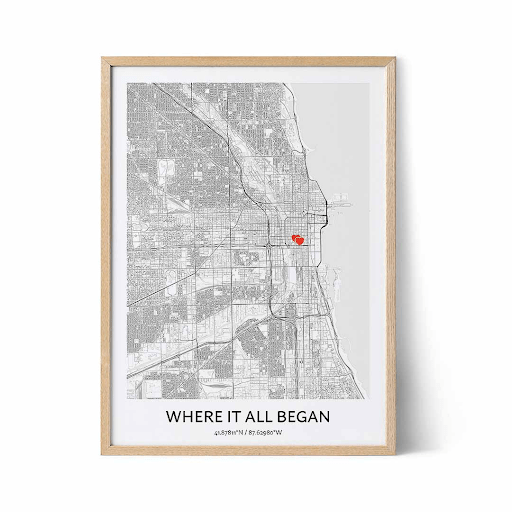 Going-away gifts for your girlfriend
Flowers when she arrives
Being separated from your girlfriend is tough! Remind her of your love with a surprise bouquet of flowers for when she arrives at her new home.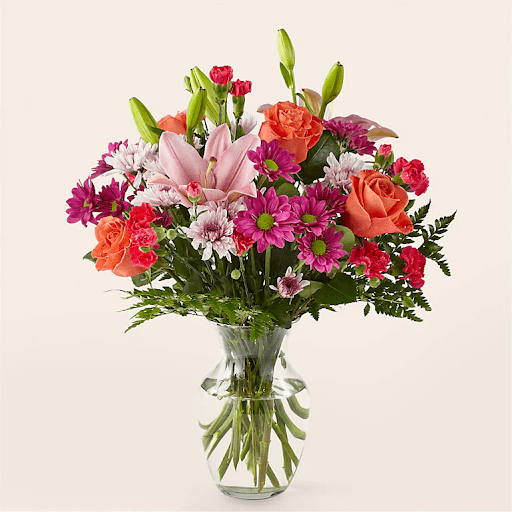 Matching couple's jewelry
Give her a reminder about how much you love and will miss her with matching couple's jewelry!
Customized puzzle
Does your girlfriend love puzzles? Give her a customized puzzle with a picture of the two of you!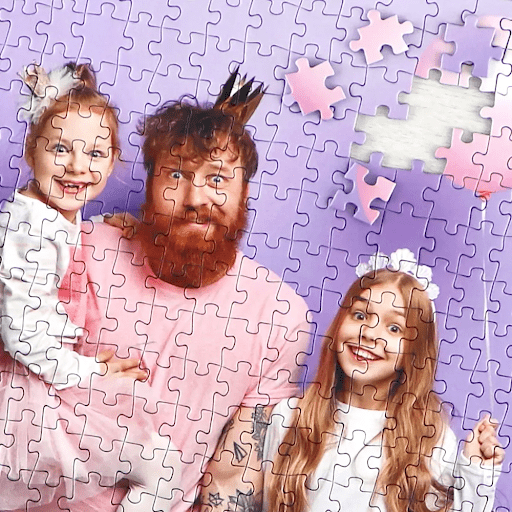 Personalized pillowcase
Remind her how much you love her every night before bed with a customized pillowcase!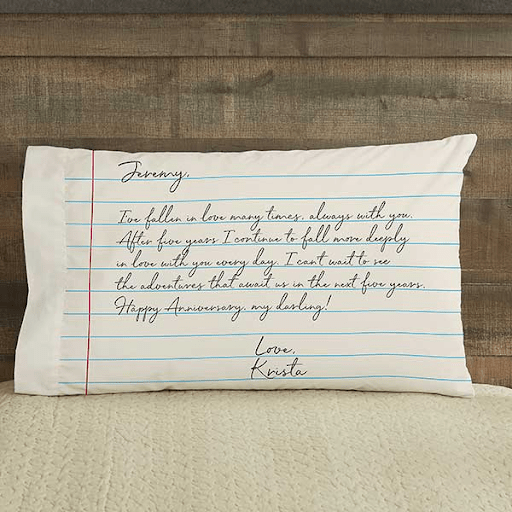 Going away gifts for guys/boys/men
Custom pen
A customized pen with a personal note is a good gift for a guy. Better yet, he'll be reminded of you whenever he needs to write something down!

Song soundwave print
Do you share a favorite song between you? A soundwave art print makes for a thoughtful reminiscing going-away gift for both guys and girls.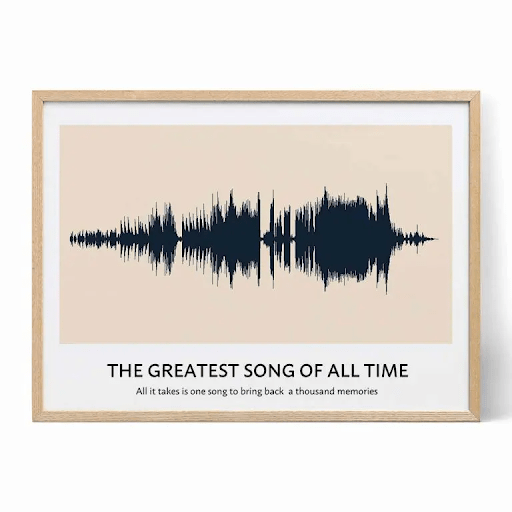 Core values blocks
A unique and thoughtful gift for a good guy friend is a set of core values blocks that remind him of who he is and what he stands for. A gift like this also reminds him how much you value his unique contribution to the world!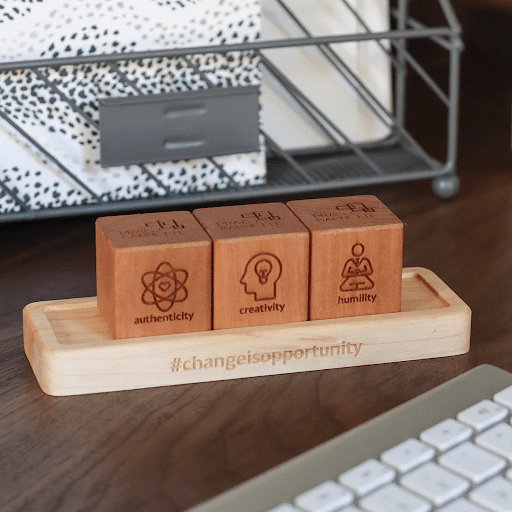 Personalized map glasses
If your friend is leaving for a new town, send him off with a set of custom glasses with maps of his hometown engraved on them!
Going-away gifts for girls/women
Hygge gift box
Hygge gift boxes are a great way to send someone off with a "hug." They often include a journal, candle, and soup, like this hygge gift box option on Etsy.
Morse code bracelet
Say goodbye with a secret message on a morse code bracelet. Every time they look down at their wrist, they will be reminded of how much you care!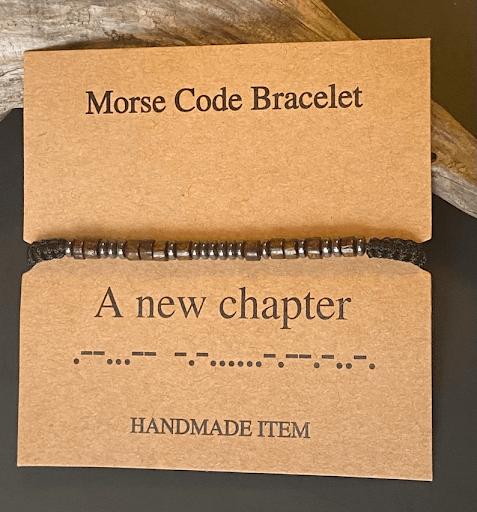 Personalized journal
A personalized journal with their name and a special note from you is a sweet goodbye gift that continually reminds them of how much you care (and it's practical)!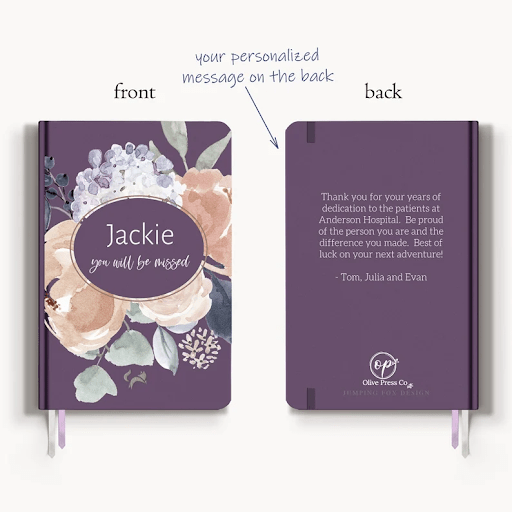 Gratitude box
Gratitude gift boxes express how grateful you are for someone's impact on your life. Better yet, a gratitude box like this one from a place like Gifts for Good is also a gift that gives back! For example, the candles in this set are made by refugees.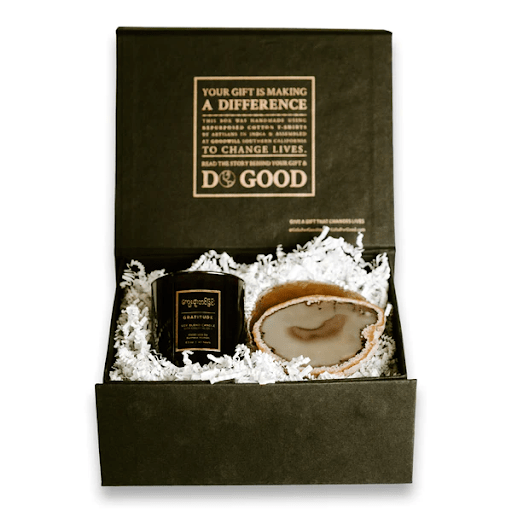 Why Are Going-Away Gifts Important?
Going away gifts are important because if the relationship is important to you, research shows1https://www.apa.org/topics/mental-health/brain-gift-giving#:~:text=%E2%80%9CBut%20part%20of%20the%20uniqueness,trust%2C%20safety%2C%20and%20connection. that the act of gift-giving and gift-receiving can activate pathways in your brain that release oxytocin, which ultimately supports trust building and fosters a deeper connection.
The benefits of gift-giving are twofold for both the giver and the receiver.

The giver: As soon as you start the journey of figuring out what gift you want to give all the way to anticipating the receiver opening your gift, you activate the region of your brain associated with pleasure and building trust.
The receiver: On the flip side, the person receiving the gift can experience the same oxytocin reward response when the gift is from someone they care about and they appreciate what they received.
When it comes to giving going-away gifts, there are three valuable benefits:
Expressing love. Your gift shows someone how much you care about them.
Sharing gratitude. Your gift shows how much you appreciate them.
Showing support. Your gift shows someone that you are there for them.
It turns out the thought really does count! At the end of the day, it comes down to building a deeper connection through the act of gift-giving.
Now let's look at some quick tips to help you pick the best gift!
6 Tips to Help you Choose or Personalize a Good Going-Away Gift
As you start to think about what going-away gift you want to give, think about the impact they've had on your life, where they're going, what they like, and the ways you might be able to customize your gift based on a memory or inside joke.
Reflect on the impact they've had on your life
Before you start shopping or creating your gift, narrow down your thought process by first reflecting on their impact on your life. To do that, ask yourself these questions:
How have they improved your life?
How have they made others' lives better?
What about them are you grateful for?
What wouldn't have happened without them?
Imagine their future
After you reflect back, start thinking forward about the opportunities and exciting things they have to look forward to. To do that, consider these questions:

If they're going to a new city, what kind of activities or places can they enjoy?
If they're going to a new job, what kind of new experiences will they have? What kinds of things might they need?
If they're retiring or transitioning into a new stage of life, what can they do now that they couldn't before?
If the context of your goodbye is that you're the one going away, what memories or values will you carry with you from that person?
Include a thoughtful message
Once you've reflected on their impact and imagined their future, it's possible you've gotten a little sentimental. Now take those thoughts and write them down in a thoughtful note or letter. It doesn't have to be long!
Your expression of gratitude will help make them feel valued2https://psycnet.apa.org/doiLanding?doi=10.1037%2Fapl0000346 and may even boost their motivation and self-esteem as they transition to a new phase of their life.
There are a couple of ways to include a thoughtful message with your gift:

Pair a hand-written note or card with your gift.
Include part of your thoughtful message into a customized gift like a custom piece of art (see more customized options in our list of ideas below!).
Include a personal memory or inside joke
Personal memories or inside jokes make going-away gifts extra unique and special! When you reflect on their impact on your life, you may have been reminded of a memory or inside joke or two. Make a note of these ideas as you begin your gift search!
Can't think of any? That's OK! To help you think through what these memories or inside jokes could be, ask yourself these questions:

What's something unique that you enjoy doing together?
What food or beverage do you both enjoy? (Is it something they might be able to get easily where they're going?)
What TV show or movie do you often quote to each other?
What's a funny moment or story you like to remember or joke about?
What's something they said to you that you will always remember fondly?
Think local
When someone goes away, it's often fun to receive a goodbye gift that reminds them of home when they're homesick or excites them about where they're going.
Think local about where they're leaving and what they might miss:

What foods or beverages will they have difficulty getting elsewhere?
What places or activities might they no longer have easy access to?
Think local about where they're going and what they could do there:

What places or activities can they enjoy in their new town?
What kinds of things might they need in their new home?
If they're going to a new job, what kind of things might be helpful in their new position?
Customize the gift or packaging
When you Google "customized gifts," you'll discover many options that allow you to add your own photos, designs, messages, engravings, and more. Customization can make your gift unique, but note that it can also take a little extra time. To customize your gift, you'll want to plan ahead to allow the artist or company to create and ship your gift in time for you to give it.
Here are some of the top customization gift sites you might consider for your going-away gift:
Want to learn how to connect better with others? Check out this great training!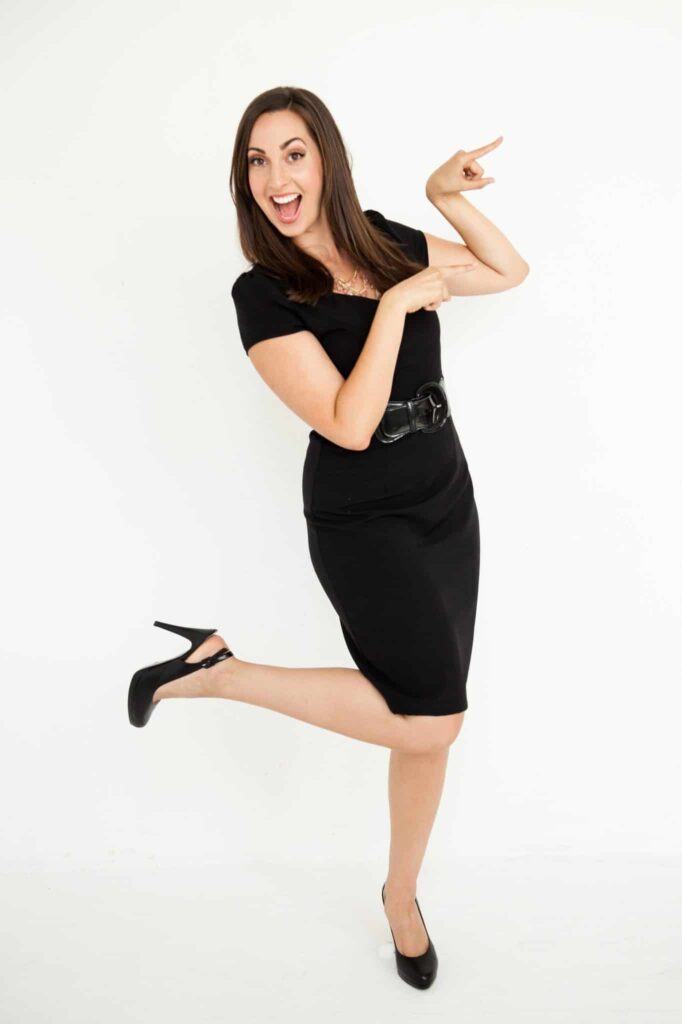 Master Your People Skills
Create a Memorable Presence
Communicate with Confidence
Achieve Your Goals
Have a question about the presentation or People School? Email Science of People support.
Going-Away Gifts Takeaways
In summary, remember these tips to help you pick the best going-away gift:
Reflect on the impact they've had in your life.
Imagine their future and the exciting things they have to look forward to.
Include a thoughtful message to make them feel valued.
Include a personal memory or inside joke to make your gift unique.
Think local, considering the home they're leaving and where they're going.
Customize the gift or package with personalization.
For more ideas on how to build connections with others when you're long-distance, check out our article 10 Tips for Managing Long Distance Relationships.
Article sources
https://www.apa.org/topics/mental-health/brain-gift-giving#:~:text=%E2%80%9CBut%20part%20of%20the%20uniqueness,trust%2C%20safety%2C%20and%20connection.
https://psycnet.apa.org/doiLanding?doi=10.1037%2Fapl0000346
How to Deal with Difficult People at Work
Do you have a difficult boss? Colleague? Client? Learn how to transform your difficult relationship.
I'll show you my science-based approach to building a strong, productive relationship with even the most difficult people.