Gift giving is one of the best ways to show someone you appreciate them. The key is picking out something personal and unique. The right gift can show someone you know who they are, what they like and are willing to go out of your way to make them happy.
Pick wisely! This guide will give you 208 unique and thoughtful coworker gift ideas and how to be mindful when delivering them.
Unique Gifts for Coworkers
The next set of gifts includes unique gifts for employees. These 25 presents may be unique to the employee or make cool gifts fit for a particular coworker.
1. Remote control lamp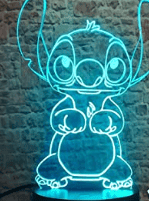 Ohana means family, and family means nobody is left behind. Get this Lilo & Stitch LED lamp from LOUHH to show appreciation with this unique gift for your employees.
2. Cooking classes
Is there a future Great British Baking Show contestant in the office? Get cooking classes like an experience from Cozymeal for those who want to improve their skills or learn new culinary arts.
3. Exercise Mat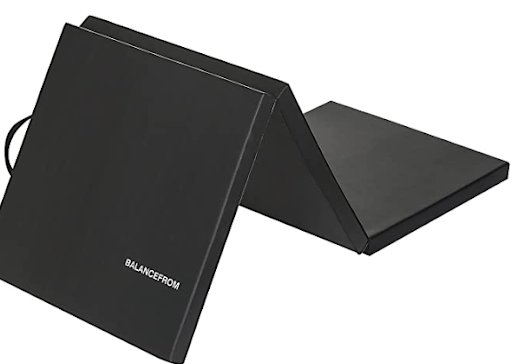 Staying fit can be challenging when balancing work and life. Make it easier with a foldable exercise mat from BalanceFrom to protect your flooring.
4. Concert tickets
Concert tickets are an excellent way to show appreciation, and you can present them with a reveal card from Mintitude. The best thank-you gifts show you are interested in what your coworkers tell you.
5. Handmade artwork
Your coworkers will appreciate homemade gifts even more, considering your hard work. Create a painting of your coworkers' pets or their favorite flowers starting with a blank canvas from GOTIDEAL. Sometimes the small gift ideas mean the most.
6. Charitable donation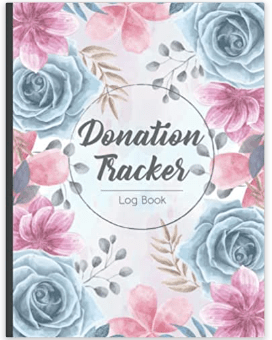 Millions of people need help. Organizations like the Equal Justice Initiative or CancerCare are only two of the many that do great things. If they run a charity, get this book from Alkhayr Publishing for tracking donations.
7. Surprise party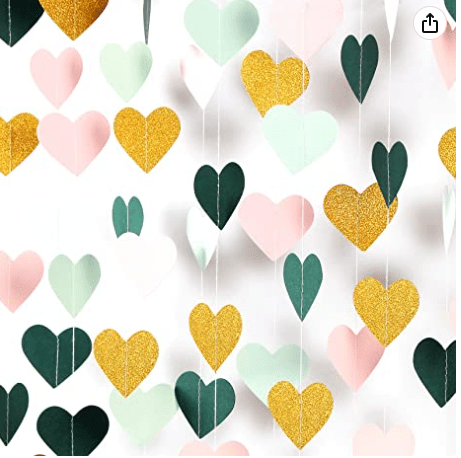 Is a coworker's birthday coming up? Did they reach a gigantic milestone? Throw surprise parties as fun gifts when the occasion is right and hang these Lasting Surprise streamers from the ceiling.
8. Cameo video
Nowadays, celebrities are more accessible than ever through Cameo. Buy personalized videos for your coworkers as unique gifts.
9. Animal encounter
Sometimes, you find yourself watching cat videos during your lunch break. If your coworkers like big cats like lions, sign them up for an animal encounter at a wildlife refuge or a popular zoo like the Bronx Zoo.
10. Monogrammed gear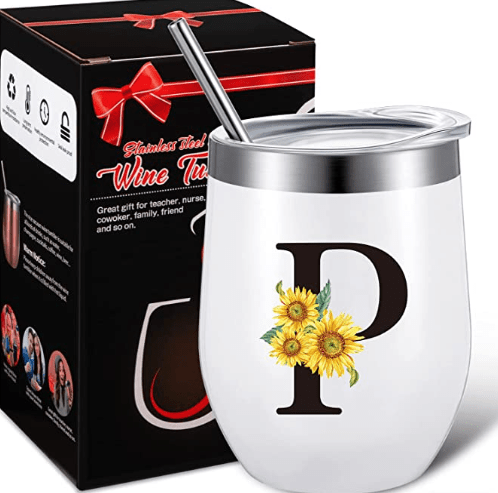 You can personalize gifts for employees, like tumblers from Zopeal, with monograms. Today's designs offer numerous styles to write their initials.
11. Solar turtle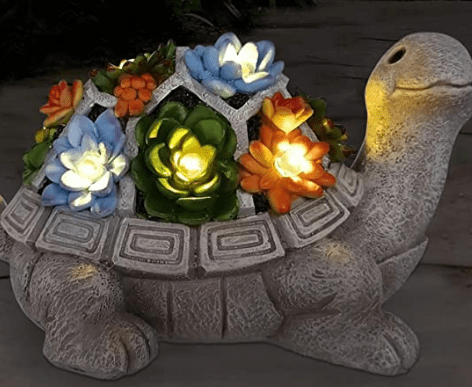 Did one of your coworkers move to a new house? Get them solar lights or a solar turtle from Nacome with LED lights on the shell as a housewarming gift.
12. Vinyl record coaster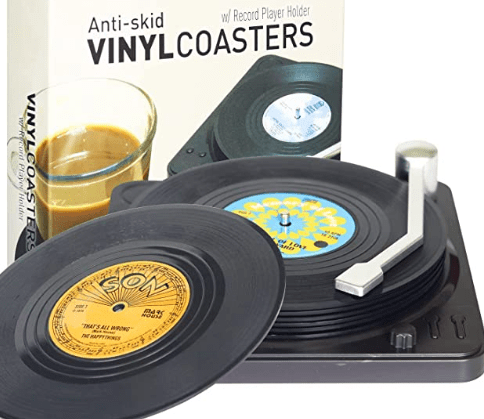 Putting drinks on the record player is typically a no-no, but these vinyl record coasters from DuoMo are ideal for a retro design.
13. Book of unusual knowledge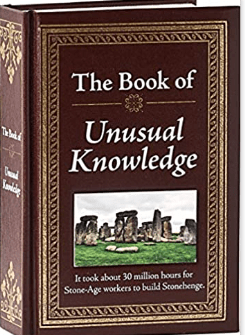 Who are the coworkers you go to when you want knowledge on a random topic? They'll want to read The Book of Unusual Knowledge.
14. Hand massager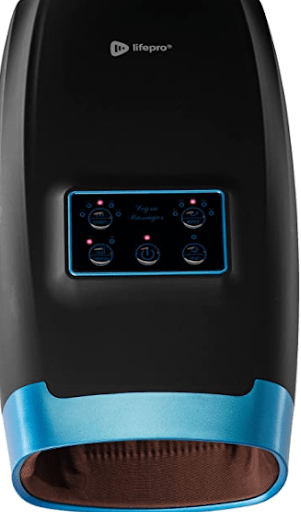 How many words do your coworkers type daily? If you're thinking tens of thousands, get them hand massagers from LifePro. These gifts are terrific for employees who have cramps, arthritis, or carpal tunnel.
15. Bob Ross chia pet
There is no such thing as mistakes — only happy accidents. Get Bob Ross chia pets as unique gifts for your employees.
16. Morse code bracelet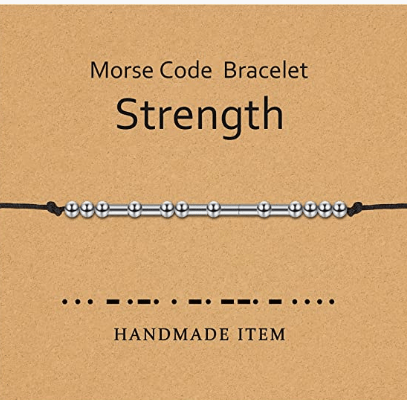 Knowing another language is fun. How many of your coworkers know Morse code? They can start with one of these bracelets from Jewenova.
17. Golf pens
How many of your coworkers like to go golfing? These golf pens from Nalakuvara are unique gifts for employees who want to practice their putting.
18. Cat socks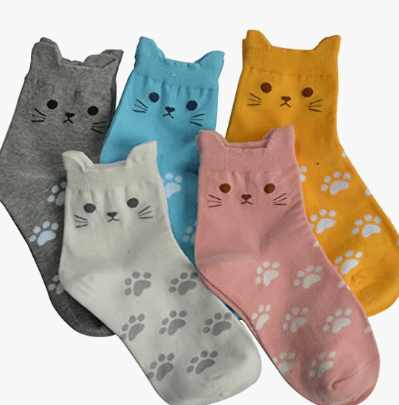 Our feline friends stay with us no matter what. Put them on your coworkers' feet with these cat socks from Jeasona.
19. Moon lamp
Working during the day means you can't see the moon. However, coworkers can see it daily on their desks with this moon lamp from CPLA.
20. Dad joke book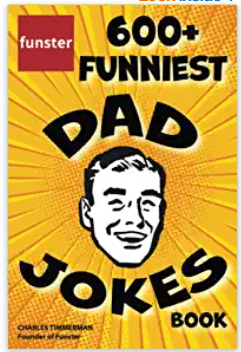 Sometimes, ridiculous jokes produce the most laughter. Get these funniest dad joke books from Funster as cheap gift ideas for the pranksters of the office.
21. Lightsaber chopsticks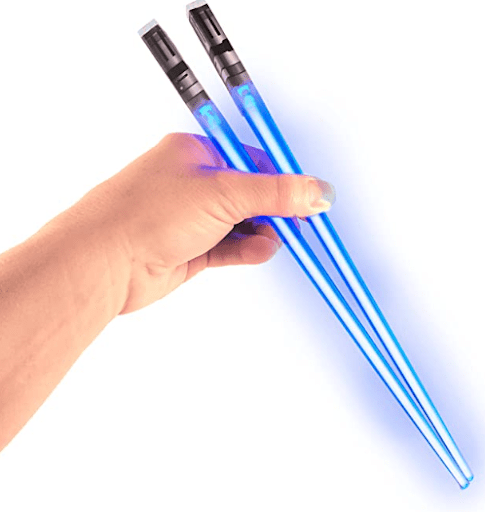 Raise your hand if you're a Star Wars fan. Hand out these lightsaber chopsticks from ChopSabers as thank-you gifts for coworkers who love the film franchise.
22. Saucemoto dip clip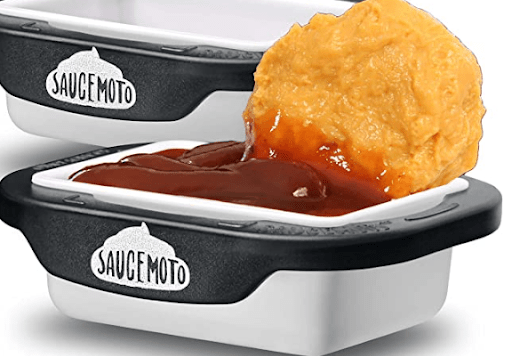 Nowadays, inventions get terrifically creative. Saucemoto Dip Clips were on Shark Tank, and now you can give them as fun gifts for your coworkers who love dipping sauces.
23. Converse-style socks
Converse will always be in style. Take your coworkers back to the '80s with Converse-style socks from KONY as the best thank-you gifts for those with a nostalgic yearning.
24. Circuit board coasters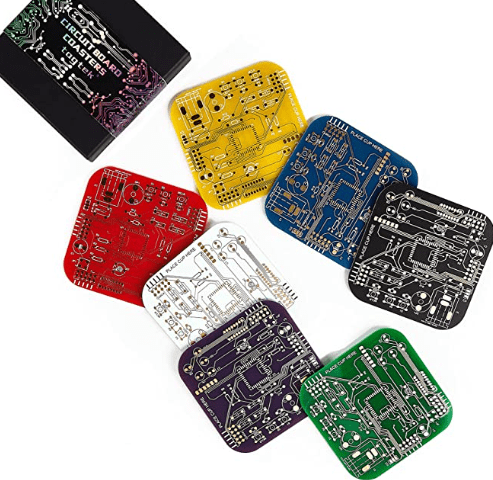 Drinks don't usually go on electronics, but these circuit board coasters from Tagtek are acceptable. Get them as cool gifts for your pals in the IT department.
25. Burrito blanket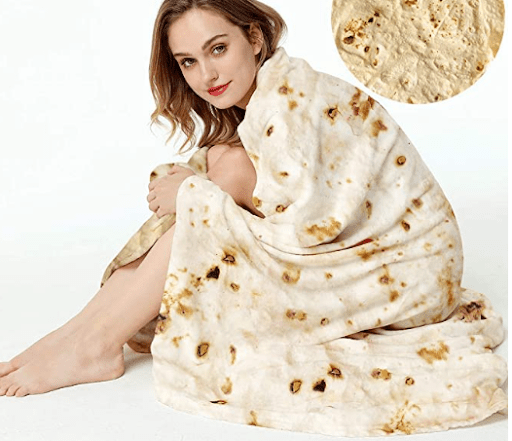 Cold winter nights call for maximum warmth. How about wrapping up in a burrito? These burrito blankets from LetsFunny are unique gifts for employees who want to stay warm and cozy.
Special Tip: Add a tortilla press to this gift to make it extra unique!
Office Gifts for Coworkers
Take a few moments to look at your desk. What's something you'd add if you could? Use that idea and these 26 others as practical office gifts that will garner thank yous from coworkers.
26. Indoor gardening kit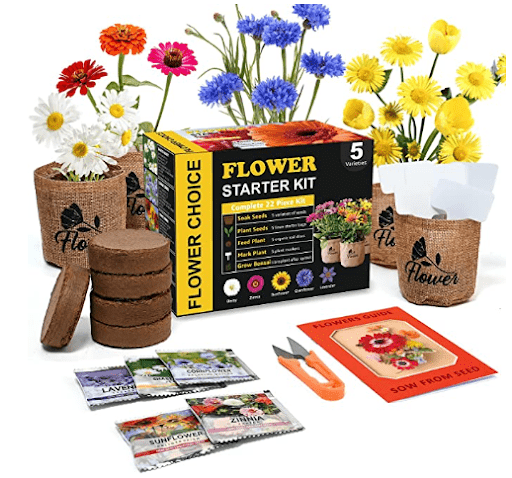 Is your office indoors? That's no problem for those who want to start a garden. An indoor gardening kit from Meekear is a great way to say thank you.
27. Noise-canceling headphones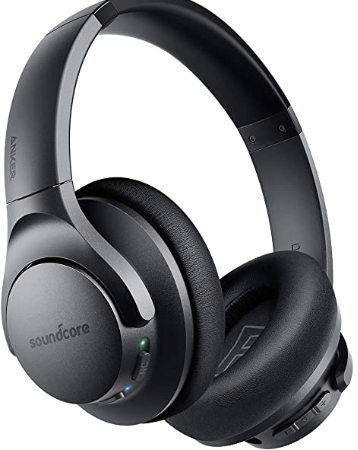 Headphones are ideal for productivity, but you can take it further with Soundcore's noise-canceling models. These gadgets take you into deep work mode with zero distractions.
28. Friends mousepad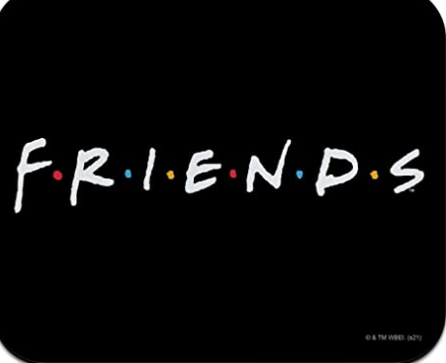 What feels better than moving your mouse on a soft mouse pad? One with the Friends logo, of course. Get these customized mouse pads from Graphics and More as cool gifts for your coworker's favorite pop culture fandoms.
29. Picture frame
When you're at work, who do you miss the most? Your colleagues would probably say their family, so give them picture frames from RPJC as sentimental coworker gift ideas.
30. Eyewear stand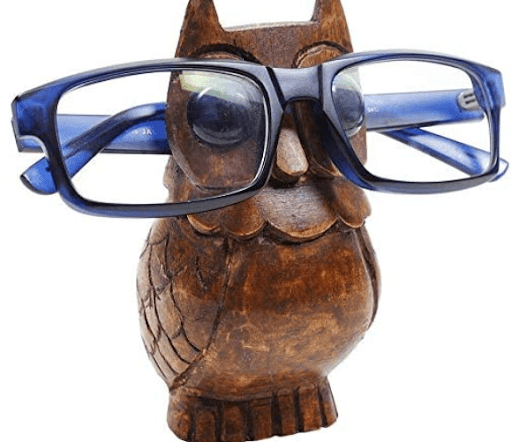 Some people may only need glasses when reading or seeing something far away. Get them an eyewear stand for their desk so they won't lose them. Some even have neat designs like owl shapes from S.B. Arts.
31. Note tower
Sticky notes are handy but can quickly get unorganized. Thankfully, you can use memo boards from Ospnieek to keep your reminders orderly.
32. Funny desk sign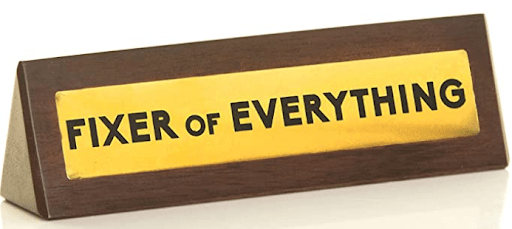 Desk signs are a fun way to add style to your workspace. Get this fixer of everything sign from Boxer Gifts.
33. Desk calendar
People don't appreciate calendars as much anymore. Get small desk calendars from Ryve as cheap gift ideas for coworkers to help them keep track of the days as they fly by.
34. Planner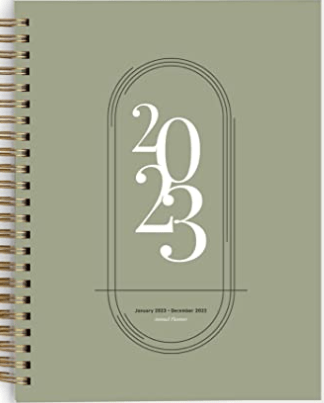 Many people need to write out their plans to remember them. These small notebooks from Rileys & Co. are terrific cheap gift ideas if you want to help your coworkers plan their day and feel more productive.
35. Laptop sleeve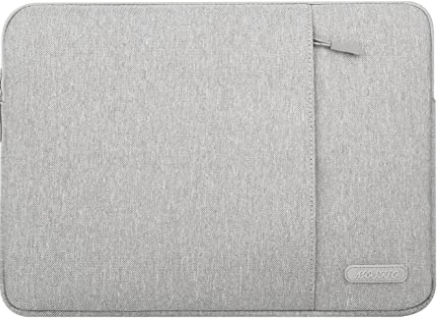 Many workers today find themselves on the go, so get them a laptop sleeve from Mosiso. They protect hardware and work as good gift ideas for coworkers.
36. Fuzzy socks
When you enter adulthood, you realize socks are some of the best Christmas presents. Fuzzy socks especially come in handy when it's wintertime. Plus, animal-themed ones from DYW are adorable.
37. Backpack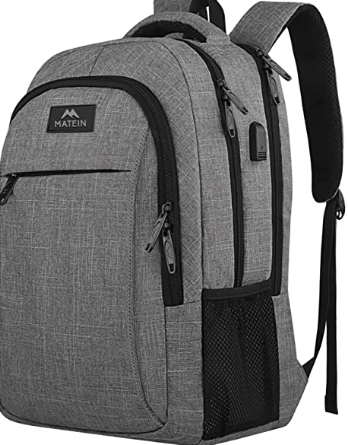 Another essential part of being on the go is a travel bag. What's better than a backpack from Matein? You likely used one in grade school for many years. People appreciate these office gifts to transport their electronics.
38. Word-of-the-day calendar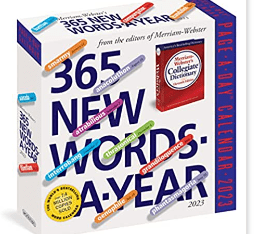 Do your coworkers say they learn something new daily? How about giving them something else to know? Word-of-the-day calendars from Workman Calendars are terrific for learning, and they may pick up some unique vernacular.
39. Tabletop Water Fountain
Ahhhh the sound of rainfall can be so soothing. Allow your coworker that sense of tranquility every day with a mini tabletop water foundation from Target. These fountains come in a ton of different shapes and sizes.
40. Motivating Notepads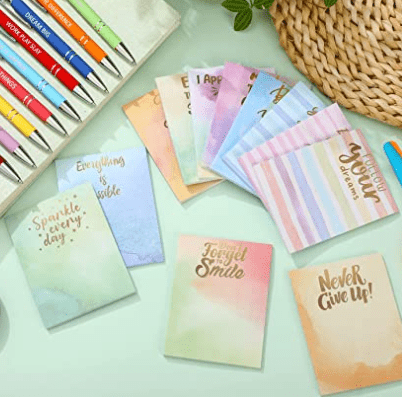 Notepads are handy for quickly jotting down notes. But these notepads and pens from Geyee give small, motivating phrases to get you through the day.
41. Mini Sandbox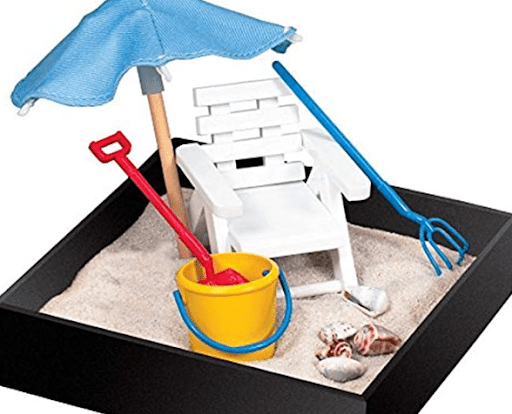 Do your coworkers dream about the beaches of Florida or Jamaica? Bring the white sand to the office with this mini sandbox from BE Good Co..
42. Mini bowling game set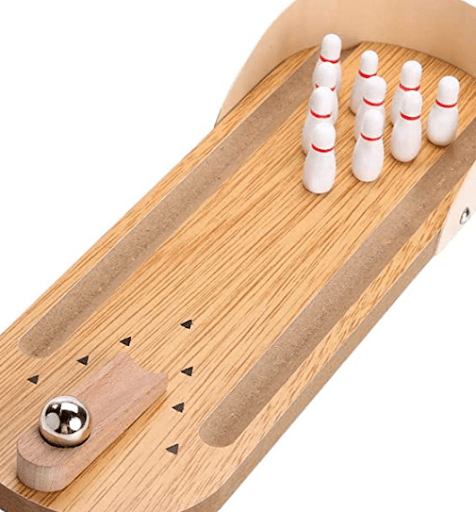 Who in the office can't get enough of bowling? This mini-bowling from SYZ set is ideal for those practicing for a perfect 300-point game.
43. Coaster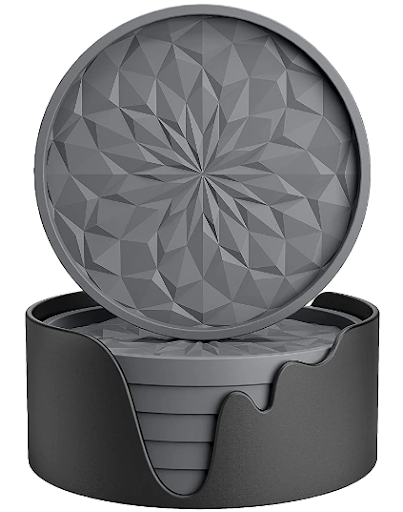 Monica Geller would be very proud if everyone at the office had a coaster from ME.FAN. Get them so people have places to put their drinks and preserve their amazing desks.
44. Elephant phone stand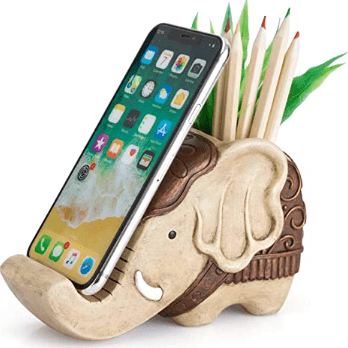 Any desk could use an elephant upgrade. Get this pen holder with a phone stand from COOLBROS.
45. Bento lunchbox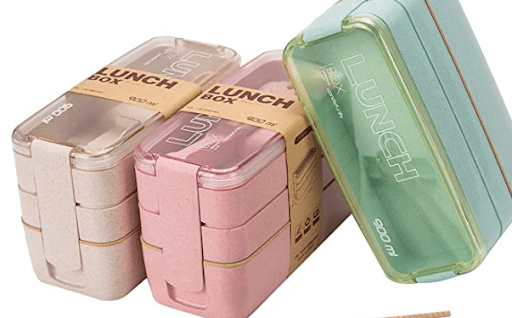 Packing lunch for the office can be difficult. Get bento boxes as cool gifts for your coworkers. Plus, stackable bento boxes from Rarapop are compact, helping them fit in the work refrigerator.
46. Stress Ball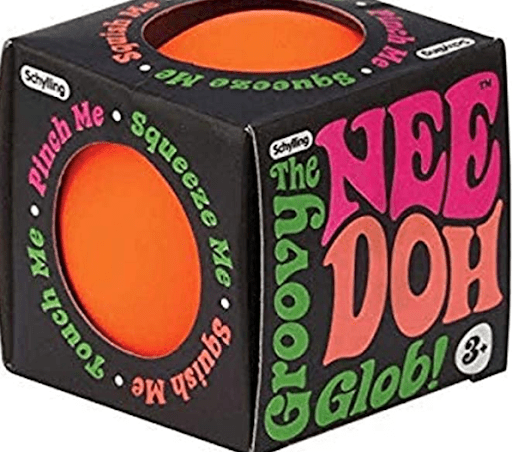 Work can sometimes be stressful. Buy packs of stress balls from Schylling as thoughtful and small gift ideas for your coworkers. Research has shown that holding a stress ball reduces anxiety and stress.
48. Office basketball hoop
Did anybody in the office play basketball in their younger days? Do they still? Get mini basketball hoops from SKLZ for the coworkers who think they can beat Michael Jordan.
49. Inspirational wall art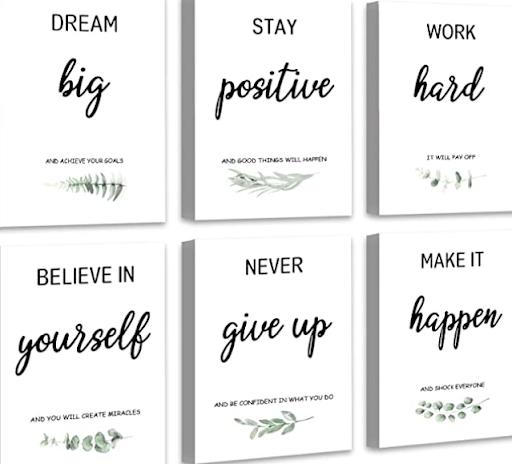 Sometimes, people need a motivational quote to get them going. Seeing inspirational words on a poster can uplift your coworkers when necessary. Get inspirational decor from Drsoum to share the love.
50. Bonsai tree kit
Bonsai trees from Home Grown are excellent employee gifts for those with green thumbs. Research has shown that bonsai trees are helpful with ecopsychology and therapeutic practices.
51. Meal delivery gift card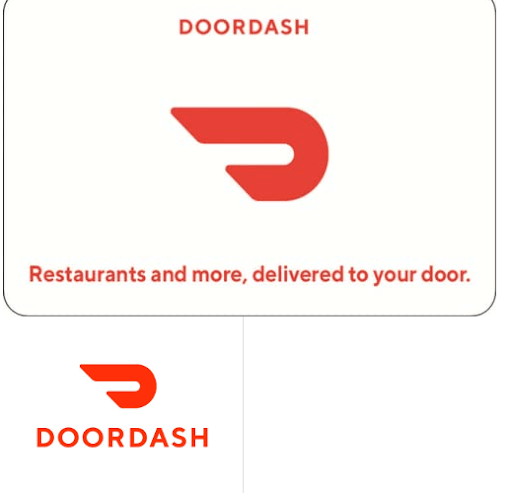 Get your coworkers a meal delivery gift card, like from DoorDash. These small gift ideas for coworkers will be popular with any food lover.
Work-From-Home Gifts for Coworkers
Remote work became necessary during the pandemic and is here to stay. These 26 employee gifts are ideal for those working from home, a coffee shop or elsewhere.
52. Lap desk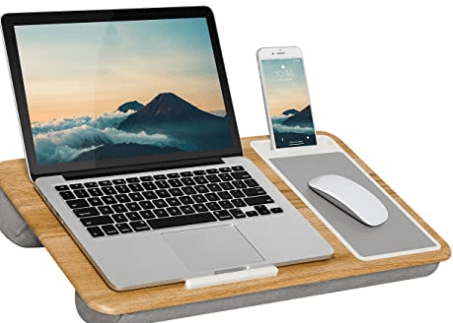 One benefit of remote work is doing it from your couch. Get lap desks from LapGear so your coworkers can sit comfortably and feel productive from anywhere.
53. Footrest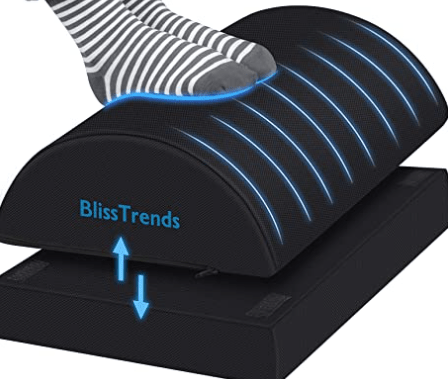 The floor can become uncomfortable after a while, but footrests from BlissTrends come to the rescue and keep your feet cozy all day.
54. Coffee maker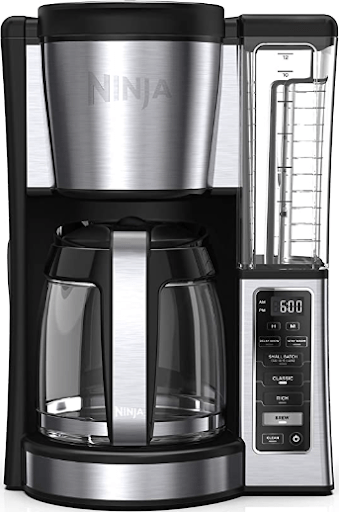 Coffee is vital whether employees are in the office or at home. Coffee makers from Ninja would make incredible thank-you gifts for remote coworkers.
55. Desk elliptical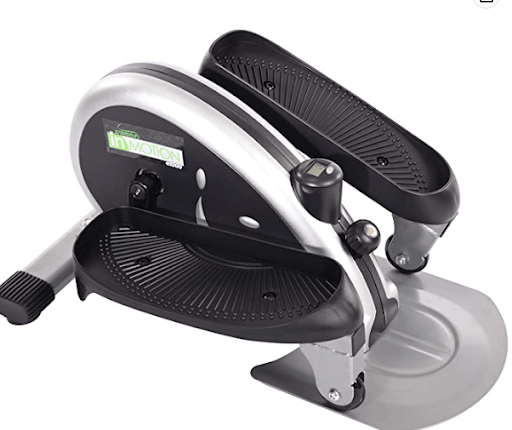 Studies show sitting at your desk all day can negatively impact your health. Even small movements with desk ellipticals from Stamina Inmotion can keep the blood and brain juices flowing during the day.
56. Standing desk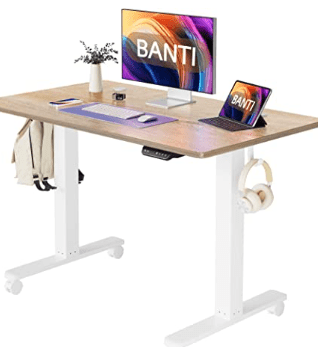 One way to fight off sluggish behavior is to get a standing desk from BANTI. These office gifts are ideal for keeping you awake and moving around more and are terrific for wellness programs.
57. Ergonomic chair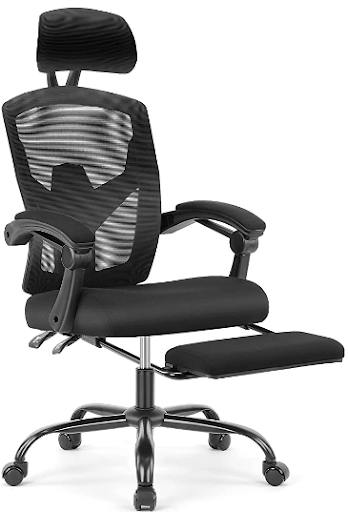 Sitting may be the only option for some. Ergonomic chairs from AFO can help workers maintain their posture and feel better in the long run.
58. Cord organizer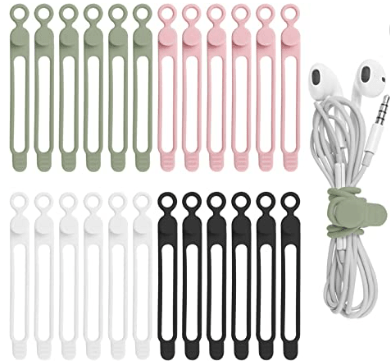 The pesky wires can get tangled easily—you must also worry about pets chewing on them. Get cord organizers from Nearockle to keep remote work setups looking nice and neat.
59. Cactus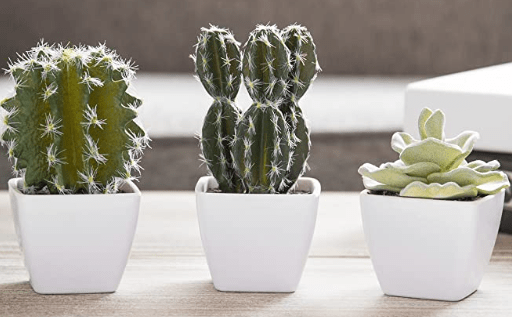 Houseplants are fun and cheap gift ideas for coworkers, but what if their desks are small? Get tiny cactus plants from MyGift that fit in any workspace.
60. Wi-Fi extender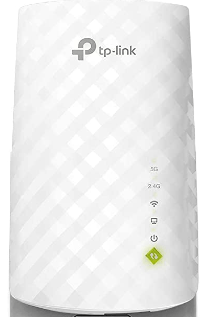 Your coworker may have a home office far from their router. Get Wi-Fi extenders from TP-Link to ensure their internet is fast and they stay productive.
61. Charging hub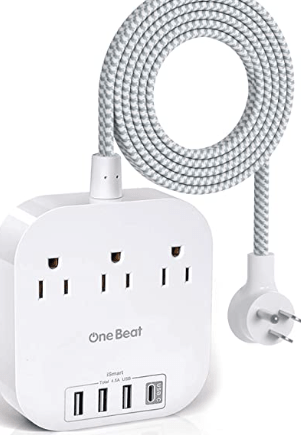 People have many devices to keep track of, including phones, tablets, and smartwatches. Get a charging hub from One Beat to ensure your coworkers can keep their gadgets charged simultaneously.
62. Second monitor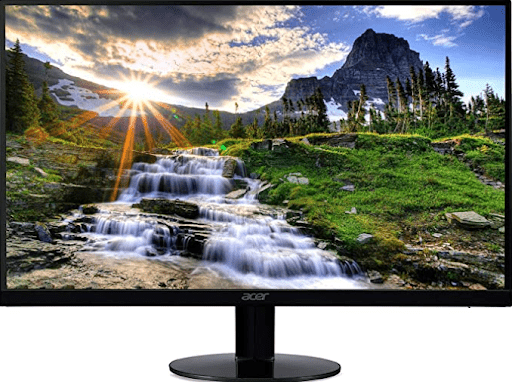 Getting a second monitor opens up new worlds for those who've never had one. Ask your coworkers for their model and get them a second one as work-from-home gifts. If they need two new monitors, get a pair from Acer.
63. Tech wipes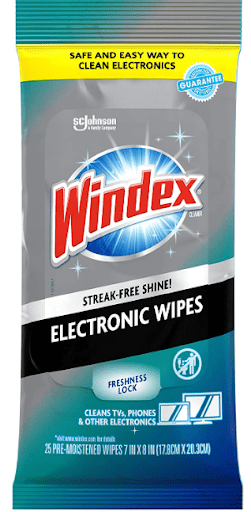 Gadgets can become dusty after a while, so you should help your coworkers stay clean. Get Windex tech wipes to clean computer screens safely.
64. Candles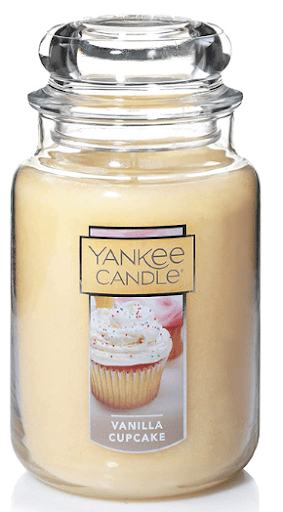 One pro of having a home office is you can control the smell. Get coworkers their favorite scented candles from Yankee Candle as small gift ideas that make them happy.
65. Air purifier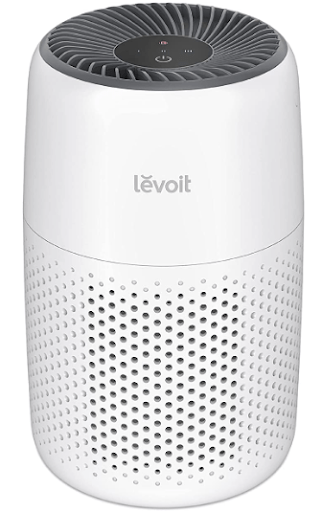 Sometimes, the little things make a big difference in the office. One example is an air purifier. A home HVAC might not be as strong as the office's, so getting air purifiers from LEVOIT might be a good gift idea to improve indoor air quality (IAQ).
66. Ring lighting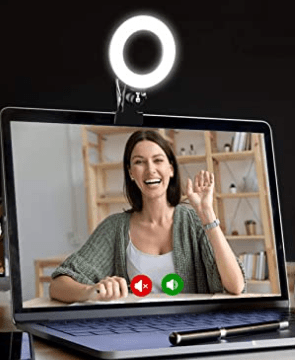 Remote working still includes meetings, even if your pets want to join the party. Make your coworkers and their pets look incredible with ring lights from Cyzecor.
67. House slippers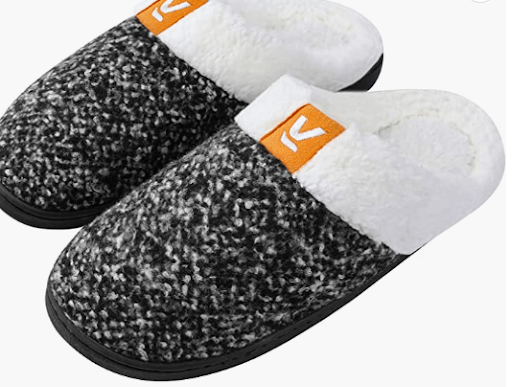 Another work-from-home benefit is wearing your favorite pair of pajamas. Send your coworkers house slippers from Ankis to keep their feet comfy.
68. Anti-fatigue mat
Some like to stand while they work. Get your coworkers an anti-fatigue mat from StepRite to keep their feet cozy and their bodies working throughout the day.
69. Desk organizer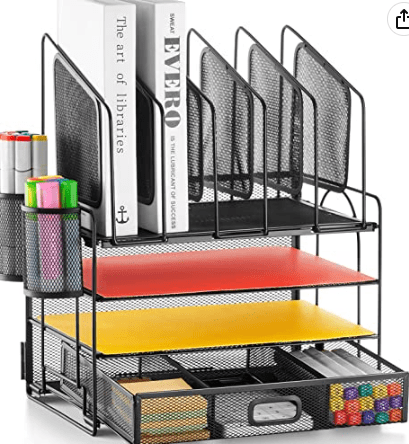 Desks can get messy quickly, but desk organizers are one way to help. These tools from Marbrasse have multiple drawers and racks to separate your files, pens, notes, and other necessities.
70. Mug warmer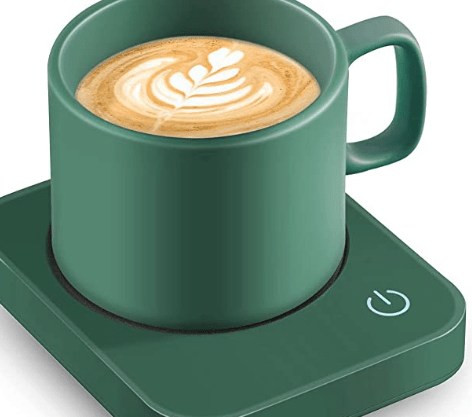 Some employees don't drink their coffee fast enough before it gets cold. Mug warmers from Vobaga save the day by keeping cups fresh as long as needed.
71. Mouse cushion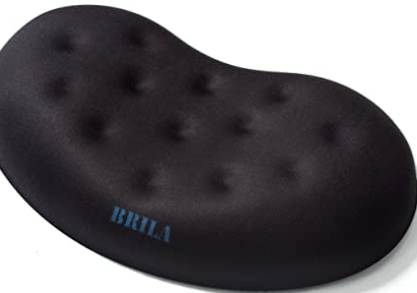 Eight hours in front of a computer can get tiring for your hands. Your coworkers will appreciate mouse wrist cushions from BRILA as unique work-from-home gifts.
72. Wireless keyboard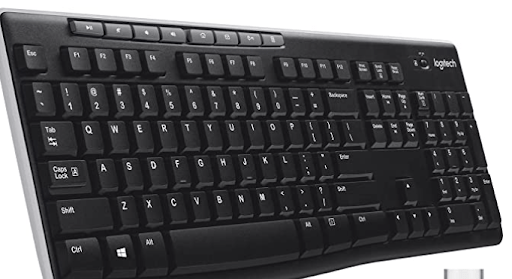 Even with cord organizers, your desk can feel cluttered. Help your coworkers reduce the mess with a wireless keyboard from Logitech. These gadgets are ergonomic and designed for ease of use.
73. USB hub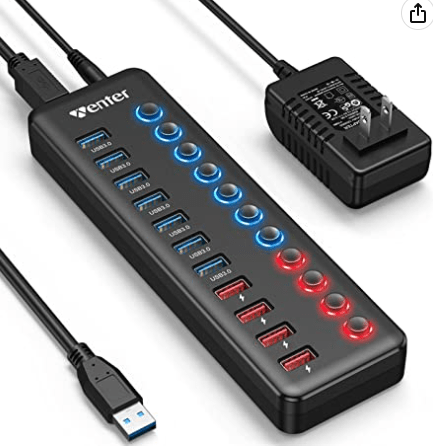 A home computer or laptop for work may need multiple USB ports. Consider Wi-Fi extenders, Bluetooth adapters, mice, and more. Get USB hubs from Wenter as work-from-home gifts to show thanks to your coworkers.
74. Microphone
Speaking clearly is even more critical in the remote world because technology can run awry. Get microphones from WMT as good gift ideas for your coworkers, especially if presenting is a significant part of the job.
75. Weighted blanket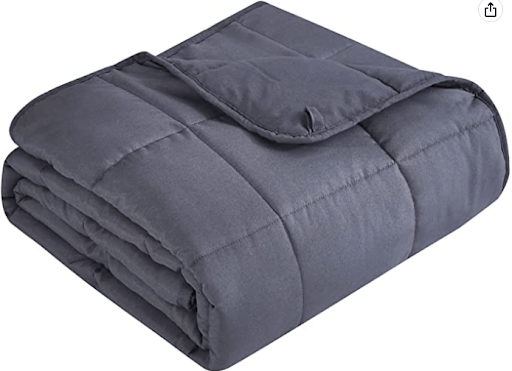 A good night's sleep is essential to maximize productivity the next day. Get weighted blankets from TOPCEE for coworkers who may have trouble sleeping due to anxiety. These gifts are unique and can help significantly.
76. Essential oil diffuser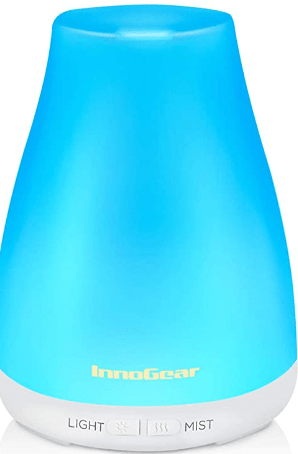 The smell of your office can dictate your mood considerably. Essential oil diffusers from InnoGear are small gifts that go a long way in lifting your coworkers' spirits.
77. iRobot cleaner
Remote work might not leave time for cleaning, so why not let robots take care of it? Buy Roombas and other machines to clean your coworkers' offices for them.
Small Gifts for Coworker Appreciation
Even small gift ideas go a long way with your coworkers. These 25 thank-you gifts for coworkers are lovely ways to show your appreciation.
78. Mini calendar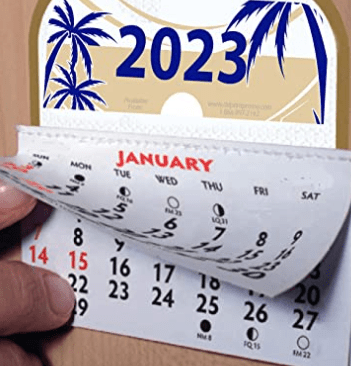 The theme of this section is little things, so start with a mini calendar. These tiny date keepers from DDPrintPromo are small gift ideas for coworkers who like simplicity and minimalism at their desks.
79. Fancy pen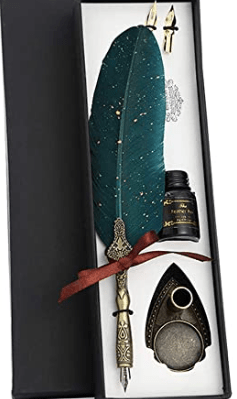 Cheap pens are a dime a dozen, but a fancy model can show appreciation. For example, get a feather pen and ink set from VANGOAL for the calligraphy lovers in the office.
80. Keychain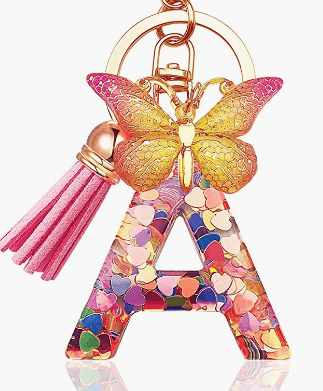 Keychains make terrific small and cheap gift ideas. They're small, and everybody needs one. Plus, they come in various designs and colors, like this one from Jinguazi. Here are some ideas to make your keychain gift unique:
*Get their initial
*Do they have a pet corgi? Get a keychain that looks like their pet.
*Get a reminder of a goal they are working on. Are they learning a new sport? Get them a keychain with that sport.
81. Sticky notes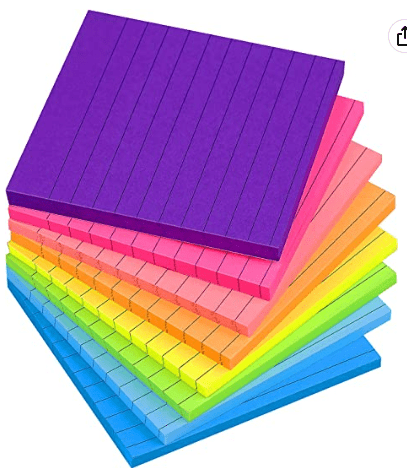 You can't have too many sticky notes, and your coworkers probably share this sentiment. Drop off a pack from Kozerite to show your appreciation for their organizational skills.
82. Starbucks Gift card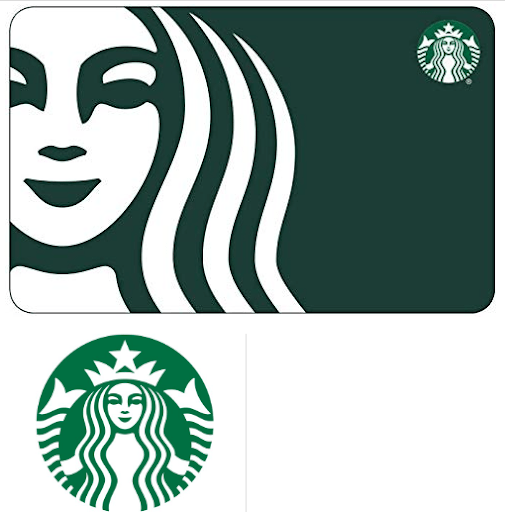 Home or office coffee is great, but what beats your favorite Starbucks order? Get a Starbucks gift card so they can enjoy their favorite drink in the morning.
83. Pins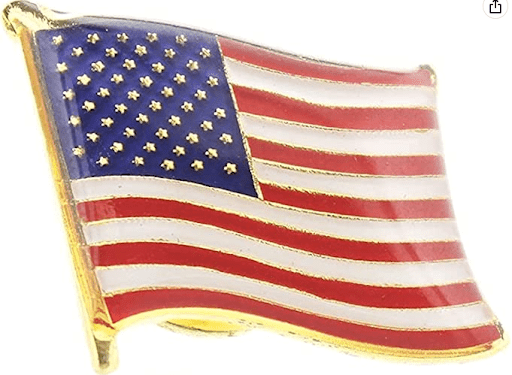 Pins are tiny pieces of decor to show off anything you like. Give coworkers this American flag pin from Juvale or whatever makes them happy.
84. Thank-you card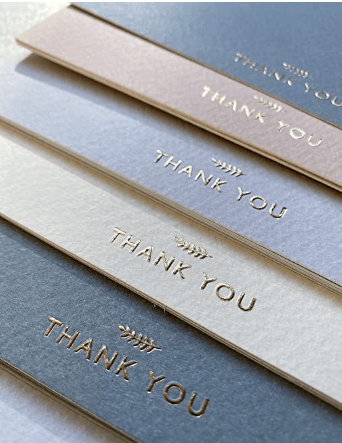 Sometimes, a simple thank-you card is all you need to make someone smile. Write heartfelt notes inside these cards from RUN2PRINT to describe how much you appreciate your coworkers.
85. Multiplug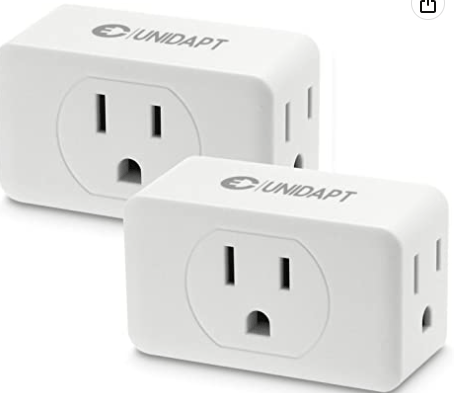 With so many devices, there are only so many outlets to use. Get your coworkers multiplug extenders from UNIDAPT to ensure they have enough.
86. Travel bag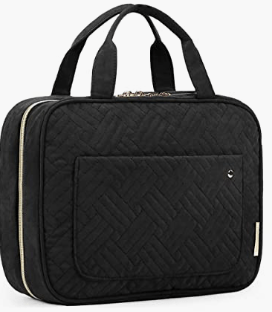 Luggage is essential when vacations or work trips call. If a retreat is coming up, get your coworkers travel bags from BAGSMART to help their journeys go smoothly.
87. Pencil toppers
Remember elementary school when you'd get pencil toppers? Bring the nostalgia back with a pack of pencil toppers from Mr. Pen for your fellow employees.
88. Goodie bag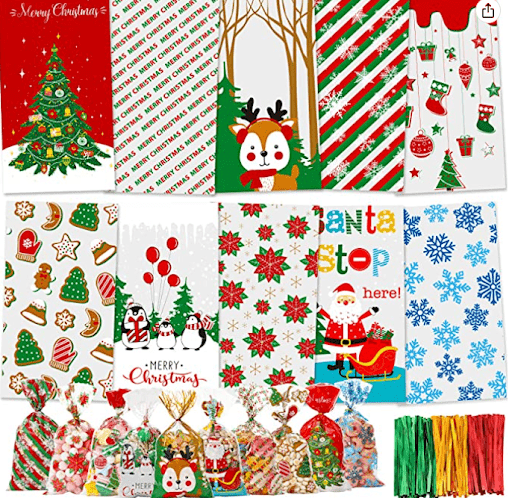 Another fun part of elementary school was the holiday goodie bags. Gift your coworkers personalized goodie bags from Moretoes with their favorite candies.
89. Animal paper clips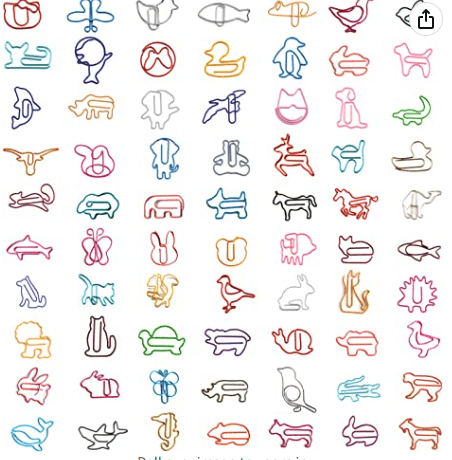 Paper clips can be boring if they're continuously gray. Get multicolored or animal-shaped clips from Ihuixinhe as cheap gift ideas to make the workday more fun.
90. Bookmark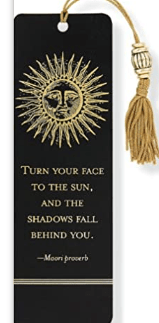 Reading stimulates the mind, but what if you lose your place in the book? Get inspirational bookmarks from Peter Pauper Press as unique gifts for employees who consider themselves bookworms.
91. Gift certificate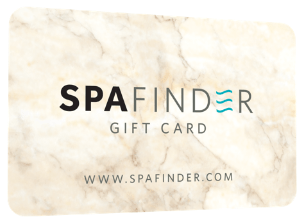 Get coworkers gift certificates from Spa Finder to a nail salon or spa. They'll appreciate the best thank-you gifts for a job well done.
92. Holiday ornament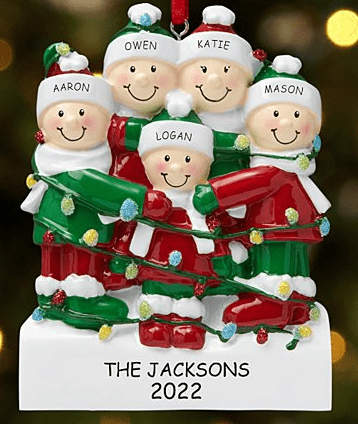 The winter holidays are a time to celebrate each other and show love to coworkers. Give them holiday ornaments from Personal Creations as small gift ideas that show holiday cheer.
93. Fridge magnet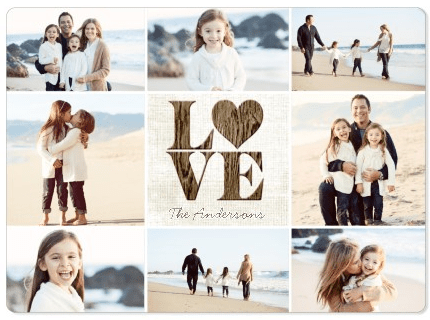 How old is the oldest magnet on your fridge? Those items stay there for decades. Give your coworkers personalized fridge magnets from Shutterfly as fun gifts that'll last a lifetime.
94. Pillow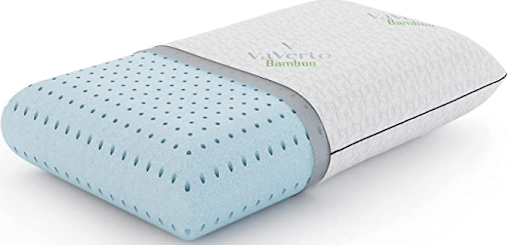 It's hard to overstate the importance of sleep. Even short naps can bring bursts of energy. Gift a special pillow, like one with memory foam from Vaverto.
95. Lotion
Wintertime often brings dry weather and dry skin. Help your coworkers by giving them bottles of lotion from Thymes. Moisturizing and lovely smells make for the best thank-you gifts.
96. Bath bomb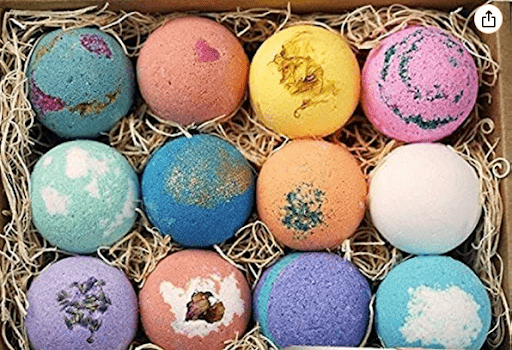 After a long week, what's better than a relaxing bath with soothing music? Get bath bombs from LifeAround2Angels as ideas for small gifts that help your friends unwind.
97. Rubik's Cube
For over 40 years, the Rubik's Cube has been a staple for puzzle lovers. How fast can your coworkers solve them? Find out by gifting one to your colleagues.
98. Mini dart board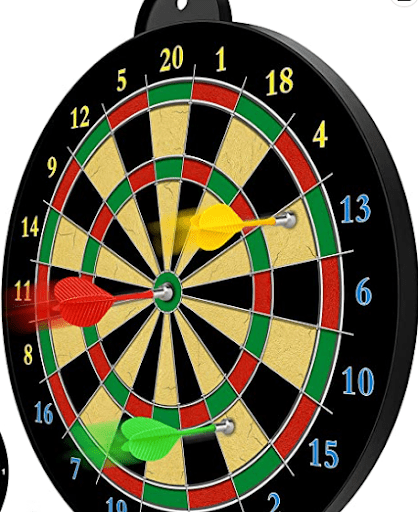 Who's got the best aim in the office? One way to test it is to get a dart board. For safety, get a magnetic version from CUKU for your coworkers.
99. Back scratcher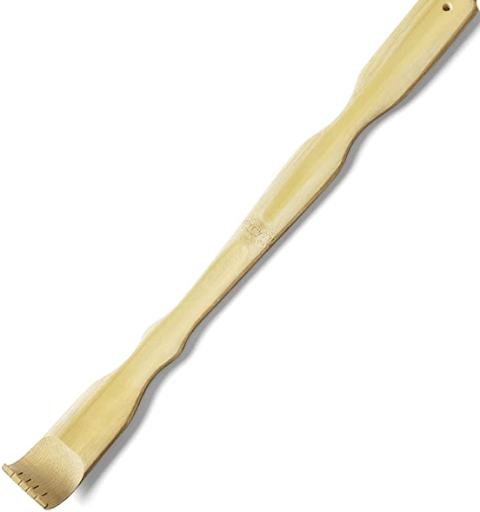 A workplace is conducive when everybody scratches each other's backs, figuratively. What if you could do it literally with a back scratcher from TungSam?
100. Heating pad
One way to remedy chronic pain is through heating pads from Pure Enrichment. They're unique and small gifts that go a long way for your cohorts.
101. Disposable camera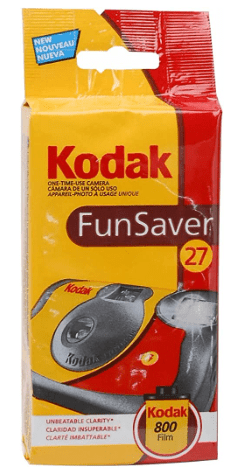 Remember the old days of disposable cameras? They can still be super fun on vacations. Get a KODAK Funsaver for your coworkers going on holiday to bring photos back.
102. Book lamp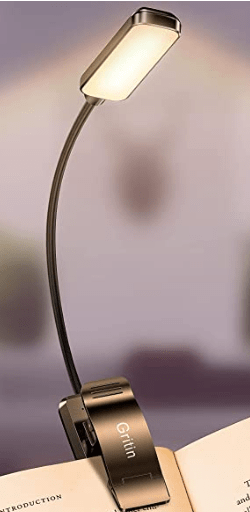 Reading a book requires light, but what if you don't want to disturb others? Get your bookworm coworkers a book lamp from Gritin for their late-night sessions.
103. Wrapping paper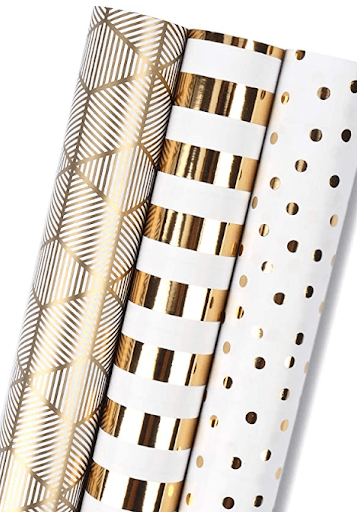 Holidays and birthdays happen throughout the year. Get wrapping paper from MAYPLUSS for your coworkers because the odds are high that they'll need it.
Food Gifts for Coworkers
Edible presents are some of the best thank-you gifts for coworkers. These 51 food gifts span breakfast and dinner, New York and France, and everything in between. Check out our article: Why Do We Eat? 10 Amazing Science Facts Behind Our Eating Habits.
104. Assorted popcorn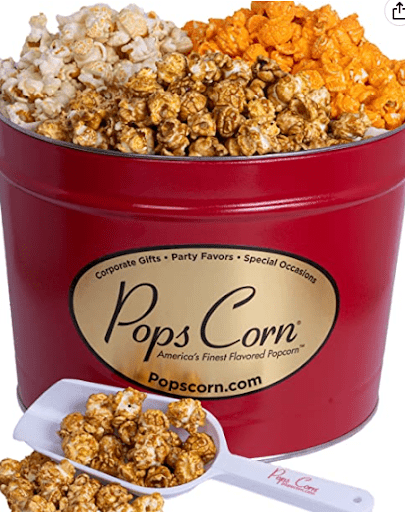 What's better on movie night than popcorn? Show your coworkers appreciation with assorted popcorn tins with kettle, cheddar, caramel, and other flavors from Pops Corn.
105. Chocolates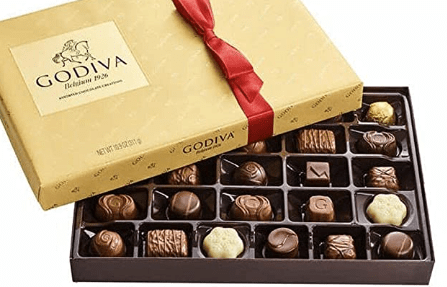 The only thing that can top popcorn at the movies is chocolate. Fancy chocolate from Godiva says you're the employee who gives the best thank-you gifts.
106. Lobster macaroni and cheese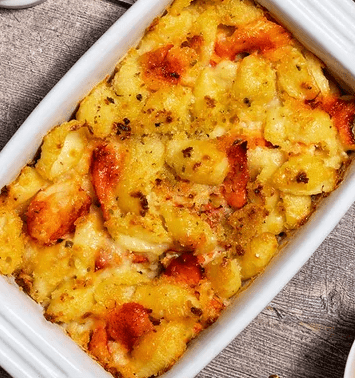 Macaroni and cheese hardly needs improvement, but this lobster edition from Maine Lobster Now tastes like a five-star meal. It's shipped frozen and fresh when it arrives at your door.
107. Waffle maker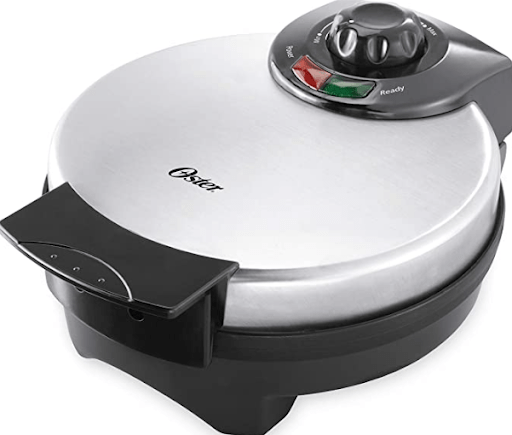 Are there any Leslie Knopes in the office? They'll appreciate employee gifts like a waffle maker from Oster.
108. Wine and cheese basket
Some food and drink pairings go together naturally. Give your office oenophiles cool gifts like a wine and cheese basket from Harry and David.
109. Italian biscotti
Biscotti hits the spot when the afternoon comes and you need a snack. Get packs of Italian biscotti from La Dolce Vita as sweet gift ideas for coworkers.
110. Specialty coffee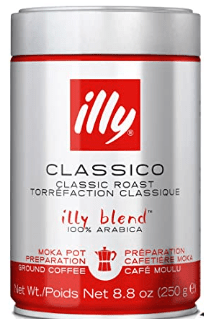 What's the best beverage to dip a biscotti into? A cup of hot joe! Pair the biscotti cookies with Italian coffee blends from Illy for a special treat.
111. Chef's apron
Every chef needs an apron to feel like they're in the profession. Get a personalized version from Lalala Gift Land with your coworkers' names on them.
112. Spicy nuts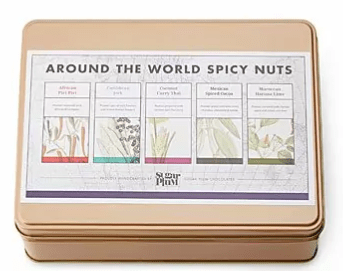 Variety is the spice of life, and so is this around-the-world spicy nut collection from Uncommon Goods.
113. Edible arrangement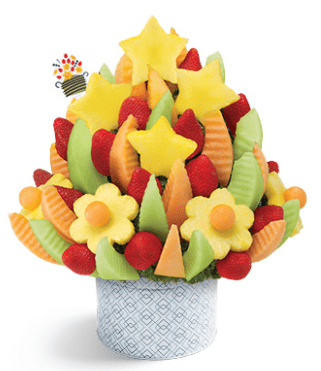 Imagine getting flowers you can eat. Edible arrangements make cool gifts for coworkers, especially with the many varieties.
114. Fresh-baked cookies
When you want a good-smelling house, what do you make? Fresh-baked cookies from David's Cookies will remind your coworkers of their grandmother's house.
115. Homemade jam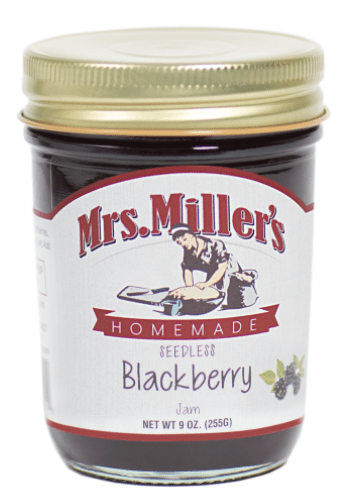 Jam is a favorite spread, and it tastes even better when homemade. Get a jar of jam from Mrs. Miller's.
116. Vegan snack basket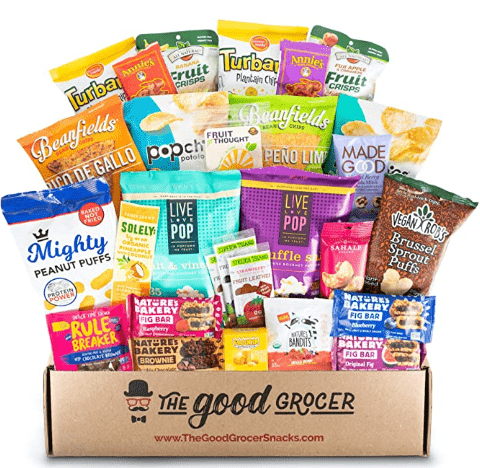 Odds are, one of your coworkers practices veganism. Show them love with unique gifts like a vegan snack basket from The Good Grocer.
117. Charcuterie board
Charcuterie boards make meetings and picnics much more fun. Get cheese boards from Bamboo as convenient office gifts for your coworkers.
118. Chocolate-covered strawberries
Make your coworkers feel special with chocolate-covered strawberries from A Gift Inside on Valentine's Day or Galentine's Day.
119. Personalized cookies
What's better than cookies? The kinds you can write a personalized message on. Let your coworkers know how much you appreciate them by letting them know on these customizable shortbread cookies from Uncommon Goods.
120. TRUFF sauce bottle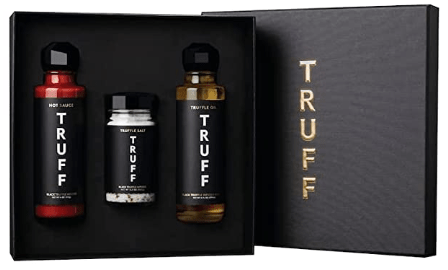 What's all the rage with TRUFF sauce? Help your friends become like social media chefs with various flavors.
121. Breadmaker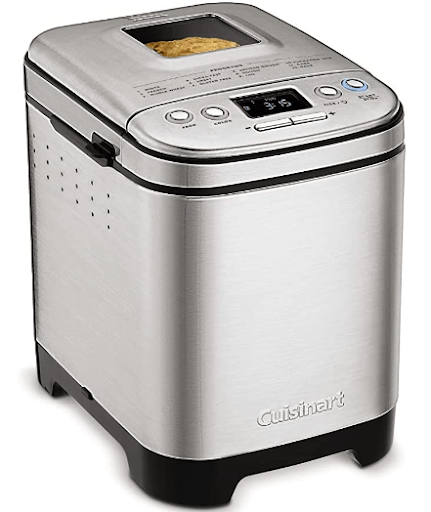 There aren't many better smells than a bakery making fresh bread. Your coworkers can imitate that scent with a bread machine from Cuisinart at home.
122. International spice blends
Take your coworkers on a world tour with these international spices from The Tailgate Foodie, with inspiration from Mexico, Jamaica, Greece, and more.
123. Coffee spices
The spice blends don't have to stop at food. Broaden their horizons and spice up their coffee with worldwide flavors from Whole Spice Napa Valley.
124. Factory tour tickets
You don't need a golden ticket to tour the Hershey or Coca-Cola factories. You'll only need to buy tickets so your coworkers can see the magic behind the scenes.
125. Festival tickets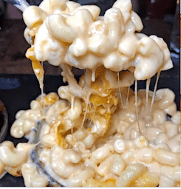 There are always festivals to celebrate certain foods. Get your coworkers tickets to your local Oktoberfest or Mac and Cheese festival.
126. Spicy food lovers' cookbook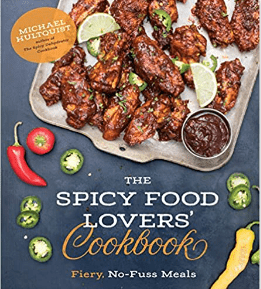 Do you know a coworker who can handle the spice? Let them hone their craft with a spicy food lovers' cookbook.
127. Homegrown vegetables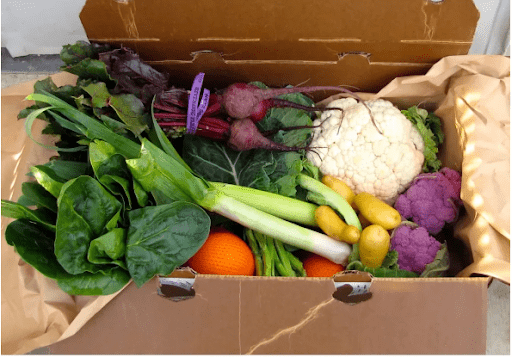 Nothing says appreciation like fresh, healthy vegetables straight from the garden. Get a produce box from Home Grown & Delivered.
128. Homegrown eggs
As seen in grocery stores lately, the egg supply can vary significantly. Get an egg subscription from Fresh Egg Co. as a thoughtful gift.
129. Ice cream subscription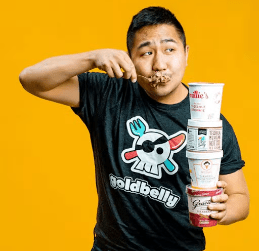 We all scream for ice cream, especially when it comes to your door every month. Get your coworkers a Goldbelly ice cream subscription for a different flavor monthly.
130. Bokksu snack box subscription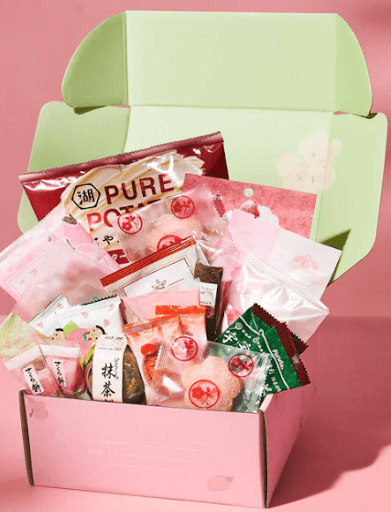 Take your coworkers to Japan with a Bokksu box featuring authentic Japanese snacks.
131. Themed cupcakes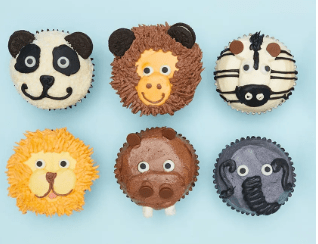 No matter the occasion, themed cupcakes from Lola's Cupcakes make a terrific snack you can share with your coworkers.
132. Cheesecake sampler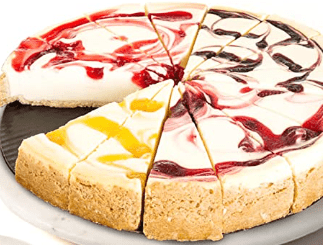 There's something about cheesecake that gets anyone excited. Get a cheesecake sampler from David's Cookies to make the whole office happy.
133. BBQ spice rubs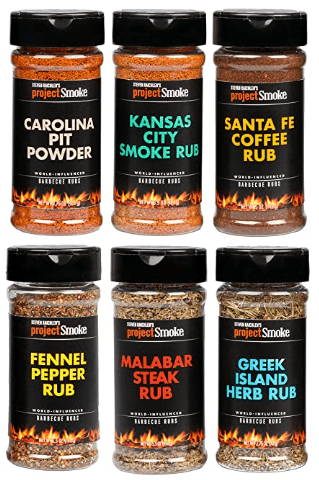 What regional barbecue does the office like: Kansas City, Carolina, or another? Dish out barbecue spice rubs from Steven Raichlen's to your coworkers.
134. French macarons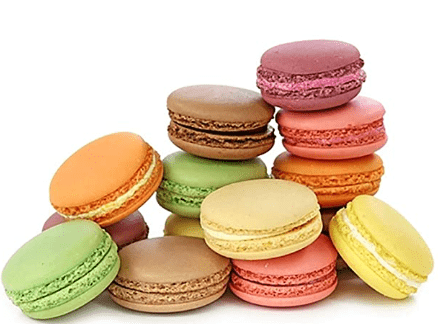 No trip to Paris is necessary to get your hands on these French macarons from Macaron Bites.
135. New York bagels
New Yorkers take pride in their Yankees and bagels. Get a pack of bagels from New Yorker Bagels for a delicious breakfast at the office.
136. Sushi-making kit
Sushi is a foodie favorite because it's healthy and easy to eat. Get Delamu sushi-making kits for a fun dinner.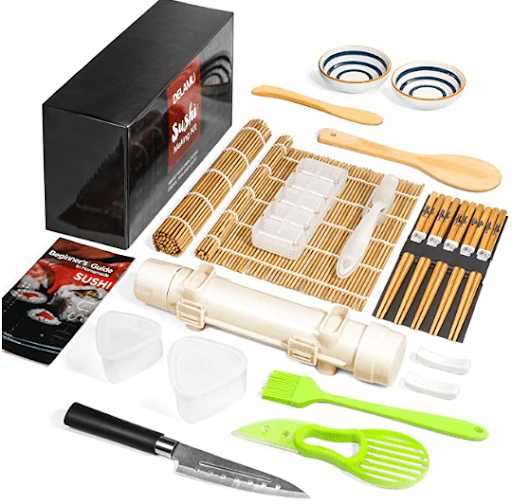 137. Hot Ones hot sauce bottles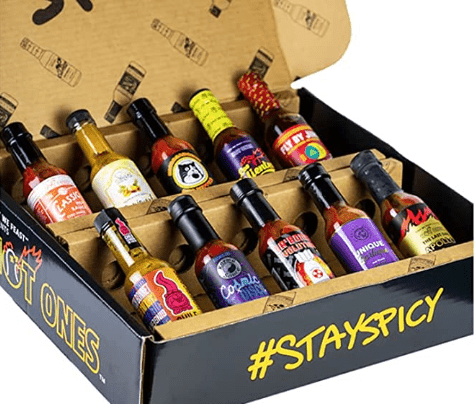 Who's a fan of the show Hot Ones from First We Feast? This 10-pack of sauces has all the heat from season 19.
138. Wine subscription
After a long day, help your coworkers unwind with a bottle of wine from Bright Cellars sent to their doors.
139. Peppermint patties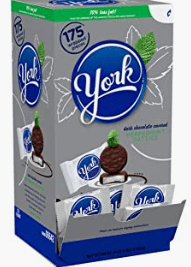 Mint chocolate is sweet and freshens your breath. Pass out York peppermint patties around Christmastime.
140. Gingerbread cookies
Christmas brings delightful smells — one of the best is gingerbread cookies from Weissella.
141. Girl Scout cookies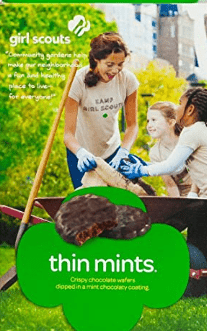 When Christmas ends, Girl Scout cookie season is right around the corner. Get your coworkers their favorite boxes of Thin Mints or Samoas.
142. Smores kit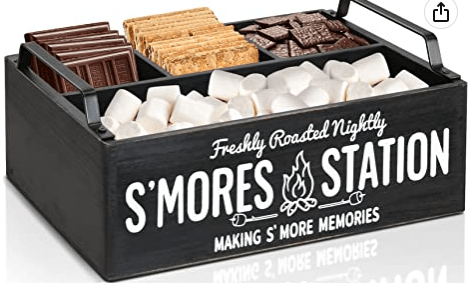 The cool fall and winter nights call for bonfires. If your coworkers like camping, get them a s'mores station from COZYYROME.
143. Flavored salt
Salt makes food more flavorful, but what about flavored salts? Get flavors like rosemary lemon, campfire, and more from FreshJax.
144. Earl Grey tea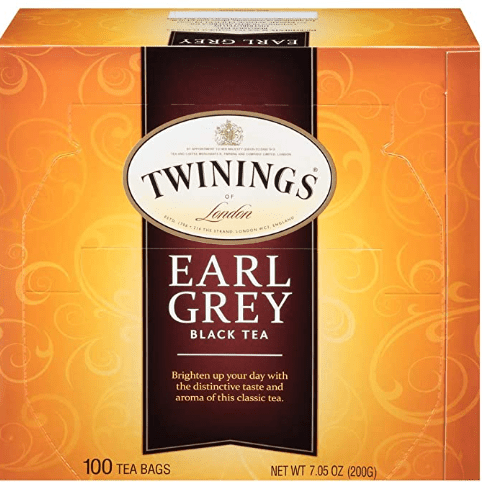 Afternoons call for tea time. Get your coworkers a box of Earl Grey tea from Twinings and pair it with scones.
145. Hot cocoa mix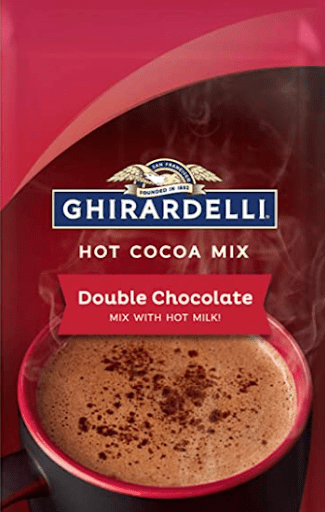 Coffee and tea may only be for some, so get hot cocoa from Ghirardelli for that warm chocolatey feeling.
146. Organic maple syrup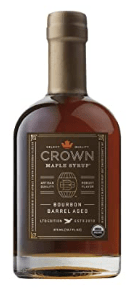 What's better than homemade waffles in the office? A bottle of organic maple syrup from Crown Maple.
147. High-energy trail mix
Trail mix is a delicious snack, whether hiking or in the office. Get your coworkers a bag of Power Up's high-energy trail mix for the holidays or as a thank-you gift.
148. Edible cookie dough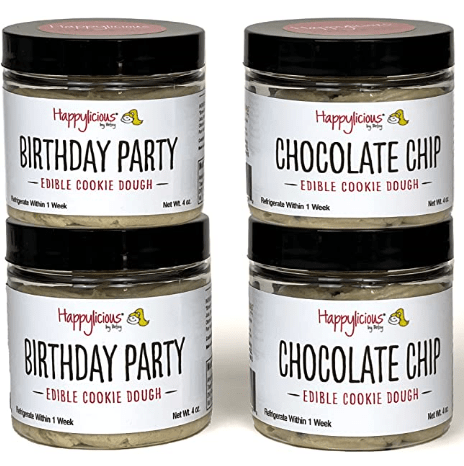 It's OK to admit you've eaten raw cookie dough. Be safe and get the edible version from Happylicious for your coworkers.
149. Hot honey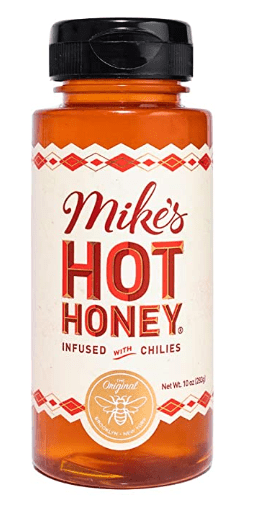 Spicy and sweet combinations have become more popular lately. Give Mike's hot honey for your coworkers' Nashville hot chicken.
150. Johnnie Walker Blue Label scotch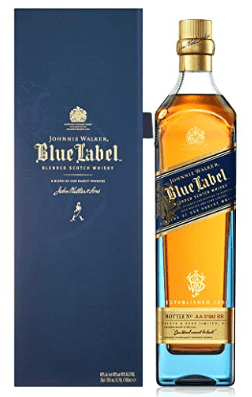 Special occasions call for Johnnie Walker. When a significant milestone comes, gift Johnnie Walker Blue Label scotch.
151. Hot chocolate bomb
Among the most fun ways to have hot chocolate is with a Needzo melting ball or a bomb, as the kids say nowadays.
152. Soft pretzel baking kit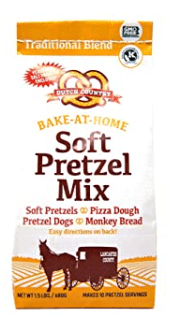 What can you get from the mall and the carnival? A giant pretzel! Give a pack of Dutch Country's soft pretzel mix for a delicious treat.
153. Chocolate-covered pretzels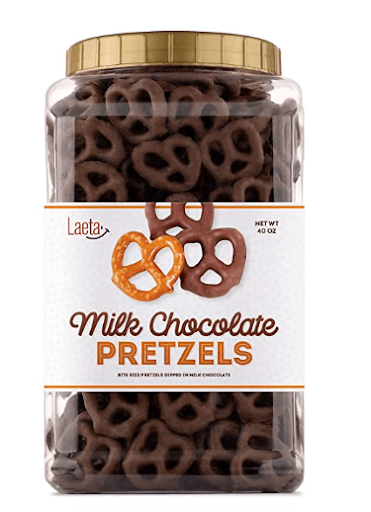 Chocolate-covered pretzels from Laeta are a terrific sweet-and-salty snack and a popular holiday treat.
154. Seinfeld: The Official Cookbook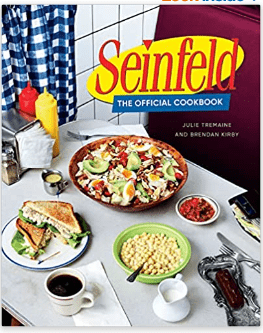 Let your coworkers eat their favorite foods from Seinfeld, like the fusilli Jerry, Newman's jambalaya, and Elaine's big salad.
Pop Culture Gifts for Coworkers
Favorite shows and movies stick with people their whole lives. These 30 gifts are for the ones obsessed with Harry Potter, Seinfeld, Star Wars, and more.
156. Golden Girls mad libs
This Golden Girls Mad Libs book is a terrific gift for your pals and confidants.
157. Golden Girls socks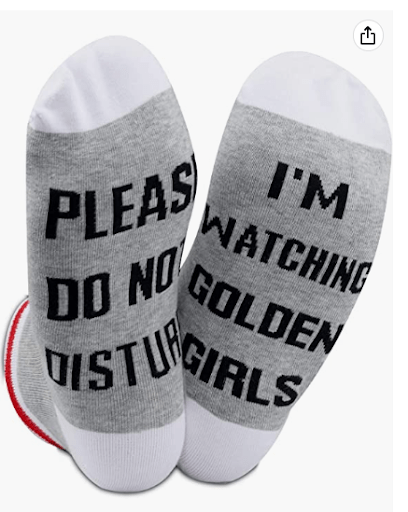 Get these Golden Girls socks for the coworker obsessed with the fab four.
158. Lord of the Rings no admittance sign
This no admittance sign is for coworkers celebrating Bilbo Baggins' birthday.
159. Lord of the Rings puzzle
Thousand-piece puzzles take time and patience. Give this Lord of the Rings one to the best puzzle solver in the office.
160. Harry Potter golden snitch lamp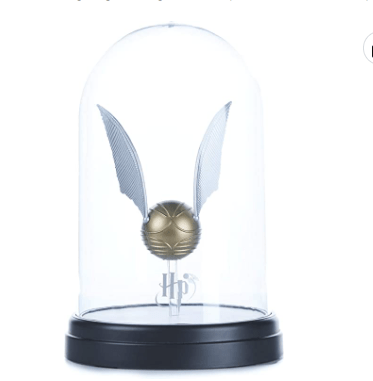 Who's the best Quidditch player in the workplace? Get them this golden snitch lamp.
161. Harry Potter mini music box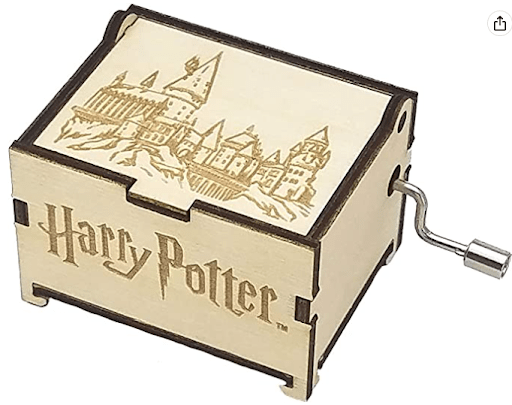 Hedwig's Theme is among the most recognizable in Hollywood. Get your Potter-obsessed colleague a Harry Potter mini music box.
162. The Simpsons Monopoly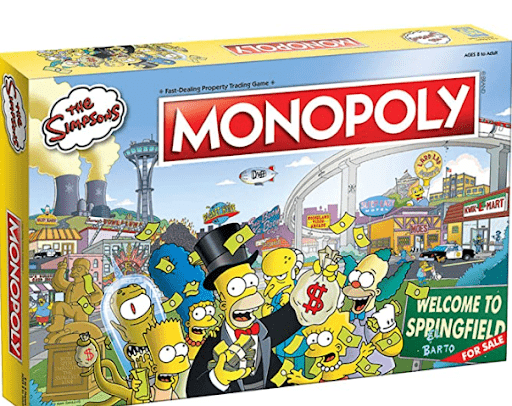 Monopoly games can take hours, but they're worth it when buying property in Springfield.
163. The Simpsons can hugger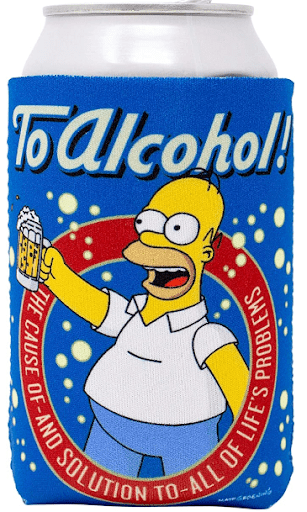 A good can of beer needs a hugger or koozie. Get this Homer Simpson one.
164. The Office Schrute Farms keychain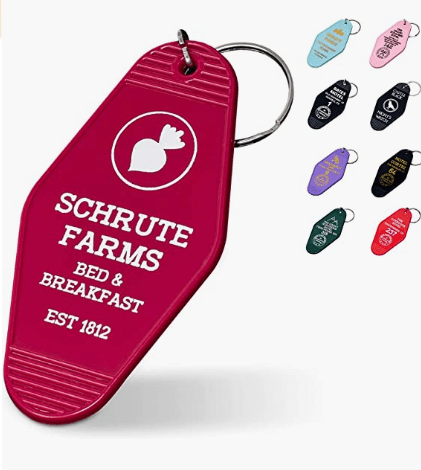 The Schrute Farms Bed & Breakfast is an interesting vacation, to say the least. Get a keychain for your honorary Dunder-Mifflin employee.
165. The Office Dundie award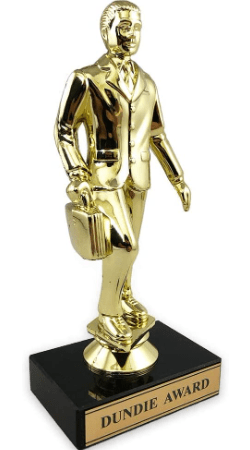 Take your coworkers to Chili's and present them with Dundie trophies as a gift.
166. Grey's Anatomy scrub top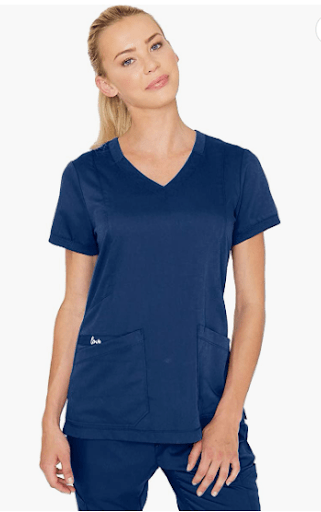 They don't say Seattle Grace, but these scrubs are certified Grey's Anatomy tops.
167. Grey's Anatomy car air freshener
Imagine driving to work and seeing Patrick Dempsey dangling from your mirror. He'll make your car smell McDreamy.
168. Law & Order mug
Law & Order has been on the air for 22 years, so odds are somebody in the office watches it. This mug recites the show's iconic intro.
169. Law & Order SVU makeup bag
This makeup bag is ideal for those striving to be Olivia Benson.
170. Star Wars fork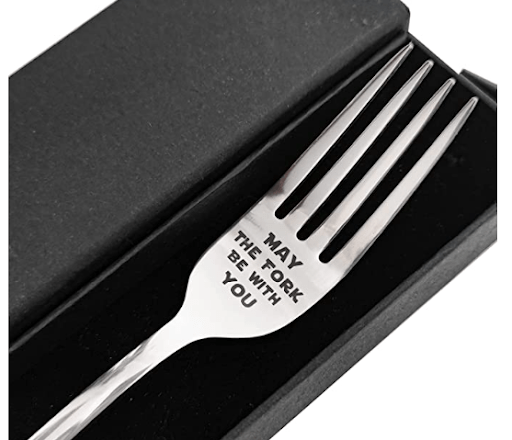 Luckily, this Star Wars fork is usable on days outside May 4.
171. The Mandalorian LED desk lamp
The Mandalorian is one of Disney's most popular shows, and this darksaber LED lamp is ideal for your favorite Star Wars fans.
172. James Bond GoldenEye pin
These 007 GoldenEye pins are terrific gifts for coworkers who like shaken, not stirred, martinis.
173. James Bond Cuff links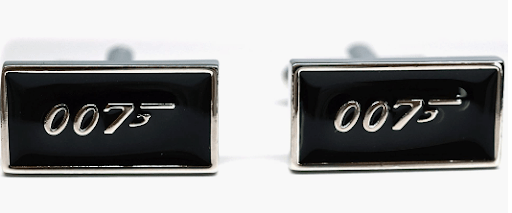 You can count on James Bond to look great in a suit. Get your coworkers these 007 cuff links to make them look as savvy as Daniel Craig.
174. Batman thermos
Superheros stay powerful because they're properly hydrated. Get your Batman fan a thermos with the iconic logo.
175. Batman kitchen timer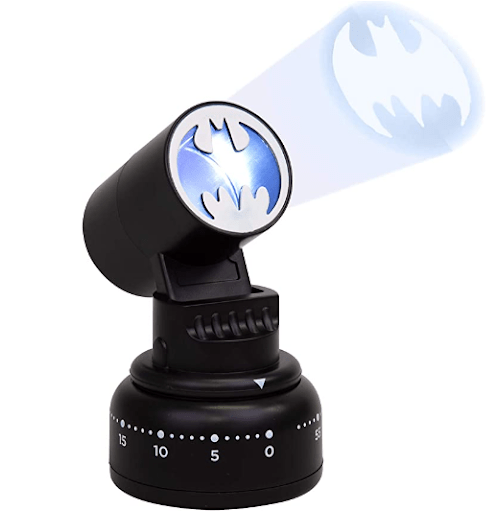 This bat signal kitchen timer is a small gift idea your DC Comic friends will love.
176. Superman license plate frame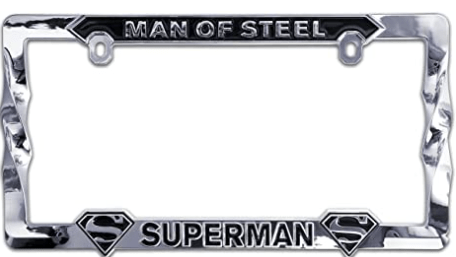 Let your coworkers ride in style with this Superman license plate frame.
177. Superman tumbler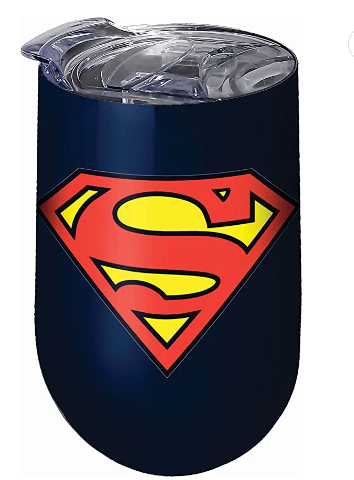 This Superman tumbler holds hot and cold beverages for your superhero coworkers.
178. Marvel infinity stone necklace
Help your coworkers beat Thanos to the infinity stones with this necklace.
179. Ironman Tony Stark sunglasses
What else says cool gifts like these Tony Stark sunglasses?
180. Jurassic Park waffle maker
Pair this Jurassic Park waffle maker with the fancy maple syrup you buy your coworkers.
181. Jurassic Park ranger keychain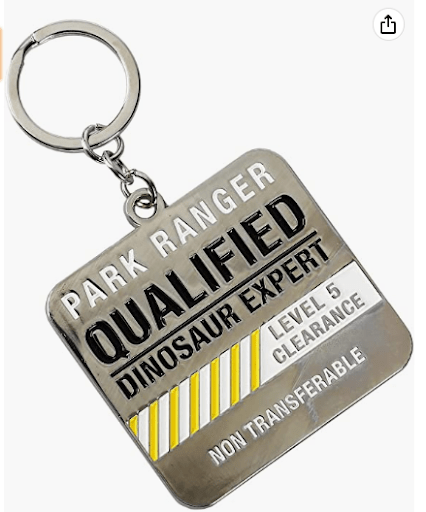 Give your coworkers access to Jurassic Park with this park ranger keychain.
182. Spider-Man slippers
Do you have any secret Peter Parkers at the office? Give them these Spider-Man slippers.
183. Spider-Man MJ Funko Pop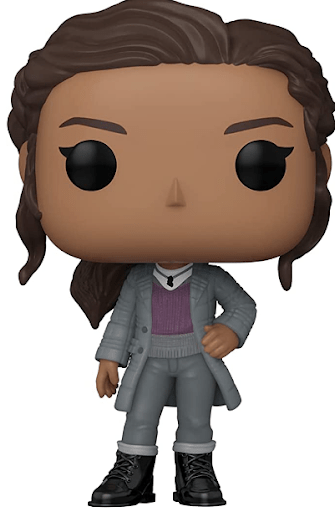 Zendaya has been everywhere, and she can join your coworkers' Funko Pop collection with this MJ figure.
184. Clue Seinfeld
Let your coworkers play as Jerry and the Seinfeld gang in Clue to solve mysteries.
185. Seinfeld coffee table game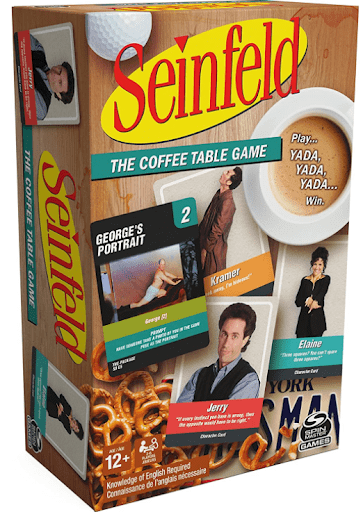 Kramer's coffee table idea makes for a fun game with your Seinfeld-obsessed coworkers.
Corporate Gift Ideas for Coworkers
Let's start with some fun corporate thank-you gifts for coworkers. Take these 25 items and brand them with your company logo to show your appreciation.
186. Sweater
Temperatures start to cool in the fall, meaning it's time for sweater season. Get this company-branded sweater from Etsy to keep cozy amid the cool breezes. Who doesn't love to stay warm with a jacket?
187. T-shirt
Company T-shirts are an excellent way to show your appreciation for an employee. They can wear them on a business retreat, a casual day at the office, or lounging around at home. These matching T-shirts from Redbubble make for great laughs on casual days.
188. Laptop Sticker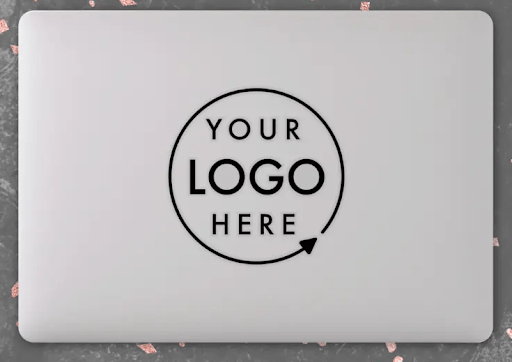 Some people see laptops as art canvases. You can decorate them however you like and personalize them with various stickers. Why not make one of them a company sticker from Zazzle? These are good gift ideas for those just starting with the company.
189. Coffee Mug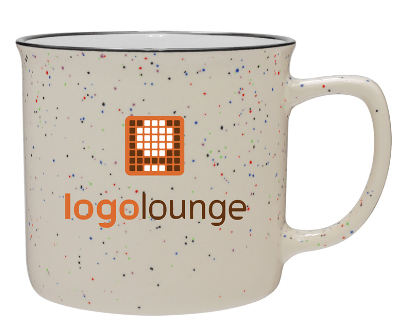 It's OK to admit you're a coffee fanatic. This company-branded mug from Cambria Stoneware and a bag of coffee beans are the best thank-you gifts your employees can ask for.
190. Tote bag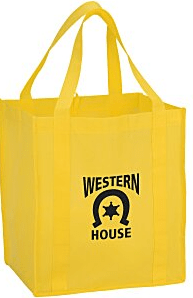 Tote bags are essentials in daily life. You need them to carry everything you need to get through the day. Put a company logo on these 4imprint tote bags to spread brand awareness in public.
191. Phone case
Nowadays, phone cases are more than pretty colors. They're practical for keeping your cell phone safe and storing necessary items like your driver's license. Hand out these branded cases from Brand.it as fun gifts for your coworkers.
192. Hat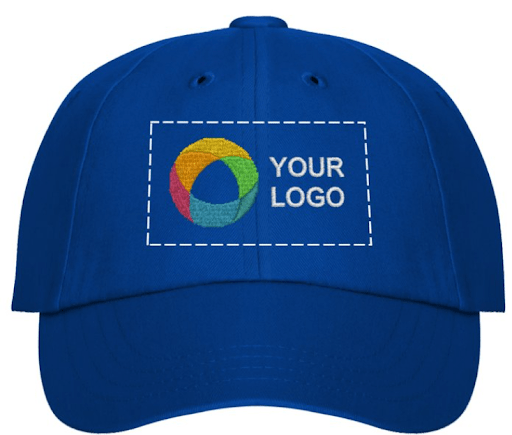 What's more stylish than a hat? Company caps are highly desired corporate gifts for employees. Get these stylish baseball caps from Vistaprint.
193. Thermos

Sustainability is all the rage lately, so people are ditching single-use water bottles in favor of reusable thermoses from Sports Marketing Plus. Brand them with your company logo and hand them out on a day of environmental consciousness like Arbor Day.
194. Wireless speaker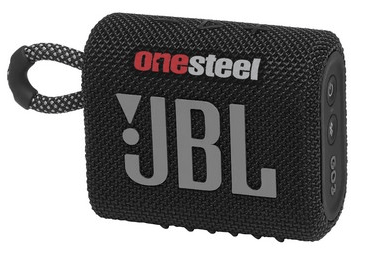 Most people have music they like to jam out to, whether rock 'n' roll, hip-hop, classical, or another genre. Get your coworker a set of wireless speakers from Geek Tech Branding they can take anywhere.
195. Face mask
Influenza and other illnesses spike in the fall. Keep the office safe with company-branded masks from Lands' End as gifts.
196. Lunchbox
Since grade school, lunch has been a favorite time of the day for many. Company-branded lunchboxes from Brandelity are nice office gifts, so everybody has a way to transport their midday meals.
197. Umbrella
You'll probably need an umbrella at some point. Brand your business on an umbrella from 4imprint and hand them out on a rainy day. They're unique gifts for coworkers, but they'll appreciate cover from the precipitation.
198. Yoga mat
Health and wellness have become a greater focus for people worldwide. An accessible way to exercise is to practice yoga. Hand out branded yoga mats from Disrupt Sports if your company starts an office health and wellness program.
199. Pet bandana
Chances are high your coworkers have adorable fur babies at home. Give them a pet bandana from Merchandise Branding they can wear in the yard, at the park, or at a company barbecue. These cool gifts show you care about the employee and their furry loved ones.
200. Stylus Pens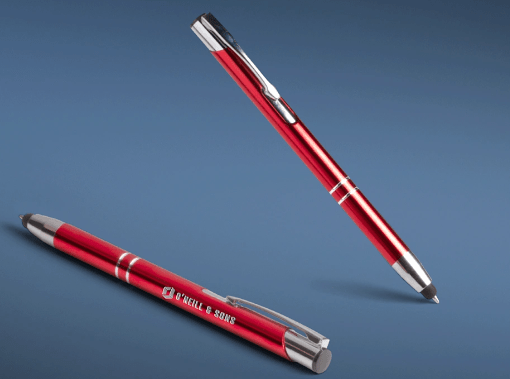 Much of the office has gone digital, with touchscreen technology becoming more prominent. Get custom-printed styluses, like Paragon's engraved stylus pen that look fancy and resemble a ballpoint.
201. Pajamas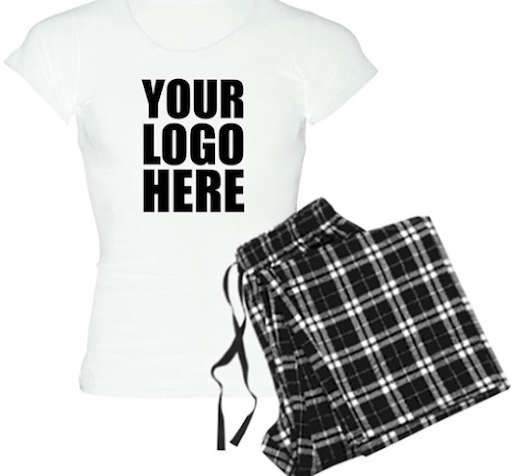 When the sun sets, it's time to put on your pajamas. Why not give out company-branded pajamas from CafePress? They're good gift ideas for coworkers who work from home and want to rep company colors while on the clock.
202. Earbuds
Headphones are an excellent tool to increase productivity or relax and unwind after a hard day. Company-branded earbuds from Branded Gifts are fantastic thank-you gifts for coworkers who just started and need a new pair.
203. Beanie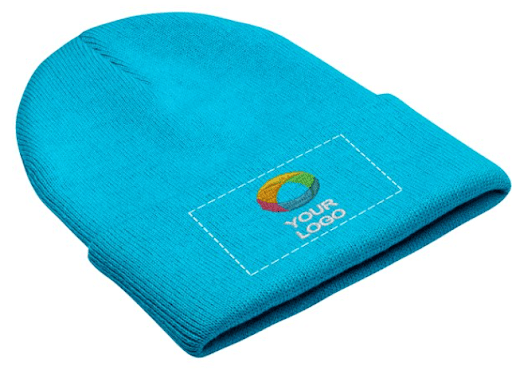 Winters can be cold, especially if you live in the north. Company-branded beanies from Vistaprint are the best thank-you gifts once it gets to late fall and the snow starts falling.
204. Quarter-zips
Another way to stay warm is to wear a quarter-zip, but they do so much more. Quarter-zips from Logo Sportswear look stylish and professional no matter where you go. Show your appreciation by handing out these employee gifts before a conference or if you notice a coworker is cold in the office.
205. Mouse pad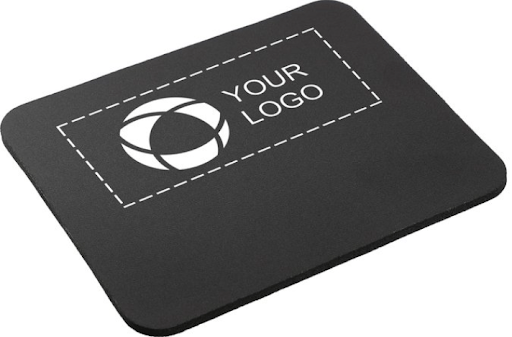 Look at your desk and think about the essentials. One tiny thing some people forget about is the mouse pad. Company-branded versions like ones from Vistaprint spread brand awareness and are cheap gift ideas for your coworkers.
206. Inspirational Notebook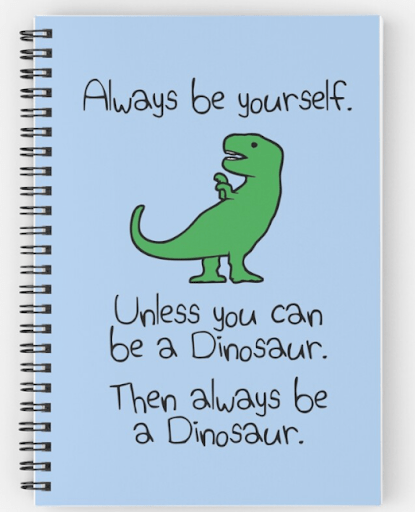 Imposter syndrome can be problematic for many. Use these Redbubble notebooks with inspirational sayings to remind your coworkers to be themselves.
207. Sunglasses
What do you need when driving, at the park or on the beach? Sunglasses. Company-branded sunglasses from Positive Promotions are stylish and make unique gifts for employees when the time comes for an outdoor event.
208. Plant pots

Do your coworkers enjoy office plants? Hand out these pots from Etsy with the company logo on them. August 6 is Tree Day, so show your shrub appreciation with these unique gifts for employees.
209. Lanyards
Yes, people still wear lanyards. In the office, they help carry IDs, keys, and other essentials. Company-branded lanyards from Custom Lanyards are small gift ideas that mean a lot for coworkers who don't want to lose their keys.
Why Are Gifts Important at Work?
Kindness goes a long way in the office. Research shows appreciation keeps workers happy and encourages them to stay within the organization.
Studies by Zippia reveal employees are six times1https://www.zippia.com/advice/employee-recognition-statistics/ more likely to stay if they feel recognized. Nearly 40% of workers say recognition fuels their engagement in the workplace.
How Should You Present the Gifts?
Getting gifts for coworkers is a positive thing, but it also matters how you give them. Thoughtful gift-giving may include:
Personalizing: It's wise to tailor the gift to the person. If they haven't seen Star Wars, they might not appreciate the Mandalorian lamp as much. Find a gift related to something they hold dear to their heart.

Practicality: Thoughtful gift-giving includes giving items people can use. It could be food, cookware, or something else that comes in handy. Unique gifts for employees work, but they should improve life somehow.

Cleanliness: You may know your coworkers well, but you should keep even the cool gifts safe for the workplace (SFW). A risky present could make someone uncomfortable or offended, so keep the NSFW for outside the office.

Spending: If you're getting gifts for multiple employees, keep the spending level around the same. You could spend as little as $5 or up to $100. Ensure the amounts are even to keep everyone happy.

Timing: You'll also want to consider timing when gift-giving. Holidays are the best time to develop gift ideas for coworkers. You could also use occasions like the ends of quarters, promotions, or times when your colleague needs a pick-me-up.

Education: One way to promote practicality is to consider education in your gift. Let your colleagues learn a new way of cooking or experience a wildlife refuge for the first time. They'll appreciate it if you give them new experiences.

Presentation: You might not realize it, but the presentation matters if the gift is tangible. Take time to wrap it neatly and attach a card to show thoughtfulness.

Receipts: Leaving the receipt with the recipient is a courtesy if you buy a product in case there's a problem.
Giving Thoughtful Presents to Your Coworkers
Gifting presents can make someone's day. Your coworkers could be riding the high of a major accomplishment or need a pick-me-up. Consider these 208 gift ideas and how you pick and present the gift.