You sit down at an interview, Zoom meeting, or dinner party and get asked to share a fun fact about yourself. Should you talk about your biggest accomplishment or hidden talent? Should you tell that funny college story or a childhood secret? What "fun fact" should you share that won't sound boring or braggadocious?
If you have no idea what to say, here are 101 ideas for the next time you get asked to share "fun facts about me" at work, school, or a social group.
3 Quick Tips to Choose Interesting Facts About Yourself
Most people make a first impression of you within 7 seconds, so it's normal to feel stumped about what to say during introductions. Believe it or not, a "fun facts" icebreaker can actually be like a "get out of jail free card." You can recalibrate any first impression mishaps by skipping the small talk and sharing something you truly care about.
For a captivating introduction with fun facts, remember the acronym CAP. The best facts to share about yourself are:
Conversation-Sparking
Appropriate
Personalized and Prepared
Conversation-Sparking
The whole point of sharing fun facts is to break the ice between a new group of people so they can get to know each other.
In an interview, you probably want to share something that makes you more hirable by catching the interviewer's interest.
On a Zoom call, you may want to share something that helps your coworkers relate to you.
At a party, you want to share something funny or intriguing that can help you connect with people.
Your "fun facts" should spark further questions and conversation regardless of the situation. Don't shut down the dialogue with a conversation blocker.
| | |
| --- | --- |
| Conversation-Blocking (Avoid) | Conversation-Sparking Fun Facts |
| I listen to RNB music. | The first concert I ever went to was Usher in Vegas when I was 18. |
| I spend most nights binge-watching Netflix. | My favorite Netflix show is Black Mirror because I am fascinated by how technology affects our lives. |
| I like to travel. | I am fascinated by travel because I learn about new cultures and meet people. I especially love visiting art museums and historical landmarks everywhere I go. |
Pro Tip: Listen carefully to other people's fun facts so you can ask about them later. Vanessa Van Edwards calls these "hot buttons" because they give insights into a person's interests and passions. If you want to connect beyond small talk, probe deeper by asking, "Why do you like ___?" or "How did you get into ___?" These show that you're genuinely interested in what makes them tick.
Take the dialogue to the next level by sprinkling in some of these science-backed tips for creating an intriguing and memorable conversation.
Appropriate
Avoid sharing anything too personal or uncomfortable, like political opinions, religion, family background, financial situation, alcohol/drug consumption, or things you dislike. While these facts may be discussed with closer friends later on, they could paint you negatively in front of new acquaintances.
| | |
| --- | --- |
| Inappropriate Topics (Avoid) | Appropriate Fun Facts |
| I have lost 100 pounds on my weight loss journey. | I am passionate about nutrition and a healthy lifestyle. |
| When I get drunk, I'm the best beer-pong player around. | I like to go to breweries to try out new craft beers. My favorite local brewery is ___. |
| I voted for [politican]. | I am passionate about [social justice/animal rights/non-polarizing issues]. |
Personalized and Prepared
This is a two-in-one! It's hard to share a unique fact if you don't think and prepare ahead of time. Some people can come up with fascinating things on the spot, but if you tend to get tongue-tied in the spotlight, it's best to reflect on your unique qualities in advance so you can have "fun fact" ideas already in your back pocket.
| | |
| --- | --- |
| Generic Fun Facts (Avoid) | Personalized Fun Facts |
| I drive a Jeep. | I drive a Jeep because I love going off-roading on the weekends. That didn't work so well when I had a Camry! |
| I like pizza. | I love pizza, but after studying abroad in Italy, I am a bit of a pizza snob and always look for the most authentic pizza joints. |
| I grew up in Florida. | Growing up in Florida, I had a mango tree in my front yard and have been addicted to mangoes ever since. |
Pro Tip: Even if a fun fact is super interesting, closed-off body language can undermine your message because it shows people that you don't want to open up and socialize about what you share.
For example, people with their arms crossed can accidentally send messages like, "I'm bored," "I'm too cool for this activity," or "I don't want to talk to you.
If you want to use your interesting facts to make new friends or professional connections, your body language must match your intention. Practice these quick body language hacks during and after the fun facts icebreaker activity:
Don't cross your arms or clutch a bag in front of you.
Do keep your arms casually to your side and show your palms.
Don't slump over or show poor posture.
Do stand up straight and roll back your shoulders to slightly open your chest.
Don't frown or look uninviting.
Do share a welcoming smile.
101 Examples of Fun Facts About Yourself
People are more likely to remember unusual things because novelty triggers a dopamine release in their brains. In Vanessa Van Edwards's bestselling book Captivate, she explains how you can be the most memorable person in a room (spoiler alert: it starts with authenticity and building trust.)
You can combine her key body language tips (summarized here) with "hot-button" facts about yourself that people will be dying to ask about later. Use these prompts to come up with compelling fun facts to keep in your back pocket for any occasion.
Fun facts about me during an interview
Interview questions can often feel generic or boring. When you get a chance to share something about yourself during a job interview, make it count by showcasing your personality and unique talents.
My personal mission statement is…
The highlight of my career was…
One thing I do better than most is…
I really shine in positions where I get to…
My biggest goal for this year is ___.
My previous boss described me as ___.
My colleagues said they loved working with me on ___ projects because…
The best workday I ever had was when I got to…
I have always wanted to work in [industry] because…
One of the biggest lessons I learned in the past few years was…
I perform extremely well in ___ situations because…
My favorite passion project outside of work is…
I would love to meet [business leader or mentor] and ask them about…
I recently finished reading [industry relevant book] and learned…
One of my favorite hobbies is ___ because…
I've always wanted to work in a workplace that is…
The top 5 things on my bucket list are…
I love being in a leadership position because I get to…
My favorite organization tool is ___ because…
I excel in a [fast-paced/highly organized/team-oriented] environment because I enjoy…
When I was young, I wanted to be a ___ because…
The most embarrassing thing that happened to me at work was ___, and I learned…
My favorite word is ___ because…
Here are some quick tips for using these fun facts to your advantage during an interview:
Keep the facts relevant to the job or industry.
Use the facts to demonstrate your unique qualities and experiences.
Avoid sharing any inappropriate or controversial information. Try not to talk about serious mistakes you've made that could paint you in a negative light.
Use the facts to show your personality and help the interviewer get to know you better.
Fun facts for a self-introduction
The primacy effect explains why people are most likely to remember the first piece of information they hear about a topic. Whatever you say after your name could be forever linked to their perception of you. If you get the chance to introduce yourself with a fun fact, try one of these templates to plant a positive seed in their minds:
The best advice I ever received was…
The hobby I could never give up is…
My biggest role model is ___.
One of my favorite books is ___ because…
My perfect day would start with ___ and end with ___.
My favorite inspirational quote is ___.
One thing I cannot live without is ___.
I spend most of my free time…
I would love to learn how to…
My favorite season is ___ because…
If I won the lottery, I would instantly…
I have seen [favorite movie] X times because…
I worked as a/an [interesting job] in college and learned…
If I could have any superpower, it would be ___.
I have loved [sports team] since I was X years old.
The most influential person in my life was ____ because they taught me…
If I could live anywhere in the world, it would be ___.
I mostly listen to ___ music.
I can play the [instrument].
My biggest celebrity crush is ___.
I once [feat of endurance like climbing a mountain or running a marathon].
My favorite comfort food is ___.
I can cook the most amazing ___.
If I could only eat one food for the rest of my life, it would be ___.
I have visited ___ countries, and my favorite was ___.
I first traveled solo when I was ___.
I am currently planning a trip to ___ because I've always wanted to…
I love to travel so much because…
The most beautiful place I've ever seen was ___.
One of the most interesting people I ever met in my life was ___.
I have been with my spouse/partner for X years.
I have X kids. My proudest moment as a parent was…
My family name means ___.
Most of my family is from ___. Our ancestors were ___.
I once made a [interesting craft or project] from scratch.
My childhood nickname was ___.
I am the [youngest/middle/oldest] child in a family of X.
My friends would describe me as…
If I could be any dog breed, I'd be a ___ because…
I have known my best friend for X years.
In my friend group, I am known as the ___.
My friends once played a hilarious prank on me when they ___.
In a zombie apocalypse, I would be the most useful for ___.
My dream job is ___.
My favorite subject in school was ___.
When I was a kid, I wanted to be a ___ when I grew up.
My favorite thing about my current job is…
I love to volunteer as a…
If I could go back in time, I would love to experience [historical era].
My favorite concert I ever went to was ___.
When introducing yourself in an icebreaker game, choose facts that…
You would be proud to have your name linked to.
Emphasize your positive qualities or interests.
Reveal deeper insights about your character (try to include a deeper "why" by using the phrase "because…")
Fun facts for a social gathering
Sharing fun facts about yourself is an easy way to stand out from the crowd and open yourself up for future conversations. You can also quickly discover who you might have something in common with. Here are some fun fact templates for social situations:
My secret talent is ___.
I'm practically addicted to ___.
My idea of Heaven on Earth is…
My biggest life hack is ___.
I could talk about ___ for hours on end.
My biggest personal goal for this year is…
I once had a recurring dream of ___, and I think it meant…
I have an irrational fear of ___.
My favorite type of art is ___.
My favorite random fact is ___.
My favorite podcast is ___ because…
The craziest thing I ever did was…
I once won a huge prize for…
The best book I ever read was ___.
My earliest memory is…
The first car I ever had was a ___.
My first job was ___.
My most embarrassing job was ___.
My biggest pet peeve is…
I once met [celebrity] and talked about…
My most prized possession is my ___ because…
The weirdest thing about me is ___.
If I could describe myself in one word, it would be ___.
My astrological sign is ___, and it does/doesn't fit me because…
My favorite thing about where I grew up was…
The coldest place I've ever been was…
My favorite city in the world is…
My all-time favorite drink is ___.
The strangest place I've ever fallen asleep was ___.
I once walked X miles to…
My favorite animal is a ___ because…
The first concert I ever went to was ___.
My favorite ice cream flavor is ____.
My hometown is known for ___. Can you guess where it is?
The bravest thing I ever did was…
The weirdest first date I ever went on was…
I have always had a superstition that…
If you want to make more friends and create a lasting positive impression, remember to:
Share things that people can ask about later.
Keep the focus on you. If you tend to talk a lot about your partner or your kids, try to use a fun fact that highlights your experiences with them.
Avoid negative comments or dislikes. Instead of sharing things you hate, focus on what you like.
Avoid sharing stories about immoral or illegal activities, political opinions, or controversial ideas.
How to Create Interesting Stories About Yourself
Even the most interesting person in the world can have trouble coming up with an "interesting story" about themselves on the spot. With eyes on you and everyone anxiously awaiting some epic tale, somehow your mind goes blank…
Chances are, you're actually super interesting! You just need to remember your favorite stories and practice sharing them in a compelling way.
Start by learning how to tell a great story.
Grab a sheet of paper and brainstorm 5-10 random memories. These prompts may inspire some fun memories:
The best gift/surprise I ever received was…
My favorite childhood memory is…
The hardest physical challenge I ever tried was…
My most peaceful experience was…
The most beautiful natural phenomenon I've ever seen was…
When I was 16, I decided it was a good idea to…
The scariest moment of my life was when I…
One of the biggest obstacles I ever had to overcome was…
Once when I was traveling in ___, and I had a big miscommunication when I tried to…
Circle one or two memories that are appropriate for most occasions. Avoid stories that have controversial, illegal, raunchy, or offensive details.
Next to your choice(s), jot down a few vivid details to make the story more amusing, such as:

The setting and surrounding environment of the story
Smells and aromas
Emotions you felt in that moment
People who were there
The sounds you remember
Funny quotes or dialogue

Create a brief outline of the story's summary. You don't need to cover every detail. Instead, think of the highlight moments.
Practice writing a short script for your story or rehearsing in front of a mirror. This will solidify the right words in your brain for the next situation where you want to share.
| | |
| --- | --- |
| Do's for Interesting Stories | Don't's for Interesting Stories (Avoid) |
| Do tell a story in 2 minutes or less. | Don't talk forever or share the entire story of your life. |
| Do pick a story that is positive, inspiring, sweet, funny, or lighthearted. | Don't share a story that is traumatic, dark, sad, or depressing. |
| Do tell the highlights of your story. | Don't go into every detail. |
| Do include a few relevant sensory details that make the listener feel like they were there. | Don't be too vague or waste time with irrelevant details. |
| If you want to tell a funny or embarrassing story, choose one where you are the butt of the joke. | Don't tell a derogatory story or make jokes at someone else's expense, especially if it is someone present. |
Key Takeaways: Use the CAP Rule for a Captivating Introduction
Ultimately, the "share a fun fact about yourself" icebreaker game is an opportunity for a more captivating introduction. Instead of dreading it, think about this icebreaker as a "get out of jail free" card. If you share a good "fun fact," you don't have to go through another boring round of small talk (thank goodness!)
People are more likely to approach you afterward if you share a fun fact that is:
Conversation-Sparking: The main function of a "fun facts about me" icebreaker is to help people get to know each other. Instead of sharing your favorite color or what you did today, prioritize fun facts that can spark conversation.
Appropriate: Avoid anything too personal or uncomfortable, like your financial situation, sexual orientation, or controversial topics.
Personalized and Prepared: Don't be generic! Prepare your fun facts ahead of time by reflecting on your life and what makes you unique.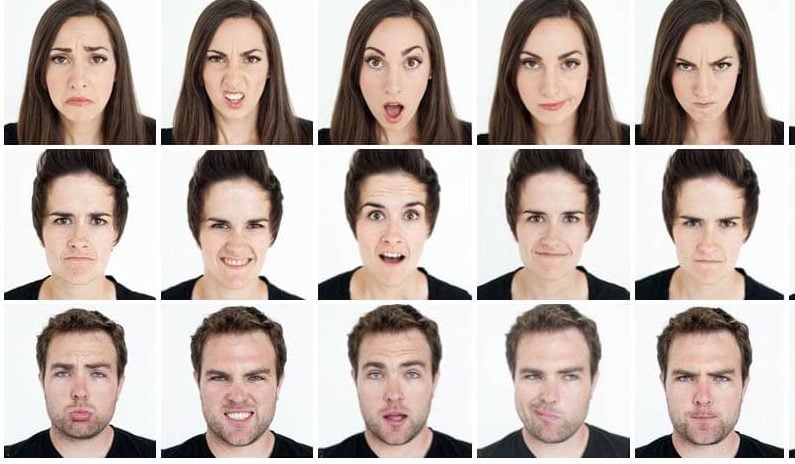 Crack The Code on Facial Expressions
The human face is constantly sending signals, and we use it to understand the person's intentions when we speak to them.
In Decode, we dive deep into these microexpressions to teach you how to instantly pick up on them and understand the meaning behind what is said to you. 
Don't spend another day living in the dark.
Ultimately, sharing fun facts about yourself is a lot more interesting than simply stating your job title or industry. If people keep asking you, "What do you do?" and you want to avoid the small talk, here are 10 anti-boring ways to Answer "What Do You Do?" (And What to Ask Instead).