Whether you find yourself chasing deadlines instead of dreams, need a reprieve from family drama, or need a nudge in the right career-driven direction, personal development blogs have you covered.
Here are the top 15 (plus a bonus!) personal development blogs you need in your life:
Help for Life
Meet the fantastic four. These personal development blogs cover a lot of ground within one website. Add them to your daily scroll list to gain infinite knowledge on developing a growth mindset, adopting a zen lifestyle, and overcoming struggles with sheer willpower.
Following their example can help you untangle the thread that holds you back from achieving your dreams!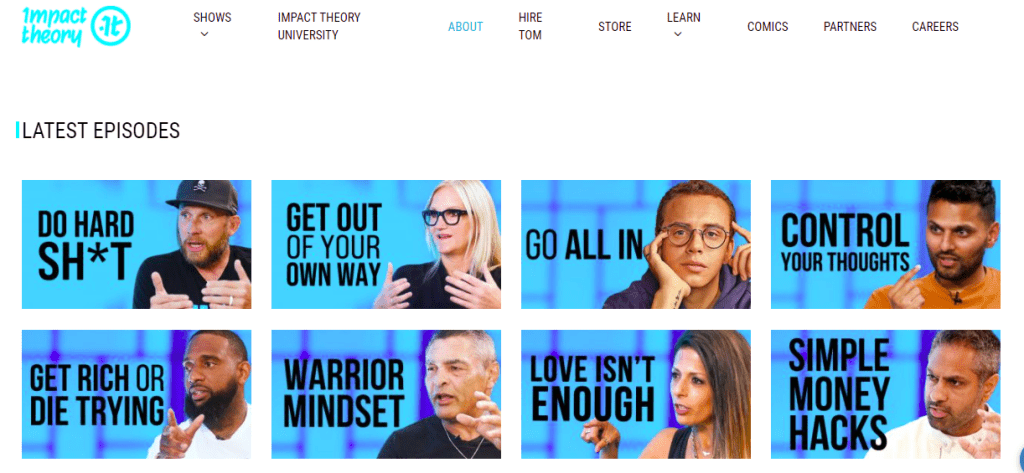 Tom Bilyeu cofounded Impact Theory to facilitate a growth mindset in individuals. He believes that we can bring real change to the world if we hold ourselves accountable and work on our natural gifts. We are all "adaptation machines" that need a little nudge to unleash our true power.
Read this personal development blog to unlearn lessons that bind you and cultivate habits, strategies, and a mindset that empower you.
Why it's awesome:
Most personal development blogs focus on one medium and excel in it. Tom Bilyeu manages to conquer different communication channels to widen his audience.
Whether you like listening to motivational talk shows, reading informative guides, or actively participating in online workshops to improve your lifestyle, Tom's got something for everyone in his impactful virtual space. Plus, there are a whole lot of guests he features—from reputable doctors, psychologists, financial advisors, and entrepreneurs, so you're bound to find a topic you'll love.
Additional digital resources include:
the Impact University presents an online new school of thought that teaches you "better skills" and sharpens your mindset to unlock limitless potential
Impact Theory merchandise (i.e., planners, cool T-shirts, hoodies, and posters)
the Knowledge Center with free downloadable guides that decode the core components of the Impact Theory belief system
Comics with visually captivating graphics and gripping stories
Each resource reminds you of the greatness within and motivates you to bring your A-game wherever you go.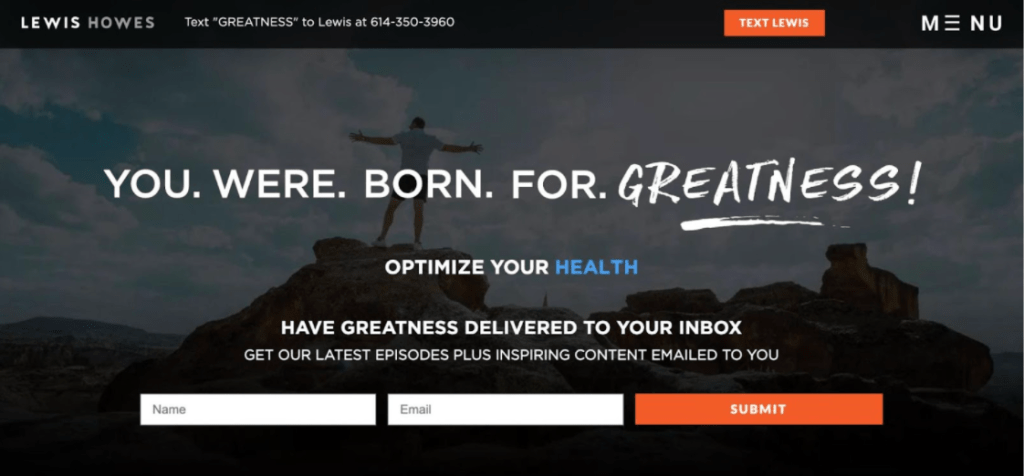 Lewis Howes shares his journey from being broken, broke, and deeply depressed to being a best-selling author in America. As a former Olympic athlete, Lewis was eager to pay it forward and become a life coach for personal development.
His podcast-only website might step away from the conventional description of a personal development blog, but you can still find something profound within each blurb. If you've got time to invest in his School of Greatness, you can plug into his podcast and watch your world change.
Lewis shares secrets of the trade for growth-minded entrepreneurs who are willing to hustle and take challenges head-on.
Why it's awesome:
Unlike other business coaches, Lewis Howes doesn't shy away from relationship and wellness topics. He dubs them the "three teams of your life" that require daily coaching to ensure that you can reach great heights.
Lewis's site offers resources such as:
books on becoming the best version of yourself
an online School of Greatness with a community of like-minded people
one-on-one life coaching sessions and a well-integrated accountability tracker
invitations to webinars and in-person summits
In short, this personal development blog has all the tools you need to pave a path toward greatness and success.
Leo Babauta presents himself as a regular guy who transformed his life by finding happiness in a simpler routine. He teaches millions of readers to do the same with Zen Habits. His personal development blog features guides on the 3 P's: productivity, proactivity, and positive thinking.
Why it's awesome:
We all want a clutter-free workspace, a healthier lifestyle, and above all, a calm mindset. Yet most of us don't know where to begin and how to work toward these almost unachievable goals.
Zen Habits leads the way toward betterment with simple strategies and progressive transformation.
Other digital resources include:
sign up for Fearless Living Academy for transformational life coaching classes
best-selling guides on Zen Habits that teach you all the essentials on how to live mindfully and simplistically
Mindful Focus course on supporting your mental health and cognitive growth
Fearless Purpose training packages to break the vicious cycle of doubt-induced thinking
Sea Change program to encourage one change at a time
In a nutshell, this wonderful website holds the secret to living your best life. It all starts with one habit, one day at a time.
Lifehacker is a hub for articles and news on, you guessed it, life hacks. The site operates on the concept that there's always a way to do everything better.
The core team behind Lifehacker is made up of content creators and industry experts invested in finding simple solutions to real-world problems. Every published post goes through these editors and fact-checkers to ensure that you get high-quality advice.
Why it's awesome:
Read this blog to find creative, innovative, and easy-to-follow tips on simplifying your life with some tried and tested DIYs. Feature articles cover technology, financial well-being, food, drink, relationships, parenting, and many other areas of interest.
If you're looking for a shortcut about cooking, cleaning, tech glitches, or even blogging, Lifehacker has probably got a life hack to share. This makes it the go-to source for many self-improvement and DIY projects.
Other digital resources include:
an online store for branded merchandise (e.g. apparel and accessories)
a network of educational and entertainment channels affiliated with the website (e.g., The A.V. Club, The Onion, The Root, The Inventory, etc.)
Besides blogging, Lifehacker has ventured into the podcasting world with a brilliant contribution called The Upgrade. You can tune into their channel to learn about "life in general" and find ways to elevate your lifestyle.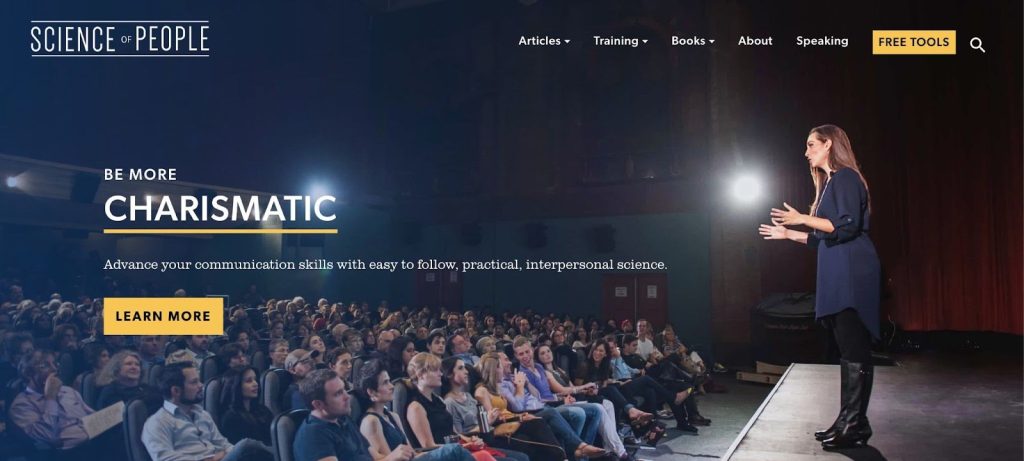 OK, we may be a little biased here, but Science of People is a blog full of actionable tips on how to be charismatic and a little less awkward (created by a recovering awkward person herself!).
We even have our very own in-house Science of People research lab where we conduct groundbreaking research, like the TED Talk study and Shark Tank study.
Why it's awesome:
Read this blog if you're into funny, bite-sized bits of information from psychological research, career advice, personality tests, relationship and dating tips, entrepreneurism, body language, and more!
Science of People is a go-to guidebook to access your full charismatic potential.
Other digital resources include:
Making the Right Business Moves
Making profitable career moves requires vision, hard work, talent, and direction. But where do you go and what should you do? Life coaches for personal development can become the beacon of life in your business journey!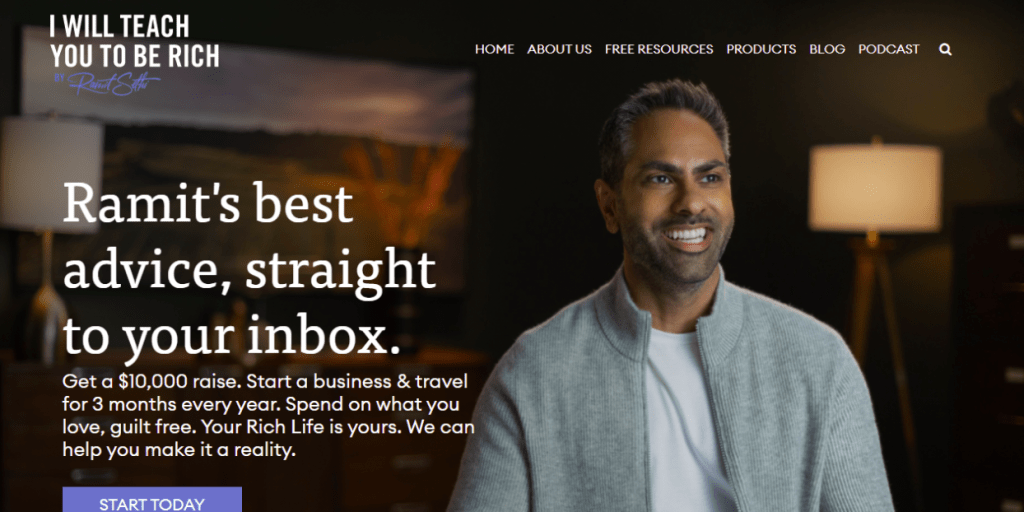 I Will Teach You to Be Rich by Ramit Sethi is a personal development blog like no other. After studying human behavior and psychology at Stanford University, Ramit learned how to use the science of people in business.
He teaches you to improve productivity levels and boost revenues to create high-converting sales marketing funnels—and the best part? Most of the golden nuggets are free!
Why it's awesome:
Ramit Sethi shares a mix of case studies and personal stories to boost your business game. His straightforward non-gimmicky tone serves as a voice of reason as you battle business challenges.
Digital resources include:
step-by-step playbooks about business
podcasts about behind-the-boardroom stories and real-life problems
free resources on productivity, career, and business
With Sethi's help, you can get onto the fast track of success in no time.
One Quora review called Seth Godin the Michael Jordan of marketing.
With decades of wisdom and a "wit beyond measure," he knows how to navigate the roadblocks of marketing (and life). Seth's blogs and books are a roadmap to success in creating a legacy in the corporate world. Experts worldwide hang on his word because Seth knows his way around the competitive field.
The secret, according to him, lies in treating marketing as a "generous act of giving" and not thinking so scarcely. It's "a simple philosophy that has struck a chord with millions and boosted their achievements."
You could be the next in line if you decide to follow his lead.
Why it's awesome:
You get a chronological list of Seth's 7000+ blogs about various aspects of life and its never-ending challenges. You can scroll through them to get advice on everything from leadership, must-read-books list, work habits, thoughts on freedom and responsibility, and much more.
Oh yeah, and he posts there every single day.
Digital resources include:
100+ interviews and motivational speeches to build a proactive mindset
20 international best-selling books on marketing, art, and trust, available in 36 languages
an easy-to-listen-to, categorically organized list of podcast interviews
access to the exclusive Akimbo (in-house) podcast and workshops created by Seth
All in all, you will find insightful statements and nuggets of wisdom tucked into everything he shares online.
Pursuing Happiness Amidst Chaos
Life can be hard—especially when things go wrong. According to The Medical News Today, many people spend their days on autopilot to cope with the strange reality they are facing.
If this sounds relatable, here are 2 terrific personal development blogs that can help. Learn how to live in the present and stay positive with:
Tiny Buddha teaches you the art of simplicity, with insightful tips on dealing with change, challenges, and everything in between. Lori Deschene created this platform to share "simple wisdom for complicated lives."
Her life motto struck a chord with millions of followers who scroll through Tiny Buddha daily to find tips and tricks to unwind.
Despite its name, the mindful platform goes beyond the principles of Buddhism. It does this by weaving in real-life stories of people who healed and conquered challenges.
You can find many self-help blogs on meditation, love, relationships, handling grief, work fulfillment, and more, with daily wisdom quotes sprinkled around for extra motivation.
Why it's awesome:
Deschene figured out early on that the messiness of life can't be attributed to one thing. Unlike other mindfulness blogs, she discusses day-to-day struggles in an easy-to-follow format—all of which gives us advice on collecting our thoughts and learning to let go of our woes.
There's also a great "books and things" section that reminds readers to be mindful through:
an online self-help course to "Recreate Your Life Story"
mindfulness and gratitude journals for daily practice
Tiny Buddha books filled with wisdom
a mindfulness kit to indulge in some much-needed self-care whenever life gets overwhelming
Besides this, you can download widgets, wallpapers, and even buy merchandise featuring inspiring quotes. Use them wherever you go to stay sane and positive.
Courtney Carver began her blog Be More with Less after battling her demons. It's centered on the idea that "happiness isn't waiting for us, it's within us."
The platform started as a minimalist project discussing the benefits of decluttering, downsizing, and creating a capsule wardrobe, and has now expanded into a blog with tens of thousands of monthly readers.
The positive response surrounding her anecdote-led teachings motivated Carver to discuss the importance of creating a positive mindset and the value of simplicity. One thing led to another, and she became the author of two best-selling books that teach readers to "reclaim life" by letting go of the nonessentials.
Why it's awesome:
Carver shares a little bit of everything on her website. Yet, the main focus remains on simplifying different aspects of our life, from our closet to our thought process. She shares tools and techniques to achieve this feat.
On her blog, you'll find:
a brand-new course called Simplicity Space to "inspire, support, and encourage" you to simplify life on your terms
a fun and uplifting podcast called Soul and Wit run by Courtney and her daughter Bailey
books and courses on decluttering, becoming an entrepreneur, and "soulful simplicity"
Project 333, aka the minimalist wardrobe challenge
The blog's main draw lies in its lighthearted tone. Carver manages to delve into the deep stuff without making advice feel overwhelming. This approach works well for a generation already drowning in doom-scrolling and daily stressors.
Navigating Love & Relationships
Relationships can be hard. Whether you're looking for a long-term relationship or are already in one, these personal development blogs can help. They share practical, no-nonsense advice on dealing with conflicts surrounding romantic partnerships and even platonic relationships.
The Gottman Institute instills science to teach you how to work through relationship problems. Drs. John and Julie Gottman co-founded this institute to connect with people who need help to "create and maintain greater love and health in relationships."
The blog teaches its readers to perceive relationships with care and compassion and even researched and found the telltale signs of a failing relationship (hint: you can spot some of them by analyzing microexpressions!).
Why it's awesome:
The Gottman Institute shares research-based relationship advice about love, parenting, and leadership. It's an excellent guide for anyone interested in receiving clinical care to resolve relationship issues, regardless of the dynamics you and your partner share.
Digital resources include:
books and guides authored by psychologists
Small Things Often podcast for quick tips and advice on how to handle conflicts in companionship
access to webinars and workshops
couples therapy and emotion coaching for parents
one-on-one coaching with trained therapists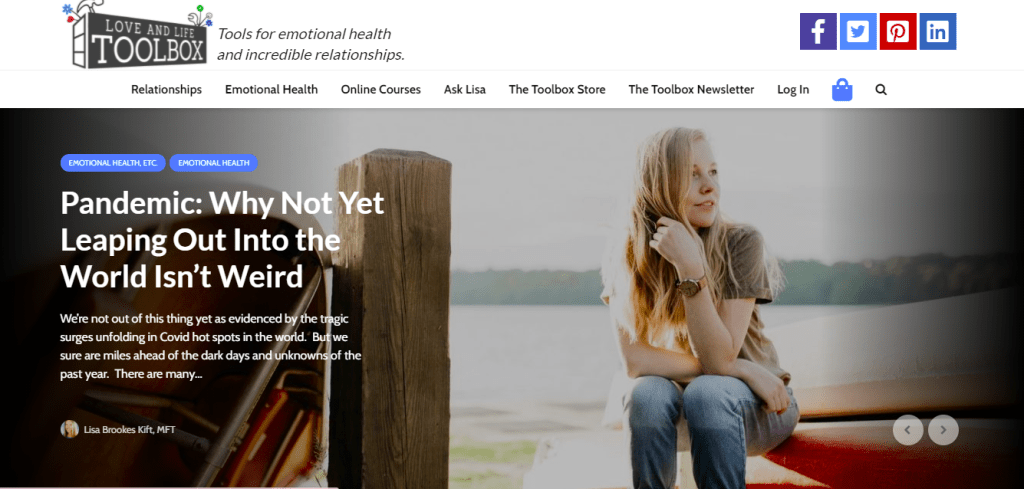 Lisa Brookes Kift created Love and Life Toolbox to offer support to couples and individuals struggling with relationships.
Why? Because she believes that everyone needs a nifty toolbox that enables you to fix relationships before they collapse.
Her blog shares nuggets of information that help you hone your relationship skills. She talks about everything from difficult questions to what to do on Valentine's Day and even answers readers' questions for her.
Why it's awesome:
True to its name, this virtual toolkit has everything you need to patch your relationships:
virtual courses
couples therapy and one-on-one consultations with Lisa Brookes Kift
love decks and date boxes to rekindle your romance
a recommended reading list featuring self-help books on love and relationships
Lisa focuses not only on relationships but self-love too. She aims to promote emotional well-being as a vital element for achieving happiness in relationships.
Spending More Mindfully
The results are in—the average American is buried in nearly 6-figures worth of debt. Adding to the debt problems are taxes, bills, and our desire to "keep up with the Joneses."
That's why it's always good to gain insights from people who have already overcome these challenges.
Let's crunch some numbers and take control of our financial life, starting with:
#12 Rich and Regular (Julien and Kiersten Saunders)
Julien and Kiersten Saunders co-founded Rich and Regular after paying off $200,000 in debt. Their grit and strategic money-related decisions helped them achieve a goal most of us only dream of in our lifetime.
In the process of being more mindful of their spending, they noticed a significant boost in their overall net worth.
They are now changing lives one money problem at a time by helping readers resolve their credit troubles. Along with anecdotes that make this blog engaging, Rich and Regular is a blog for the average person looking to get above-average in wealth.
Why it's awesome:
The couple "inspire better conversations about money" through tried and tested tips. They share an irresistible optimism that encourages you to make better money moves. Plus, they weave parenting advice, couple goals, and other life issues seamlessly into their conversations.
Must-read topics include discussing financial support for parents, diffusing money-based arguments, eating on a budget, etc.
This format resonates with readers because finance management can influence different areas of your life. Learning how to find a good balance results in a stress-free, financially sound lifestyle.
Besides the blog, you can receive help through:
Money on the Table, a cooking/financial fusion video series
a resource section featuring recommended apps and services for managing credit, estate planning, digital entrepreneurship, etc.
In a way, Rich and Regular shares digestible information via different mediums. These multichannel resources offer something for everyone to take control of their finances.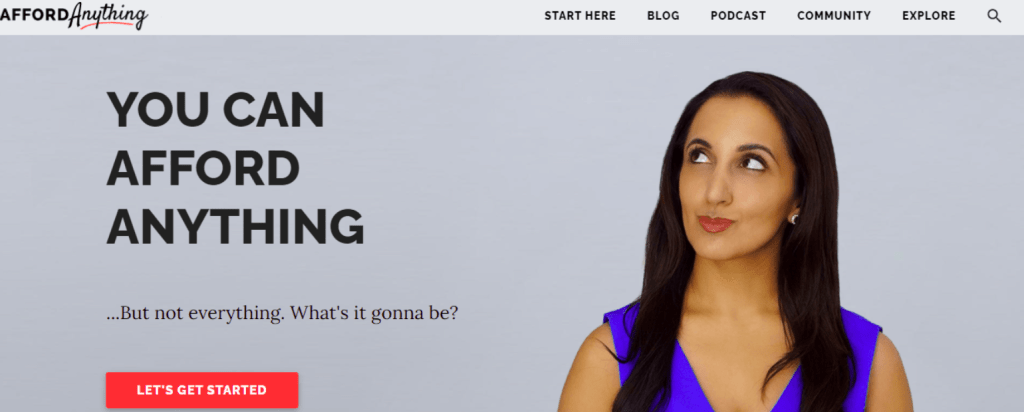 Afford Anything is the brainchild of Paula Pant. After saving enough to fund a one-way trip to Egypt and backpacking beyond, Pant realized she could no longer trade time for money.
If you share her philosophy and aspire to work on purpose-driven projects that stimulate you (or you're an avid traveler), then head over to her site! Here, you'll find tips and tricks for saving more and spending mindfully.
Why it's awesome:
Afford Anything works as a finance management and lifestyle blog all wrapped into one. As you read through the blog, you'll be captivated and motivated by the wanderlust Pant shares for the world beyond cubicles.
Besides the blog, you can receive help through:
In Afford Anything, learn how to unlock financial independence by changing everyday habits and adopting behaviors that support a lifestyle worth living. As a result, you'll gain more time and have the energy to indulge in your hobbies, travel, and build a better future!
Balancing Health & Wellness
If your idea of a balanced diet revolves around ramen and takeout, you might want to switch to a healthier meal plan.
Adopting a healthy lifestyle can be a tall order when you don't have time to cook or work out, let alone shop for groceries. Luckily, there's a certified doctor (and his blog) for that.
#14 Dr. Axe (Dr. Josh Axe)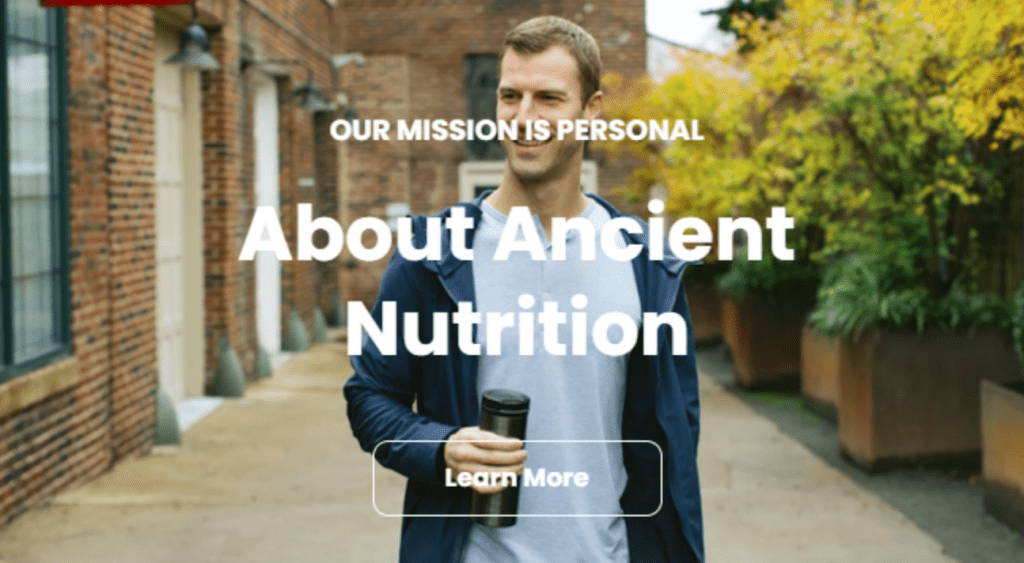 Dr. Josh Axe is a clinical nutritionist, doctor of natural medicine, chiropractor, and author. His work revolves around using natural food as medicine to cure various ailments. His passion project has reached millions of homes, as he taps into ancient principles to build a healthier lifestyle.
The blog covers various topics ranging from daily diet plans, workout routines, to underlying health concerns. Each wellness tip features science-supported facts on natural medicine and plant-based diet plans.
Why it's awesome:
Dr. Axe is a good mix of science and wellness, sprinkled with tasty recipes. You can use it as a go-to source to find great information on almost any health-related topic and find:
easy-to-follow recipes to match any diet plan
simple workouts and fitness plans
a podcast about natural medicine and plant-powered diets
a shop for personalized supplements to boost daily nutrient intake
Best of all, all these guidelines are easy to practice and incorporate into your daily routine.
Pro tip: If you're interested in more science-led diet interventions, you can read the Harvard Health Blog for data-driven advice!
Your Daily Dose of Self-Love & Motivation
If you've been feeling anxious and with low self-worth, taking a deep dive with someone passionate about wellness and self-empowerment can help you shake off these gloomy feelings.
Here are two personal development blogs that help you reach your full potential:
Marie Forleo and her amazing self-help blog have made it to Oprah. Yet this is only the tip of the iceberg for this entrepreneur's success. Marie runs a hit training program that features guests from all walks of life, along with her unique perspective on overcoming life's challenges.
She dedicates her work to readers who dare to dream but struggle to break free from the security of their 9-to-5 jobs. Her online tools and training programs uplift women and show them that they can make an impact in this world.

Marie's blog deals with topics ranging from mental clarity, self-esteem, and business—all of which teach readers how to practice self-love and focus on living life more mindfully.
Why it's awesome:
Marie Forleo uses her platform to share the wisdom of almost every challenge individuals face during their road to entrepreneurship.
Digital resources include:
free online training to achieve (almost) anything you want
a six-week-long business course
a copywriting course for writing authentically
best-selling books on unlocking your potential and figuring out your game plan
In short, she teaches you how to connect with others, market your business, and, most importantly, invest in yourself.
Journalist James Clear worked his way to the top by practicing good habits and productivity. He cracked the code by finding how habits develop and teaching people to use this information for professional and personal success.
James's goal is to teach you to become 1% better every day by adopting habits that nurture your passion, support a growth mindset, and help you manage time.
Why it's awesome:
What makes this blog different from others is James's witty writing and actionable content that readers can incorporate into their life. His blog is also designed in a way that each article can make a drastic impact on your life—if you follow up on developing these habits.
Digital resources include:
a newsletter for productivity hacks and tips
e-books for beneficial habit-building practices
published articles on creativity and productivity
the Clear Habit Journal to track your daily progress
Use his guidance to bring your life back on track.
Hopefully, you've gained more wisdom and have found the best personal development blog to inspire and motivate you!
P.S. Bookmark this page to keep these resourceful blogs handy!
Looking for even more great reads? Check out the best books: 43 Best Books for Self-Improvement to Boost Your Confidence